The correct timing of events can play a vital role through the whole event organisation process. Without a properly considered timetable, you risk missing significant due dates that are critical to your event's success. So, when you get down to the arrangement of events, consider using an event planning timeline template and tips to ensure that it all runs effortlessly.
What is an event planning timeline?
The timeline of an event is a detailed structure of your event with careful calculations of time and resources, with the execution highlights and deadlines clearly marked.
Why you need an event timeline
Having an event timeline is an integral part of the event planning process. The event timeline is your guiding light through the timeline for event planning process. Without a timeline in place, you may find yourself lacking focus and potentially missing important deadlines and risking complete event failure.
How far to foresee? Difference for large and small events
Creating a timeline for an event up to 1 year in advance, depending on the size of the event, is done for nearly all large events. In this way, you can confirm the date up to 6 months in advance (large annual events, dinners, various training sessions), confirm the date and venue–meeting space/accommodation (sign contract and provide deposit), confirm keynote speakers (confirm bio/photo for publicity), and engage secure sponsorship. Most timelines for large events begin at least six months before the event date. Nevertheless, an event of any size can benefit from a well-designed day-of event plan.
1 year before the event (for large events)
Determine the general outline and program schedule to allow for pre-registration, the creation of a website, sending of "Save the Date" announcements, and travel arrangements (out of state/international).
6 months before the event
6 months before the event, more detailed preparation begins.
Designate Roles and Responsibilities
A clear-cut job and duty assignment for each employee ensures that all necessary tasks will be completed. Assigning specific duties and delegating tasks also allows the team to become specialised and perform their tasks more efficiently. Assemble an event team/volunteers and hold a meeting so everyone is on the same page.
Establish goals and objectives
A goals section can help you evaluate the goals you wish to set and achieve them! You should write down these goals in your timeline to help keep you on track to achieve them. Don't forget to make them SMART.
Select the date
Choose the date for your event launch/registration launch and include this in the plan to track timely execution.
Identify the venue
Selecting the best possible venue is critical to your event's success. Review different venues in advance, contact the owners, and rent the space in a timely manner based on your schedule.
Create a budget
Set your budget and allocate all the expenses. Mark them in the financial planning process to stay within your event budget.
Begin Event Promotion and Create Marketing Strategies
Determine a general outline for RSVPs and create effective advertisements.
Visualize the number of guests
Create a guest list (Large Annual Events, Dinners, Various Training Sessions). Set a deadline for exhibitor registration.
Launch publicity – or send out invitations
Send out exhibitor registration forms and "Save the Date" announcements. Set up attendee registration, either online or mail in with the help of setting a data management tool (for annual conferences).
Confirm entertainment or speakers
Make travel arrangements for performers or come up with other entertainment ideas. Draft a program of events/agenda to your speakers. Book entertainment, photography, videography, and speakers.
3-4 months before the event
Here's a brief 3-month event planning checklist and timeline:
Finalise the guest list

Arrange travel and accommodations for out-of-town guests

Sign any contracts with vendors

Select a menu

Gather speaker biographies and confirm details

Create emergency plans
1-2 months before the event
Finalise your concept/agenda, recruit and assign duties to staff (as needed) from volunteers, etc.
Send reminder notes to guests
Send out reminders and arrange meetings with your event team and venue coordinators. Distribute a draft program to key participants.
Double confirm speakers, entertainment, etc.
Book A/V (determine if the speakers have any special requirements) and reconfirm the booking list (for speakers/sessions).
Confirm seating arrangements and check-in logistics
Approve your seating plan, tables, etc. Confirm exhibitor requirements (electrical needs, table, chairs, etc.). Get approvals on marketing and other materials from your venue.
Check in with all vendors to ensure that everyone is on the same page
Get approvals on marketing and other materials from all your vendors and sponsors.
1 week before the event
Hold a pre-event meeting with your team and venue coordinator to review the entire event again to make sure nothing has been missed.
Finalize your plans with the venue
Confirm seating arrangements/exhibitor layout and your catering services. Design and print your invitations, maps, RSVP cards, florist arrangements, décor, and more.
Finalise your script
Distribute the final program to your key participants. Print program/registration packs (program, venue map, and local area maps/info).
Provide the final guest list to the venue
Check out the guests and all the participants. Finalise and send a press release. Send the registration deadline (for large conferences).
Finalise signage
Design and print registration packs/program/menu, cards, etc. Make place cards/name tags. Print signage (directions to the location of the event, registration location, workshop times and rooms, directions to meal locations, etc.).
Plan your attire
If there is a dress code, decide on the details and finalise them. Set your team's expected attire.
Day of event
When creating your day-of-event timeline, you should include:
Setup time

Event Start Time

Speakers

Meals

Breaks

Raffles

Event End Time

Breakdown/Clean Up
On the day of the event, you should walk through the venue for any last-minute needs. Also, arrange a photographer walkthrough. Take care of deliveries from the florist, rentals/equipment, etc. Set up A/V and test the equipment. Make any and all final adjustments to the seating/floor plan/place reserved/VIP seating signs, etc. Set up onsite registration and a Welcome area.
Directional signage (exterior/interior) should be placed. Compile registration packages/programs and start the event setup, if available.
Prepare a box of emergency supplies (tape, pins, sewing kits, markers, etc.).

Following the event
After the event successfully ends, ensure that all items borrowed/rented are returned. Finalise all billing. Prepare a detailed binder of notes from the event as well as samples of all materials i.e., speaker's notes, programs, invitations, menus, etc.
Collect feedbacks
Send thank you/ask for/provide feedback/survey forms to attendees/participants, sponsors, etc.
Say thank you
Send thank you notes to volunteers/VIPs/staff, etc.
Templates & Examples of event planning timelines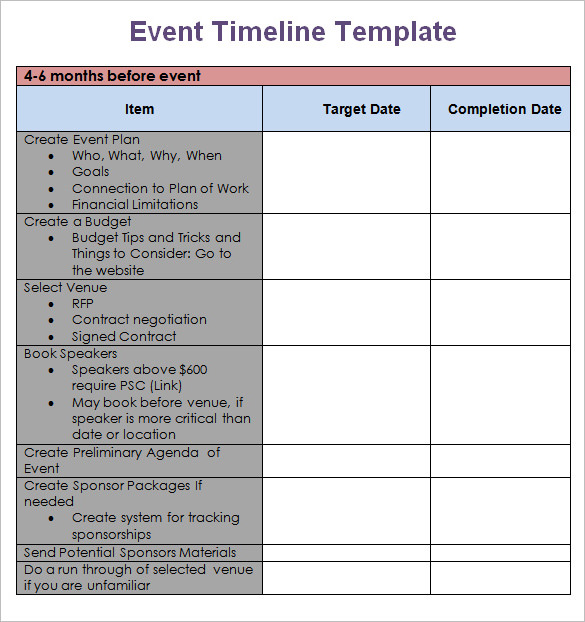 Here are some useful examples of event planning timelines that will help you establish a clear picture of your event.



Tips for сreating a timeline for your event
Apart from the event planning timeline example, you'll need some tips to start.
Make sure you include the following data in your timeline and the event website:
The name of the event and its format (paid or free). If the event is free, you need to mention this.

Date and duration of the event

Brief description (concept in 2-3 words)

Full description (about what, for whom, benefits)

Speakers (who, where, what topic, etc.)

Programming

Address, location map, and types of transport

Ticket price

Registration terms

The name of the organiser and contact details of the organisers.
A Pro Tip:
Don't forget about the facts, such as how many people were at previous events, how many are already registered now, how many places remain, the time left before the event starts, etc. This will help to properly measure the amount of work for the organisers.
Start preparing in advance to be able to double-check everything
Having an event timeline is a basic part of the arranging process. An event planning timeline sample may help you with event control and effective organisation of the arranging procedure. Without a firm course of events and a set-up plan, you will end up unfocused and will likely miss significant due dates. Analyse the value of your events based on your timetable.
Need any help? Feel free to contact us.
Leave your suggestions in the comments below.