Redefine Attendee Engagement
Level up your event engagement with interactive tools that keep your attendees on their toes throughout the event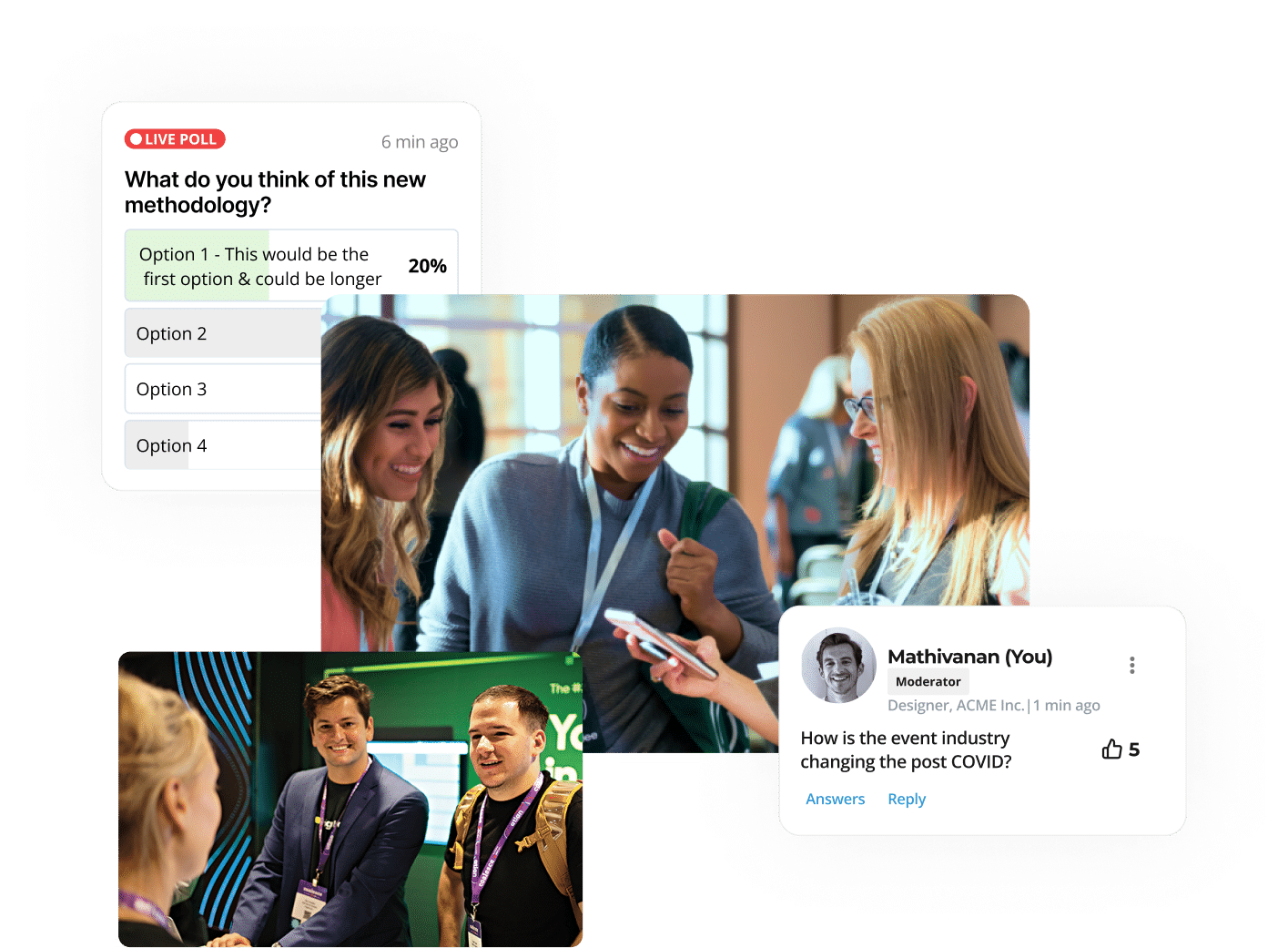 Moderate chats and create channels for constant fruitful communication throughout the event ensuring a continuous exchange of thoughts and insights.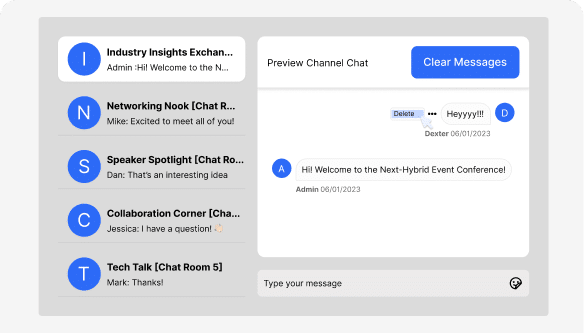 Invite attendee participation by hosting fully customisable live polls and display results on the fly.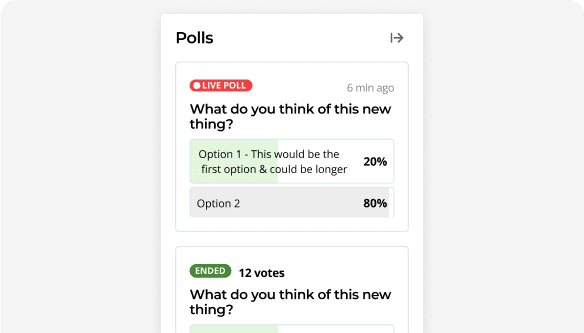 Create, design, schedule, page-specific or general Q&A to foster continuous interaction throughout the event.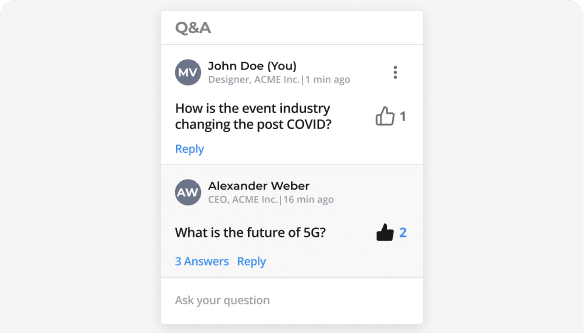 Keep attendees informed with real-time updates through the Gevme mobile app.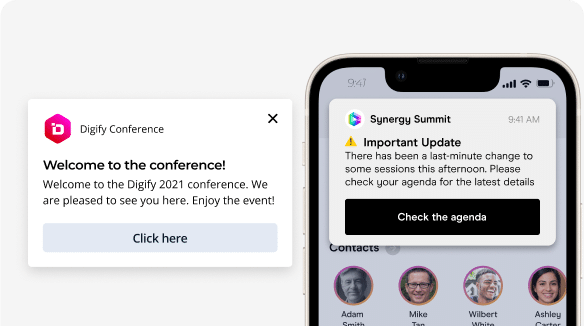 Engage your attendees with
mobile mini experiences
Unlock a world of opportunities to captivate, inform, and connect attendees through interactive features and personalized experiences to amplify event participation.

Networking
Facilitate data sharing and connection building among attendees by using metacards.

AI Concierge/Event Bot
Set up an event bot to address frequently asked questions by attendees and save your time.

Exhibition/Venue Floorplan
Enable attendees to navigate and explore the event space through wayfinding tools and floor maps.

Treasure Hunt
Engage attendees by setting up activities like treasure hunts as part of the event experience.

Spin the Wheel
Enhance attendee engagement by adding an element of excitement with Spin the Wheel.

Custom
Craft customized engagement activities that align with the interests of your attendees.
Let your attendees connect in a modern way
Metacard is an interactive business card with customizable CTA enabling attendees to connect and network seamlessly just by scanning QR codes on respective Metacards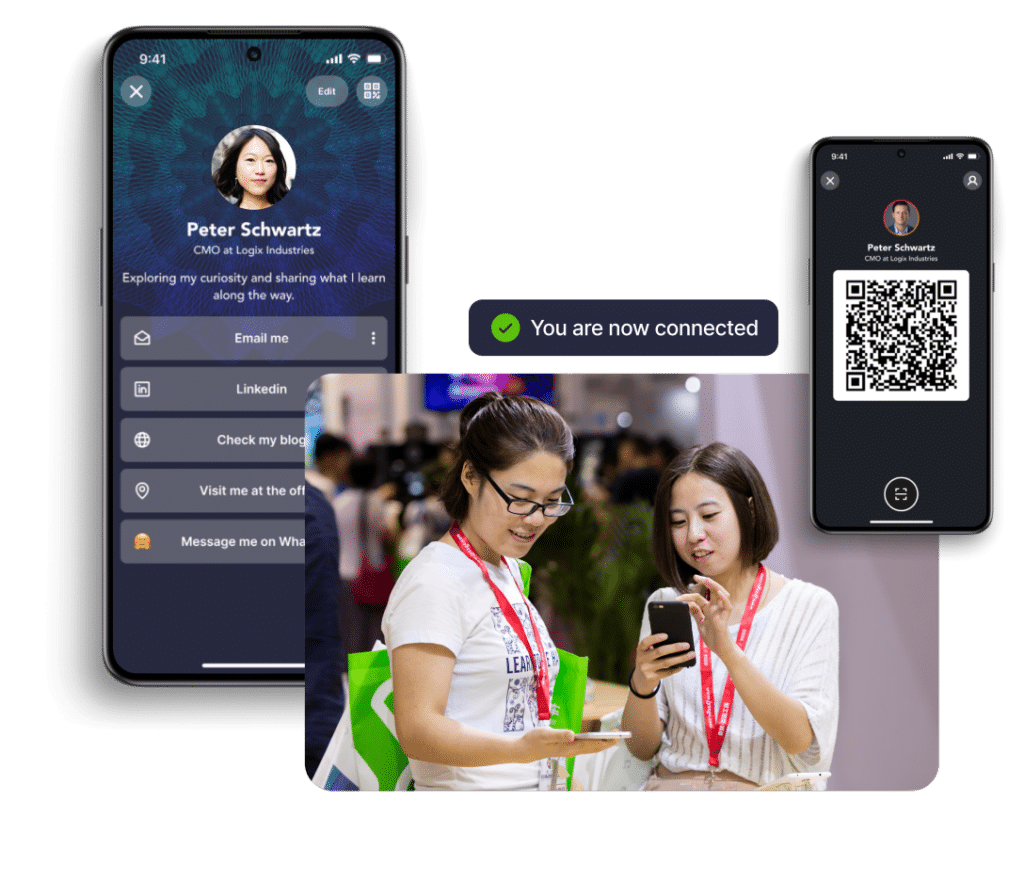 Onsite in-person digital data display
Display your event content: speakers, agenda, exhibitors, etc (integrated with event content management) or for branding, event updates/announcements, sponsor ad space

Give your exhibitors the means to engage with their audience at their booth
Enable your exhibitors to customise their digital booths and capitalise on potential engagement opportunities through lead scanning, mini experiences and dedicated exhibitor dashboards.
Enable exhibitors to collect leads effectively through scanning attendee meta cards, improving their event engagement and results.
Spin the Wheel, Lucky Draw, Submit survey, Digital Showcase, etc.
Empower your exhibitors to leverage dedicated dashboards to create and capitalise on potential business opportunities.

A private digital storefront
Offer exhibitors and sponsors the flexibility to personalise their digital booths according to their unique preferences with interactive features, including chat, polls, Q&A, product showcases, live streaming, marketing content hosting, product displays and sales.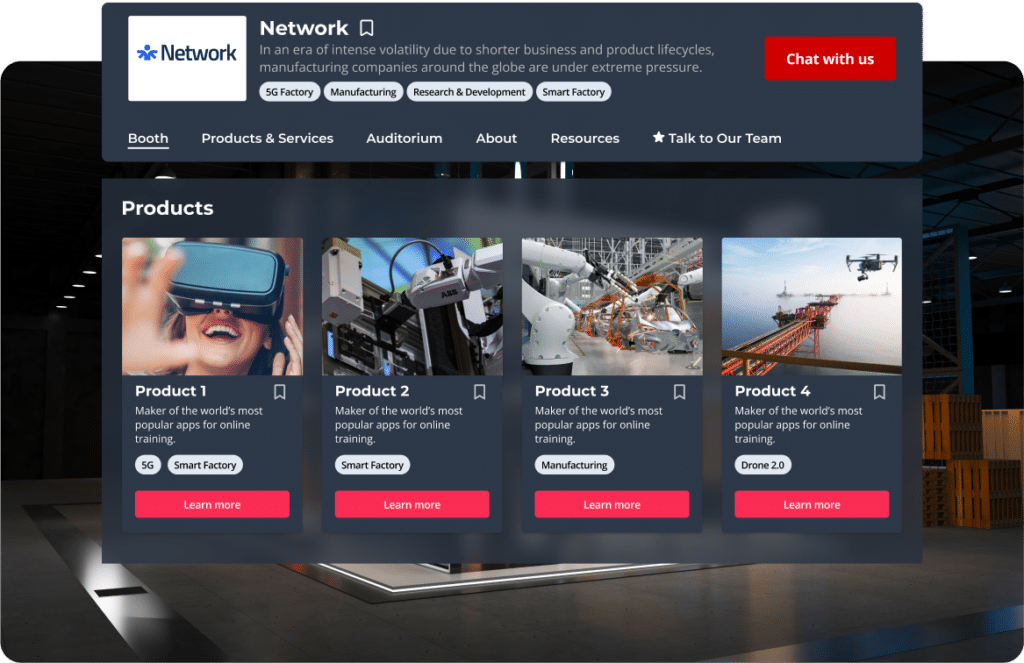 Engagement for your virtual events
Elevate attendee experience by crafting immersive virtual experiences that not only promote deep connections but also encourage participation, all achieved through the strategic implementation of these features.
Chat, Polls, Q&A, Reactions
Interact with your event attendees by seamlessly integrating polls, Q&A sessions, and conducting surveys throughout the event.
Badges, Leaderboard & Gamification
Categorize attendees, speakers, and sponsors with badges and infuse elements of gameplay in the event to immerse your audience in a dynamic experience.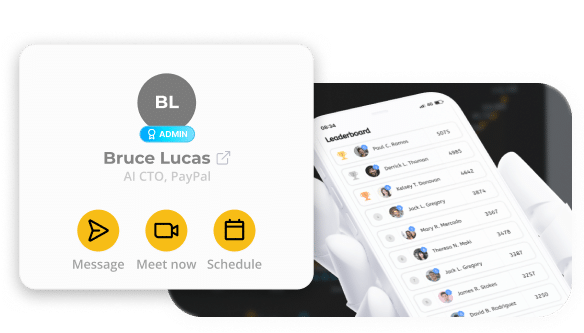 Whether you are a Professional Conference Owner or, deliver unified event experience across all attendee touchpoints.