Your Complete Solution for Event Registration
A comprehensive online registration and ticketing system that simplifies your workflow and helps you drive more registrations to your events.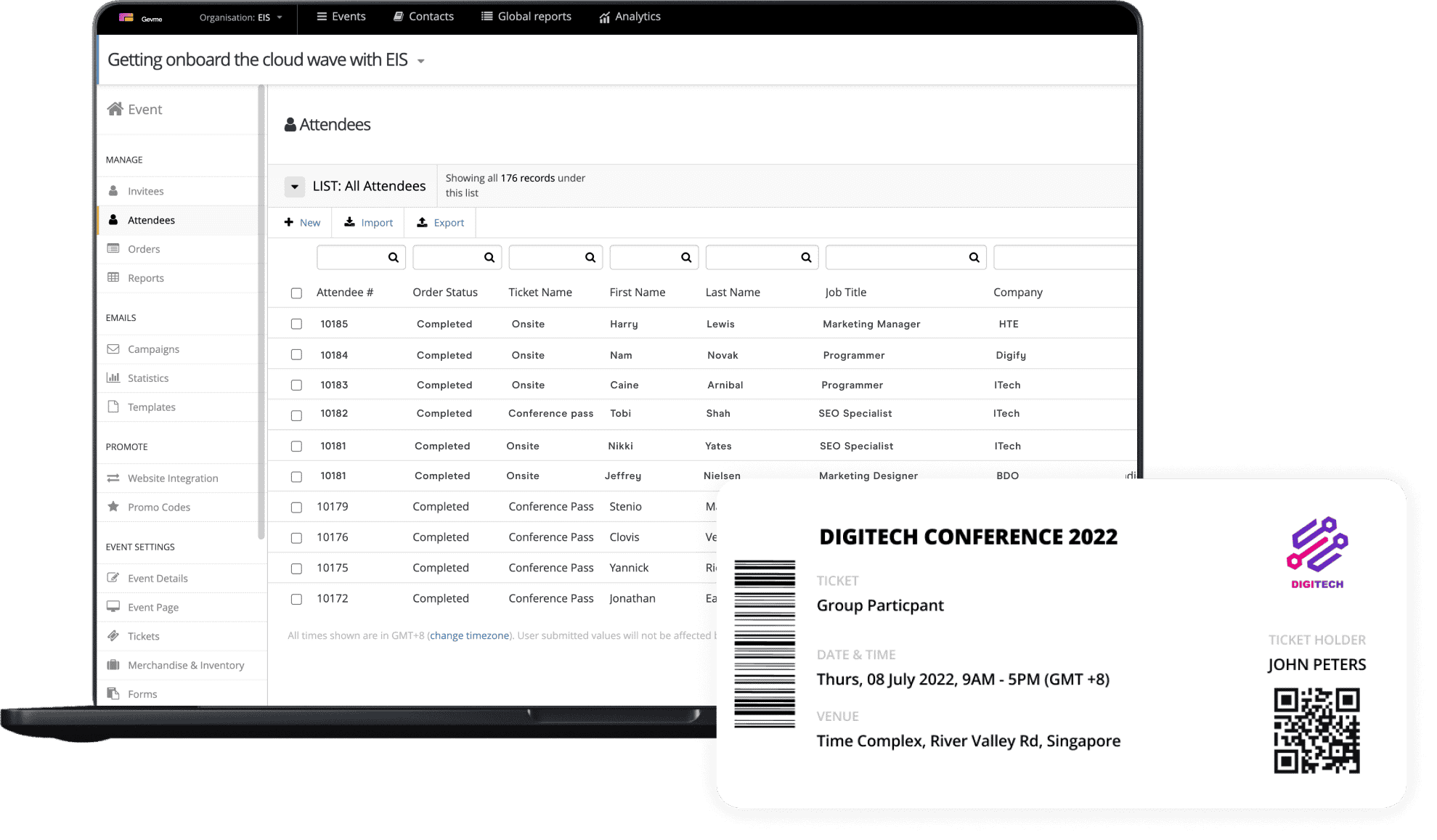 A frictionless online registration platform to boost registration numbers and elevate the customer experience.
Simplify registration flow for loyal attendees with pre-population of fields or one-click registration. Ideal for annual, community-focused, or member-restricted events.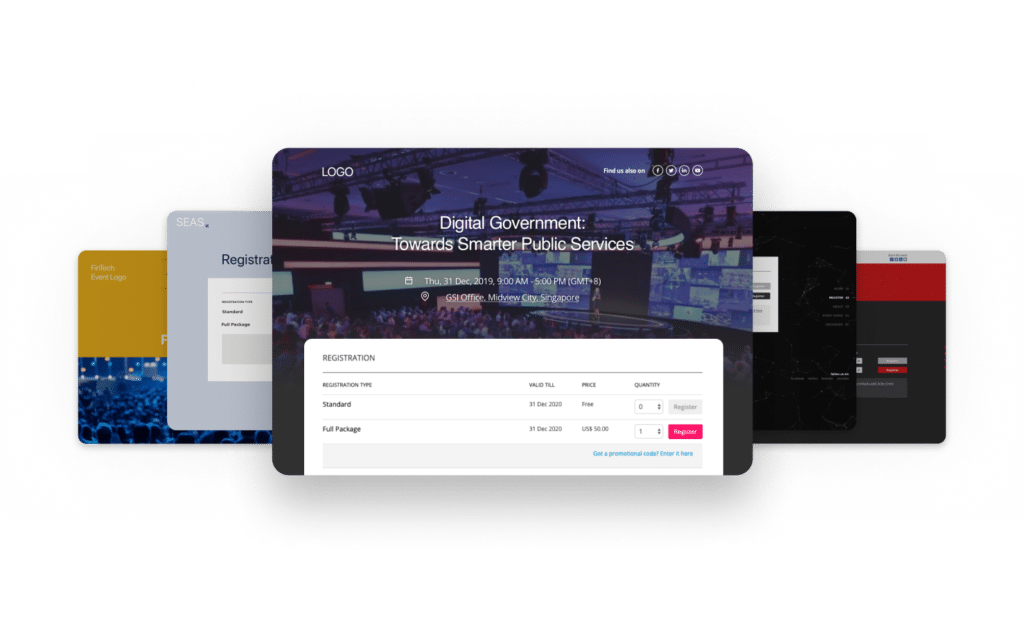 Versatile registration page designs that reflect your brand.
Select from a range of out-of-the-box landing pages across various themes and customise them to suit your brand or event requirements.
Customisable registration system for every use case from the simplest to the most complex.
An adaptable registration platform crafted to suit a wide range of registration needs, including the most intricate and advanced ones.
Simplify tiered registration, customize forms, and control access levels with ticket types.
Advanced capabilities that empower a primary attendee to register on behalf of multiple attendees
Enable attendees to effortlessly sign up for individual sessions while registering.
Increase registration success rates with a multi-step form that offers a progressive experience.
Empower attendees to Instantly translate the complete registration form with a simple click.
Enhance your registration form with seamless third-party app integrations.
Simplify your workflow by automating manual routine tasks
Significantly enhance your efficiency by streamlining and eliminating repetitive tasks allowing you to focus on strategic planning.
Promo Codes & Partner Tracking
A powerful tool to help you offer flexible discounts, special privileges and partner tracking.
Automatically send personalised confirmation pages on successful registration
Generation of Personalised Documents
Share personalised documents with attendees on successful completion of registration
Allow attendees to join a waiting list when the event reaches its capacity, and ensure prompt notification upon the availability of any slots. 
Enhance registration rates by reconnecting with attendees who abandoned registration midway through daily reminders.
Streamline attendee access, modifications, ticketing, and payments with Gevme Wallet.
Automate personalised event notifications and alerts after attendee registration or drop-off.
Monitor team adjustments to your event's settings and configuration effectively with automatic real-time logging. 
Apply registration rules to take control of participant registration by setting rules that permit or restrict access.
Advanced and comprehensive email marketing capabilities.
Drive event registration with personalised email drip campaigns. Automate custom acknowledgement based on ticket type, attendee profile, etc. 
Manage large sets of registration data with ease
 Experience the ease of seamlessly capturing and analyzing event registration data to enhance your event strategy. 
A comprehensive event payment collection system
Monetise all types of events with a diverse payment system that allows for seamless money collection and streamlines payment data.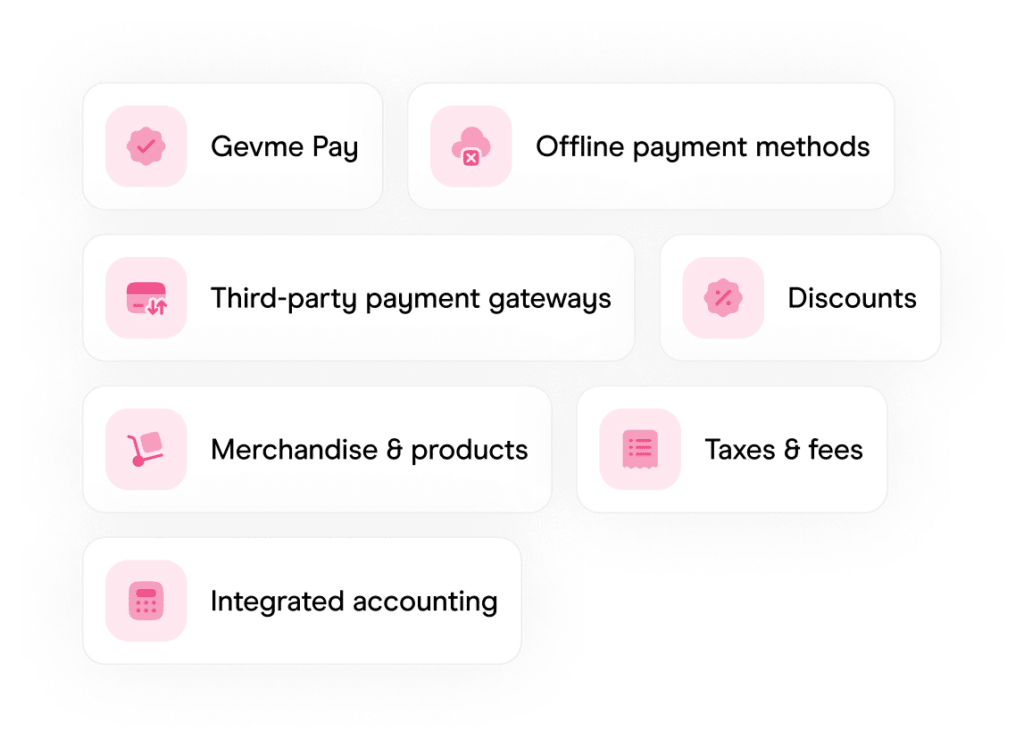 Whether you are a Professional Conference Owner or, deliver unified event experience across all attendee touchpoints.