Covid-19 brought about permanent changes in the world of events. Virtual experiences were all the rage during the peak of the pandemic. But that was really out of necessity, more than anything else. Our view even back then was that the future will be hybrid.
Once Covid restrictions started to be lifted, borders reopened and people could travel, the pendulum swung from one end (virtual) to the other (fully in-person).
Both ends are anomalies.
We believe 2023 is where the pendulum stabilizes to the new normal. And that is a world of events with a Digital-First approach. People want to be engaged in a time and format that suits them. Sometimes that means going to a fantastic venue to meet with fantastic people over fantastic food and drinks. In other cases, that means watching a livestream or on-demand content on your phone or iPad at the comfort of your couch or bed!
This was really the rationale for us to transform ourselves into an omnichannel event platform. We made lots of progress on optimizing experiences for attendees at virtual events. Today, I'm happy to announce that we are taking the next step to elevate experiences at in-person events. 
We are launching a Gevme companion app.
The app is built with 3 key features in mind:
A free digital business card
A smart QR code scanner
A gateway to Mini Experiences
1. A Free Digital Business Card
In a world where we are looking at reducing the amount of paper that we use and also reducing contact for hygiene and health reasons, we reimagined the business card.
We took inspiration from Linktree, a wonderful link in bio tool that allows you to share multiple links on social media. It is vastly popular among Instagram users.
What if we could build such a new type of business card for professionals?
That's exactly what we built. We call it the Metacard. Your business card is now interactive. You can customize it and create Call-To-Actions. Here are some examples of how Metacards look like: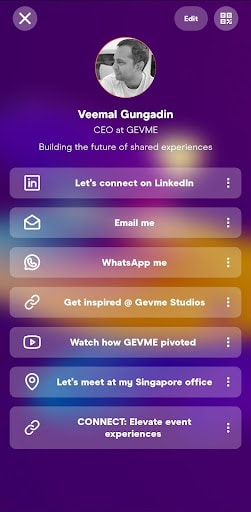 Share with QR code & Scan with normal phone camera
Your business card is now simply a QR code, available one tap away.
Anybody can scan it using the regular phone camera. No need for any other external app.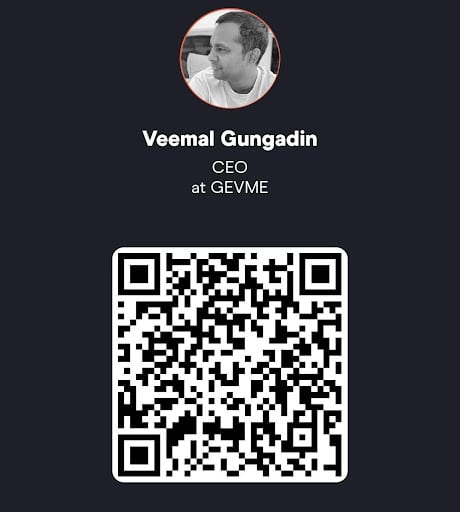 Once you scan, you can view the business card loaded on a web page. You can download the full contact details (in VCard format) to your phone address book.
Give it a try! Scan my card and let's connect!
Unlimited CTAs
You can create as many Call-To-Action (CTA) buttons as you want on your profile. And we support a whole bunch of them.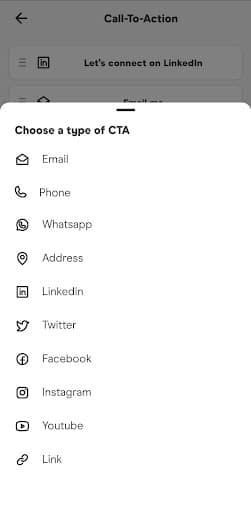 Your CTAs are not static. You can keep on updating them in time. Your contacts automatically see your updated profile.
Digital Badge at events
More than a digital business card, the Metacard can also act as a digital badge at events. No more printing of badges – if that works for your audience.
We have ensured to integrate the Metacard with our Onsite Registration offerings.
Sustainable
Perhaps, the slickest benefit of it all is that with Metacards there is no need to print business cards in your organization anymore! We have been using Metacard for a few months now at Gevme, and we have stopped printing business cards completely. That's equivalent to over 10,000 cards in a year – equivalent to 20kg in CO2e.

Every time you use a paper business card, that is 2g of carbon emission equivalent.

Globally, 100 billion business cards are produced yearly, equivalent to the potential loss of 6 million trees.
90% of business cards are simply thrown away, with the majority going to landfills.

2. A Smart QR Code Scanner
One of the permanent changes that Covid-19 has brought about is the ubiquity of QR codes. They're everywhere! And, more importantly, we finally all know how to scan QR codes.
One of the core features of our companion app is a smart QR code scanner that:
Makes it easy for you to track all the pages that you scan
Automatically logs you in to web experiences powered by Gevme + selected partners
3. A Gateway to Mini Experiences
The most exciting part of what we are launching is Mini Experiences!
We have generally found 2 types of personas for attendees at events:
Ok-to-download-an-app: People who will want to download an event app to make the most of an event
Will-never-download-yet-another-app: People who will never download an event-specific app.
We believe an event should be able to cater for both cases. For e.g., attendees should be able to participate in a live Q&A on their phone's web browser or through an app for better convenience.
And that is really what is at the core of our concept of Mini Experiences.
A Mini Experience is an H5 app that can run on a phone's web browser or launched easily through the Gevme companion app.

When using a web browser, a user may be required to login to access the experience.

When using the Gevme companion app, a user is always automatically logged in. The experience is available at 1 touch.
The Gevme companion app provides you a convenient way to access mini experiences of events that you attend.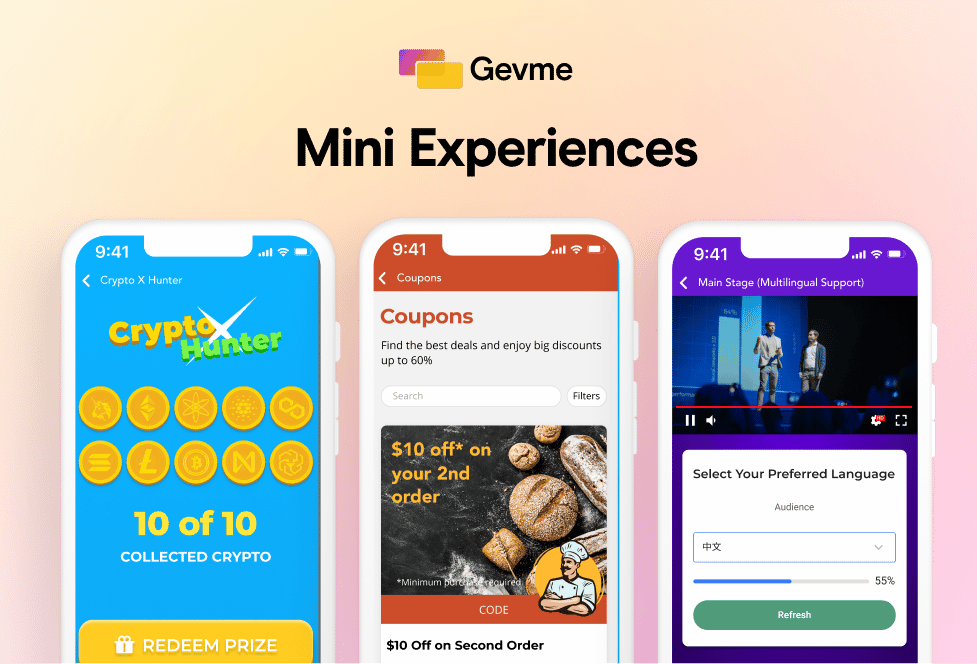 Mini Experiences open up a world of possibilities on how you can better design and elevate your attendees' experience at your event. Here are some of the things that you can do:
Interactive combined agenda of event sessions and meetings
Live Q&A or polls to give every attendee a voice
Networking capabilities to make it easy for attendees to discover and connect with each other
Social walls for better engagement within the event and globally on social media
Live interpretation to make your event more inclusive
Gamification with simple games like spin the wheel
Gamification with coupons to be redeemed at selected physical locations
The possibilities are really endless. We have released a whole bunch of mini experiences that you can browse and access on our marketplace.
Some of these experiences are built natively by the Gevme team, while the majority are powered by our partners.
I am really excited about the possibilities of Mini Experiences. You can read more about it in this blog post, where we go through each of the examples above in more detail.
Happy to hear your thoughts. Connect with me: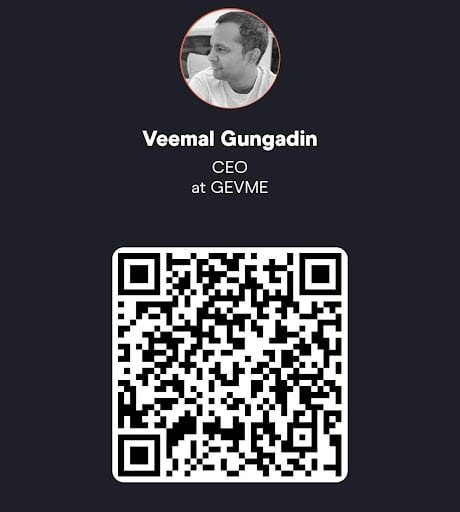 And wishing you happy holidays!