Today, we're announcing Gevme's new omnichannel event platform: an all-in-one solution enabling organisations to grow, engage and monetise their audience through events, by meeting them where they are across different channels.
The omnichannel event (r)evolution
The event industry went through a major transformation over the past two and a half years. Having hosted over 1 million event attendees thus far through our virtual event platform, we have seen first-hand the (forced) shift to virtual that occurred during the pandemic.
Now, with global regulations easing and the reopening of economies, event professionals are revisiting their event strategy. However, there is still a lot of uncertainty as to what format of events to invest in moving forward. Should we go back to physical events exclusively, given the appetite for people to connect in-person again? Or stick to virtual events with their increased reach and lower cost?
At Gevme, we believe that there are no easy answers to these complex questions. There is no one set format that is going to dominate this new era of events. Not even the much-touted hybrid event format. We believe that the future of events is going to be physical, virtual, hybrid, metaverse, and everything in between. Therefore, the best approach to hosting events is one that is omnichannel.
Attendees have new expectations. They want to experience events on their own terms and across different channels. Organisations that don't adapt to these changes will be left behind with unconnected events and impersonal experiences. Those that will succeed are the ones putting their audience at the centre of their strategy by adopting an omnichannel event strategy and building communities around their events. They complement their annual face-to-face events with digital experiences all year round.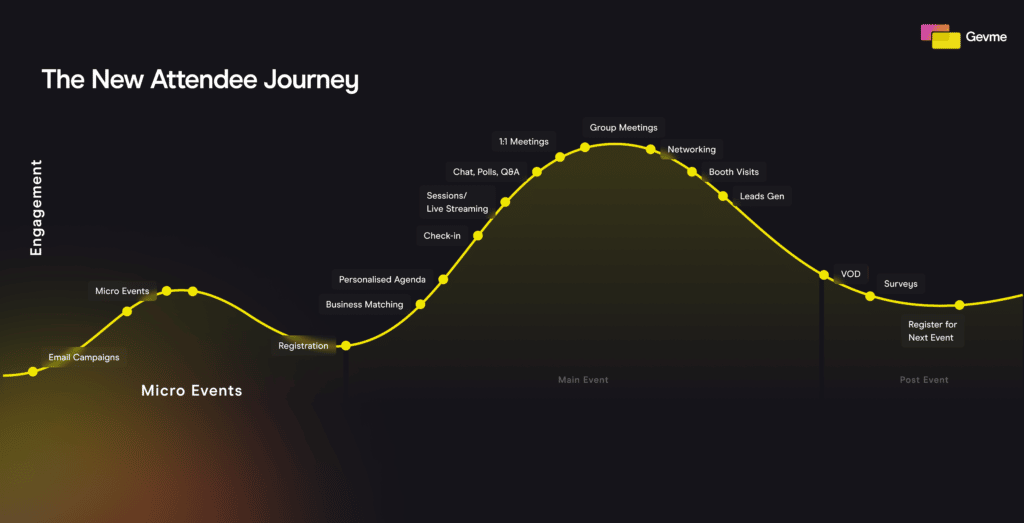 Introducing Gevme's omnichannel event platform
The expectation for businesses to offer multiple channels and options for customers will only continue to rise. Companies without strong omnichannel customer engagement strategies are bound to get left behind.
That being said, an omnichannel strategy brings its own set of difficulties – from analytics to logistics to falling short of customers' expectations. That's why we're launching our new omnichannel event platform: an integrated solution enabling you to grow, engage and monetise your audience through events.
The new platform helps organisations develop a robust omnichannel strategy by streamlining the event management processes. From one platform, they are able to run all their internal and external events, no matter the format.
Equipped with a plethora of tightly integrated apps ranging from attendee management to virtual event builder and data analytics, the Gevme platform presents a one-stop solution to turn any event idea into reality. Businesses can redirect their focus to catering for their audience's needs rather than dealing with disjointed solutions that limit their creativity.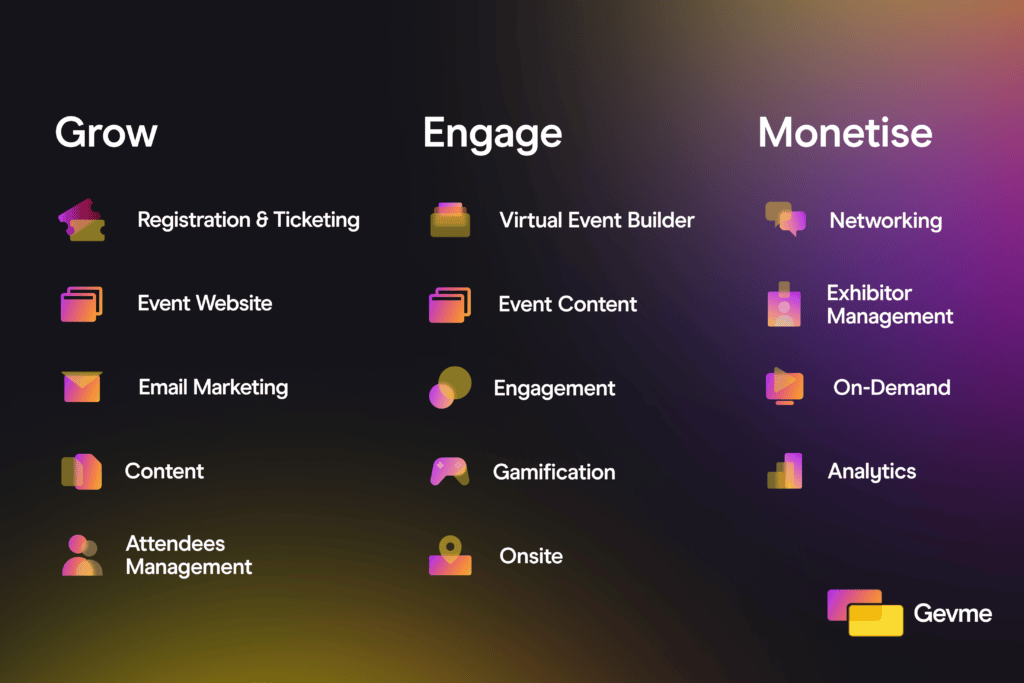 Introducing Virtual Event Builder 2.0
A year ago, we launched our Virtual Event Builder. It was a revolutionary way of building fully customised virtual experiences – without any code. We made it easy for anyone to turn their virtual event ideas into reality through a simple visual interface.
Since then, it's been used by the world's largest FinTech festival and by leading organisations such as IBM, Johnson & Johnson, GPJ and Kellogg's to create unique virtual experiences for their audience. It has also been featured extensively in the media and by partners such as Amazon Web Services.
We're now making it even easier to build custom virtual experiences in minutes with the Virtual Event Builder 2.0.
Gevme's Virtual Event Builder now includes an Experience Marketplace where event organisers can choose from various 2D or 3D templates for all sorts of events – conferences, webinars, career fairs, town halls – you name it, we've got it.
Event organisers can then further customise the experience they selected using our visual editor, allowing them to create unique virtual experiences for every event.
With Virtual Event Builder 2.0, we're further democratising the ability for people to build unique virtual experiences for people to connect.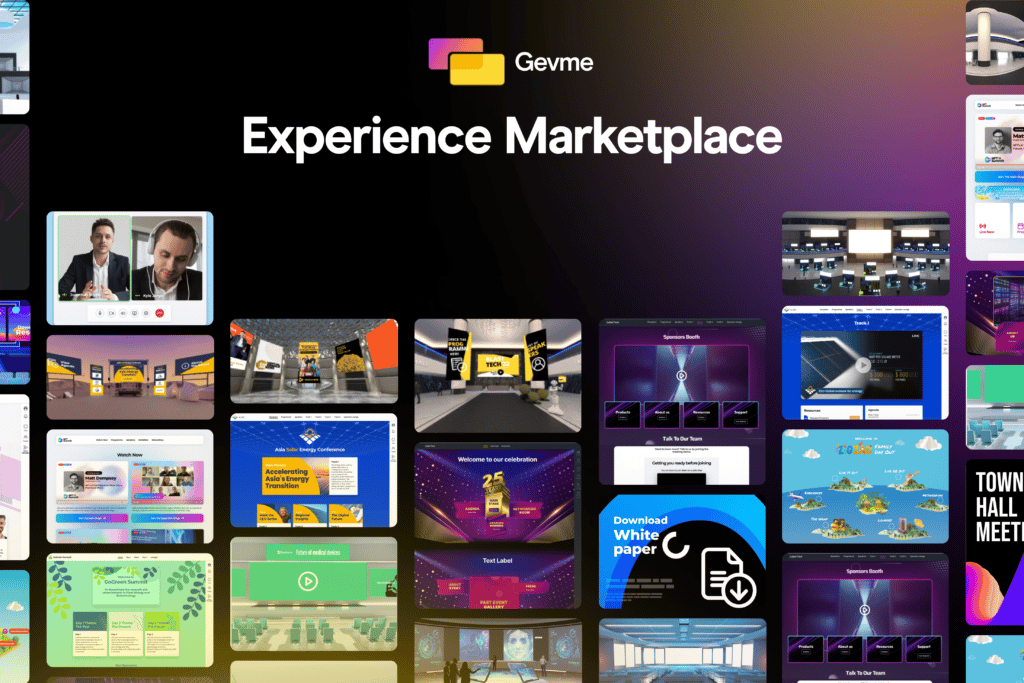 A new look for Gevme
You might have noticed by now that Gevme has a new look. The event industry has changed and so have we. We wanted a brand that would reflect the transformation that we went through while also projecting the vision of where we're going.
We needed something bold and approachable to connect with our community of trailblazing event professionals, while keeping the core elements that made some of the largest organisations trust us with their most important events.
We can't wait to reveal more of our new brand with you in the coming weeks.
What's next
It's the beginning of a new chapter for the events industry and for Gevme, and we couldn't be more excited to be on this journey with you. Feel free to reach out to our team to find out more about our new solutions and how they can transform your events. We cannot wait to see what you'll build.