Are you an event organizer looking for a way to make your events more engaging and interactive? Look no further!
Introducing Mini Experiences – A H5 app that can run on a phone's web browser or launched easily through the Gevme companion app.
With Mini Experiences, attendees can easily access and interact with various features and services at your event. From exhibitor information and sponsor pages to networking tools and coupon distribution, Mini Experiences provide a convenient and user-friendly way for attendees to get the most out of your event.
But that's not all – Mini Experiences also provide a range of benefits for event organizers, helping you to enhance the overall event experience and gain valuable insights about your audience. Here are just a few of the ways that Mini Experiences can help elevate your events:
Event Agenda
Exhibitor Listing
Networking
Coupons (using Product Listing)
Social Walls (Walls.io)
Real time feedback with MeetingPulse
Venue Map
Accessing Translated Audio Channel (Green Terp)
Spin the Wheel
Gamification – Crypto X
Event agenda & details
This mini-experience is available out of the box and very handy for event attendees as well as organizers.
Attendees will have easy access to important information about the event schedule, location, and speakers. This can help them plan their time at the event and ensure that they don't miss out on any sessions or activities.
It can help event organizers manage the event more effectively and ensure that attendees have the most up-to-date information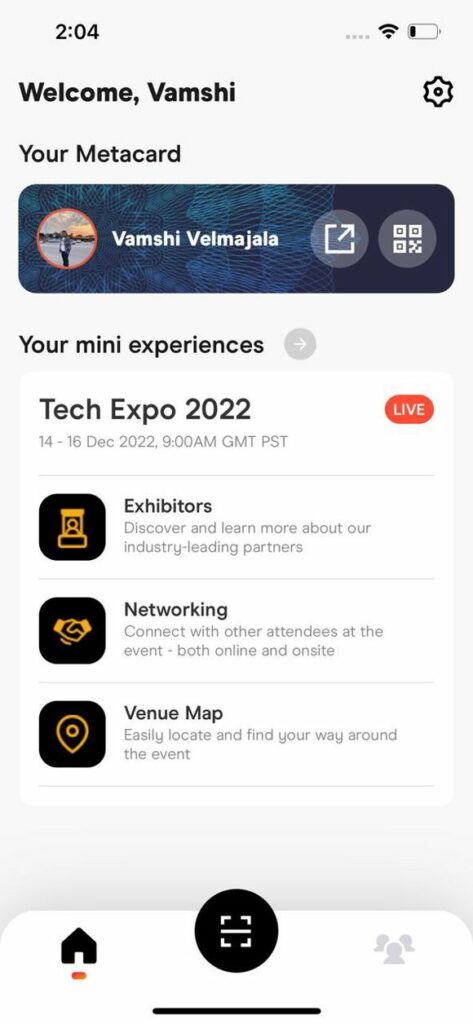 Exhibitor Listing:
Mini Experiences provide a convenient way for attendees to access exhibitor information, allowing them to find the best booths for their needs quickly and easily.
With the ability to create custom and branded pages with Gevme, event organizers can also easily highlight sponsors and give them a platform to communicate their message.
Attendees can access this information quickly and easily from their mobile device and get an in-depth look at what the sponsors have to offer. Additionally, they can engage with interactive activities such as surveys and quizzes setup the by sponsors.
Mini Experiences also allow for a more interactive experience around the exhibitors, enabling attendees to easily access a list of exhibitors and view their profiles, find out more about their offerings, and even book meetings with them.
Attendee Matchmaking:
Mini Experiences can help match attendees with exhibitors who offer relevant products or services. This ensures that the right people are introduced to the right exhibitors and can quickly create a symbiotic relationship.
Exhibitors can use Mini Experiences to collect data about each attendee, allowing them to gain valuable insights into their target audience.
Networking
With Mini Experiences, attendees can easily connect with other attendees at an event. They can share information, exchange contacts, and even follow up with each other after the event.
Organizers can make it easier for attendees to build relationships and make the most of their time at the event. You can keep track of participants and facilitate networking between them. This creates a more connected atmosphere and encourages collaboration among attendees.
Coupons (using Product Listing)
Coupons and sponsor product offers are a staple of many events, and Mini Experiences make them more accessible and user-friendly for attendees.
Organizers can display a list of available coupons and allow attendees to select and redeem the ones they want to use. The coupons could be redeemed either digitally on Gevme companion app, or by displaying a QR code that can be scanned at the point of purchase. This is not only a convenient and user-friendly way for event attendees to access and redeem coupons, but it also makes it easy for the event organizer to track and manage the coupons that are being distributed.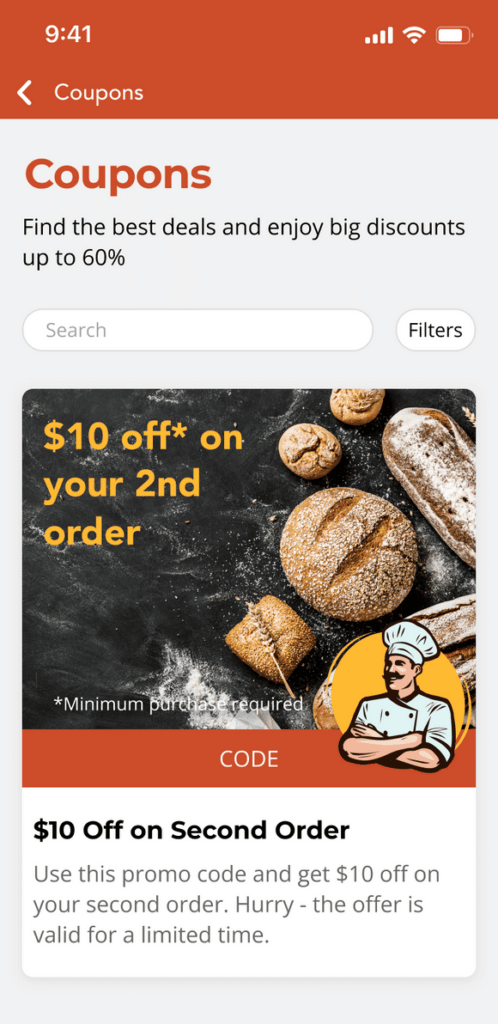 Mini experiences can serve as a gateway to all things mobile in your event. In addition to the gevme event pages, you can create mini experience using any third party website. Here are a few third party mini experiences we have curated to elevate your event experience.
Using Walls.io as a Mini Experience allows attendees to easily follow conversations happening before, during, and after events. This helps to create a stronger sense of community and connection between the attendees, even if they can't be physically present. Furthermore, it also encourages people to engage with the event's content using their own stories and experiences, thereby making it interactive and memorable.
This Mini Experience allows event organizers to engage with their attendees by displaying a live stream of all the posts associated with the event's hashtag. Attendees can also like, and share posts directly from the wall.
With Walls.io, you can easily aggregate content from social media platforms and display it on your event's website or a dedicated event landing page. The mini experience feature allows you to embed the wall into any web page, providing attendees with a convenient way to view the content and engage with it.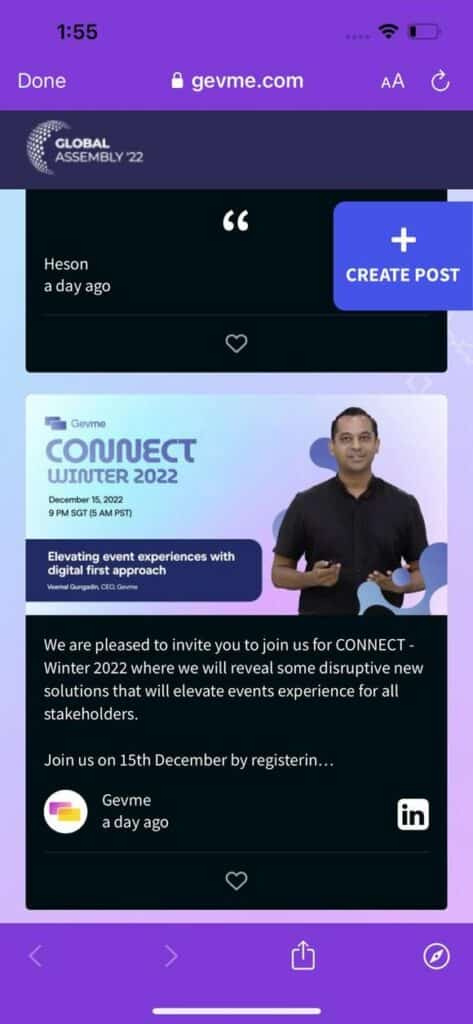 Mini Experiences can also be used to collect feedback from attendees in real-time using tools like MeetingPulse.
Interactive Quizzes: Put the fun back into your events with interactive quizzes. Use this mini-experience to give attendees a chance to test their knowledge or answer questions. This can also be used to gauge audience understanding of certain topics or concepts. Whether it's a trivia quiz or testing product knowledge, interactive quizzes will make sure your attendees stay engaged.
Custom surveys, Q&A : Use surveys to get valuable insights and feedback from your attendees. This mini experience can be used to identify trends, measure satisfaction, and even get ideas for new products and services. In addition, surveys can be used to track the performance of employees or to assess the success of events.
You can quickly asses the mood of your audience through 'Pulse', a dedicated page where attendees can react to the event in real-time.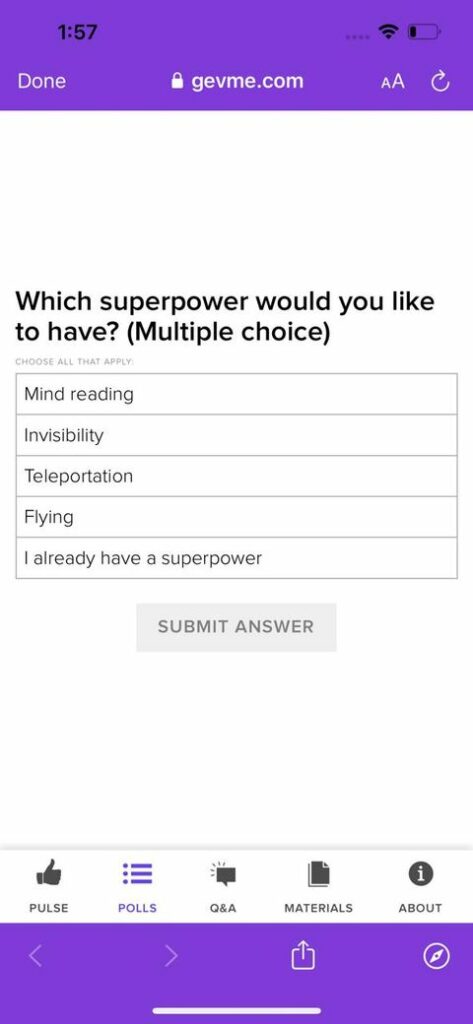 Venue Map
Keep you attendees informed and help them navigate your event with this mini-experience.
Easily embed a venue map into your mini experience, allowing attendees to quickly navigate, find their way around the venue and locate the different activities and amenities that are available to them.
This helps them make the most of their time at the event and provides them with a convenient way to explore the area.
This mini-experience is not just to provide directions to your attendees you can easily create and add event-related information such as booths, stages, and other points of interest. provide specific information such as seating arrangements, concession stands, and more. You can customize the venue map with logos and colors to create a fully branded experience.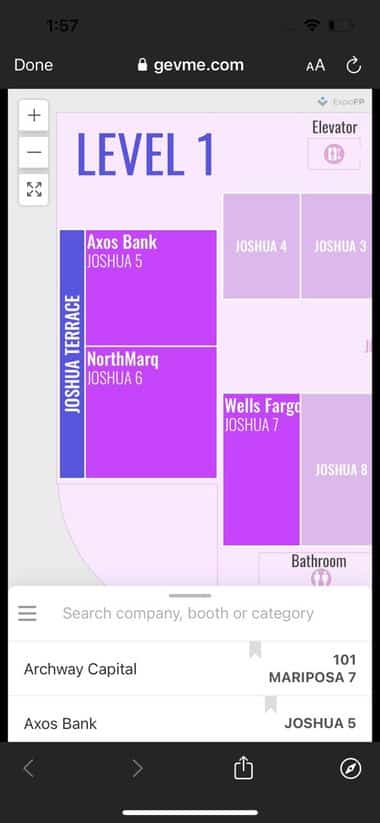 Accessing Translated Audio Channel (Green Terp):
Making your events more accessible and inclusive through this mini-experience.
The integration of Green Terp allows attendees to access event content in their native language.
Green Terp can provide live closed captions, allowing people with hearing impairments to follow along.
This mini-experience also supports Green Terp's time-delayed audio channel so people can listen at their own pace.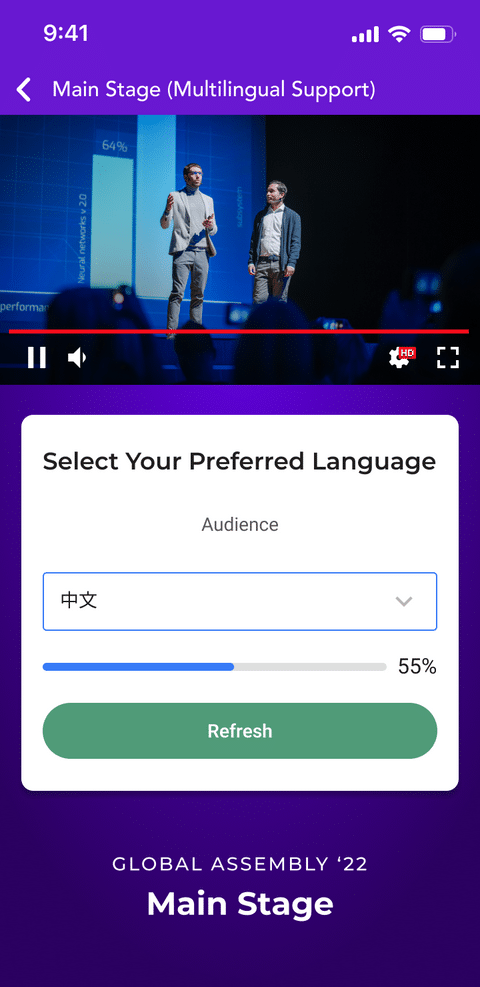 Spin the Wheel
This popular game needs no introduction and adds an exciting element to any event.
It can be used to increase engagement, boost sales or giveaway prizes. Participants can spin the wheel and win coupons, discounts, or other rewards.
It can also be used as a quiz game where users answer questions to get the chance to spin the wheel to win prizes
Another great way to use spin the wheel is by offering multiple choices and allowing users to choose their own prize based on their preferences.
This spin the wheel mini-experience allows you to reward attendees with discounts and prizes. You can also customize the wheel with images or text to create a visually appealing and engaging experience.
You can even create multiple wheels to increase the number of winners and prizes. With Spin the Wheel, you can bring more fun and engagement to your event.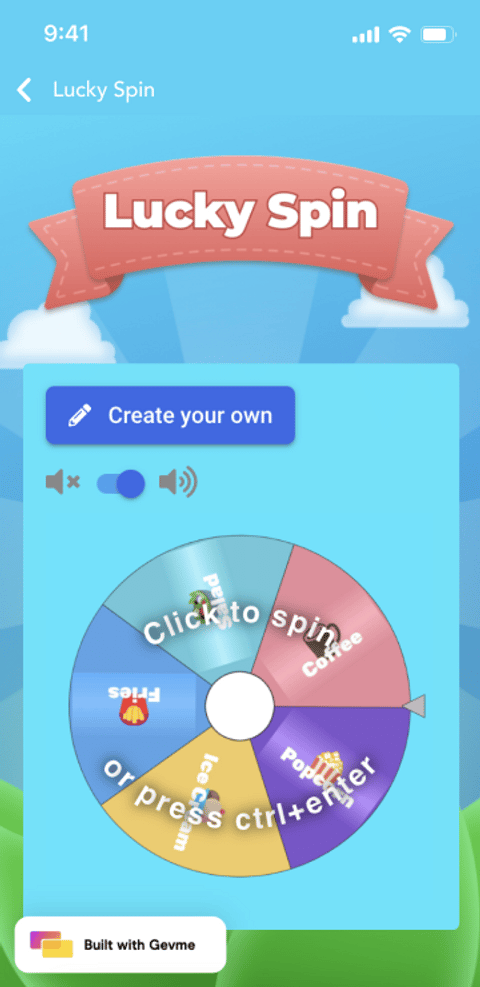 Gamification – Crypto X
Gamification fuels the fun in any event, encouraging attendees to get involved and engage with one another.
Integrating gamification as a mini experience will help to drive user engagement, increase session attendance, and build relationships with sponsors.
Crypto X is a treasure hunt style fun experience where attendees find and collect all the cryto rewards scattered across the event.
Organizers can create rewards for different tiers of achievements that participants can unlock during the event.
You can also customize leaderboards that can be displayed on presentation screens so that everyone can see who is leading the competition.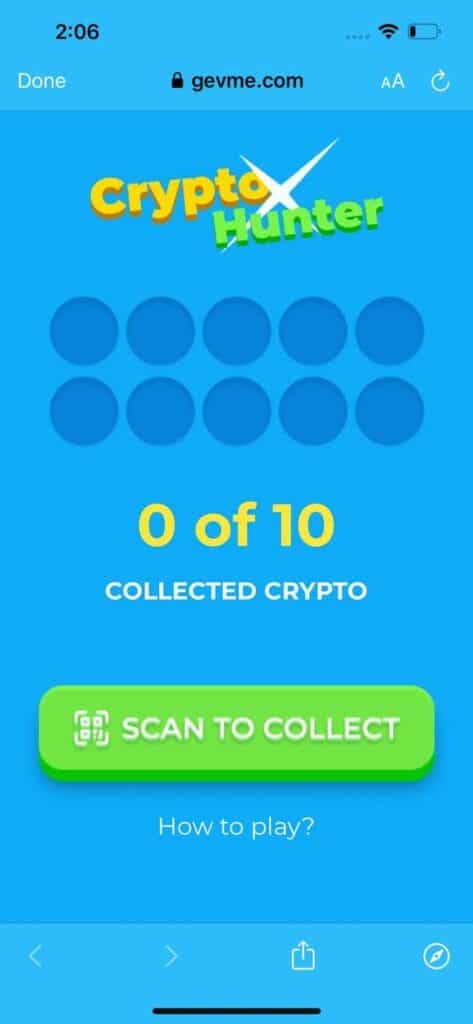 Are you ready to revolutionize the way you engage with attendees at your events? Take the first step and sign up for a free trial of Mini Experiences today. With our easy-to-use platform and customizable features, you can create engaging and interactive experiences that will delight your attendees and enhance the overall success of your event, download our mobile app to see it yourself. Don't miss out on this opportunity to elevate your events and boost engagement. Sign up for a free trial of Mini Experiences now and start creating unforgettable experiences for your attendees.