After two years of being limited to the virtual environment, event planners now finally have the capability to return to in-person events — as physical venues have once again opened their doors in many countries across the world.
When the pandemic had taken over most of the world, embracing technology was the only option left for event planners. Now, with the arrival of face-to-face meetings and conferences, there's one question that still perplexes many in the industry: will event technology remain relevant?
Pivoting from in-person to virtual events, a couple of years ago, wouldn't have been possible without technology. In doing so, several benefits offered by virtual events made event planners realise how technology transformed the way they can connect with their audience.
As a result, audience expectations hit a new high and event planners had to keep up with these changing behaviours. As only those who were willing to embrace technology, and adapt to the changing industry were able to survive in these challenging times.
Moving ahead, event planners now need to think of ways they can provide optimum value to their attendees and other stakeholders at in-person events. Additionally, with virtual events setting the bar high when it comes to the event experience, in-person events now need to be a step ahead than they were before the pandemic.
We have listed below some ways in which you can leverage technology to make the return to in-person events more exciting and seamless for your attendees.
Digitally connecting with attendees before the event
Engagement with your attendees, even if they are attending in person, starts from the time they come to know about your event. So, digitally interacting with them through various online channels is a prerequisite to making your event a success.
Right from the event registration process to the day before the event, sending out personalised emails, inviting them to community pages and sharing customised content that they can share on social media is the way to get started.
Another interesting way to engage with your audience digitally is through virtual events. This can be held for a shorter duration, but the main purpose is to know your audience better and also given them an insight into what they can expect from the main event.
There are two-fold benefits of digitally engaging with your attendees before the event. For starters, it helps foster a sense of community among your audience and helps them connect with fellow attendees with shared interests.
Moreover, when your audience shares their interest in your event on social media, it helps maximise the reach and promote your event organically.
We have delved deeper into how event planners can promote their events by leveraging social media content, speakers and attendees in Episode 2 of Event Exchange.
Personalising the event experience
It goes without saying that everyone loves personalisation. And your event attendees are no different.
Offering a personalised experience to your attendees not only makes them feel included, but also ensures that they derive the most value from your event.
When sending out email reminders about the event, incorporating the first name of the event registrant on the subject line or the email body is a way to get started on personalising the event experience. Such simple additions to the pre-event content help in adding a personal touch to how you communicate with your attendees.
Of the many advantages that event technology platforms provide, one is that you can use them to deliver a highly personalised networking experience to your event stakeholders. GEVME is one such platform that utilises a recommendation engine to help in event matchmaking to encourage networking.
So not only are attendees with similar interests able to get matched during the event, but they can also connect with relevant exhibitors and sponsors at your event.
But personalising the event experience does not end here. Event technology platforms like Gevme also help you to recommend content from your event based on your audience's profile and interests. This helps your attendees in making the most of their time at your event and consuming content that is most relevant to them.
This, in turn, helps in driving engagement and participation among those who attend your event in person.
Never let the conversation die
With so many months of attending events remotely, it's not surprising for event attendees to be overwhelmed by meeting other people face-to-face. What's also possible is the sheer awkwardness of starting a conversation — which may eventually cause your attendees to get bored while attending hour-long sessions.
So to overcome this and spark engagement with your attendees, it's worth incorporating social walls at your events. Social walls are a great tool to share user-generated content around your events. Such content help in breaking the ice among event attendees and get them to actively participate in your event.
You can even use social walls at your in-person events to gamify the event experience by organising challenges and asking your audience to share their answers or opinions on the social walls.
When attendees start participating in such challenges and exchanging their thoughts through social walls, it helps them to get to know each other better. It also helps them know who among their fellow attendees share the same interests and this, in turn, helps them to discover, network and start a conversation.
Make your in-person events immersive and entertaining
In-person events now are more than just a venue with a seating arrangement laid out and a stage for the panellists or speakers to talk from. Using immersive technologies like Virtual Reality (VR) and Augmented Reality (AR), you can keep your attendees hooked to your event until the end.
From product launches to taking your attendees beyond the physical limitations of the venue, immersive technologies are a powerful tool to keep the event experience much more entertaining and valuable.
For instance, in case of a product launch, you can leverage VR or AR to allow your attendees to get a life-like experience of the product without having to physically bring it to the venue. It also allows them to get an in-depth understanding of the product and make your event experience one that they will not easily forget.
A touchless and safer experience
In the post-covid world where digital payments have replaced cash, why should your audience check into your event using a physical ticket?
Today, touchless experiences have become a priority not just for convenience but also for safety. And that's a major reason why contactless check-ins should be considered the next time you plan to host an in-person event.
So, partnering with an event technology provider that allows you to integrate self-check-in stations at your onsite events is a great way to ensure the safety of your attendees.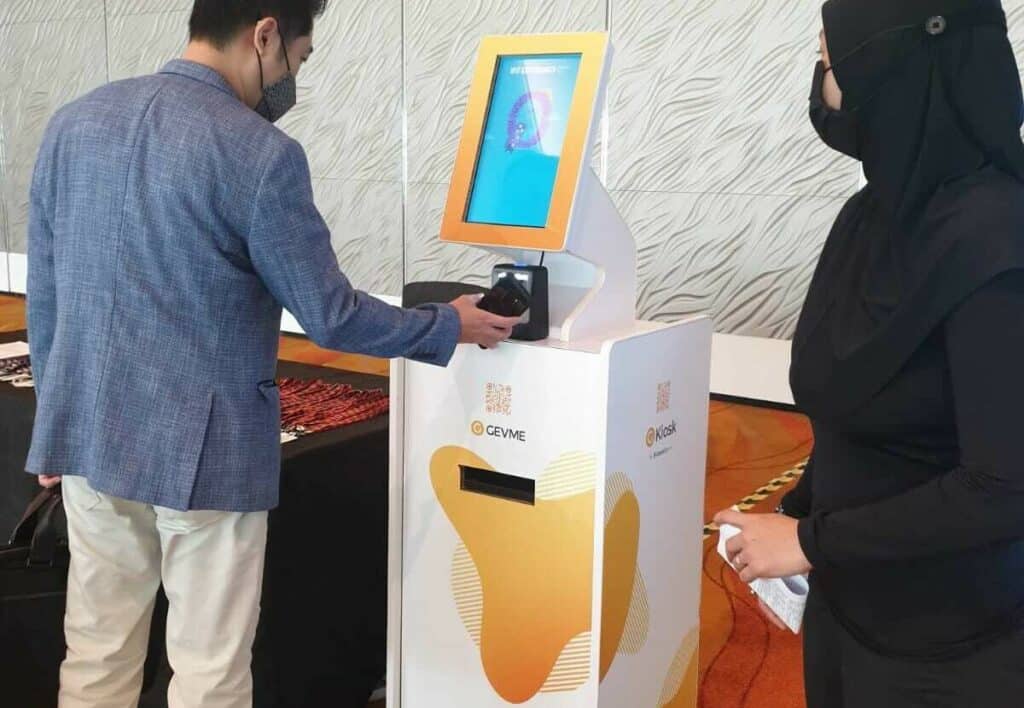 GEVME offers self-check-in solutions to your onsite events
We are also living at a time when business cards have become obsolete. Also, there's a potential risk with the physical exchange of business cards at onsite events.
So to overcome this and maintain safety at your events, using metacards powered by Gevme can help event attendees to exchange their contact information digitally.
GEVME is a companion app that has been designed to augment your attendee's experience at events. The app helps connect users with other attendees, create a metacard, add links for people to connect with you, scan metacards to add other attendees as contacts and search through your contacts and get updated contact information.
Anyone can download the GEVME App and create their own metacards which help exchange contact information in a touchless manner.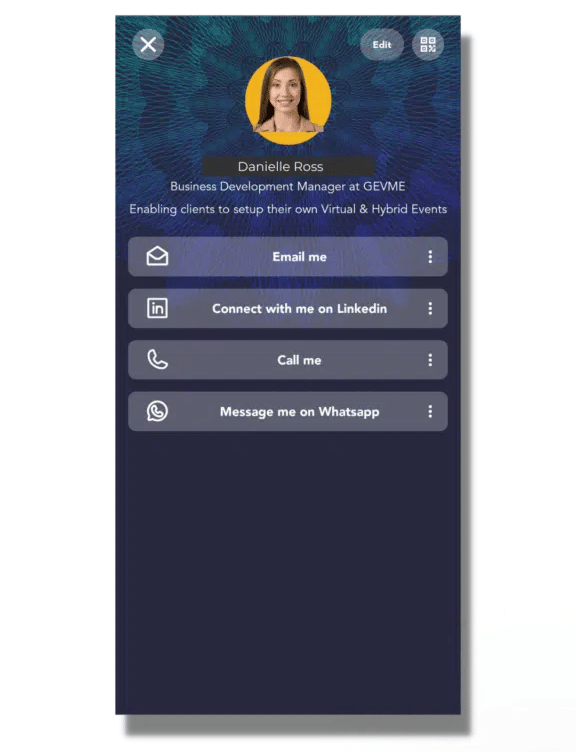 Go paperless with an event app
If you are still planning to hand out the event agenda or survey form to your attendees, then it's high time you skip these.
This is because by using an event app, you can augment your attendee's event experience like never before. You can even send push notifications to give them the latest updates or remind them about any upcoming session at your event.
The event app also allows you to engage with your attendees through live polls and quizzes – a great way to engage them in between sessions.
Attendees can easily navigate their way using an event app and constantly stay in touch with the organisers in case they have any queries or issues.
Let your attendees revisit your event
A lot goes into organising an event. From planning the content to getting speakers who can add value to your event. So why should all of this vanish once your event is over?
That's why providing your attendees with an on-demand version of your event ensures that anyone who may or may not have attended the event can watch any session of the event at any time in the future. This also allows you to keep the conversation flowing with your attendees once the actual event is over.
Providing on-demand content also allows you to gather important data related to your event audience. For instance, you can monitor how many attendees are actually interested in your event content, which part of the on-demand content were they most interested in and how they react or use such content.
We have covered more about the importance of real-time optional for creating better event experiences for your audience and how it can help with post-event communication in Episode 1 of Event Exchange.
To sum up
Events are all about providing valuable experiences. And technology is enabling event planners to step up their game and deliver such experiences.
It's clear that to keep catering to the changing demands of the audience and offer value, in-person events too need to backed by technology. It's only then that event planners can digitalise the event experience and stay connected with their audience not just during the event, but at all times – throughout the year.
Event technology platforms that offer business matchmaking, event mobile apps, contactless networking and easy-to-access content for personalised experiences, among many other features, will empower event professionals to drive actionable results from their events.

Check out how today's event planners stay ahead of the curve using GEVME's all-in-one event management platform.