Each one of us is familiar with the conversion funnel. With the changing times, the marketing funnel has witnessed changes as well. For someone who has been in marketing for long, the only change is that there is a new way of looking at marketing funnel. Initially, when a lead would be interested in buying a product or service, they would try to understand as many things about your brand as possible.
Well, the marketing sales funnel is pretty much the same with the only difference being that marketers have to still attract leads, generate interest and engage the potential customers so that they can decide and act accordingly. But what changes the entire scenario is that the order and tactics do not necessarily have to be the same. In today's date, each customer has become self informing. They educate themselves about the brand and the product by going through reviews and various other content available on the internet after they finally buy your product, they tend to become loyal customers who would further advocate for your business. As a marketer, your role now would be to delight these potential customers at every single stage. How can you make sure to boost your sales at every stage of the event marketing funnel? Let us find out. 
What is an event marketing funnel?
First of all, to break it down to you, a marketing funnel is a combination of marketing tactics that are used in order to generate traffic for your business and help it grow properly in order to gather loyal customers who can, later on, advocate for your business and act as brand evangelists. 
Now you would wonder why a sales funnel is so essential for my business? A marketing funnel is a strategic layout that lets you turn your audience from being a perspective lead to a loyal customer. There are various prospects in a marketing funnel and all your efforts are channelized into making your audience move from one stage to the other until they ultimately decide on making their final move. This final stage almost always ends up making them purchase your product or services. 
If your marketing funnel is a well laid one, it will let you know what exactly your company, business or brand must do so that you are able to influence the minds of your customers at different stages. Evaluating your marketing funnels can help you in potentially driving greater sales, making sure that you have more loyal customers and ultimately create stronger brand awareness. 
How are modern event sales going?
What is making a huge impact in the world of event marketing is that it has become more data-driven. All this information is then used by the event marketers to understand and evaluate the role and success of various platforms and strategies. 
While the event marketers are not the only ones who are on their pursuit to lead a more data-led approach, yet they seem to be growing more quickly. 
If the researches are to be believed, around (74%) of event marketers make use of data to align their marketing strategy, while just over half (54%) of brand marketers do so. Approximately 71% of the event planners make use of data so that they can track brand awareness as compared to just 52% of brands. Event marketers are at an advantage because they have a definite start and endpoint which makes using data a much easier approach to quantify success. Another bonus point here is that the event information is run on various channels so when the planners sit down to check the data and insights, they always have certain information to act on. Lastly, with an approach that is dependent on deriving data, it has triggered a seismic shift in the kinds of technology that is being used to plan, manage and ultimately promote events. 
How does event marketing funnel work
Are you someone who is constantly underwhelmed by the success rate of your marketing efforts? Come on and answer this honestly. Are you really happy with the current conversion rates that you are getting? Even by the means of and email marketing, how many people actually go ahead and buy a ticket to your event even after you have provided them yet another discount code? How many people actually booked for your event after you tweeted that amazing post? If you are absolutely happy with the kind of marketing efforts that you have been put and get, you do not need a marketing funnel. But if you would like to up your event game, you need to understand how does the event marketing funnel work in detail. 
When you set up a marketing funnel, it attracts people towards the marketing and advertisement of your brand ultimately landing them to your website — making them aware of your event. Next, the various offers showcased by you on your event website will persuade people to register for your event, do some research about past events, what other people think about your speakers, venue, etc. They may compare your event with your competitors and choose to select the one they find the best. In the second last stage, they will make a choice — whether they will be choosing your event or not. Lastly, those attendees will become loyal attendees.
The job of a marketing funnel is to help you see where you are losing and gaining your event registrations. In addition to that, you even have to funnel prospects down so that you can gain a new attendee. 
Basic sales funnel stages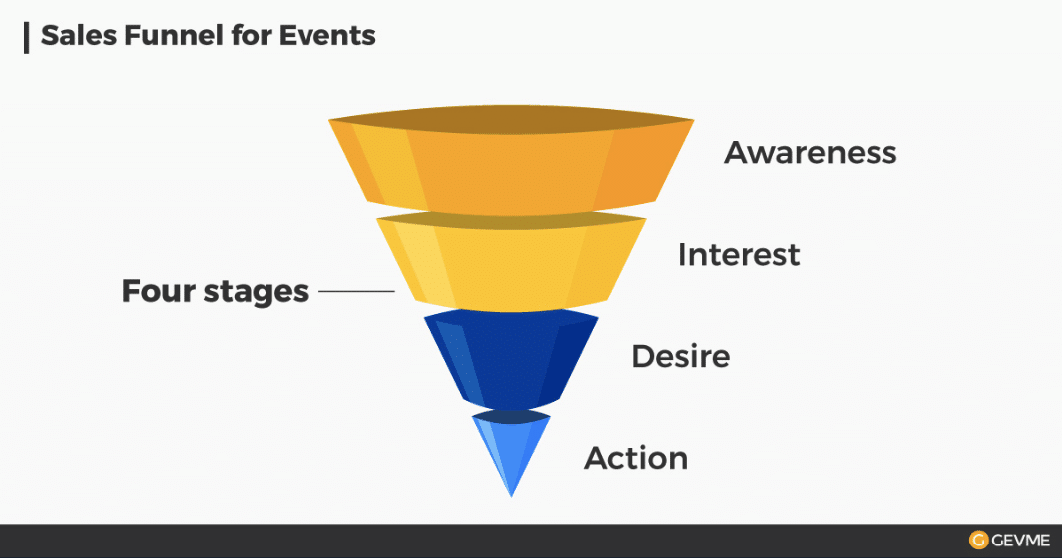 On a basic level, the sales funnel stages are – 
Awareness
In the first stage of the basic sales funnel, prospective attendees get to know about your event while also understanding what your event has to offer and the possible ways in which attending events can help take their business to the next level. 
This may be the first time that they have gotten to know about event organization from your end buy a random Google search, perhaps a post shared by one of their friends or acquaintances on social media or any other traffic source. 
Interest
In this stage, the prospective attendee may be actively seeking solutions to their problems and different ways in which they can achieve their goals. They may go up to Google to look for solutions and this is exactly when you can attract them with your absolutely amazing content. It is in this phase that he or she may want to go through your content, express their interest in your event and start following you on social media or subscribe to your list.
Desire
The second last stage of the basic sales funnel is the one wherein your prospective attendee has made their decision because of the desire that drives them to your event. He or she may be paying more attention to what you offer, the different kinds of packages and options that they can get which can incline them towards attending your event. 
Action
In the final stage of all, your prospective lead has made their ultimate decision by finalizing the deal with you by becoming an attendee at your event. They may be registering themselves for your event and subscribing to the updates so that they can be there at the venue. 
Modern leads may enter at any stage
In the first part of this blog, we have talked about marketing funnel for event planners, how to set up sales funnel for events, and its importance. Now we will talk about when exactly does indeed enter this funnel.
The modern leads can enter the marketing funnel at any stage. They are not really acquired and necessarily made to go through a series of stages right from awareness to discovery or to finally deciding and acting as a loyal customer. There are customer reviews available all over the internet and the people nowadays keep researching information about various products, services, and brands to keep themselves updated. 
The awareness stage has been cut short to just one click or two. It is because of the social media and global presence of the internet that the engagement of the public has become so easy that they can choose their own adventure. 
As a marketer, you do not need to obsess over acquiring new customers because believe it or not, a buyer's journey is now unprecedentedly accessible at every stage. This directly implies that a customer can choose to attend your event at any or all the stages. The most powerful and customizable tool for you event planner would be email marketing. There are email marketing tools that are automated at most of the stages of the journey. They help in reaching out to the customers and leads anywhere in the loop. 
Marketing funnel must be personalized and omnichannel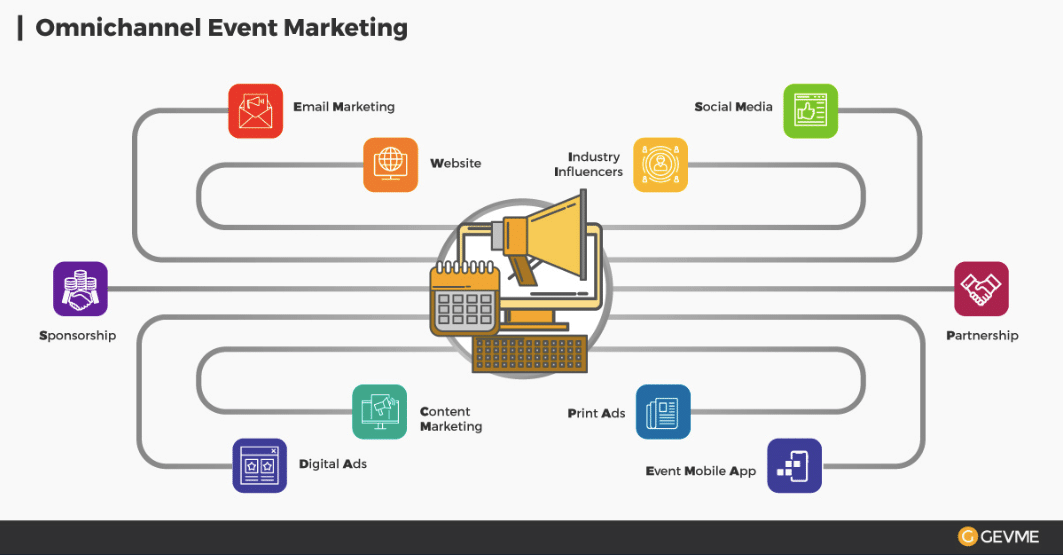 Different target groups have different requirements and so it is said that marketing funnel must be personalized. After all, this is what sums up, how people experience the internet in general. If you want to personalize the marketing funnel, you must use the collected data in a very judicious way and make sure to put organizational tools such as email automation and customization to use. Personalization is one of the hardest marketing methods to pull off but if it is done properly, it can prove to be one of the most effective one. 
If you are wondering what are the ways in which you can provide the attendees a personalized experience, we would like to make you think of every time your phone pings – right from that email, to that social media update for a push notification received from other online channels. 
When we talk of the only channel approach for your event marketing, we mean to say that you must unite the strength of every single communication channel that you are using so that you can deliver a more consistent and strong message. In case of events, we mean to say that every single thing should entice your lead towards trying to know more about you or your event. For omnichannel marketing, departments such as sales, product, customer support, and the marketing team, of course, need to work together to make it a success. Each department must be thorough with the objectives and goals of the communication being sent across. 
Best strategies to boost sales at each funnel stages
Next time when you are looking for ways to boost your sales at each funnel stage, refer to the following strategies to do so.
Pay Per Click Campaigns

: As we have explained initially, you must create a landing page for your event. Now if you are wondering how can you market it, the PPC campaign is your answer. You pay websites to share your event advertisement — but you only pay only if someone clicks on it or by the number of impressions your ad receives. Your event conversions can be increased with the help of Pay Per Click Campaign by using event page-level targeting.

Analyze the effectiveness of your marketing campaigns:

If you want to understand which marketing channels make the biggest impact on your ticket sales, we suggest that you analyze your website traffic. It will help you make conscious decisions so that you are not beating around the bush.

Add new blog content to your website on a regular basis:

We cannot help but keep pressing on the fact that content is the king and maintaining a blog is an amazing way to keep all your upcoming and content organized. There can be various useful blog posts that can up your SEO game and ultimately help in engaging with your current and prospective leads.

Include more than one call to action (CTA) on your website: We are pretty sure that you add the 'register now' button at the end of your event landing page, but do you know what will get you extra brownie points? Adding more than one call to action on your website. It may happen that visitors open your website at different stages of the customer journey — how will we get to know about your upcoming event? Only if you add more than one CTA buttons on it.

 Knowing your audiences:

Honesty, this one is the most important point of all. Whether you are marketing your event, planning on increasing your brand value, making people aware of your product and services, you must know your target audience. Are you targeting big businesses or do you mean to reach out to the mid-segment businesses, or is your event important for the consumers? You must know your audience inside out and be able to answer why they should attend this event and how it can benefit them.

Content strategies:

There are various content strategies that can help in helping your event be and 'all sold' one. Refer to the following methods to know what all can you do for your next big event.
Blogging

: When you publish blog articles on your website, you increase the chances of helping your website to be found in the search engines. How it can help you is that your prospective customers will come to you while looking for events happening around them and will be able to refer to your website and get all the information they need.
Social networking and publishing:

With the social media platforms widely reachable to each person in today's date, customer behaviour has changed. They expect to find information, reviews, advice and referrals on social networks. They expect businesses to answer all their questions on Facebook, Twitter, YouTube, and on their own websites. Social media is one of the best methods of increasing conversions at your event.
Paid advertising:

There are various forms of digital advertisements. Right from Facebook ads to Google ads, there are tons of options you can choose from. It does not matter which medium you choose to advertise on, the objective remains the same – filling your funnel with relevant traffic.
How to build an event marketing funnel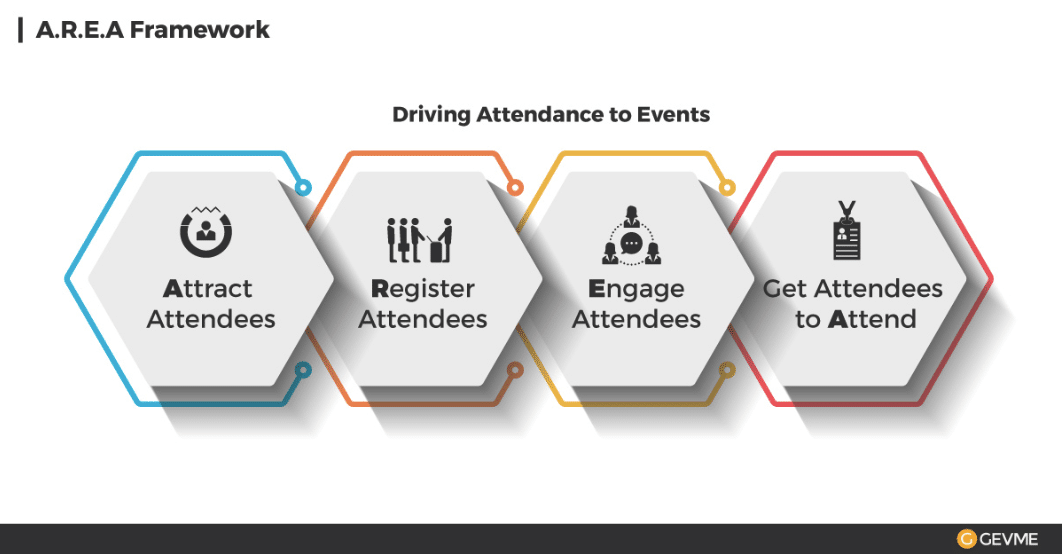 Tempted to have your own event based funnel? Listed below are the various AREA event funnel steps that are included in GEVME's tools. 
1. Attract Attendees
Without a doubt you want people to be aware of your brand and get attracted to your products and services but how can you reach out to each one of them? Content is the answer. You could make use of various platforms to generate awareness about your goods and services. Your content should be absolutely remarkable and be kind that is able to grab the attention of the customers. You can – 
Segment your audience

Send out engaging emails to the potential event attendees, partners, etc so that the customer loyalty for your brand gets a boost. For sending out exciting, engaging and effective emails to promote your event, you can make use of

email marketing tools

that would drive event registration, add to the reach of your event and help you make it a huge success. 

Create

an exclusive event page

. Having an exclusive event landing page will not only act as an eye-catcher for people but it will also go a long way when it comes to giving information such as the event venue address, event logo, the event banners, registration form, etc in a clear manner to the people who are interested. What these event landing pages would do for you is that they will skyrocket the attendance at your events. At GEVME, we have custom landing page designs where it is easy for you to build your landing page in no time at all. In addition to that, one does not need to have any design experience to make their landing pages look professional – we have got it all sorted out for you. 

With the pointers mentioned above, it will be easy for any event planner to create an event funnel for themselves. 
2. Register Attendees
Right after you have been able to entice the customers with your content, the next step would be to make them register them on your portal. Use an online event registration and ticketing tool which makes all of it an absolutely smooth and simple process not just for the event planners but also for the one who wants to register for your event. If you think that making people register online is not a good practice, let us convince you of why it should be done.
It is just plainly more convenient
Online registration is not just a more streamlined process but also makes the entire thing extremely easy for both the attendees and the staff. Be much more efficient than printing forms, feeling them up by hand, wasting paper by finding a perfectly good envelope and a stamp has serious repercussions on mother earth.
The process of printing and filling up forms also means that the registration process will require the back and forth of mail which will take a few days for completing the same. Not only will online registration make the data processing easier for you, but it will also make the registration process a child's play for your attendees.
You can custom choose the fields
With registration software on your fingertips, it is easy for you to customize the digital form. Apart from adding fields for name, phone number, you can also ask people to fill up Information which can help in statistical and analytical reports. 
You can ask them for democratic information, for instance, the gender, age, and ethnicity of the guest. A word of caution here – overwhelm your attendees with lots of empty boxes that need to be filled in or checked. Remember the rule that less is more. Just keep it to the basics and do not include anything that you do not need.
The option of customization directly implies that you can add images such as your logo the logos of various event sponsors on your tickets. This is one of the most important aspects of branding while trying to negotiate partnerships and sponsors for your events.  Your ticket template is just another way for you to communicate with your event attendees and putting up such logos will not only strengthen your own brand but will also get additional revenue for it. 
It is an absolutely green initiative
Online event registration is one of the easiest and greenest initiatives around. As responsible citizens, we all must take a step forward to avoid paper wastage and instead choose to go digital. As event planners, you can do your bit by reducing your own footprint. While we do not say that it is possible to go absolutely paperless, you must keep a few paper copies handy because at times you come across a small segment of the audience who want to do things the old fashioned ways. 
Nowadays, people hardly attend events all alone, instead, they choose to attend them in groups. Mostly, these groups include the attendee and their immediate friends and family. If you are catering to the B2B segment, these groups can also include the corporate heads, team members and other important figures in the company. While making registration for a group, a single person can register the entire party. A hard task made easy, we say! In such a case, you can count the people present at the venue by the number of groups present at your event. However, the same thing applies to B2C clients attending an event, a seminar or a conference. 
GEVME's registration and ticketing tool can be used by the event planners and attendees both.
All your event tickets have been sold out yet, there are people who are  still interested in attending your event. While this may be an amazing thing for your event, there is not much you can do if your event is not digital. When you use GEVME's Registration tool, the interested registrants can still be kept in loop by putting them on the waiting list. The benefits of this feature will directly affect the overall ROI of your event as the conversion rate of your prospective attendees to becoming registered attendees is high.
Online registration can be done at any time and from anywhere
With no hassle associated with registering themselves for the conference, guests can conveniently register from the comfort of their home, while in their office, or maybe while sitting with their friends and colleagues while sipping coffee as long as they have access to a mobile device and active internet connection. 
They do not have to worry about going to a physical booth or kiosk to purchase a physically printed ticket. Online registration takes less than five minutes and can be done from anywhere at any time.
3. Engage Attendees
The key to staying in touch with your attendees, potential leads and other targeted audience is to reach out to them through to your social media handles and email marketing. What it does is that your targeted audience and leads keep receiving updates from your end and you can always encourage them to add to your reach by perhaps asking them to invite a friend to attend your event and give them discount coupons in lieu of this. Alternatively, you ask your audience to bring along a group of friends for your event and offer them an amazing discount for trip registrations. Social media contests are another exciting way of keeping your audience engaged. There are not a lot of things around that compare to the happiness and excitement of customers when they stand a chance at winning something and this, in turn, can be an amazing way for you to stand out from the crowd and keep in touch with your audience. 
4. Get attendees to Attend
The world of event planning is ever changing and the advancement in technology, keeping track of everything right from the number of attendees to their interest and everything else has become absolutely easy. One of the best methods to narrow down on the number of attendees that will be/are attending your event is to make it easy to accept or decline the RSVP. Another fun thing that you can do is issuing tickets that have a unique QR code. This code can be scanned quickly to make the check in of each attendee faster. When each participant has a unique QR code, it will also help in preventing ticket fraud.
At one point in time or the other, we all have been to 2 events which are mobile app led. you could give your attendees access to the event mobile app so that a large number of people are able to attend the same. and who have registered to attend your event only, make sure to remind them to attend the event as the day approaches near. 
The AREA sales funnel is limited to the points mentioned above. However, there are two additional points that are not a part of this framework but play a very major role in creating a perfect event experience when an attendee is present at your event. 
5. Entertain
When you gamify an event by adding challenges, point systems, completion bars, and narratives, you make a non-gaming event interesting. At heart, each one of us likes to collect, complete and complete at various levels this ultimately brings delight to the audience. The real motive behind gamification of an event is the fact that it can bring out particular behaviors so that your event achieves desired outcomes. Gamification helps by –
Encouraging attendee engagement

Activating a sense of common purpose

Improving the proactivity of people at the event

Generating delightful experiences

Creating an environment of trust and collaboration

Transforming the event into an epic environment

Facilitating easier communication

Creating a more relaxed atmosphere

Boosting the self-confidence of attendees

Generating positivity
Gamifying your event can also help in generating leads for you. How? People will spread the word about your event among their friends and family by telling them about the wonderful experience they had. The ROI of your conference can also be tracked by using GEVME's lead generation app. It can help you by tracking the attendee details by simply scanning their badges. You can manage their access to the app, track all their performance and analyze the leads by using the admin console XP Manager
6. Follow up
Now that your event has been attended and people begin to leave, how will you be able to make a mark on the people and get back to them? you could use follow up emails for let us say feedback, keep them updated about other events that you are organizing or regularly posting about your updates on social media. 
For the feedback part, you can make use of our specialized software — GEVME Survey. With the help of this integrated event server software, you can segment your target attendees, receive real time feedback from their end without much fuss. What makes this software a perfect pick for event planners is that they do not have to wait for the event to end, pass on forms to take feedback — it can be taken anytime during the event because of its convenience.
You can get absolutely honest feedback right from the people so that in future you are able to anticipate what people want out of your event and the ways that you can improve on their experience. 
Optimizing your event marketing funnel
The in-person connections from one event to another make a huge difference in the conversions in your marketing funnel. There is no single event that can make or break the ticket sale for you but incremental conversions backed by various events can get you close to your long term sales oriented goals. In order to optimize your event marketing funnel, you must – 
 be able to identify the key challenges that you face at every stage of the funnel. After this, you should deliver content that is specific to your prospect's challenges. 

make a shift in your marketing perspective to analyze every single event as a new opportunity to create a bond with your attendees.

 understand that no event can be confined to one specific stage. Events are always important to marketing conversions and there is no single stage that can make it all happen.
Need help with boosting the sales of your event at every stage of the marketing funnel? Get in touch with the expert team of GEVME now!
How to boost event sales with GEVME
At GEVME, we have a large number of technically advanced software that can help you stay at the top of your event and give it that push it requires to boost your event sales. Each one of them is aligned with one another, is easy to use and is automated so that you do not have to worry about anything going wrong. To browse through our wide range of event management software, click here. 
Wrapping it up 
Creating an event funnel is absolutely essential to boost your event sales at every stage but there is only one condition that applies here — you need to have a team of marketing experts, up to date software (that are in line with one another) and rethink your email marketing strategy. Once all of this is sorted, there is no stopping for your event to become a huge success!