Finding virtual event sponsors is only the beginning of your event planning journey. With so many events being organised every day, promising exposure isn't enough to add value to your virtual event sponsors.
Unlike in-person events, you need to think of creative ways for your sponsors to be able to connect with your attendees when organising a virtual event.
Let's face it – sponsoring a virtual event is a completely different experience than an event held at a physical venue. Expectations from a virtual event tend to be higher. So once you have your sponsors on board, it's important that you are able to meet these expectations.
In this piece, we help you uncover the best ways to provide value to virtual event sponsors.
But before that, let's dig a little deep to understand more about virtual event sponsorships.
What is a virtual event sponsorship?
A virtual event sponsor is a brand or an organisation that sponsors your virtual event. While several factors come into play for a brand to sponsor a virtual event, one of the most influential factors is the ability to reach more people and get a good exposure.
That said, as an event planner you also need to keep in mind your attendee's experience. Not everyone enjoys being flooded with ads as soon as they sign in to your event. This can make your attendees feel overwhelmed leading to lower conversions and overall participation.
But that doesn't mean that the scope to provide value to your sponsors at virtual events is limited. In fact, when using the right event platform, you can get several opportunities to find the perfect balance in enhancing the event experience for both your attendees and sponsors.
Sponsors are important even stakeholders and if you are able to meet their expectations, there are higher chances of retaining them for your future events.
For your convenience, we have categorised the various ways in which you can provide value to your virtual event sponsors before, during and after your event.
Let's go.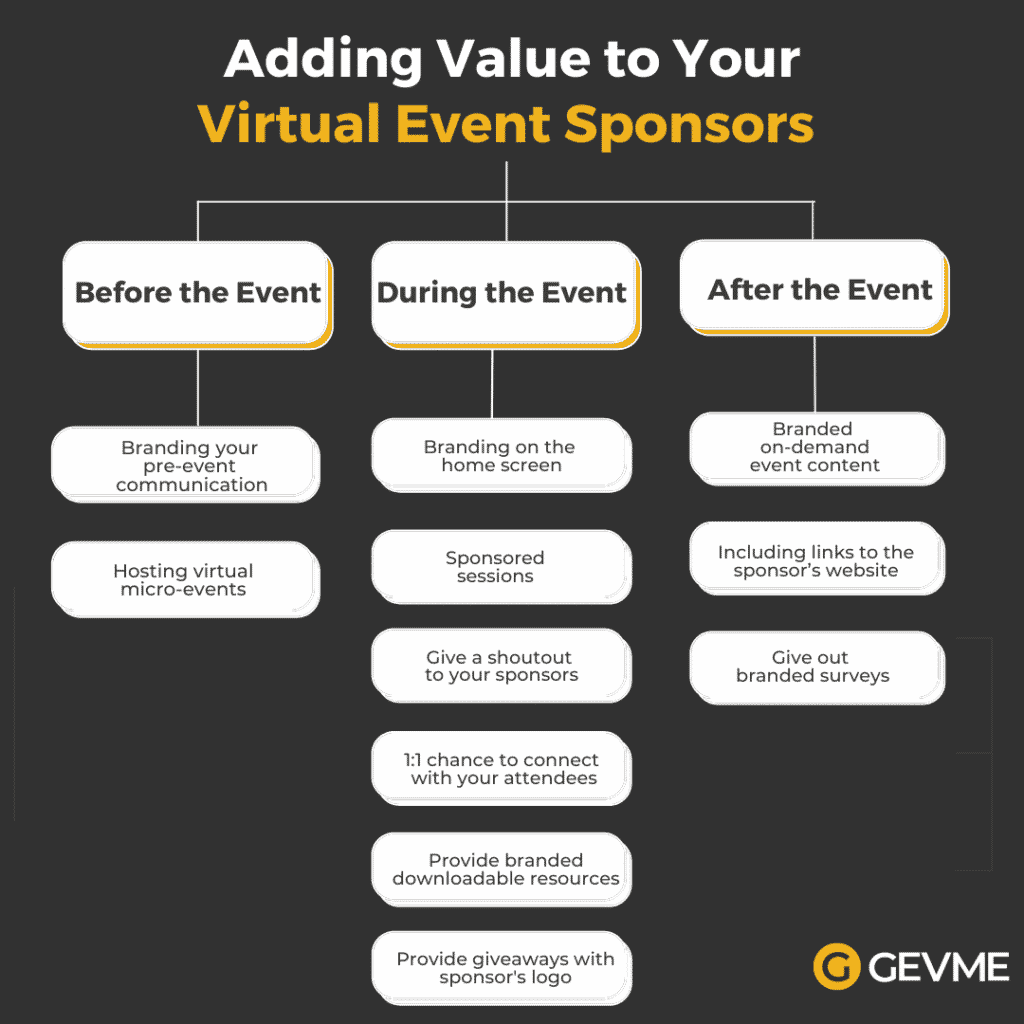 Providing value to virtual event sponsors before the event
Thanks to digital media channels – today you can promote your virtual events in more than one way. And this is a great opportunity for you to provide value to your virtual event sponsors.
Promoting the virtual event not only helps create a buzz among people in the community but also spreads the word about your sponsors to this audience.
So here are a few effective ways to promote your sponsors before your virtual event.
Branding your pre-event communication
There are several ways to do this. For starters, include your sponsors' logo or name on email invitations. Also, when announcing the virtual event on your website or social media, design these pages or posts in a way that you can include the name of your sponsors.
Additionally, feel free to tag your sponsors on social media when making these announcements. This will allow you to reach a wider audience and also let more people know about the sponsors.
Including your sponsor's logo on the event registration page is another way of adding value to your virtual event sponsors.
Hosting virtual micro-events
A great way to engage with your target audience is to host a micro-event before your main event. A micro-event allows you to personalise the experience for your attendees and establish a deeper relationship with them.
We have explained more about the benefits of hosting micro-events here.
But what's even more interesting about these events is that it's the perfect place for you to let your micro-event attendees know about your sponsors. Telling your attendees about the brands that they can expect to connect with at the main event can boost excitement about your virtual event and also provide value to your virtual event sponsors.
Providing value to virtual event sponsors during the event
On the main day of the virtual event, ensure that you are leaving no stones unturned to promote your sponsors. Here are a few ways to do this:
Branding on the home screen
If you are using a virtual event platform that allows you to customise your virtual event and create a home screen, then make sure you have set up the logo of your sponsors on this page. The home screen is one that everyone attending the virtual event will come across – giving the right exposure to virtual event sponsors.
Check out how Gevme allows event organisers to fully customise their virtual events in a code-free manner.
Sponsored sessions
Ask your virtual event sponsors if they would like to get featured in a particular session. This can be a great opportunity for the brand to connect with its audience on a deeper level. In some instances, your sponsor may also like to give a short presentation either before or after this session.
Give a shoutout to your sponsors
Go a step beyond branding the virtual event with your sponsor's logos and give them a shoutout while the event is ongoing. You can do this by displaying a ten-second ad or even adding pop-ups that are clearly visible to your attendees.
1:1 chance to connect with your attendees
Virtual events are a great way to offer a personalised experience to both your attendees and your sponsors, unlike in-person events. One way to do this is to provide a link to your attendees that allows them to connect with the brand personally.
GEVME's meeting scheduling feature is a great way to do this.
Provide branded downloadable resources
If you are planning to provide downloadable resources to your attendees, you can include your sponsor's logo and some description of their brand in these resources. For instance, if you provide a downloadable pdf report, you can include your sponsor's logo either on all the pages or at the beginning or end of the report.
Provide giveaways
Virtual event fatigue is real — and it can severely impact how your attendees participate. But, you can avoid this by gamifying the event experience. This can be done by organising contests in the virtual event.
You can then offer prizes that include the sponsor's logo or name to the winners of these contests.
Providing value to virtual event sponsors after the event
Virtual events now provide several ways for your attendees to be engaged with you even when your event is over. As an event planner, you need to ensure that you are making the best use of this opportunity to keep the conversation going with them and even allow your sponsors to be included.
To find out more about extending the lifecycle of your events and providing event content on-demand, check out this episode from Event Exchange on Gevme Studios.
Here are a few ways to provide value to virtual event sponsors after your event.
Giving access to branded on-demand event content
Providing on-demand access to your event content to your attendees is a great way for them to revisit your event any time they want. In doing so, you can use your sponsor's branding in between these videos or even throughout.
Including links to the sponsor's website or social media
When sending out thank you emails to your event attendees for participating in your virtual event, include a link to your sponsor's website or social media pages in this content. This will let your attendees get in touch with your sponsors personally – making your sponsor's time and investment in your virtual event worthwhile.
Give out branded surveys
Asking your event attendees about their experience at your virtual event can help you improve your event the next time you plan to host one. So when sending these survey forms, plug your sponsor's brand into them by watermarking the pages or adding logos. This is a great way to add value to your virtual event sponsors even when your event is over.
To sum up
The success of your virtual event is not just limited to how your event attendees feel about your event or the reviews they may have left. It's important to note that your virtual event sponsors are happy to participate in your event. This can be achieved by providing them value and establishing yourself as a trusted partner.