Whitepaper
Providing Value to Sponsors and Exhibitors
As the MICE industry starts to come back slowly, the risk of community infection and participant numbers restrictions have kept the majority at home.
Amid pandemic anxieties, virtual events have become a lifeline for the event industry, with virtual footfall making up for dwindling in-person participation.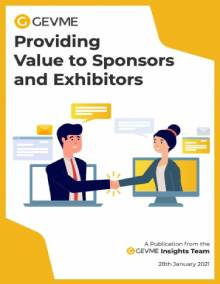 Our whitepaper has highlighted that the financial goals that event professionals are trying to achieve through virtual events. 84% of the professionals surveyed (CEIR 2020 Report) stated sustainability and profitability as their most important goals for virtual events.
This pushes event organizers to not only create engaging educational content to attendees but to also deliver value to their exhibitors and sponsors. While the impact of a physical event may be fleeting through a memorable 3 to 4-day experience, virtual events have a longer life as the event owners tend to make it available on-demand. The critical question now is: How can event organizers build value for sponsors and exhibitors?
Our GEVME Insights team has provided valuable insights pertaining to sponsors and exhibitors for event professionals in an easy-to-read format. We have covered
Expectations from sponsors and exhibitors
Virtual events provide new opportunities
Monetization and ROI
Download the whitepaper to read more