Whitepaper
Insights on Hybrid Events
At GEVME, we are running a 'Digital Events Series' where we gather the latest knowledge, hands-on tips and actionable insights about running digital events. We build and support the community of professionals in the event industry from across the world through our digital events.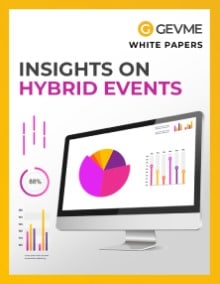 Our last few episodes were conducted as digital events but for the 5th episode we decided to create a hybrid experience. Episode 5 on the topic 'The Future of Events is Hybrid' which took place on the 29th of October, had a total of 512 registrations from a total of 55 countries for our Hybrid Event. The profile of our audience was mainly professionals from the events industry.
During the course of the hybrid event, we asked the audience the following five questions:
Have you organized a hybrid event before?
How ready are you to organize your own hybrid event?
If you plan your hybrid event, what is your top priority?
What new opportunities have attracted you towards planning a hybrid event?
What is the biggest challenge that you face?
Our GEVME Insights team compiled the live poll results and derived valuable insights for event professionals in an easy-to-read format.