Ebooks
The Future of Events is Hybrid
The disruption of the event industry due to COVID-19 has led to a spurt in virtual gatherings globally. As models continue to evolve, hybrid events have emerged as a viable alternative, blending the boundary-breaking potential of digital events with the serendipity of analogue meetings.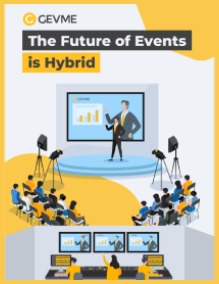 A hybrid event is an event that takes place in a physical venue, while also being attended by a live and interactive audience online. Hybrid events have many crucial benefits over conventional events, with the most significant being the extended reach that this format provides. With hybrid events, event organisers (and attendees) are not limited by geographical or physical boundaries – making the event truly reach a global audience. If you are interested in exploring the future of hybrid events, and want to understand this new emerging concept, download this ebook to get started. Let's take a look in-depth into all things hybrid.
What is inside this eBook?
What exactly are Hybrid Events?
Unification of Physical and Digital Components
Unravelling New Opportunities
How do you Launch a Hybrid Event?