A gripping bio can actually convert a random browser into a conference attendee. 65% of event visitors cite professional speakers as the most important factor to encourage them to attend. In this sense, the ability to get the right message about a speaker out there has a huge impact on attendance.
Why Do You Need to Write a Speaker Biography for a Conference?
Giving a speech that wows your audience is the best introduction, you might say. Well, that's true. However, without a strong bio, you might end up having no audience at all.
Here's why creating a good speaker biography for a conference is vital:
Make things easier for organizers. Event managers view event publicity as the father of event success. Accordingly, the effective presentation of the agenda on an event website, in a press kit, or on a conference brochure cover is a must. By turning your credentials and expertise into a speaker biography format, you definitely deserve a "thank you" from organizers.
Encourage attendance. You can make your bio catchy by adding some intrigue or fun. Play with words to get your biography read through to the end and encourage people to come. Also, by posting speaker bios on your event website, you can take conversion rates sky high. To make your speakers list beautiful, you can leverage the GEVME Website Builder automation.
Cater to the right audience. A good speaker biography for a conference is the one that attracts the target persona. Make it clear what the speech is going to be about in the speaker's biography to gather the right audience.
Build and host conferences with multiple speaker tracks and a large number of attendees. Try Gevme for free
The top 10 best speakers bio examples
You need a personal formula to craft a beautiful speaker biography that draws crowds. The key factors that you should keep in mind are the tone, length, and relevance of the provided information. To amp up your creativity, check out this top 10 successful conference speaker bios:
Content Marketing World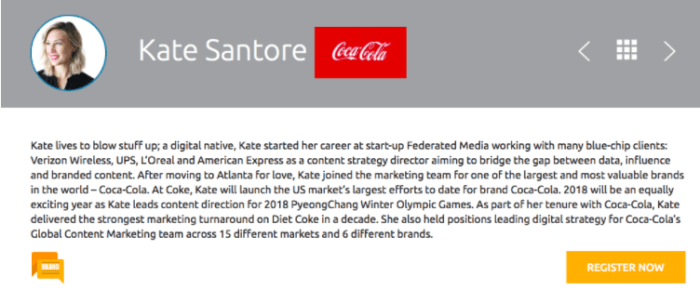 What's good? Kate lives to blow stuff up! The first statement gives a clear promise: This speaker bio isn't dull. By catching aperuser's attention from the first phrase, you ensure the reader will be eager to discover more. In this case, the biography also perfectly resonates with Coca-Cola branding. 130 years of Coke taglines which include "Open happiness" and "Life tastes good" demonstrate this brand appreciates juicy wordings.
RISE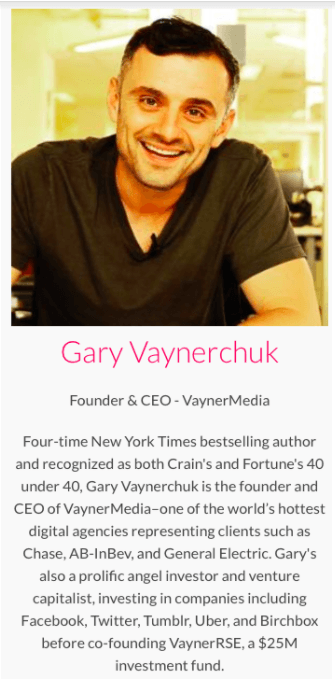 What's good? Credentials get the message across. By pointing out that Gary is a bestselling author and a founder of VaynerMedia, it makes clear this speaker can give an excellent, media-related speech.
Singapore FinTech Festival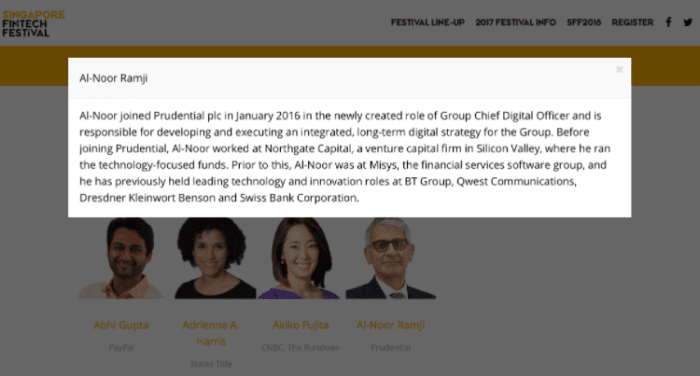 What's good? Adjectives add value. If it's a must to keep you biography as formal as possible, concentrate on the details. In this sample speaker biography for a Singapore FinTech Festival, the key value-adding elements are adjectives. By describing the speaker as the creator of an integrated, long-term digital strategy, you emphasize the qualities that are super important to a digital strategist and, thereby, amplify the expertise.

B2B Marketing Exchange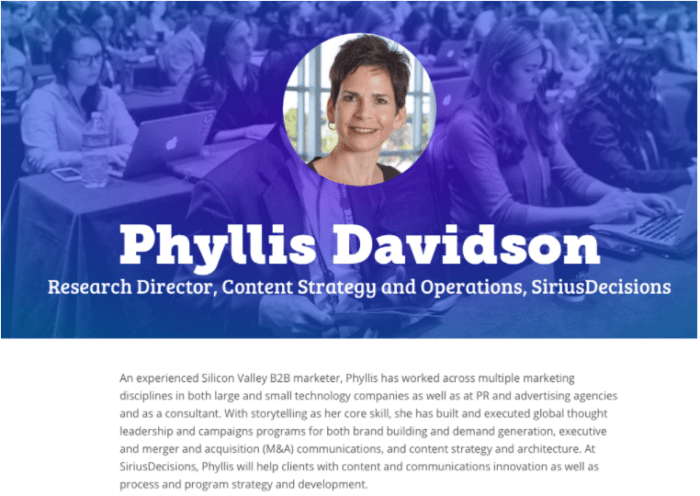 What's good? The core skill shows what you can benefit from. Phyllis Davidson, obviously, has huge experience working with content strategies in the B2B segment. Her "signature dish," however, is storytelling, and by identifying it as her core skill, the expert provides a crystal-clear value offer.
MozCon

What's good? A topic as a priority. Instead of focusing on her general biography and experience, MozCon organizers choose to tie this speaker's persona to the theme of the speech. Katie's short bio is a great example of how the target audience perceives the value of a speaker in the context of a specific topic.
World Cities Summit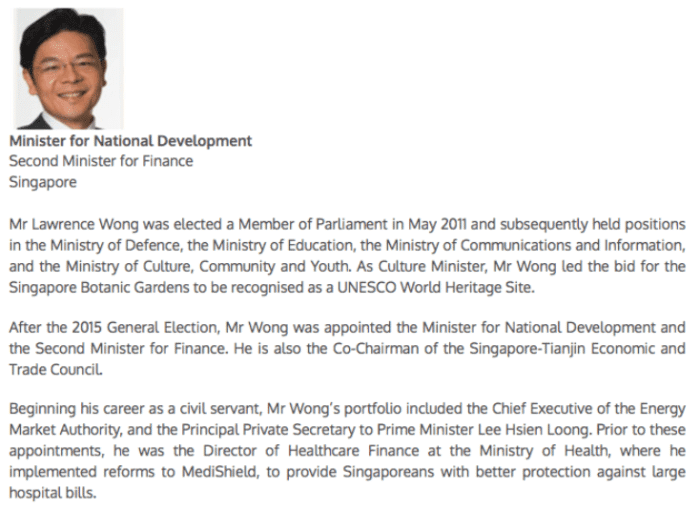 What's good? Special achievements. It's impossible to create a catchy biography if you describe a politician, you might say. Well, we must disagree. Although the tone is incredibly formal, the bio of the Second Minister of Finance for Singapore's World Cities Summit looks quite interesting. The statement about the efforts of Mr. Wong to make Singapore Botanic Gardens recognized as UNESCO World Heritage is a special achievement that definitely attracts public interest.
Build and host conferences with multiple speaker tracks and a large number of attendees. Try Gevme for free
CODELAND

What's good? Starting with a focus question. CODELAND organizers introduce the reader to the key question or theme on which his speech has to focus. Build a link between the speaker's personal experience and the conference agenda to help people understand how this information falls in line with attendees' expectations.
Web Summit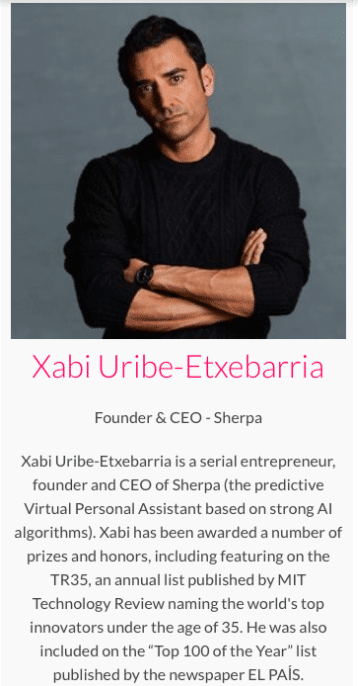 What's good? Explaining the speaker's occupation. In this sample speaker biography, a reader isn't left with the mysterious name "Sherpa," but gets a good explanation of what this speaker actually specializes in.
Universe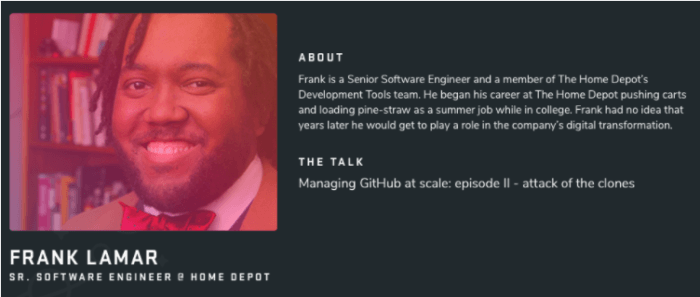 What's good? Compare and contrast. The organizers emphasize Frank Lamar's role at the beginning of his career and today to show the incredible progress this speaker has demonstrated. With the speech focusing on "digital transformation," the analogy is gorgeous.
IoT Asia

What's good? Catering to the focus industries & organizations. As the conference focuses on business transformation, IoT Asia explores the concept of transformation in diverse contexts and industries. By emphasizing Philip Seow's background in consulting for residential, retail, and commercial organizations, the value offer is super relevant.
How to write a personal biography for a conference
To guide you through the process of speaker biography development, we've prepared some working tips for you:
Keep it brief, but informative. 75-100 words are perfectly adequate to describe the speaker's credentials, occupation, and a value promise.
Keep it relevant. You only need to talk about those achievements which resonate with the topic a speaker is going to discuss at the conference.
Keep it in a great format. Use an effective website development system and photoshop technologies to make it magnetic on your conference website.
Build and host conferences with multiple speaker tracks and a large number of attendees. Try Gevme for free
Conclusion
Even if you're super confident you can get the message across, explore the most effective speaker biography examples to maximize conversions. With a powerful website development software and a good arsenal of examples of speaker bios, you can make it work for you.