Following the first wave of virtual events that emerged the past year, event organisers are starting to witness attendance fatigue, with many businesses struggling with monetization. To help combat this issue, we kicked off the first part of our original show Virtual Experience Makers series, bringing together artists from many different creative fields, to share their best practices on how to make virtual events stand out and bring creativity into this new era of business events.
Idea burnouts are inevitable in any industry but it is important to continually look for fresh ways to move forward. Now for the case of virtual events, what better way to think out of the box, than to actually speak to masters from creative fields? Gevme has pulled together professionals from any creative fields that you can think of – from the arts, food, travel, sports, fashion – who embraced the virtual and the new possibilities that come with it, in hopes to find inspiration for the next generation of virtual events

Veemal Gungadin, CEO of GEVME
The series is being run in partnership with travel technology platform WiT (Web in Travel) which last year was forced to go virtual and ran the world's first travel hybrid conference on October 1 at Marina Bay Sands' Hybrid Broadcast Studio.
Stories from the music, culinary, circus and theatre industries
Launched on 6th April 2021, the first part of Virtual Experience Makers series featured local artist DJ Aldrin, renown for bringing life back to dance, virtually. He shared his takeaways from his recent partnership with the National Arts Council, to create a unique digital experience earlier this year.
Following that episode, the series featured Singapore-based Israeli foodie, chef and entrepreneur Karni Tomer, who disclosed her experience on successfully running virtual cooking classes and tours, after her culinary food experience tours shifted online.
Episode 3 featured the CEO and managing director of Cambodian circus Phare, which, at its peak, was entertaining up to 800 foreign guests in its Big Top in Siem Reap nightly. The professionals shared their story of creativity borne by necessity, and what led to their decision to stage a 24-hour circus performance in a bid to make it into the Guinness Book of World Records as the longest live circus performance.
The next episode starred Singaporean acting superstar Hossan Leong and Artistic Director Derrick Chew, creators of The Curious Case of the Missing Peranakan, the first-of-its-kind virtual interactive play hosted by the Raffles Hotel. They talked about what it was like to create a piece of virtual art that fused hospitality, theatre and technology.
And finally episode 05 featured musicians Miss Lou and Daniel Chia who went from having to cancel all live gigs to producing more than 300 live streams of concerts, showcasing global renowned artists. The plunge into the virtual world has also made entrepreneurs of this husband-and-wife team who is now making beautiful music together in their new business called Loudanclear.
What's to come for the rest of the series 
Part 2 of Virtual Experience Makers is set to launch on Aug 31st at 9PM SGT, with the same format of hour-long episodes which includes interviews and space for audiences to interact and ask questions. The second part is set to be launched starring Malcom Lee, Chef-Owner of Michelin-starred restaurant Candlenut, who will be sharing about how he leveraged on virtual channels to promote his restaurant, with tips on how to strengthen customer relationships in the virtual realm.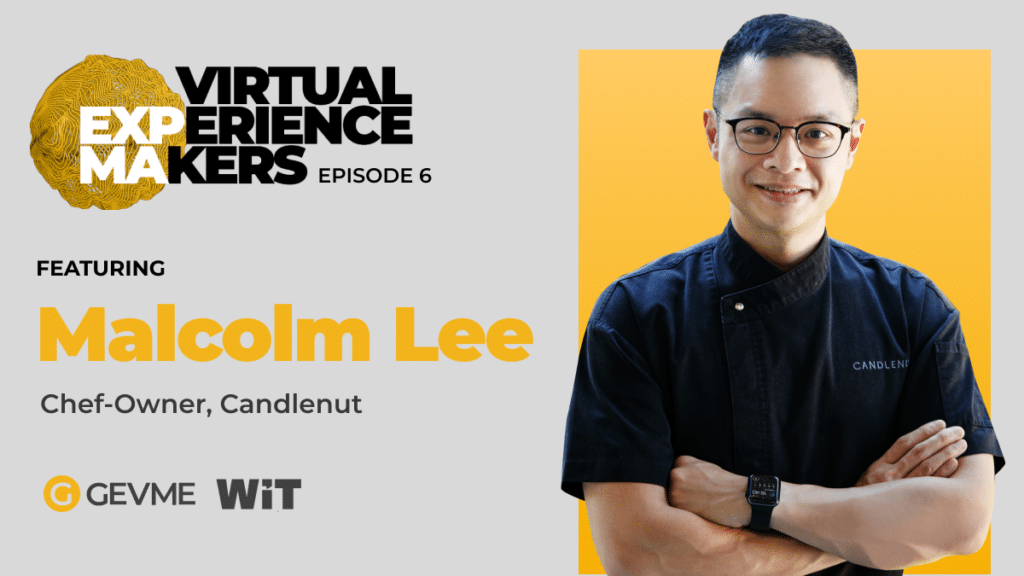 "The virtual realm should not be seen as a limitation to the events industry, and it is vital that we look at new means to bring innovation into the virtual world. As seen in the first part of Virtual Experience Makers, creativity is the ability to push through any boundaries and instead pave new paths. The artists have shown us that the virtual medium can be just as, or even more spectacular than the physical format that we were once so accustomed to. In fact, with just a bit of experimentation, business events professionals can likely host events that bring immersivity to a whole new level

Devansh Bhikajee, Marketing Manager at GEVME
Find out more about Virtual Experience Makers
Register for the upcoming episode: https://www.gevme.com/virtual-experience-makers-sixth-episode
Watch past episodes on demand at: https://www.gevme.com/en/studios/virtual-experience-makers/