Maximising the potential of event content is now an indispensable part of a successful event strategy. The optimum use of this content has an unsung ability to appeal to your event stakeholders – both during and after an event.
For years, inviting speakers, presenting informative videos and Q&A sessions have been some widely-used content formats for event engagement. However, what still remains untapped is how the shelf life of these contents can be increased. Given that event content can be useful for attendees, prioritising ways to extend its shelf life has become crucial.
So how can your event recordings be turned into digestible content? What is the key to making your future events more engaging and increasing the shelf life of your event content?
We found the answer to this on the first episode of our new series – Event Exchange, an on-demand series, available under GEVME Studios, where we have deep conversations with leaders shaping the future of events.
The first episode of Event Exchange features Humphrey Chen, CEO and Co-Founder of CLIPr, a video analysis and management platform (VAM) using AI and machine learning to help users quickly identify, organise, search, interact and share the important moments within an event recording.
In the events industry, utilising on-demand video content to drive engagement and foster communities is still in its nascent stage. But before weighing upon what on-demand videos bring to the table, it's necessary to know about the idea of 'real-time optional' as an event planner.
What is real-time optional?
Let's face it, it's impossible for attendees to remain focused throughout all the sessions of your event. And it's also a common practice for event registrants to sign up for your event – only to receive a recorded version of the same into their inbox.
So how can you ensure that your attendees make the most out of your event content? And how can these recordings help you generate leads? That's where the concept of real-time optional comes into play.
When watching an event recording, viewers may randomly skip to different parts of the video, increase its speed or simply go through the transcript – only to find the most interesting bits.
Not only is this inconvenient and time-consuming for the viewer, but it's also not the best way to provide value and information to your viewers.
Real-time optional seeks to make it easier for anyone to revisit a moment in the past – without having to invest all their time into the entire event or randomly skip through an event recording.
CLIPr is one such tool that uses machine learning and artificial intelligence (AI) to enable event attendees to skip to the most important parts of an event recording. Primarily, it provides them with a more efficient means to catch up on the content they may have missed or would want to watch again.
Explaining the concept of real-time optional further, Humphrey Chen says, "In the past, you couldn't be at multiple places at the same time. Now with technology and machine learning, you can be."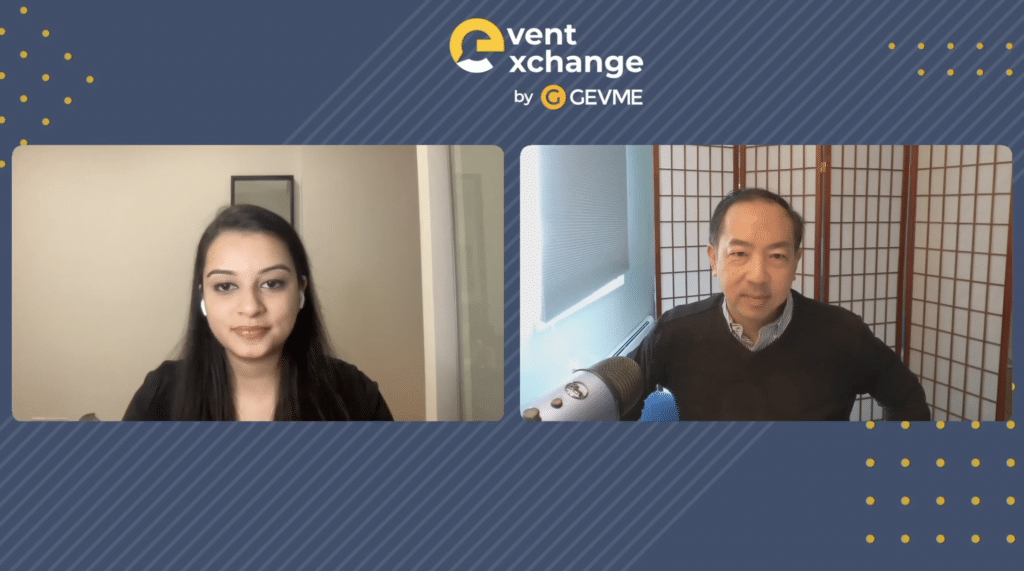 But with physical events gradually making a comeback, will the idea of real-time optional be applicable in the future of events? In most cases, it will. Here's why.
For starters, attendees at an event may want to network with fellow attendees or explore the event. But they may be unable to do so – due to an ongoing session that they need to attend.
With real-time optional, attendees can choose if they wish to attend a session in person or simply watch it on-demand. This offers them greater flexibility and the ability to make the most of their time at an event – enhancing their overall experience.
Attendees at in-person events are now more selective – and they are seeking to make the most of their time and effort of returning to events. So making the future of attendance real-time optional is key to meeting their raised expectations.
"COVID meaningfully accelerated the digital adoption – and now that it's here to stay, the reach of the audience is much bigger. In-person attendants are going to be more selective", reflects Humphrey.
How can on-demand content increase ROI and engagement?
Producing event content takes time and effort. By utilising event recordings as on-demand videos, event planners can extend the shelf life of their content.
What's more, it also gives them the opportunity to connect with attendees post-event – another interesting way to keep the conversation going with potential leads.
But that's not all. Talking about CLIPr's extensive features, Humphrey also highlighted that the tool allows event organisers to get actionable insights about how their audience engages with a piece of video content. For instance, viewers can bookmark and react to selected parts of these video content through emojis. This is then reported to the event organiser – which can further be used to start a conversation based on the content interaction.
Such insights also help event planners understand if a certain content type was successful or not – and if they can expect the same attendee to return to their next event.
What's in it for attendees when it comes to on-demand content?
On-demand videos have more to offer to event attendees than just the ease of viewing them anytime and anywhere.
CLIPr, for instance, allows viewers to search for a specific keyword relevant to them in a video. This redirects them to a specific part of the recording related to the keyword.
Viewers can skim, skip and find the content pieces that they want to know about. Clearly, on-demand videos are offering attendees a more personalised way of experiencing events, efficiently managing how they wish to engage at an event and learning what's on their checklist faster.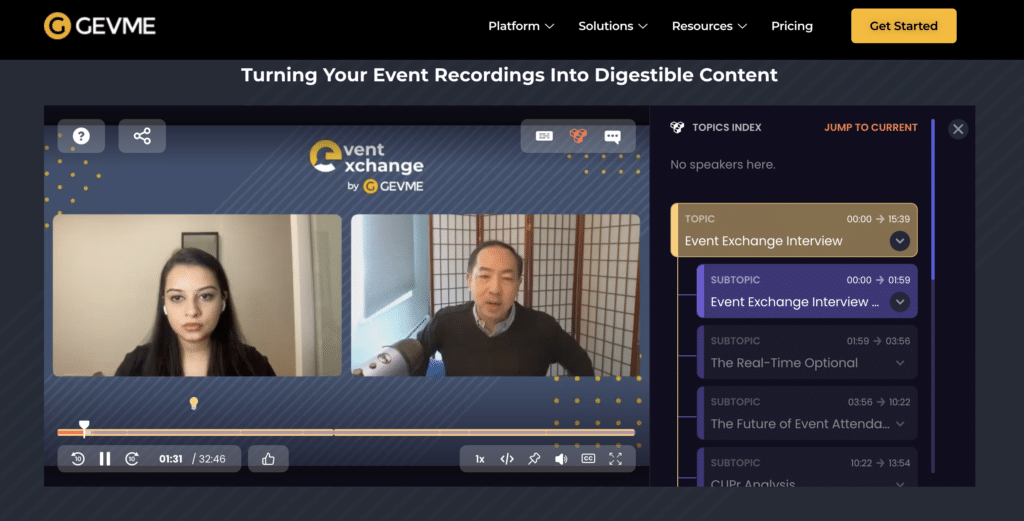 Attendees can also share this content within the community and see how others are reacting to it. Viewers can bookmark important parts of the event recording, react with emojis, make notes – all of which is a great way to spread the word about your event in the community.
Managing sponsorships through on-demand content
To provide value to sponsors, event planners can plug-in ads within their on-demand content. This could either be in the beginning, middle or end of the video content. However, while doing so, it's important to keep in mind the overall experience of the end-user.
Event planners can either choose to integrate these plug-ins in a subtle manner or present their ads coherently. But, it's fair to say that on-demand content will redefine and unlock new possibilities for event sponsors.

Is language a barrier to on-demand content?
At a time when not every attendee would want to visit your event in person, sharing your event content on-demand is a great way to connect with them. This implies that now with on-demand content, there are greater opportunities for your event to reach a global audience – without any additional work or investments for extending reach.
That said, promoting on-demand content to a global audience can be challenging – given variations in language as well as dialect. However, the right platform and strategy can help overcome it.
Speaking about how CLIPr makes videos accessible to a global audience and transcend language constraints, Humphrey shared, "CLIPr supports 31 languages, and out of these 17 are variations of the English language, such as Indian English, British English and Scottish English, to name a few. Our tool also supports major European languages and Asian languages. We can not only understand multiple languages but also translate multiple languages. It's always been a priority for us to ingest and as well as to be heard in different languages."
This shows that as event planners, it's important to take into consideration how you can make your on-demand content reach a wider audience. Making it accessible in multiple languages can make it easier to take your content global.
The future of on-demand videos is all about enriching experiences
One of the major strengths of on-demand video is that it allows anyone to access it whenever they want. But in the future, it will be more than just viewing and reiterating.
This can primarily be achieved by integrating AI and machine learning technology within on-demand video content.
For instance, these technologies will make it possible for live commerce to take place while someone views the content. Viewers can click on objects shown within the video and get to know more about them or even make a transaction. This will make event attendance much more impulsive, actionable and efficient.
Perhaps on-demand videos can act as a catalyst in merging industries and taking events beyond their present form. Such content will create richer experiences for event attendees and initiate valuable relationships among the various stakeholders of an event.
Watch the full episode below to know more about how to turn your event recordings into digestible content.