The events industry has always witnessed an exponential growth yearly, as more and more companies want to have events to bring their people, their community together. This industry is all about people and strengthening human bonds. However, due to the pandemic, the sector witnessed a huge downfall, which led to the rise of hybrid events. 
Hybrid events, even though it existed for a long time now, many event organizers didn't want to invest in it because of the need for specialists to run such an event. However, the pandemic compelled the industry to take drastic steps to survive. Below we will discuss everything about the impact that COVID -19 has had on the event industry, the evolution of events, what exactly are hybrid events, hybrid events future and its examples.
What are Hybrid Events
A hybrid event is a type of event that has a mixture of a physical event with a virtual platform, sometimes along with social media integration. Hybrid events have existed for a while now. However, due to the pandemic, more companies have resorted to conducting their event over a virtual platform. Currently, only a certain number of people can attend a physical event to reduce the clutter and minimize the virus's risk.
As more companies are switching to conducting hybrid events, they need to keep in mind that the one on the other side of the screen must be kept engaged with the event. For this, the content that they are delivering through their event has to be engaging. Companies now have to work towards making their audience's time worthwhile. The audience that pays to attend an event will be paying with the intention of learning and experiencing something new.
Evolution of Events
We've come a long way since the origin of events. The changes along the way have added to its progression over time. Even a decade back, events were way different from what they are now. The traditional way of conducting events included an event planner and many other managers for various aspects of the event. At times, a separate team of decorators, technical experts were hired. The people paying for the event planned everything. There were many jobs in this industry. Promotion or recruiting of personnel depended upon one's experience within the industry.
The advancement in technology and the coming about of the internet changed the way people connected. With this came the virtual events and social media. The way people marketed their events changed over time. A company can now create a hype about the event way in advance over social media, which usually increases attendance. Virtual events made it easier for people to attend an event from wherever they are. It made it easier to connect with people across the world. These events saw more attendance compared to a physical event. 
Fast forward to 2020, after the pandemic hit the industry, our priorities changed. Now, we cannot afford to have too many people gathered in one place. Instead, having a mixed physical and virtual event worked wonders in a time like this. We realized how cost-efficient, wholesome, and valuable a hybrid event experience is. The old rules written in the event management industry of how an event should be, have been snapped out, and the future of events will be re-written. Now, rather than just having the experience of working in the industry, it all comes down to continue learning and keeping up with the tech. The AR, VR, and AI specialists will be more in demand than people just having mere industry experience.
There will be a demand for more creative individuals for content creation, psychologists to understand how people think. The challenge is to deliver an excellent customer experience and keep the customer engaged in the event over a screen. The whole events industry trends are now going to be about learning and going more in-depth with it.
NO matter the kind of event, event organizers have always focused on the customer's experience. This entire industry is based on people, for the people to connect. To keep up with the competition, organizers will now have to invest and learn about these new changes.
How COVID-19 affects the event industry
The pandemic brought about a massive amount of change in the event industry within a short span. Many companies had to reduce their employees' salaries while some even had to cut down on their workforce. The entire industry faced a massive downfall a few months back. On the other hand, compulsorily being quarantined gave many in the industry the downtime to work on different skills, try and understand this industry's future, and figure out how to provide value and be useful. The event organizers had to either postpone or even cancel their events due to the pandemic. Travelling wasn't safe during this time; hence, several companies shifted to having their virtual platform experiences.
We are currently at a phase where companies have now recognized the importance of virtual events. While things have slowly begun to get back to normal, following safety measures is still essential. Due to this, only a limited number of people are allowed at the primary location while the event is screened virtually for the audience. Gevme has witnessed how the number of audiences attending the event virtually exceeded way more than the number of people attending the onsite event. Hence in the future, it is entirely predictable that hybrid events will stay as it provides so many benefits to the business and its stakeholders.
Types of Hybrid Events
There are various types of hybrid events. These events can be categorized as internal and external events depending upon the audience. Internal hybrid events are types of events held to benefit the organization's people, such as employees, shareholders, sponsors, etc. Examples of such events include Sales Kick-offs, global town halls, larger team meetings, company spirit weeks are the trends in the event industry. 
External hybrid events are events that are for customers, clients, and potential beneficiaries. This kind of event will have a more significant number of participants and can be further monetized. Examples of such events include conferences, trade shows, product demonstrations, customer conferences, etc.
Hybrid Events v/s Virtual v/s Classic
An event, no matter what type, has its advantages and disadvantages. Let us discuss the different types of events.
Classic Events: 
A traditional or face-to-face event has been going on for ages now. A face-to-face event has its pros and cons. We cannot deny this primary importance of being able to meet each other. Humans are social beings; we want to stay in touch and connect with others at a deeper level. Although this kind of event is necessary because it gives people a better way to connect, face-to-face events have their disadvantages of increased cost.
Virtual Events: 
With advancements in technology, innovations broke the physical and geographical barriers of meeting each other. Virtual events can be done from a distance using tools like the internet, smartphones, or laptops. These events do not require the person's physical presence and benefit from cost, broader reach, and increased attendance. These kinds of events are eco-friendly and offer a higher return on investment than a physical event.
Hybrid Events:
Hybrid events are a mixture of having a physical event along with streaming it online. The need for having a mixed event like this hadn't arisen until recently due to the pandemic. In the more initial stages of the pandemic, we realized how important human touch and human connection was to most of us. Such feelings are inevitable as human beings. As time passed, companies like Gevme experimented with having hybrid events, and this event has worked wonders out of all. For a mixed event, people can connect at a physical location, and that energy radiates to all those participating in the event. The need for hybrid events wasn't as much as it is now. However, in times like these, it has proved to be the best way of conducting any event.
Top 5 Benefits of Hybrid Events
1.Convenience – 
The significant benefit of a hybrid event is that you do not have to travel long distances to attend the event. One can attend the event from wherever in the world they are! Because of their busy schedules, people often do not get the time to participate in such circumstances. In that case, they can re-watch the event over the platform as well.
2. Broad reach – 
A hybrid event enables a worldwide audience to be a part of it. There is no coercion on the number of people that can attend such an event.
3. Cost-efficient – 
With only a limited number of people attending the event, there will be no need to spend extra on space, equipment, sound systems, etc. There will be lesser people travelling to the event; this will result in reduced environmental costs.
4. Live surveys –
Live surveys include live polls and voting. In case of a physical event, it can be quite costly and time-consuming to conduct a vote. In the case of a hybrid event, this can be done over the virtual platform itself. This indeed is more beneficial compared to doing the same at a physical event.
5. Increased Return on Investment – 
The cost of spending on the venue, devices, additional equipment, and even sanitization is reduced significantly in case of a hybrid event. As long people know that there is some kind of value that they will be taking away from the conference, they will pay to attend it. Hence, the company must focus more on providing value to ensure that these customers or clients return.
Hybrid Events Successful examples 
Following are the examples of 8 successful mixed events taken place worldwide 
Apple Special Events: This is when Apple Inc. announces new products, redesigns, and upgrades. The thrill about this event is that Apple keeps the agenda for the event a secret and reveals it for the event itself.

Twitchcon: Twitchcon is an in-real-life event of the Twitch community. At this event, you can meet gamers, other gaming fans, purchase merchandise, etc.

Public Health Informatics Conference: The primary purpose of this conference is to bring people healthcare, IT, and public health professionals together to discuss and exchange ideas, experiences, and strategies about public health informatics.

Inbound Conference: Inbound conference brings together business leaders from different industries with a series of keynote talks, breakout sessions, and various activities taking place over three days.

Yellow Conference: Yellow conference is an all-woman conference. Here, women entrepreneurs come together to speak about how their work is more than just a career and how they can provide value to others through their work.
Web in Travel: Web in Travel is a conference hosted to bring people in the travel industry worldwide and discuss everything related to the industry. This event has a series of interviews, debates, talent showcase, breakout sessions, etc. This year Web in Travel partnered with Gevme to host its first hybrid event worldwide.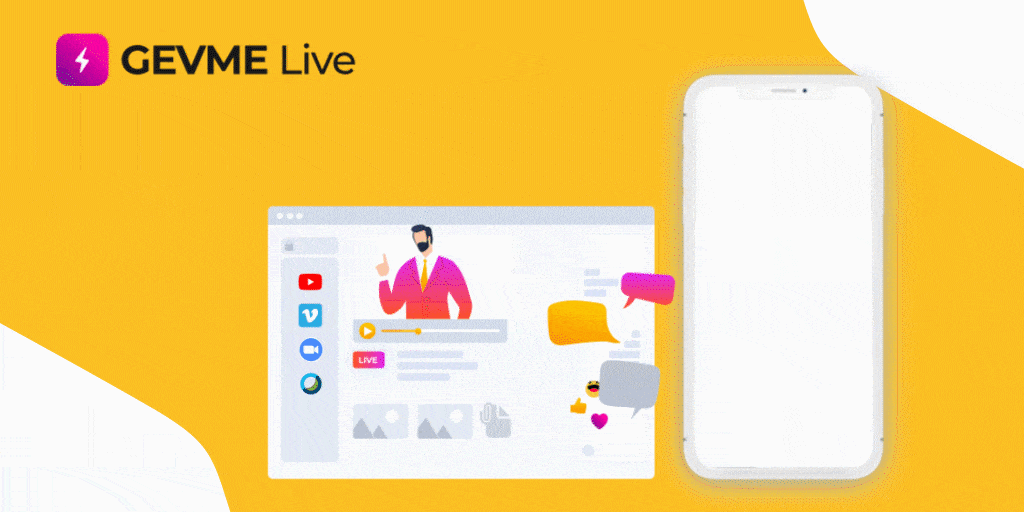 Conclusions
The events industry future is filled with a whole lot of change. We have come a long way and have witnessed several trends in the event industry since its inception. This industry has proved to be resilient throughout by adapting to all the changes that came along its course. We are presently in a period where we have realized the importance of bringing about value through events and, at the same time, keeping making it convenient for people to attend it.
We have seen a boost in attendance in a mixed event of this kind. The event's future will bring in more participation and engagement. Hybrid events have way more advantages than a physical or a virtual event alone. The best part is that this cannot be restricted to only one kind of event, as seen in the examples above. An industry can be creative and use these means and technology creatively to cater to its audience. Hybrid events overall are a kind of balanced event, balanced concerning cost as well as experiences.