2020 has been crazy, even more for event organizers and attendees because it was painful to see their favourite events get cancelled one after the other. But technology has always helped us adapt to situations and figure out an alternative without losing much on the original.
One such concept is Hybrid Events. In simple terms, a hybrid event is a combination of a virtual and live event, as in, there is a curated experience for the live audience and a virtual audience for the same event. Maybe we did not realize it, but a lot of successful events have been occurring in the hybrid format much long before it became mainstream in 2020. So, if you are looking forward to taking this forward with a new and exciting format, check out this short guide for all the ingredients to prepare for a fantastic hybrid events platform.
Hybrid Events and Your Total Event Strategy
No matter the type of event, in conventional form, the purpose of every event is to get the audience to register for the event and arrive at the venue. With hybrid events, however, his objective is transformed/replaced with new possibilities.
You can upgrade the event you are conducting (if it is public) to regions, or even countries which have the potential audience but could never be reached physically. Geography no longer becomes a barrier to a hybrid event.
Another exciting strategy option hybrid event provides the possibilities to target a specific audience with offers/discounts through coupon codes or referral links. This is incredibly beneficial if you have a history of the audience dropping out at the last moment or cancelling their registration.
Of course, you can also market your event all year long and on different platforms. This enables you to create and recreate marketing strategies if they fail, and also use time-specific opportunities on the way to reach more people.
Since online events are a more convenient and interactive form, it is relatively easy to get sponsors for these. If your content is useful in demand, you can pitch to even small brands to sponsor it. They benefit from an increased audience reach and customizable advertisement for the event, something not possible to a reasonable extent in physical events.
Online events are a treat to content managers and event organizers because there are so much more data-flow and different parameters, which can help them a lot to organize future events better. The best part is, you can always follow-up with people online to provide you with valuable feedback after an online show, again, something that is limited by physical events.
On the whole, bringing the online element to your existing event opens up some exciting chances to strategize. The smarter you are to make use of all the advantages, the more the success of your event will be provided, the content is vital. Create fun ideas for hybrid events and take over the events world!
Hybrid Events in the Future
According to a survey in The Virtual Event Tech Guide, 62% of event planners agreed that hybrid events are here to stay. It will take quite some time for countries to re-open fully and people to build enough trust to attend live events. Even when that happens, the convenience and some advantages of virtual events will be hard to overcome.
Hybrid events combine two critical elements of an event, the power of virtual components, and the feel of face-to-face interactions. If you consider popular event concepts such as workshops, conferences, and seminars, the advantage is that this content can be provided online as well and attendees can respond to it from whatever location they wish to. Learning platforms, particularly on the rise, because the pandemic has made people upskill themselves through online courses.
In the case of trade shows, other business events among some examples of hybrid events, although face-to-face interaction is exceptionally vital, online platforms have allowed brands to position themselves and demonstrate in the most 'realistic' manner. There is this concept called the 'virtual exhibition boost' which offers information to online visitors about the product/service, and they can also require more in-depth demonstration for it.
Perception of Attendees
Apart from this, you can also say that the perception of people towards virtual events have entirely changed. They have realized that not all events/meetings are necessary to be attended physically, spending hours in the traffic, tons of fuel, and also impacting the environment on the way. It will be hard for people to leave this mindset and go back to traditional ways.
Long-term Restrictions
Even when the countries are slowly opening up their confinement, a part of the population (older than 50 years old) will always be at risk. This will also prompt young audiences to restrict themselves from being exposed to the virus to not become a spreader of it in their surroundings. It will take a long time for this fear and perception to erase, much beyond, the unlock down in countries around the world.
Main Features of hybrid events
There are so many exciting features that Hybrid events promise to bring.
Venue capacity will no longer be the critical challenge for event planners. Although they will require large rooms to maintain social distance, higher priority will be placed on virtual technology that will allow quality streaming of the event to the viewers over the Internet.

As a result of this, more budget will be allocated to Audio and Video systems. There will be many more partners (or companies) in the future, offering diverse ways of audio and video solutions specifically for events. This scene will be different from the pre-Covid times when a significant chunk of the budget was spent on F&B during live events.

The format of events will be thought out again considering the short attention span of people online. Expect them to become much shorter, crisper, and interactive.

Hybrid events open up a whole new stream of work, called moderators, who will be critical to link the virtual audience to the real event. They will serve as the voice of the people watching the event online. On the other side, they will also ensure there is no bias towards the audience attending live.
Benefits of Hybrid Events
Even the most purists of event organizers have accepted that Hybrid events are the future. That is thanks to plenty of real and strong benefits they provide. Here's a brief about them:
More Scope to Increase Audience Base
No longer do you have to restrict marketing your event to a local audience for whom the event venue is accessible through feasible means of transport. Hybrid events offer the benefit of the audience sitting miles away in the comfort of their homes, to consume and interact with your content without spending extra money (except for the registration) and putting in the extra effort. Moreover, it is easy to convince attendees to watch your event online, and if they like it, they may even consider attending your next edition in-person.
Online events are also a great way to attract an audience of professionals who have busy schedules. Attending physical events consumes a lot of time as opposed to online events which can take you in with a click of a button on the system. This audience base of 'busy attendees' is what most live events miss out on. Hybrid events are an excellent opportunity to win over and retain them.
Reduction in Event Management Costs
According to some estimations, online events have an overhead cost reduction of around 25%. This is because in the case of hybrid events since the live audience is much smaller, the costs for the venue, travel, staff, food, accommodation, etc., will be reduced drastically. Although there will be expenses in other forms, such as setting up an online system, moderators, etc., it is more like an 'investment', and overall there will still be a lower cost per attendee as expenses.
Moreover, since you can draw more audience online, you can always cover that up with increased registrations and sales.
More Data Accessibility
Since you add a virtual element to your event, you have the opportunity to collect more data and more forms of it. Almost all virtual platforms provide information on the age-group of audience, demographics, their interests while registering. You can also track their chats, connections, logins, clicks, views, shares, etc.
Monitoring of this activity can provide more real data to event organizers and sponsors. Moreover, it provides an opportunity for them to work better in different events. Some virtual event platforms also have Machine Learning algorithms that suggest leads based on the activity of the user. This makes it easier for them to capture leads. They get real value on their investment because they can target the dedicated audience directly.
Lastly, data also helps identify what needs to be done further to follow up a particular set of audience based on behavioural analysis. On the whole, data can be used in many powerful ways to grow the presence of the event in the future.
Hybrid vs Virtual Events
When Do Organizers Choose Virtual Events?
If you look at the definition, virtual events are completely online and require no physical presence. On the other hand, hybrid events have a 'live' audience as well as an online audience attending the same event through different mediums. For fantastic hybrid events, there have to be arrangements to cater to the in-person audience and the online audience as well.
Event organizers prefer virtual events in cases where time and money is a significant hindrance for the conduction. Also, virtual events have faster turnaround times with significant cost reduction for physical spaces, arrangements, food, etc. Some of the event concepts that are more suited to virtual spaces are:
Educational events

Interviews

Panel discussions
Or for that matter, short events within 90 minutes. Since virtual events have a faster time to execute, it is best when you want to organize something based on a current trend or issue.
When Do Organizers Choose Hybrid Events?
These forms of events provide the best of both live events and fully online events. Participants can attend face-to-face while others can join online. Hybrid events are a form of cost reduction tactic because you do not have to spend money to bring in and manage an entire audience pool. Also, this is a great way to take your 'localized' event to an audience, miles away who could also benefit from your content.
How to plan a Hybrid Event?
One of the biggest challenges event organizers have for hybrid events is to keep the audience engaged. The online part of the audience has a brief attention span and more distractions which can divert them from the event. Thus, hybrid events need to be short, engaging, and of value to the end-user.
Provide a Good Visual of The Event
The online audience needs to be provided with an immersive experience of the actual event. To enable this, install at least three to four cameras from different angles. Also, the switching of the shots will keep the audience more engaged and less prone to other distractions.
Keep the program interactive.
One advantage you, as an event organizer has with the online audience is that they would be sitting ready in front of their computer with a keyboard. You can thus interact with them in numerous ways by asking questions, for example, on Twitter which will be taken forward during the event. Or asking a poll question maybe, or even arrange for an online brainstorming session.
Keep the Time Limited
As mentioned above, the attention span of the online audience is considerably less. So, keep the time-limited and instead, add value to each minute they view the event. To give context, a good broadcast lasts anywhere between 90 – 120 minutes with interactions throughout. Also, you can use this to make it clear for the online audience that there is so much more to offer for in-person participants. This can give them more incentive to attend your event physically the next time it is conducted.
Have a Theme and Purpose for the Event
Do not have a public event; it will never work. Instead, define a clear theme and purpose for the event which will engage the most with the target audience. Ideally, the event must either provide lots of entertainment or learning for the attendee. If you build your event around a clear theme, it will render less 'boring' and give more incentive for the online attendees to be present physically for the next event.
Keep the Entertainment Element On
Even if it is a business-themed event, you can execute multiple ways for keeping the online audience entertained. Begin with arranging for a good host who will interact with the audience, and perhaps, execute some games or sessions exclusively with them. Also, this host will be a good connection with the event happening physically.
How to Host a Good Hybrid Event?
There are things that have to be kept in mind while planning for a hybrid event. Although it may be tricky for first-time organizers, the end process is not that difficult. To begin with,
Do your hybrid events planning well. You may even ask your potential target audience for input as to what they are looking for at an event concept like yours. You can do this with a survey too.

Choose the right venue for the physical aspect of your event. Space has to accommodate the range for online viewership and in-person audience as well. Also, keep the costs in mind because one of the purposes of conducting hybrid events is to save on overall costs.

Invest in high-quality event streaming facilities and bandwidth provider for this event. The last thing the online audience wants is to have a lagging, start-stop event. While choosing the event platform, ensure that it has good options and tools to interact with the online audience. Again, keep the budget in mind because this is an additional investment as compared to when organizing a purely physical event.

Inform your audience beforehand everything they can expect from the event whether they attend it live or online. Keep things crystal clear of how you plan to share information with them and communicate during the event. Also, provide them explicitly with all details of networking and interactions during the streaming of the event.
The Top Tools / Software for Hosting a Successful Hybrid Events Management
2020 has seen many existing and new hybrid events tools come to the fore. Each one of them competes with the other through functionalities, exciting interactive features, and pricing. Here is the top of the cream platforms that help set up a hybrid event successfully:
Airmeet
The core focus of Airmeet is to provide an immersive hybrid event platform for knowledge professionals. Airmeet offers a ton of features that allows great networking and interaction, from a Social Lounge, sponsorships, event management, and a raise hand option.
Aventri
This is one powerful event management platform that combines exclusive virtual event solutions to provide an overall seamless experience for the organizer and the attendee. With exciting features such as multi-session capabilities, branded event lobbies, real-time audience management, ability to stream to any device, Aventri is here to stay, and the future of events in 2021.
BlueJeans
An event management platform from Verizon, BlueJeans is known for its easy to use interface with tons of features. It provides a great alternative to webinars; you can invite the audience to it through links and invites. It scales up the virtual event by providing a seamless video experience.
GEVME
GEVME Live is a secure platform built from the ground up for digital and hybrid events. It is fully customizable and provides event organizers with the full suite of tools needed to host professional and polished events online.
Accelevents
Another front-runner for top hybrid event tools in 2020, Accelevents is an all-in-one tool with round the clock customer support. The features are endless, from live streaming, ticket sales, live chatting, and polling to gamification, network marketing, they have it all.
GoBrunch
The most exciting part of GoBrunch is that you have the option to choose your seat for the webinar. Another one – the free version does not have time-limits! So, you can stream how many ever webinars you want. Share your videos and create unique breakout sessions with GoBrunch.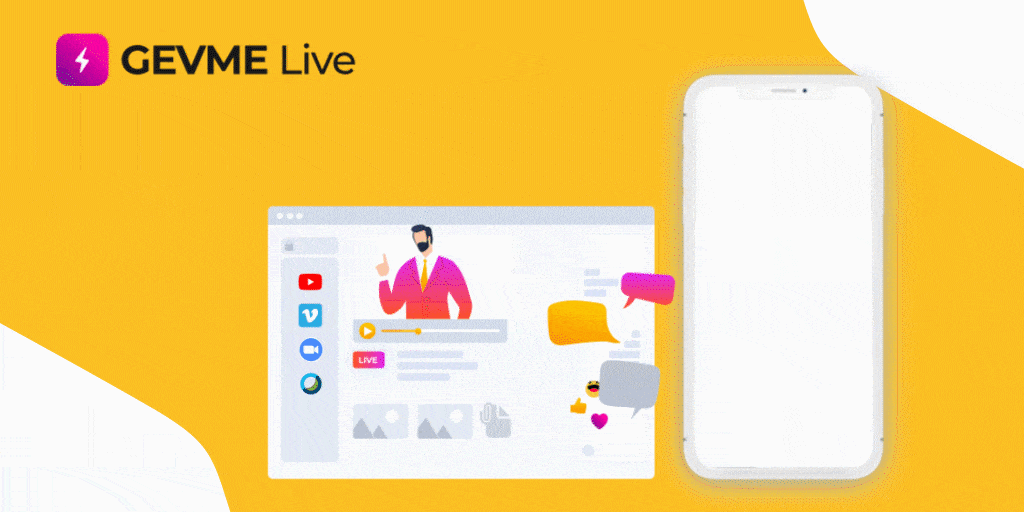 Why Should You Not Be Scared of Offering Hybrid Events?
Well, the answer is simple. They are here to stay. Even when the pandemic subsides, the advantages it provides is too good for it to completely disappear from the scene. It might be a little tricky for new event organizers and overwhelming too, as they have to manage both in-person attendees and virtual audiences.
Here's a tip – Split. Create a separate event management team for in-person attendees and another one for an online audience. Let them focus on providing the best possible experience to their respective audience range. Anyway, handling both the audience requires slightly different skill-sets. As in, the online event management must be well-versed in technology as well to handle last-minute problems with streaming.
Conclusion
Hybrid events are the future. The faster you leverage it for your event product, the better it is. This is an excellent opportunity for you to gain an advantage over your present competitors in the same event product line. Talk to experienced hybrid event managers, plan it out well, do your research, conduct it to the best you can, collect data and feedback, and repeat the process with better preparation.