Going digital with your next event might seem like a daunting task. The idea alone of having to plan your event online already looks like a longshot. For example, where do you start? How do you replace offline events? And what is online event planning software? Luckily for you, modern technology has the answers to these questions and more. Digital event planning requires almost the same processes, effort, and energy as planning an in-person event. The digital transformation of events has taken over as the new way of hosting events. Organising events online is not as difficult as you may think. With the right tools, tips, and guidance, you can also plan an online event. 
Here we have put together everything you need to know how to replace offline events with online events. Let's get started!
Events Today
Since the advent of COVID-19, we have seen many changes in the event industry. As many countries around the world took on preventative measures to deal with COVID-19, companies, and organizations of every type had to find new ways to cope with the changes. With offline events getting cancelled or postponed until further notice, many event planners and marketing teams wondered if they would be out of the job. However, many quickly caught on with events going digital. Thanks to innovative event management software and other digital tools, event planners are taking their meetings, conferences, and exhibitions online.
Digital tools are now an integral part of the planning and hosting of an event. For example, an online event management system can take care of many aspects of an online event, such as registration, audience engagement, security, analytics, and live streaming. So when it comes to online event planning, digital tools will bring you substantial benefits.
Online Events Vs. Offline Events: The Most Notable Differences
Online events or offline events, which are better? The debate can go on for a while. However, today it is safe to say that online events are better than offline events. While some reasons exist to this fact, the biggest and most apparent reason is preventing and limiting human contact to combat the ongoing pandemic, COVID-19. With that in mind, both event planners and attendees today prefer to go to offline events instead of online events.
In any case, the differences between online events and offline events are quite visible. However, there are still some differences that are worth noting. To better understand how online events differ from offline events, let's delve into some of the significant discrepancies between them:
Online Events
Offline Events
Event Planning:

Choose webinar / Meeting platform

Set up a website / Landing Page

Online support team

Event Planning:

Choose venue

Customize landing page

Onsite support team

Set up and Configure Live Streaming Platforms

Online branding

Online event pages

Customize event page

Set up and Configure Onsite Equipment

Brand event venue

Build event stages

Set up event signs

Venue decorations

Video and Audio Mixing

Setup & Configuration of OBS tool

Setting up Scenes to be used during the live broadcast

Technical Management (AV/IT/WIFI)
Technical Rehearsals with Host & Speakers
Onsite Attendee logistic, Attendee accommodation, Conference bags / Swag bags
Run a Live Page

Live Streaming Equipment (Cameras, speakers, microphones, etc.)

Run a Live Event (Onsite)

Event equipment (tables, booths, etc.)

Attendees

Register and monitoring

Sharing digital content in real-time

Attendees

Check-ins and tracking

Sharing printed content with attendees

Attendee Engagement (virtual)

Chat / Chat rooms

Digital interactions / formats

Easier for attendees to exit event

Attendee Engagement (in-person)

Face-to-face conversations 

Photo / Fun booths

Attendee Networking

Breakout sessions

Online interactions

Attendee Networking
Individual Chat Rooms with Speakers
Roundtables / workshops
Event Analytics

Real-time engagement analytics

Instant feedback

Online surveys for the attendees 

Reporting & Analytics

Handwritten feedback

Hardcopy surveys or via email

After the Event

Recording of the live event

Set up a page for past sessions

After the Event
Everything You Need to Know About Online Events in One Place
While the benefits of digital tools are evident, going digital can be difficult and challenging to get right. It can take a lot to run an online event in the right way. For example, the attention span of the attendees is remarkably shorter for online events. Therefore, the content of an online event needs to be engaging, captivating, enticing, and everything else that can keep attendees on the edge of their seats. Some event planners try hosting online events with shorter, more digestible parts, to keep their attendees waiting for more. While it works, there is more you can do with event management software and engagement tools. There are other ways; you just have to learn how to do it.
While keeping your attendees engaged might seem like enough of a challenge, there are plenty of other things that can go wrong. Wouldn't it be nice to know ahead of time what you can do to make your online event the right way? Well, lucky for you, there is such a resource to help you learn and understand everything you need to know about online events: Behold! The Digital Events Academy. Here you can find useful resources designed to help you get going with digital events. You will be sure to find a wealth of the latest industry insights, guides, and tips on planning and organizing digital events. Go and take a look. You'll find everything you need to know about online events.
What Does it Take to Host an Online Event?
To host an online event, you will need trustworthy event management software, effective marketing on social media, live streaming equipment, support, and a lot of involvement during the process.
There are various tools you can choose to use. It all just matters what kind of online event you are planning to host. To find the best software that will fulfil your needs, you will first have to ask yourself some insightful questions, but more on this later.
As for a social media marketing campaign, set up a fan page, start online conversations, make posts, create hashtags, and share promotional digital content. In social media, the more you share, the more exposure you can get. If you want to get more exposure for your online event, and you are looking to attract a wider audience, share content. You might also consider using a social media platform to live stream your event.
And lastly, you need equipment to live stream an online event. You need a setup that consists of a video source, audio source, encoder, stable internet connection, and a reliable streaming platform for output. While the quality of the equipment is essential, the streaming platform you choose truly outweighs the rest. It is also crucial to know how to stream an online event properly. You can learn all about here: How to Live Stream an Event.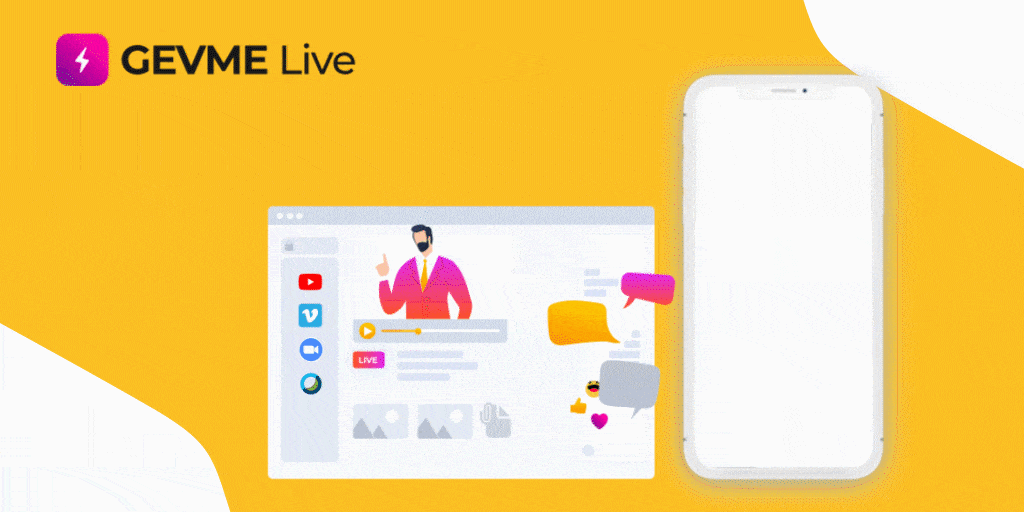 How Your Event Can Go Online Today
Before your event can go online, you should define your event's purpose and what you want to achieve. Consider the target audience, and think about how you want your audience to interact with your event. You want to get the most of your online event, so ask yourself the following questions to understand how your event can go online today:
What kind of experience do you want your audience to have?
Is your online event intended to help or train professionals with skills and industry knowledge?
Do you want your audience to network and share ideas?
Is this an opportunity for you to exhibit and promote your brand?
What do you want your audience to take away from your event?
What is your budget?
Where and how do you plan to promote your online event?
What software will you use?
Do you need any equipment to live stream?
Do you have any contingency plans in case something goes wrong?
Are your event speakers and staff briefed and ready to go?
Find the answers to these questions before your event can go online.
Preparing, Scheduling, and the Agenda
In general, event sessions are shorter for online events. However, to successfully prepare an online event, you will need to draft a schedule and an agenda carefully. If you want your online event to connect with your target audience, plan, and treat your online event like a real on-site event. Start planning from the early stages, and if possible, appoint a team to specialize and concentrate on developing a schedule and an agenda for your online event. Be ready, prepare a plan, and think about contingency plans to tackle any problems during your online event.
Inviting and Managing Your Speakers
Inviting and managing event speakers is an integral part of an online event. If you want a successful online event, focus on the following when planning to invite and manage event speakers:
Speakers with a presence on social media and Slideshare.
Speakers with knowledge of AV and event tech.
Speakers who can engage with the audience and the event software.
The difference in time zones between the location of the online event and the speakers.
Compatibility with the event management software you plan to use.
To invite a reliable speaker, find a speaker with an engaged presence on different social media networks. You want to ensure the speaker can have a positive engagement and produce meaningful content. It would also be nice if the speaker you are inviting has a presence on Slideshare. It is useful to see the speaker's work and how others consider it.
You will find it easier to manage a speaker who knows about a projector display ratio, what a good wifi connection is, how to use a mobile app, and how to use an audience response system with tech to support the Q&A session. You can be confident the speaker is serious about what he or she does. A speaker who knows a thing or two about event tech is a good indicator that you will have a seamless experience managing your speakers.
Speakers who are familiar with polling and Q&A's during an online event know how to get the attendees involved. Invite speakers who are proactive in suggesting interactive activities, such as polling, to get the audience to interact and engage.
To effectively manage your speakers, pay special attention to the difference in time zones. It is crucial to choose a time that would be convenient for everyone, that includes your speakers and your audience too. Most likely, they will be in different parts of the world.
In managing your event speakers, ensure they are familiar with the software you will be using. And lastly, make sure you all have a stable internet connection, a presentable background, clear audio, excellent video quality, and engaging content.
Managing Your Customers and Attendees
For online events, it is always better to use event management software to manage your customers and attendees successfully. With software, you can manage your audience and reflect on the experience you want them to have. An online event should aim to give your audience, more or less, the same experience as being present at an actual event. While an online event may not be the same thing as an on-site event, you can still use event management software to give your customers and attendees an enjoyable experience.
You need to know how event management software can help you to manage your attendees effectively. With event management software, you can stay organized, save time, and facilitate how your attendees interact and network in your online event. However, with many event management software options, you might find yourself a little confused about what particular software to choose. Luckily, you can narrow down your choices. Learn all about it here, "The Best Online Event Management Tools for 2020."
Choose a Platform to Host a Digital Event
Plan your online event successfully with the software you can trust. With event management software, you can save time, stay organized, and take care of every detail of organizing and running your online event.
To choose a platform to host your digital event, make a list of all your goals. You will have a better idea of what particular platforms you need once you figure out what you want to achieve. After all, for online events, you will most likely require software features with more specialized functions.
For example, to host an online event, you will need a platform with:
A user-friendly interface that interacts with users easily.
The option for users to make registrations.
An easy and convenient payment process for users.
Mobile readiness and seamless accessibility from any device and browser.
An attractive platform to convert visitors into attendees.
Security features that assure users of safety and security.
Sharing options that act as a marketing tool for your event, which users can utilize to spread the word about your event.
Registration and online check-in options to convey the legitimacy and quality of your event.
Engagement features to keep your online event audience engaged.
When you think about platforms to host an online event, keep these features in mind.
Also, prioritize your needs. Try to understand what platforms can meet your needs; ask yourself the following questions:
What do you need for your online event? A ticketing system, a pre-registration system, web or mobile content, event page, attendee engagement solutions, a check-in tool, security features, monetizing features?
Are the software and platform mobile friendly?
How well can you use the software, can you schedule a demo or free trial?
Does the software integrate well with other streaming solutions?
Does the software come with full-cycle customer assistance?
While many platforms offer exceptional features and benefits, take a quick look at GEVME. You can find everything you need to host your next online event.
Collecting Questions Before an Event
Collect questions from your attendees before the online event. From the questions, you can gain valuable insights. For example, you can get a better idea of what the attendees expect from your event. You can understand what they are looking forward to, and you can also clear up any misunderstandings or issues. By collecting questions beforehand, you can prepare your event to deal with your attendees' possible concerns. In other words, you can tackle problems before they even happen.
Engagement
Engagement is everything. If your attendees are not engaged, they will most likely exit your online event. Remember, it is much easier to exit an online event than exit an actual event. It is vital that you keep your attendees pleased, entertained, and engaged. To secure engagement with your attendees, make sure you have a plan and a schedule ready to go. Know your audience, know whose attention you are looking to get. And create contests, polls, quizzes, and other virtual activities where your attendees can participate and stay engaged.
Get your attendees to feel involved by letting them take part in live Q&A panels. Share as much content and access as you can with your attendees. If needed, even share ongoing access to the event's presentations as some attendees might come in late.
If you want to engage your audience successfully, create the opportunities for them to participate.
Here are some things you can do to engage your audience in your online event:
Ask your viewers to submit questions in the comment section or through a chat tool.
Ask your viewers to participate in polls or quizzes.
Encourage live-tweeting and live discussions.
Take requests and suggestions from your viewers.
Give shoutouts and mention people who share or create content related to your virtual event.
Organize networking sessions, online games, etc
And create captivating content.
Planning a Breakout and Networking Sessions
Plan breakout and networking sessions to keep your attendees entertained and engaged. You can use game formats, such as speed dating, fun Q&As, puzzles, icebreakers, competitions, trivia games, or team-building activities. Just make sure to keep it fun and friendly for everyone.
Preparing Content
Preparing your online event content is an essential part of delivering an amazing online event experience for both the organizers and the attendees. Don't make the mistake of preparing content at the last minute. Prepare early and consider the following ideas for preparing content for your online event:
Create and share fun videos that touch upon your online event's theme, topics, or goals.
Generate research and share it online to capture the attention of prospective attendees. Conduct surveys or polls and share the results online.
Promote your speakers and create hype around their work and upcoming presentations. In a way, they represent your online event. So create content around your speakers.
Share online what your audience has to say. If prospective attendees take the time to create content about your online event, embrace it, and let others know by showcasing it online.
Email Marketing
Send invites with a link to your online event, follow up, and send reminders days before your event. You can get better results if you use email marketing. With a successful email marketing campaign, you can reach a wider audience and increase the number of prospective attendees. Use email marketing to your advantage, and get more people to take action and attend your online event.
Measure Your Event's Success
There are several things you can do to measure the success of your online event.
You can do the following to measure your event's success:
Ask for feedback
Run surveys
Analyze data
Run KPI's
Use what you can afford to understand how well your event did. The data you collect and the feedback from your attendees will also help you get an idea of how your audience perceived your online event. It is better to know and understand than to just guess and assume the best. Moreover, the data and feedback will also help you understand what to do better on your next online event.
Some Tips for Your Digital Event
With digitalization becoming more widespread, we have no choice but to understand the new way of hosting events. The digital transformation of the event industry has already started. It is better to be familiar with some essential tips to help you understand the foundations of digital events. Check out the following tips on digital events.
Deliver an Amazing Experience for Your Guests
Ask yourself how you can deliver an amazing experience for your attendees. The one thing that will distinguish your online event with other online events is how much your attendees genuinely enjoy the experience. Think about what you can take from an actual event and deliver it in a digital event. Also, consider carefully what your brand means to your attendees and what your attendees expect from your event. The more you can relate to your target audience, the more you will know how to create a unique digital event for your audience. Knowing how to make your event more relevant to your audience will increase your chances of delivering an amazing experience.
Make Timely and Relevant Content
The content you draft for your digital event should be timely and relevant. Again, focus on the needs and wants of your audience. Create your content with the customer in mind. Consider the solutions your audience seeks, think about innovative ideas that they may find appealing, and cater to their interests and desires. Also, consider a good story, a cause, or a narrative you can use in your content to inspire your audience. Content is all about quality, so make sure it is good.
Respect Schedules and Challenges
It is important to keep in mind that everyone has things to do. Most people have responsibilities, agenda, tight schedules, and deadlines to meet. Therefore, respecting their schedules and challenges is vital. With this mind, create content that is both interesting and accessible. Time is expensive, and if people are giving you their time, make it count. You can provide your attendees with small prizes or giveaways, such as coupons or vouchers. These small incentives could keep your attendees engaged and entertained.
An Omnichannel Mindset
As you may already know, not everyone has the luxury of sitting more than eight hours through an online event. People usually have things to do. If your digital event has a lot to deliver, consider having different parts of your digital event on different channels. You can hold a video chat or a twitter chat get-together, post downloads of speaker segments, and make them available on-demand. Also, organize your content so people can choose what content to watch and when to view it. Keep the time of your audience in mind.
Networking Communities
The event industry is full of connections and organizations working together. There are bubbles of networking communities for every kind of event. From conferences, meetings, trade fairs, seminars to festivals, you can find networks and connections to help you as an event planner. Networked communities are at the forefront of the digital transformation of events in the event industry. You can significantly benefit from these networked communities through social media and online forums. Networked communities play a role in facilitating and disseminating information on event technology and essential tips and advice on events going digital.
GEVME Online Event Planning Software
To easily manage your online event, try GEVME Live. With Gevme Live, you can invite your audience with seamless customizable registration pages. You can also send branded event invitations, reminders, and follow-ups with Gevme's powerful email marketing tool. Gevme is the total package, allowing event planners to generate revenue on paid online events by charging attendees during the registration process with Gevme Live.
Conclusion
Digital technology is quickly becoming the norm in the event industry. The digital transformation of events is happening everywhere, and you don't want to stay behind. As time goes by, the implementation of event management software, streaming solutions, and event technology will continue to evolve and develop. Hosting digital events is a learning process in itself. Therefore, don't stop now, keep learning, and stay on top of the digital transformation in the event industry.