The manner in which events are being conceptualized in the wake of the COVID-19 pandemic is vastly different from what it once used to be. While all forms of in-house events have virtually stopped, live events have spiked like never before. Almost all events have been shifted to video communication services like GEVME Live, Zoom, Skype or Cisco Webex which lets users organize live digital events.
As we get used to the new way of the world while the ongoing pandemic unfolds, events will eventually innovate in myriad ways to turn into something fit for the new technologically driven age. A hybrid event is the result of such innovations by top event planning companies.
What is a Hybrid Event?
There will always be events that would require some degree of human interaction at some level for it to be successful. Earlier, this wasn't a problem, but is one under current circumstances. Such events, that require both in-person and virtual elements, is a hybrid event. 
The new normal in the event planning space in coming times, hybrid events require proper planning and brainstorming. Goals of your hybrid event must be defined beforehand; such as understanding what your audience wants from the event. Knowing how much of the event will be virtual as compared to in-person is valuable information that should be decided in advance.
Types of Hybrid Events
There are various ways a hybrid event can be organized, especially because of the different types of events that can be held as hybrid. In recent times, we've seen trade fairs, product launches, and sale kick-offs utilize virtual elements with the help of hybrid event companies. Around the globe, town hall meets, senate meetings and other such important events are being conducted as hybrid events.
Broadly, hybrid events can be internal or external. Internal hybrid events are those that are meant to be attended by people within an organization/family etc. and not open to the general public. Some examples of internal hybrid events are company meetings, large team meetings, or private events that are accessible both on-site and virtually; like weddings and engagement ceremonies; group outings etc. External hybrid events are those events which are meant for attracting customers, both prospective and existing, and clients. Some examples of external hybrid events are public conferences, trade fairs, customer meetings and product demonstrations.
Advantages of Hybrid Events
There are many advantages of organizing hybrid events; especially during an ongoing pandemic. Many attendees, who would've normally attended your event in-person but can't due to health & safety concerns, can still attend if the event is hybrid. At the end of the day, the aim of your event is to maximize the number of people attending; be it on-site or virtually. Hybrid events can increase the number of people attending the event by providing the option of attending online.
Hybrid events can also prove to be cheaper for people to attend as the cost of travelling is negated. Hybrid events also make your content more engaging and easily accessible as it can be recorded, revisited, redistributed and made more attention-grabbing using technology. Event planning companies have also found that hybrid events reduce carbon footprint, prevents wastage of meals, and saves expenditure on rentals. But, above all, hybrid events increase the sponsorship value of a brand by bolstering exposure and creating new opportunities of brand awareness.
Organizing a Successful Hybrid Event
To conduct a successful hybrid event, event management firms should pay heed to keeping experience unified. Even though there are two separate elements to a hybrid event, it should flow seamlessly and feel like the one event that it is. Using tools like GEVME Live, you can make sure that your video stream is working correctly without isolating the virtual experience from the on-site experience.
The quality of content needs to be top-notch no matter what type of an event we're dealing with. The event organizer should pay attention to features like translation over video, audience questions, live polls and make sure those are incorporated to make the event more engaging. Similarly, the time-zone of different places should be kept in mind in accordance with standard corporate event planning. For your on-site attendees, make sure you have people dedicated exclusively to solving their problems, resolving issues and answering questions. Make sure there's some difference between the content that your on-site & virtual attendees receive keeping in mind the best practices for each. Knowing the number of sessions to be held in a day and the length of each is also an important aspect of organizing hybrid events.
Finally, after your event is over, send out a post-event survey to get a sense of the content which resonated with people. It also helps in understanding your audiences' thoughts about onsite versus virtual experience. Make sure to analyze the data gathered during the event and follow up with regular attendees who ask a lot of questions and engage with sponsors.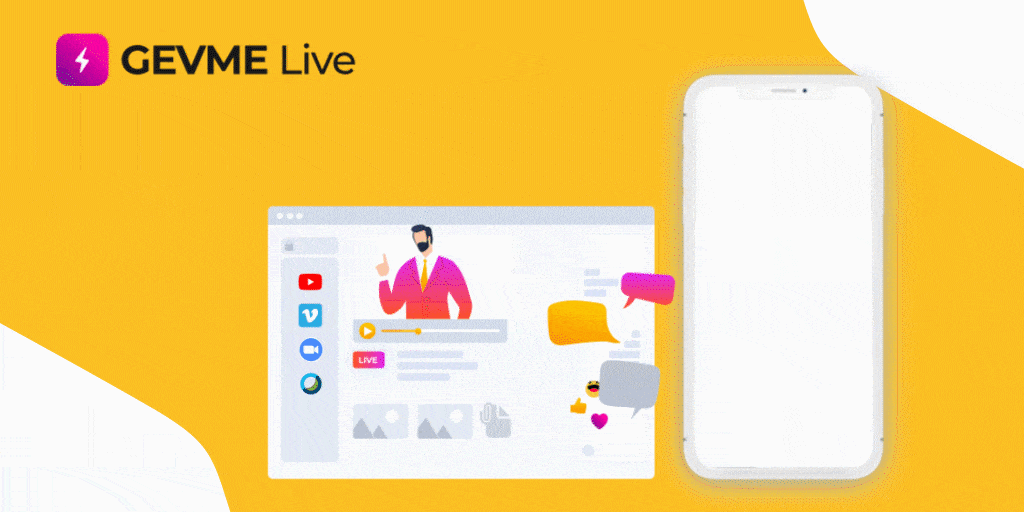 Conclusion
It can always be argued that an on-site event is more beneficial than a virtual one, but the amalgamation of both-a hybrid event-provides attendees with the option of choosing how they'd like to participate based on their own conveniences. There's no doubt that people will eventually return to venues for events, but technology will always be interlinked with it in a major way. Getting used to hosting hybrid events will prove to be a good practice in the long run for all types of brands, businesses and organizations.
A complete solution to organizing live online events, like the video communication services provided by Gevme Live, will come in handy in the future for both the brands and event management companies. This shift to hybrid will be a permanent one with most events having a virtual component attached to it in one way or another.