Virtual event networking remains one of the main reasons why people attend events. Even without face-to-face interactions, virtual events provide new opportunities for attendees to connect.
In the third episode of 'Next-Generation Virtual Events' by Gevme, we show you how to enable virtual event networking and forge communities with your virtual events. Shweta Jain, Head of Business Development at Amazon Web Services and Sheila Berman, Global Marketing Lead at She Loves Data, a not-for-profit organisation with the mission to empower women, were the guest speakers for this episode.
Missed the episode? You can watch it on-demand here.
1. What is the importance of networking?

"In 2021, nearly 70% of people say that digital conferences lack good networking opportunities."

–TechJury
Why is networking important? Networking can help you:
Build your professional network
Grow your professional career
Exchange ideas and knowledge
Create strategic partnerships
When it comes to building your career or business, the value of online networking is undisputed. Every online conference, webinar and remote event is an opportunity to meet people, build your reputation and expand your base of relations.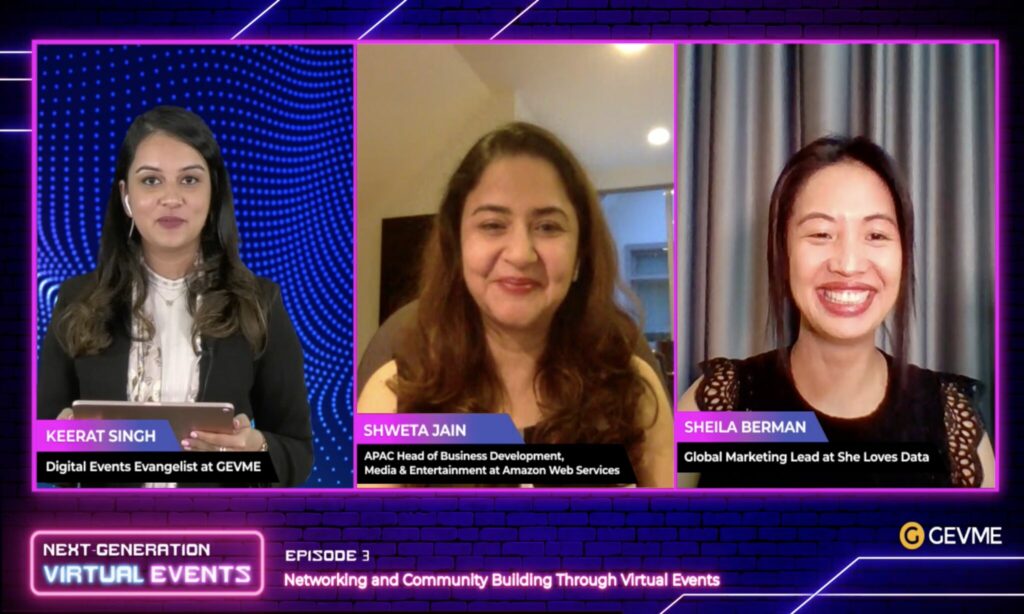 Another added benefit of virtual events is their unique ability to forge thriving communities. They break geographical boundaries by providing a platform for individuals with shared interests to gather in creative ways that extend beyond the time frame of an event.
In the pre and post-pandemic era, your net worth will be impacted by your network.
2. Different methods of virtual event networking
Many individuals assume that there are limited ways to build a network and engage virtually.

There are of course traditional methods to engage virtually:

But there are also some unique yet effective methods of virtual event networking like:
Business Matching
Tools like Jublia, Grip and Gevme can help you match with business professionals as well as other businesses. These tools help match people with content to create successful business matching and content discovery.
With Gevme you can ascertain the professional background of the individual and schedule a virtual meeting with them.
Audio Drop-in Experiences
Tools like Clubhouse introduced a new way to a social network based on voice. People around the world come together to talk, listen and learn from each other in real-time on the platform. The best part, individuals can drop out of the event at any time without disturbing the flow of the event.
Video Drop-in Experiences
Event agencies and brands are recognizing that events need to be an immersive and engaging experience to stand out from the glut.

Sheila Berman stressed the importance of great visuals and audio. "There are so many options to choose from (to host events), that I recommend you try each platform and choose the one that fits the needs of your business."

You can create 2D Networking Experiences with the help of tools like Wonder.me. The platform offers attendees the option to move around virtual rooms as they would in an in-person event.
Attendees can see who is speaking to whom. They move their avatars around with their mouse. To join a conversation, they move closer. To leave it, they move away.

Tools like these help "bring the offline experience to virtual" but these tools need to be supplemented with a strategy that focuses on engineering serendipity and creating meaningful connections. The most important part of the offline experience according to Sheila Berman is networking and it's important to incorporate it in the event schedule.

Apart from 2D, 3D should not be disregarded. Joanna Stern,an award-winning journalist, leveraged VR in a unique way to create 3D Networking Experiences. Her VR elevator series leverages technology to create a distinctive and special virtual experience.
Event Speed Dating
Platforms like The Startup Buddy help entrepreneurs pitch an idea to global investors virtually. Businesses are no longer assigned to a specific geographical location and by leveraging technology one can easily generate business and leads from the comfort of their home.

"The rich attendee experience should be a balance of both the orchestrated and serendipitous activities. The discovery is part of the joy."
3. Why is community building easy with virtual events?
Unlike in-person events, it is easier to build a global community through virtual events. A simple yet effective way to build a community is by setting up an activity feed during the live stream. It's a way to get people engaged. Additionally, as it summarizes what has happened in the event, it gives latecomers a way to catch up and feel involved.
ITB created an activity feed specifically for MICE and travel professionals during the pandemic. This helped foster a community and build a support system during an unprecedented time.

Creatively engaging with the audience can be done on a micro or macro scale. The NBA leveraged technology to build an active virtual community and a once in a lifetime fan experience on a massive scale, during the pandemic. 17-foot virtual billboards were wrapped around the NBA bubble and spectators (event attendees) had the opportunity to be featured on these virtual billboards during the game. 
The event was a smashing success! It was talked about in 32 countries and even had a virtual appearance by Barack Obama. Apart from building a virtual experience, the sponsor's (Michelob Ultra) sales went up by 32%. Showcasing how virtual events can lead to monetary gains as well.
This event also tapped into an insight shared by Sheila Berman, attendees like to be heard or seen at virtual events. This helps them form a connection with the event and the brand. They feel like they're part of the community if their individual voice is heard.
Sheila Berman also stressed the importance of having a great moderator to build a fantastic experience and foster a good feeling among virtual attendees.

Virtual event networking requires a moderator that understands the market so that a strong mix of services and solutions can be highlighted, shared and discussed among a large group of people.
Data also plays a huge role in building a seamless and advanced virtual experience. For instance, SWITCH 2020, leveraged attendee data to give personal recommendations and connect people to like-minded individuals.
According to Shweta Jain, the future is personal. Amazon Web Services (AWS) believes in creating "lean forward experiences" that engage the attendee. Personalised recommendations, chat and real-time engagement help create these "lean forward experiences." 
4. The BTS Story – creatively engaging communities
Korean pop sensation, BTS has a very active and engaged fan following which is why their experiment with virtual concerts provides great insight into creatively engaging communities. Their concert aimed to create "lean forward experiences". To engage their audience, BTS set up special pop-up cafes where people could convene in smaller groups and watch their virtual performance live, while social distancing.
BTS also partnered with Weverse and KISWE to enhance the fan experience during their virtual concert.

Weverse connects K-pop artists to their fans by breaking the language barrier. The AWS AI automatically detects the source language and translates it, the K-pop artist then responds in Korean in real-time and the fan reads it in their local language.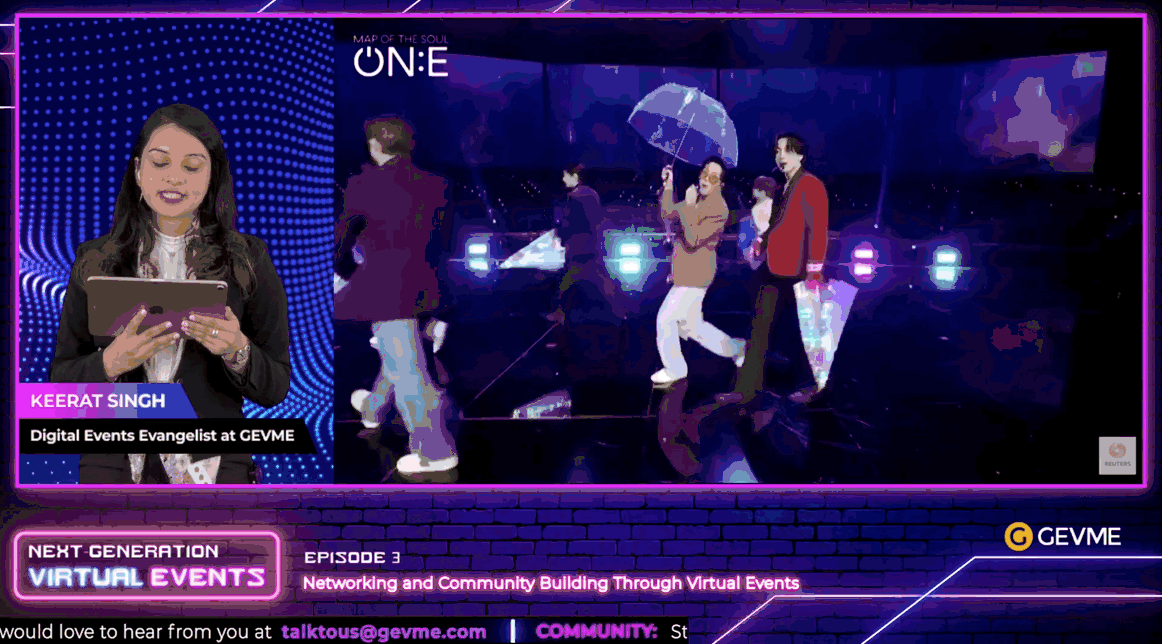 Apart from removing the language barrier, BTS with the help of Kiswe created a "virtual crowd" during the BTS concert. Kiswe also created an interactive cheer and chat for the event. Using deep user sentiment and behaviour analysis, Kiswe created a personalized experience with the help of digital rooms for co-viewing with custom video experiences. 
The BTS concert broke a Guinness World Record. 756K viewers tuned in for the live virtual ticketed concert globally. It's safe to say that BTS was able to creatively engage its community.
5. Conclusion
A great way to build a community is to make sense of data in real-time and use it to enhance the attendee experience.

Shweta Jain, APAC Head of Business Development, Media & Entertainment, AWS
Shweta Jain and Sheila Berman agree that in order to grow a community you must meet demand and provide a space for this community to grow, virtually. Only then would networking opportunities arise.
For some, budgeting for a virtual experience may seem daunting, for this both Jain and Berman have some tips. Jain advises businesses and event organizers to take advantage of the pay-as-you-go cloud-based model. Such a model helps you leverage technology to create a once in a lifetime experience. The best part? Organizers don't need to create everything in-house; they can use the cloud-based technology as they wish. Organizers also don't need to pay for maximum capacity, just the people who tune in.

Berman recommends focusing on the ROI (return on investment) before organizing an event. "It is important to be aware of the value of the event. Break down your target for conversion before the event." She stressed the importance of being practical and realistic when setting these targets.
"Once businesses understand the value a virtual event brings, they will be open to spending on creating a virtual experience and not just a virtual event."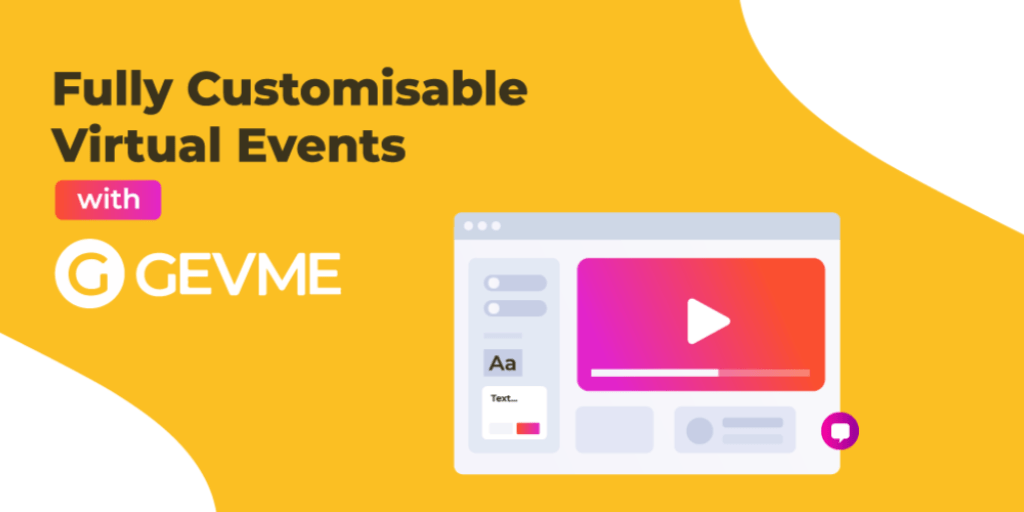 Want to push the boundaries of your virtual events? Get some inspiration from GEVME studio events. Our Next-Generation Virtual Events series helps event professionals move beyond the traditional format and embrace the new possibilities enabled by technology. The entire series shows you how to turn boring virtual events into memorable virtual experiences. Our past episodes have focused on creating unique and engaging virtual events, creating virtual events of broadcast TV quality and now, networking.
Want to know more about virtual event networking? Watch Episode 3 of Next-Generation Virtual Events here.