Recently live streaming platforms for events have taken over the digital world. It is now more accessible and more effective in reaching a larger audience with event live streaming platforms. Today's reality is that without the use of event live streaming services, you will most likely miss out on viewers. So it's time for you and your events to take full advantage of event live streaming apps available online. Learn how to do just that with some of the best live stream tools out there.
If you are on the lookout for new and innovative ways of delivering your content online, you should look into live streaming event software. There are so many options to live stream and hence it can be challenging to know which platform to use. In this article, you can find information on how to compare different live streaming solutions, how to choose the right platform and everything else you need to know about the live streaming and webinar sites that you can take advantage of on your next event. 
How to Compare Different Live streaming Solutions
When comparing different live streaming solutions, there are many things to consider like privacy, authorization, customization, embedding restrictions and security features. The list goes on. You can find different software to stream all kinds of events, from concerts, sports, weddings, graduations, conferences, and everything else. You can also find software that caters to specific needs. For example, businesses looking to promote their brand through content, would most likely go with platforms where they can include their logo and embed videos on their landing pages. 
The type of software you need highly depends on your goals and the nature of your event. In any case, here are some factors to consider when comparing different live streaming solutions:
Accessibility

Authorization 

Pricing

Access Control

Audience Engagement

Customizable Branding

Event Scheduling

Multiple Cameras Feed

Multistreaming

Performance Monitoring

Session Recording

Split or Multi-screen Capabilities

Video Monetization Tools
You can find many options to live stream events online, like YouTube Live, Facebook Live, Periscope, and Instagram Live. We are going to look into these options and more in this article. Typically, free live streaming tools cater more to consumers than companies. They focus on putting the viewer first.
Nonetheless, whatever software you choose to live stream your event will make your live streaming experience better altogether.  
Choosing the Right Platform for Your Event
With a variety of tools to live stream events, from social media networks to more advanced solutions, it might not be easy to choose the right platform. There are free services to make make and broadcast video content with security features. A lot of tools already include features that allow users to interact with the audience. And there are also tools, mostly live streaming solutions that offer options to monetize your live stream. 
With all this mind, you are probably wondering how to choose the best tools to live stream your event. The thing is that it all depends on what you want. For example, do you want more exposure or more security? Are you going to stream your event to clients (B2C) or other businesses (B2B)? Are you looking into monetizing your event?
If getting more exposure is something you are looking for, consider some of the best free live stream tools out there, such as Facebook Live, Instagram Live, Periscope, Yout Tube Live, and YouNow. These might be free, but they are great for several reasons. You can attract more viewers from around the world, increase your brand awareness, engage with your audience, and quickly and effectively promote your events on the same social media platforms. 
However, if security or monetizing features are your top priority, look no more than to choose from a professional streaming solution.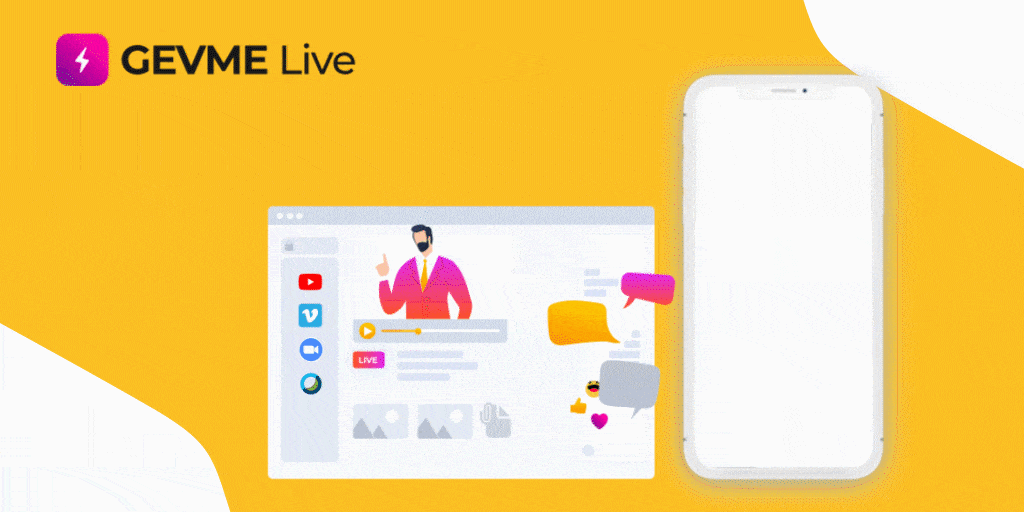 With professional streaming solutions, you can benefit from more advanced controls to live stream your event. You and your viewers can access specialized servers, sufficient bandwidth, and other useful features to ensure a successful live stream of your event. All in all, if you are going to consider streamlining solutions, think about the following features:   
Security Features

Monetization Capabilities

Professional Video Hosting and Live Streaming Capabilities

A 24/7 Support System

The Price of Services
Nonetheless, whatever platform you choose based on what you need, you will most likely realize what you want to achieve. 
Livestream & Webinar Sites You Can Use
Let's take a closer look at different platforms you can use to live stream your next event. We will focus on the following five aspects of each platform: 1) Who can use it? 2) Is it a free or paid solution? 3) How to use it? 4) The platform's limitations. 5) The platform's available features. 
Find out how useful these tools below can be to stream your live events.
YouTube
Only those with at least 1,000 subscribers can use the mobile version of YouTube Live. In general, to live stream using your computer and a webcam, all you need to do is verify your channel and confirm that you have no live streaming restrictions in the past 90 days.  
 Is it a free or paid solution?
YouTube Live is a free solution. It does not charge for anything to live stream. The free solution only requires you to verify your account, and a minimum of 1,000 subscribers if you want to stream live content from a mobile device. 
Once you have enabled your channel on your desktop or mobile phone, decide how you want to record your Livestream on a webcam, mobile cam, or encoder. Whichever means you choose to use, make sure that you have prepared a title, description, and thumbnail image. Also, choose a good time, optimize your setup, promote your event, know how you will engage your audience, and make your Livestream accessible. 
The platform's limitations
YouTube live streaming is limited to 8 hours. If your event is going to take longer, it is better to split your event into several sessions. Your live stream with YouTube also runs the risk of being shut if your channel receives community guidelines strike, your account is blocked globally, or your live stream gets a copyright takedown.   
The platform's available features
Among the available features for YouTube Live, you have access to live chat moderation features, multi-camera features, and even now monetization features. Here is a list of other features now available with YouTube Live:
Insert mid-roll ads from the live control room.

Upload a custom thumbnail for the live event.

Automatically record the activity (max 4 hours) and use YouTube Video Editor to edit the recording (max 2 hours).

Insert broadcast alerts, slates, and create highlights from the Live Control Room during the live event.

Monitor analytics and stream health from the Live Control Room during the live event.

Live automatic captions

Live chat replay

Locations tags
Facebook Live
Anyone with a Facebook account can go live on the site. Your friends usually receive a notification once you go live. 
Is it a free or paid solution?
For Facebook Live, the OBS (Open Broadcaster Software is open-source software; in other words, free. You just have to set up and test your live broadcast before going live.  
To properly use Facebook Live on your mobile device, and get the best out of it, follow the instructions below. 
Tap the camera icon to the left of your search bar.

Give Facebook access to your camera and microphone when asked.

Switch to "Live" on the bottom of your camera screen.

Choose your privacy and posting settings.

Write an appealing description.

Tag your friends, choose your location, or add an activity.

Set your camera's orientation.

Add lenses, filters, or writing and drawing to your video.

Click the blue "Start Live Video" button to start broadcasting.

Interact with viewers and those who comment.

Click "Finish" to end the broadcast.

Post your reply and save the video to your camera roll
The platform's limitations
Some of the limitations that Facebook Live has are technical issues, censorship policies, and a lack of accessibility to boost engagement. Unlike professional streaming solutions, Facebook Live lacks many features with specialized controls and features for security and monetizing the stream. 
The platform's available features
One notable favored, available feature in Facebook Live is inviting guests to join the live stream. Other features on Facebook Live allow users to increase brand awareness, create engagement with the audience, and save your video content for others to view after the event concludes.  
Instagram Live
Instagram Live is accessible for use to anyone with an Instagram account. The feature on Instagram allows users to stream videos to their followers, and even engage with them in real-time. Also, as soon as a user goes live, their followers are immediately alerted.
Is it a free or paid solution?
Instagram Live is free. Anyone with an account can take a live video on Instagram for free. However, if you want to make ads, you will have to pay Instagram for that. 
For one hour, you can share a live video with your followers in real-time.
To start a live video on Instagram, follow the instructions below:
Tap the top left of your feed or swipe right from anywhere in the feed.

Scroll to

Live

at the bottom of the screen, then tap on it.

The number of viewers appears at the top of the screen, and comments appear at the bottom.

You can add a comment by tapping on the comment at the bottom of the screen.

Tap a comment and tap pin comment so that viewers can see it more easily.

At the end of the live video, tap End in the top right then tap to confirm. From there, you can tap the top left to save it to your camera roll, or share it with others.
If you save your live video to your camera roll, only the video is saved, not comments, likes, and the number of viewers.
To manage you Livestream follow the instructions below:
To turn comments off, just tap on comments and select Turn Off Commenting.

Set up keyword filters in the comment section if necessary.

To turn off any followers' requests to go live with you, tap and select Turn Off Requests To Go Live.

If you're on an iOS device, you can tap the bottom right to add photos and videos from your camera roll to your live video. To stop displaying your photo or video, swipe right on your camera roll below and tap on it. Note: Only you can see the images and videos in your camera roll while sharing a live video.
The platform's limitations
For Instagram Live, there is a 60 minute limit per live stream. After reaching a 60 limit, you can go live again for another 60 minutes, and repeat it until the conclusion of your event. Other limitations in Instagram Live include a low conversion and strict brand enforcement. Also, you may not be able to start a live video if you previously posted something that was removed for going against the community guideline of Instagram. 
The platform's available features
Most prominent, the features of Instagram Live include real-time engagement with the audience as they send like and comments. You can also track engagement, view metrics, save, and share your video content after the event. 
Periscope
To use Periscope, the users must be at least 13 years old of age. All activity is public unless the settings are adjusted. Every user with an account can go live.  
Is it a free or paid solution?
To live stream on Periscope is entirely free. However, you can get paid to live stream on Periscope. With super hearts, the video content creator receives monetary tips from the viewers. In other words, the viewers pay real cash to send virtual hearts.
Owned by Twitter, Periscope allows you to share and watch live videos from any mobile device. With the press of a button, you can go live, and your followers get an instant notification. To properly use Periscope, follow the instructions below:
Set up your Periscope account.

Find people to follow.

Explore the features in the app.

Do a quick broadcast to learn how it works. Note: Make it Private, so you are not under pressure to do it right.

Watch some broadcasts. Leave comments. Give away hearts.
The platform's limitations
Periscope's two notable limitations are the invasion of privacy and the technical issues that users experience. Periscope also limits the number of characters to 160 for the bio section. Another thing to keep in mind is the amount of data the app uses to stream live videos. The app can eat up a lot more data when compared to other apps.
The platform's available features
As for Periscope's available features, there are several you can benefit from for a live stream. With the app, there is an interactive viewing experience, a map view of users going live, replays of video broadcasts, and downloadable video streams. Periscope can also integrate with Twitter if users wish.
Ustream
Anybody can use Ustream to live stream their opinions, interests, skills, or even adorable pets. Besides regular people, many groups and organizations use Ustream to expand or enhance their services and increase awareness. 
Is it a free or paid solution?
Ustream used to be free; however, after its integration with IBM, it became a paid service. The pricing for Ustream stars from $99 a month and up to $999 a month. The type of package deal depends on the resources, bandwidth, and storage needed. 
Before using Ustream, it is best to thoroughly read the terms of service acceptable use policy and the privacy policy. After signing up, go to the dashboard, create a channel, plug your camera into your computer, and click on "Go Live." You can select the channel you want to broadcast on by allowing access to your mic and camera. Then you can start broadcasting. It's that easy!
The platform's limitations
Unfortunately, the platform only supports one broadcast at a time. And the platform also requires a hefty paid subscription. Also, the video quality and features need improvement for more advanced users.
The platform's available features
Among some of the general features in Ustream, users can benefit from the following features: Viewer hours (up to 5,000), different broadcast channels (up to 20), video storage (up to 5 TB), HD transcoding (up to 720p), phone support, video embed control, channel password protection, channel customization, live polling, and live CTA video overlays.
Livestream
Anyone who is a customer and owns a Livestream broadcasting product can stream with Livestream. 
Is it a free or paid solution?
Livestream does not require viewers to pay to subscribe and watch events on Livestream. However, if you are planning to stream an event, you would have to look into their pricing and plans. Their premium package starts from $75 a month. For the more sophisticated enterprise option, call to get a price quote.   
You can stream live videos on Livestream on most iOS and Android mobile devices. You also use their search tool to find an event that you are looking to watch. To stream a live video successfully in up to 1080p HD, you need a camera, microphone, and Vimeo Premium or Enterprise membership. All you do is create an account, go to the live settings page, the live preview page, and then go live.
The platform's limitations
As for limitations, the editing features on Livestream are basic. There are also reviews of lags when the connectivity signal is weak. And when uploading videos for people to watch, you are limited to 3GB.
The platform's available features
When it comes to the features, there is an extensive list. With Vimeo, Livestream, you can benefit from the following features: security and privacy, unlimited streaming analytics, Facebook and Youtube integration, cloud transcoding, embeddable player, player customization, white labeling, brand control, live Q&A and polls, audience chat, and personal assistance among many other features.
InterCall
Event planners with business-minded aspirations can significantly benefit from using InterCall. Many businesses highly favor using InterCall over other solutions.
Is it a free or paid solution?
Pricing to use InterCall starts at $0.06 as a one-time payment. Then payments vary depending on the features and solutions you need. Intercall does not have a free version, but it does offer a free trial.
To use InterCall, dial a Reservationless-Plus dial-in number. Enter the conference code, followed by #. Then press * to identify yourself as a leader. You can enter your leader PIN and press 1 to begin your conference or 2 to change your default conference options. 
At the specified time, dial your Reservationless-Plus dial-in number.
The platform's limitations
One of the most notable limits in InterCall is the caller limits. The monthly plan limits 25 callers, and the pay-as-you-go plan has a limit of 125 participants. Also, the recording can take up to one minute to start. System lags are frequent, and it can be difficult to mute users. Users connecting from remote locations might have difficulty dialing in, and customer service is not as helpful as it should be. 
The platform's available features
As for InterCall's available features, you can benefit from web conferencing, telephony, web collaboration, video conferencing, and communication solutions. 
6Connex
The 6Connex Virtual Events Platform enables anyone with an account to host a Virtual event, such as a virtual job fair, virtual summit, virtual benefits fair, and even an E-Learning Program. With 6Connex, you can invite just a few or a few thousand with confidence. 
Is it a free or paid solution?
6Connex is a paid solution. However, the vendor does not provide any pricing details on their site or any other site. It would be best to call and get a personalized price quote. 
As a virtual events platform, 6Connex offers different solutions for different occasions. They have several options, from webcast platforms for engaging presentations to multilingual programs. To know how to use 6Connex platforms, first consider looking into the solutions you need. 
The platform's limitations
With so many solutions, options, and features, it is difficult to pin any limitations on 6Connex. Whatever you need, you will most likely find with 6 Connex. However, remember that it all comes with a price tag. 
The platform's available features
Let's delve into the vast amount of features you can benefit from with 6Connex. Whether you are planning a virtual event or a webinar, you can find the following features:
Attendee Management, Event Management, Live Audio/Video Chat, Moderation, Reporting/Analytics, Social Media Promotion, Surveys/Polls, Alerts/Notifications, Customizable Branding, File Sharing, Live Text Chat, Mobile Access, Pre-made Templates, Presentation Tools, Q&A, Virtual Booths, and even a Virtual Lobby.
ON24
With an account, serious event planners can create a digital experience for their attendees. ON24 offers an interactive webinar and multimedia content platform.
Is it a free or paid solution?
ON24 does not have fixed prices or plans listed on their website. They only provide price quotes when contacted. However, some reviews mention that most webcasts on ON24 cost between $10,000 – $25,000. 
How to use the platform entirely depends on the features, solutions, and services you need. ON24 offers a variety of solutions for different events and different purposes. In general, using ON24 is more of a personalized experience.
The platform's limitations
With much to offer, it is hard to pinpoint any drawbacks in using ON24. However, several reviews online point to several technical cons when it comes to using the platform. Another reported limitation is the "Attendee Limit." ON24 only allows 2,500 concurrent attendees per "Live experience."
The platform's available features
With several platforms available, ON24 offers a broad spectrum of features. Here is a summary of the features on ON24:
Interactive & Audience Engagement, Powerful Analytics, Easy-To-Use Tools For Producers & Presenters, Customizable Environments with "Drag & Drop" Tools, Enterprise Security tools.
Manage Your Event with GEVME
With many great live streaming platforms to choose from, the options can be overwhelming. However, once you know what you want, the choosing process will be easier. In any case, if you are looking for a professional video streaming platform you can rely on, try GEVME Live. This streaming solution is secure and loaded with seamless features for major digital events. With Gevme Live, you can run and live stream important events such as webinars, conferences, and exhibitions.  
Conclusion
Ultimately, whatever platform you go with is your call. Just make sure to choose the best platform that fulfills your needs and everything you want to achieve before, during, and after your virtual event. Keep in mind that, no matter what, audience engagement is vital. Without an audience, your live stream will not succeed. So when looking for a platform, weigh-in the pros and cons and find out which platform will help you deliver your content in the best way to keep your audience engaged.