It's not going to be a surprise if you are looking to invest in virtual event management software. With the pandemic setting in, virtual events have become the norm, and there have been great progress and improvisations in virtual events experiences over the past year. But be it physical events or virtual events, hosting one is quite complex. 
Even if you were an experienced event organizer, many things can go wrong on the event day. Fortunately, an amazing virtual event platform makes conducting events a seamless process. Not just that, they provide tools and functionalities that make your event just a whole better. 
"Get to know more about virtual event software and the features that best works for you."

PCMA, Digital Event Course, 2020
Registration Stats and Data
One of the top reasons for the explosion of virtual events is that they offer data and analytics like never before. Good event management software must provide great analytics at your fingertips, using which you should be able to increase registrations for your event. The analytics could be in multiple forms, from providing social mentions, conversation rates, and revenue numbers. It should also enable you to compare the popularity of different event sessions. Having this absolute and comparable data can help you improve and scale up your event. 
Digital Exhibitor Booths
If you are hosting a virtual exhibition, or any other event for that matter, this feature is like gold. Through a digital exhibitor booth, the audience will be able to view the booths just like how they would be present in a physical environment. Depending on which booths they choose, they may be prompted with a few interaction options such as live chatting, sending inquiries, etc. Top event management software like Gevme has this integrated on the platform, and setting it up is a piece of cake!
Real-Time Announcements
When running an event, be it virtual or physical, it is important to keep your audience updated. This could be before the event (in the form of changes, reminders, etc.), during the event (in the form of changes, interactions, etc.), or after the event (in the form of providing information of upcoming events, collecting feedback, etc.).
Although the announcement information can be sent via Email, it is best if the event management software has an in-app push notification feature. This can enable you to type your message and send them to your attendees in real-time.
An extension of this is if the virtual event software has a bunch of automated messages that you can schedule to broadcast to your audience at the appropriate times. The automated messages could be reminders about the event, urges to follow social media handles or more. This is handy, especially if you are running tight on schedule and need time to divert to other things. 
Check-in During The Event
Whether your event is hybrid, virtual, or in-person, the first thing the audience will want to do when they arrive at your event is to check-in. This could be in the simple form of ticket verification or just nudging the organizers that they have arrived at the event. A paperless and quick process is ideal. If this feature is synched with the virtual event platform, it is great, as it may automatically tick when each registered attendee arrives and checks in. 
You should then be able to see how many people are present at the event at a given time and the total attendance rate at that moment.
Real-Time Interactive Tools
Note that it is extremely easy to get disengaged during a virtual event. Therefore, it is inevitable to have tools that help the audience engage throughout the event. These can be in the form of real-time polls, Q/A sessions, or breakout rooms where the audience can interact with each other. These tools make the audience involved and feel excited about the event. Not just that, if it is an informative event, these enable the audience to learn more by having their queries resolved. 
Good virtual event software will integrate multiple real-time interactive tools that can be customizable by the organizer. Therefore, go with software that has more of these tools if they are relevant to your event.
Email Marketing
It is the most important channel to market. Small and big event organizers alike use their email lists to occasionally blast their upcoming events and other important content. It is best if the event management software has its email marketing tool, or it is also acceptable if it can seamlessly integrate with another email marketing tool. 
Ideally, the event management software must allow you to draft and customize concise emails through the platform itself and send them to the registered audience or leads through a tap of a button. Some virtual event platforms also have the option of sending automated emails.
Branding
A lot of audiences are going to recognize your event through your brand. The virtual event platform that you finally choose must enable you to customize the feed, layouts, and other designs with your brand logos, colours, and fonts.
This is also called white-label branding. If the branding is done perfectly, the audience must not be able to make out that you are using third-party virtual event software to stream the event.
One-on-One Meetings/Messaging
Virtual events have the big advantage that it becomes easier to connect with people, one on one. The event management platform must have that feature. It is almost a deal-breaker. One of the biggest reasons why people come to an event is to network with people. Make sure that the event management software provides the ability to ping people one-on-one, or enables them to create private chat rooms for discussion and networking. You can even provide your audience with the opportunity to pre-book a meeting or a networking session.
This is a good way to increase your audience, too, when they see that it is an opportunity to network with someone inspiring. More audience also means greater sponsorship interest in the future.
Post-Event Analytics
Just as how pre-event analytics is important, even post-event analytics is. These talk about the retention rate of your attendees, how long they attended the event, how well did they interact using the interactive tools, and how active they were in networking. This is useful to identify gaps in your event and provides food for improvement in the upcoming events.
The analysis must come in the form of easy-to-digest numbers and graphs that you can readily derive insights out of and work towards the next event edition.
Collect Feedback
While you can collect feedback externally as well, it is hassle-free if it is integrated within the event management platform itself. The collection process could be automated. That is, the software could prompt the attendees to rate the event and write feedback after the completion of the event.
Else, the software can send mails to the attendees urging them to provide a rating and feedback for the event held a few days ago. The feedback is crucial to identify areas of improvement which you may or may not have identified.
Virtual Event Builder
Are you looking to build a fascinating virtual event? All the tools you need are present in a virtual event builder. This is easy to use, and even non-programmers will find it intuitive to build dashing virtual events. 
Through GEVME's builder, you can build your venue in either 2-D or 3-D form. There are designs available that are suitable no matter the type of event you want to organize. Depending on the event type you choose, there will be default content blocks present already. For instance, if it is a virtual conference, the template will have the speaker and agenda blocks. 
Apart from this, the template will also contain a set of customized functionalities depending on the event type. For instance, if it is a virtual trade show, it will contain meeting and lead generation features.
Overall, the sky's the limit for the creativity you can bring into your virtual events through Gevme builder. Get started here.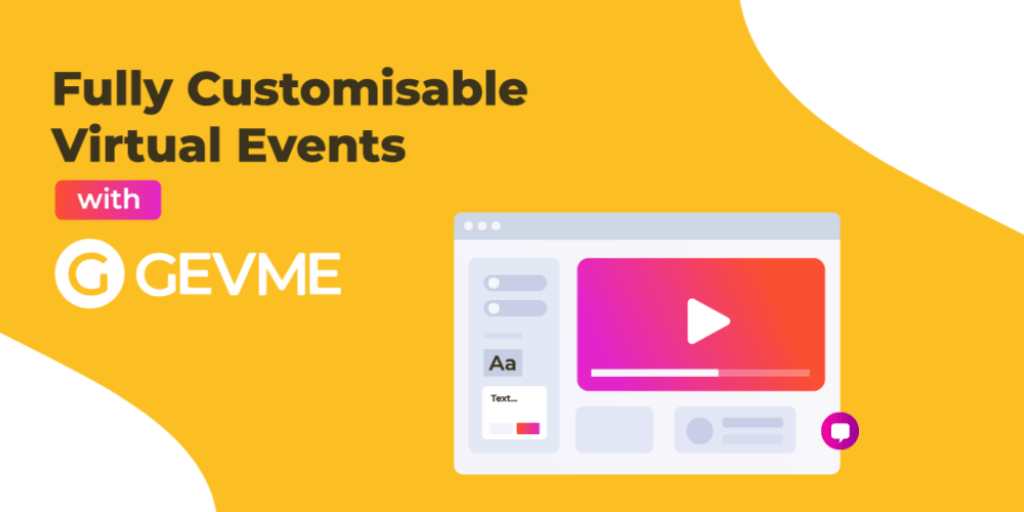 Conclusion
These are some of the features you need to look for in your digital event software. But note that the above features are not exhaustive, but having these is a real boost to your digital event.