The internet has been showing its prowess during the pandemic. While it was more of a way to get work done and connect with our loved ones, the internet nowadays has become a medium to celebrate and network with professionals. All thanks to the boom of virtual and hybrid events ever since the pandemic set in. A lot of businesses, from design to technology to food, have moved online and are committed to providing cost-effective ways for their audience to engage and participate.
If you are an event organizer or have some idea of organizing events, the basics remain the same. However, the virtual events world brings in innovation, elements, and techniques which event organizers need to be familiar with. But the good news is – it is not rocket science.
To help you get started with your first successful virtual event, we have compiled the must-knows and must-dos as an event organizer. Follow them sincerely and see your event coming to life on your screen.
Some Fundamentals to Virtual Event Planning
But still, let's look at the basics that you should not miss out on while creating your virtual event.
Firstly, you need to ensure that the content you are providing is valuable and engaging. Note that it is way easier to disengage from your event (by exiting the event or shutting down the system) as compared to on-ground events. Without powerful speakers and interesting, engaging elements, your audience will not stay back for your entire event.
Even if it is a virtual event, you need to have an effective marketing strategy to ensure it reaches the right audience. The challenge with virtual events is that there are just too many potential audiences out there. You need to leverage this to your advantage through organic and paid campaigns.
Pay attention to the data that comes out from your virtual event. That's another advantage which you must make use of. Through this data, you measure the ROI, the engagement levels and identify areas to improve. The finer your event gets with each time, the more it will grow among your audience.
Let's proceed to planning your virtual event 
Understand Your Audience
Any product or service in the market first begins with understanding the audience or the target market. Your knowledge and visualization of the audience need to be crystal clear. Any mismatch, and you will see them disengaging from your event.
First, understand if your event can be conducted virtually and will the audience like it? If not, then what are the different innovations or changes you can bring to your format that can make it interesting online?
Is your audience tech-savvy to access the different event management platforms, interact with its features? You can identify this with their demographic profiles, including their age groups etc.
On the whole, there are roughly two types of audience for any type of event:
Professional / Corporate:
These include audiences who come for business meets, networking sessions, workshops, seminars, conferences, etc.
Personal / Casual:
These include audiences who come for concerts, open mics, virtual parties, etc.
Create Your Event Format
Your event format is one of the most important parameters that will decide how engaging your event will be. To begin this, create an activity map.
An activity map is a high-level visualization of the different activities or sessions that will take place during the event. It should cover more or less everything that event must have, based on your expectations from it as an organizer.
This activity map must have information on how the registrations will take place, where will the event be streamed, what is the strategy for event promotions, the expected date and time of the event, audience feedback collection strategy, etc.
This will give shape to a specific format of your event. It may look more or less like hosting a virtual conference, or a workshop, or a casual gathering, depending on your target audience and expected outcomes from the event.
Like offline events, date and time become equally important in virtual events as well. You need to decide this based on your target audience, the times and days of the week they could be most active for your event, etc.
If this is not right, your effort and investments might go to waste. It will not be able to reach the audience that it could potentially reach otherwise if done at the right time and date.
Choose an Engaging Host / MC
Even if the activities you have in the event are interesting, you need an engaging host to host a virtual event.
They ensure the attendees move from one activity to another smoothly.
Either you can hire a professional speaker or Emcee, or you can pick someone from your company who can speak well and is confident. The person must be able to convey their speech clearly, constantly engage and answer to the attendees, introduce the keynote speakers and respond to queries on social media and the chatbox.
The host must be able to maintain comforting eye contact with the attendees at all times, and they must not read out from a script.
During different segments of the event, the host must be able to come up with an on-the-spot conversation with the audience and make sure there is no awkward silence in the online meeting. They must also be able to answer questions that might come unexpectedly from the audience while maintaining their engaging tone and professional demeanour.
It is also possible to have two hosts, either co-hosting or coming to host in turns. But their personalities of hosting must complement each other, and they must have a strong rapport.
Market Your Event Well
The best channel to promote virtual events is through digital platforms such as social media, web pages, etc. Through social media, you can tap into an audience who would be interested in your event, but you would never have been able to market it to them if the event was held on-ground. Here are some tips you need to keep in mind while promoting your event.
The event page must grab attention. Make it very clear the agenda of the event, date and time, the speakers, if any, sign-up links, and payment options. Use colours that complement the mood of the event.
Like any content on the Internet, keywords are an important tool to use here as well. Imagine what your potential audience could be searching, and build a keyword map from there to use in your event title and description.
If you have an email list, sending out event details and invites is one of the most effective methods to promote. You can also provide a sneak peek of what your event may offer through short videos or messages from keynote speakers.
Use social media platforms to their full potential. Instagram and Facebook are great platforms to create your event pages and promotions. Create hashtags for your event and share them with every post you make on a social media platform. Include pictures and videos from the event to arouse curiosity in your audience.
Choose the Right Virtual Event Management Platform
The right virtual event platform can make all the difference in the end-product (the event in this case), even if you have done your research and homework right.
Of course, the basic thing you need to look for in an event management platform is that they must have all the latest features and trending engagement options in the virtual space arena. The platform must have good user reviews and a consistently growing audience base.
Look for event management platforms that can integrate both in-person and virtual events in them. This is going to be the future as the world recovers from COVID.
This platform must have all necessary features built-in. An end-to-end solution is more convenient. Do not opt for choosing multiple event platforms for different platforms, and it is not sustainable practically and financial-wise.
Note that a lot of virtual event audiences will be new to this kind of space. So the event management platform must have an easy user interface that is highly intuitive. Most of the event work for both the organizers and the audience will be on this platform, so there needs to be less time spent on figuring out what option is where.
Think about the journey of the user from one event point to the other, and make it as smooth and seamless as possible. Since people will also be logging in from different devices, you need to ensure the event experience is the best for all.
Apart from this, the event platform must be able to support on-demand content delivery as well apart from the live recording. This is useful for audiences who would be unable to join the event live but would be interested in following it later. This can be an opportunity to monetize your content as well.
One of the most important factors to look for in an event management platform is the audience engagement tools. These can include having the ability to chat with the host and other attendees, make virtual hand gestures like clap, raise hands etc., ask questions, take part in polls, etc. The more the virtual event platform tries to replicate the value created in on-ground events, the better it will be.
Another important point to note – the data you will be getting out of the platform. This is highly vital, so the platform must fetch easy-to-read reports with all relevant, real-time information. This captured data is also one of the main reasons for your sponsors putting money into your event. Depending on the clicks of the audience, their engagement times, you can strategize and fine-tune your event to perform better the next time.
Organize Test Runs To Open Your Virtual Event Successfully
No matter how well you might have planned for your event, there could always be something that could go wrong on the event day. It makes sense to call in the speakers or some other attendees to check if everything from the flow to the technology is going right. This will also make you less anxious as an event organizer and identify shortcomings and errors beforehand.
When the real event starts, spend some time at the starting guiding the audience on how the virtual event runs and how they can interact through the technology. Give them all important information, including the schedule, the breaks, networking sessions, the event duration, etc. As and when the event progresses, you can update or provide new information important to them.
Collect Audience Feedback
Recall the feedback mechanism you thought of while creating the activity platform. The audience feedback must describe how the audience felt about the event, the vibe, and if they got the value, they expected out of it.
Gather feedback of each specific component of the event, from the event platform ease of use, objectives, agenda, and activities. This will help you compare with the expected quality metrics and objectives you had on paper before the start of the event.
You can also inform the audience about any future event if it is coming up and urge them to follow your social media handles to have updates about upcoming events.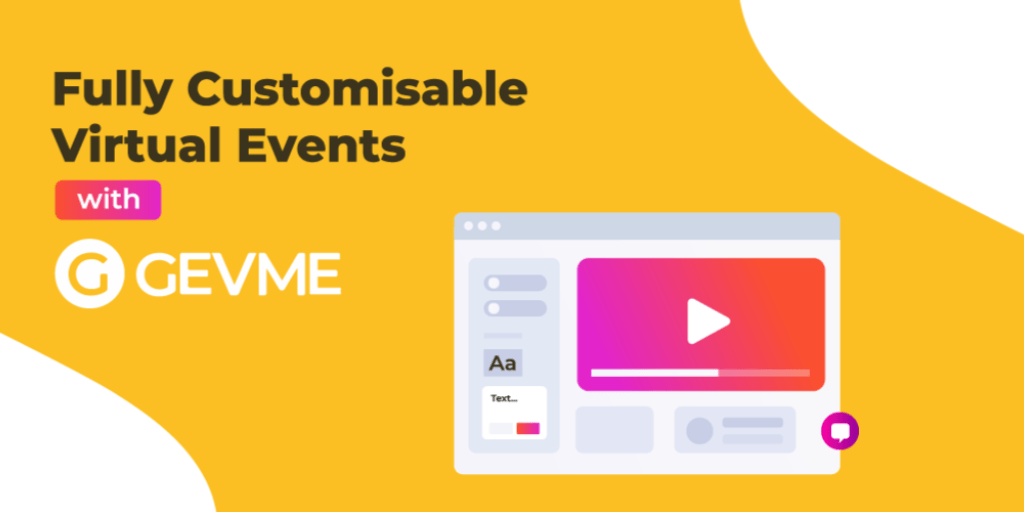 Conclusion
These are the tips you need to follow to ensure your event is engaging and provides value to the audience. However, you will need to go through one or two iterations before you land on a perfect formula for hosting virtual events. It is recommended that you develop or hire specific skill-sets that can come in handy for organizing virtual events. These can include hosts who are particularly good in the virtual model of hosting, technical experts who can handle the event management platform and customize it, and data analysts who can make sense of the data generated from the event.
Find out and read about how your competitors and other organizations are doing their virtual events. Attend them, take notes and start with your virtual event today. Check out GEVME for all your virtual event needs.