As sustainable events are becoming mainstream, more and more event organizers are looking out for eco-friendly practices and digital technologies that promote a positive impact on the environment. In this article, we'll discuss how to harness the power of user-generated content to facilitate green audience engagement.
User-generated content serves as an alternative digital engagement channel that can help event planners reduce production and cut down on waste. It gives your attendees something tangible to take away after the event, like a branded selfie with their event buddy, without you having to over-produce and waste material resources.
Marketers love user-generated content because it provides an unmatched level of authenticity and social proof. When you apply the same approach to events and allow your audience to actively participate in the event content creation, the event experience becomes more genuine and inclusive, connections stronger, and engagement deeper.
Suppose your goal is to reduce your event's carbon footprint by minimizing travelling and encouraging people to join virtually. In that case, content creation can help you connect people from around the world and provide equal opportunities to engage both virtual and physical audiences.
Moreover, by providing options to engage with sustainable events, you'll showcase your commitment to environmental stewardship and build trust with your audience.
Utilizing user-generated content as an engagement tool can help event planners engage virtual and physical audiences alike, generate branded content around their event, create social proof, and simultaneously reduce the negative impact on the environment.
Let's take a look at the top five sources UGC event planners can leverage for green audience engagement and sustainable events.
1. Social Media
UGC on social media is a powerful tool for event planners who want to build sustainable events with green engagement. By encouraging your attendees to share content on their social channels, you not only help generate buzz and excitement around the event but also boost audience engagement before it starts.
Organizers can create interactive event experiences by posting questions, running contests, giveaways, and challenges, or simply asking their audience to interact with their brand by using an event hashtag. Instead of using printed marketing materials, you can turn to user-generated content that serves as social proof of a great event experience.
When event planners promote sustainable behaviour and showcase eco-friendly practices through sustainable events and UGC, they can encourage others to do the same. This helps create a culture of sustainability that extends beyond the event itself.
2. An event social wall
A social wall is a unified feed of UGC from various social media platforms, such as Twitter, Instagram, and Facebook. It is a great way to encourage attendees to engage with an event by creating content and sharing their experiences and opinions with others.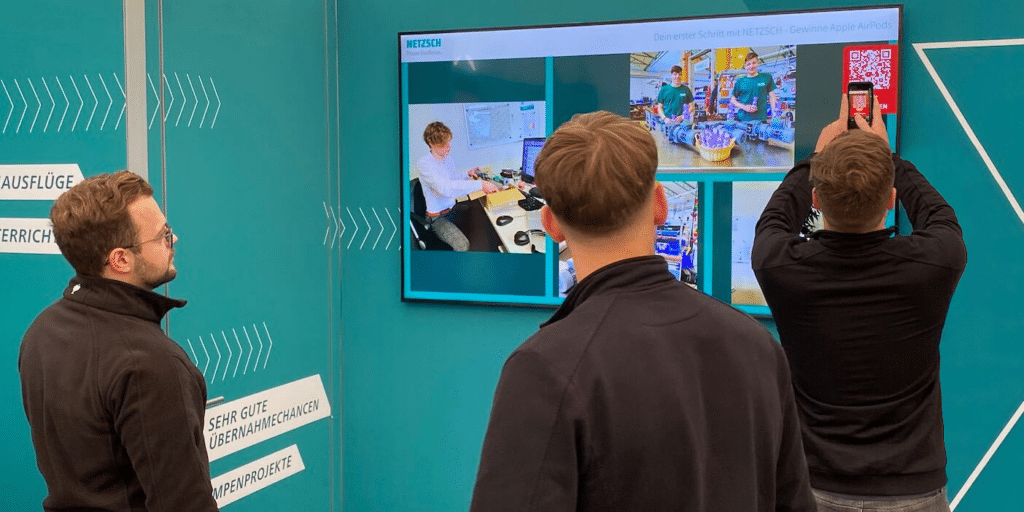 During hybrid events, a social wall embedded into an event platform, app, or website encourages virtual attendees to engage with the event and interact with other attendees, speakers, and sponsors without having to attend physically. By providing a platform for attendees to share their experiences, social walls can help to build a sense of belonging and connection among attendees, even if they are participating from different locations.
Use Gevme's event companion app to create a Social Wall mini experience that attendees can access from their mobile phones.
3. Direct posting
Sustainable events go hand in hand with accessibility. 
While social media is one of the greatest channels to source UGC, not everyone will use their personal profiles to post about events. And chances are, some of your attendees aren't on social media at all. So if you want to collect as much UGC as possible, choose interactive technology that goes beyond social media and ensures everyone in your audience can join the conversation.
For example, choose an event platform or app that supports social feeds, where everyone can ask questions and interact with others. Or, if you want to keep all the UGC in one place, go for a social wall that allows attendees to upload photos and post messages directly on the wall, bypassing social media altogether.
4. Live polling
Polls can be easily shared and completed digitally, reducing the event's environmental impact and keeping attendees engaged at every event stage. When used as a part of a social wall setup, interactive live polling becomes another source of UGC. It can help event planners break the ice, receive real-time feedback, and empower attendees to impact their event experience.
Looking for inspiration? Here are over 50 ideas for your next poll question.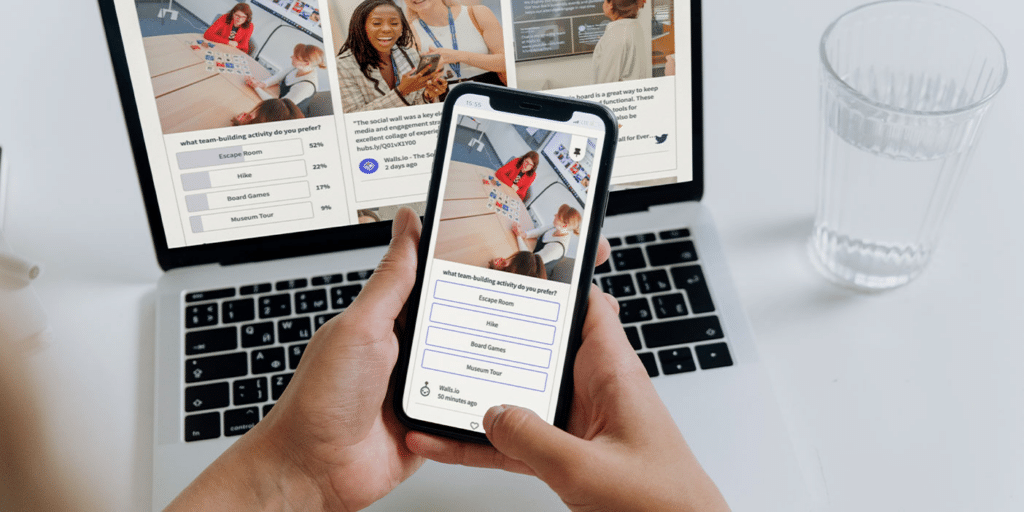 5. Gamification
By introducing elements of competition, collaboration, and rewards, you can create a sense of excitement and community among attendees — for example, with a UGC-based contest.
Ask your attendees to submit their photos from the event on the social wall, either by posting them on social media with your hashtag or uploading them directly to the wall. You can let the audience pick a winner by voting for the best picture with interactive polling or likes and reactions.
Have prizes contribute to environmental causes or charities to make sure your event contributes to helping the environment!
Let your audience help you go green
Organizers can turn attendees into active event participants by creating multiple engagement points with digital content. Providing various tools to create UGC, from social media to live polls, will make it easier for your audience to connect and interact.
The best part about utilizing UGC is that it's reusable. So when attendees and speakers create content for your event, you can repurpose it in future campaigns and event activations, preventing your team from spending unnecessary resources.
That makes user-generated content a must-have tool for event organizers who strive to increase audience engagement in an eco-friendly way, promote a positive environmental impact, and create seamless, sustainable events.