At GEVME, we are constantly developing new features to help event professionals build and operate their events.
Today, we are excited to announce that you can connect GEVME's virtual event platform to some of your favourite registration, productivity and email marketing tools without requiring any technical expertise.
Check out our new integrations page.
Why we are building these integrations
Running events requires juggling between different tools. Event professionals use different solutions for registration, email marketing, managing sponsors, live streaming, reporting, etc.
A major challenge with this approach is the interoperability between the different tools. They rarely integrate with each other meaning that event professionals have to default to spreadsheets. However there are two major issues with this approach:
It is a very manual process that is time-consuming
It is prone to mistakes due to all the moving parts
At GEVME, we aim to provide an all-in-one solution to help event professionals streamline their process and save cost. However, we've always played well with third-party tools that event professionals rely on via our API in order to provide them with the flexibility to choose their own tools. Now, with this new release, users of Gevme Virtual will be able to integrate with popular third-party tools without requiring any technical expertise.
How the integrations will work
As of today, Gevme Virtual integrates with 15 popular apps via Zapier.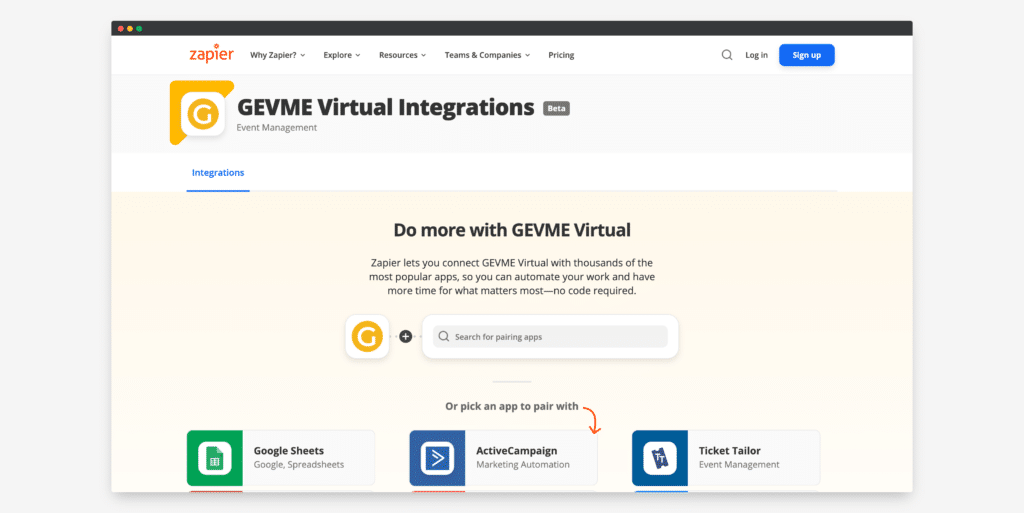 What is Zapier?
Zapier connects more than 1,000 cloud-based web applications so that you can easily automate the key processes that keep your business up and running. It enables you to easily connect & integrate your favourite applications without writing a single line of code or paying a programmer to do it for you. By linking up your web apps, data can seamlessly flow between your tools and across your workflows.
Here are some of the things that you will be able to achieve by integrating with the different categories of tools:
Registration Platforms (Eventbrite, Cvent, Bizzabo): Use your preferred registration platform to collect attendee data and automatically push that data to our virtual event platform to provide attendees with easy access to your virtual event.
Email Marketing Tools (MailChimp, ActiveCamapign): Send email communications such as reminder emails and thank you emails to attendees of virtual events hosted on our platform using the data they provided.
Productivity Tools (Google Sheets, Airtable): Provide a two-way sync between our virtual platform and your productivity tools such as Google Sheets and Airtable. You can push the data stored in your spreadsheets to our virtual event platform to provide attendees with easy access to your virtual event. Or you can push the attendee data from our virtual platform  to these tools for further analysis and reporting.
Get started with these integrations by visiting our Zapier page and building your first workflows
We also launched an integrations page where you can browse through the different tools we integrate with and learn how to integrate them with GEVME's virtual event platform: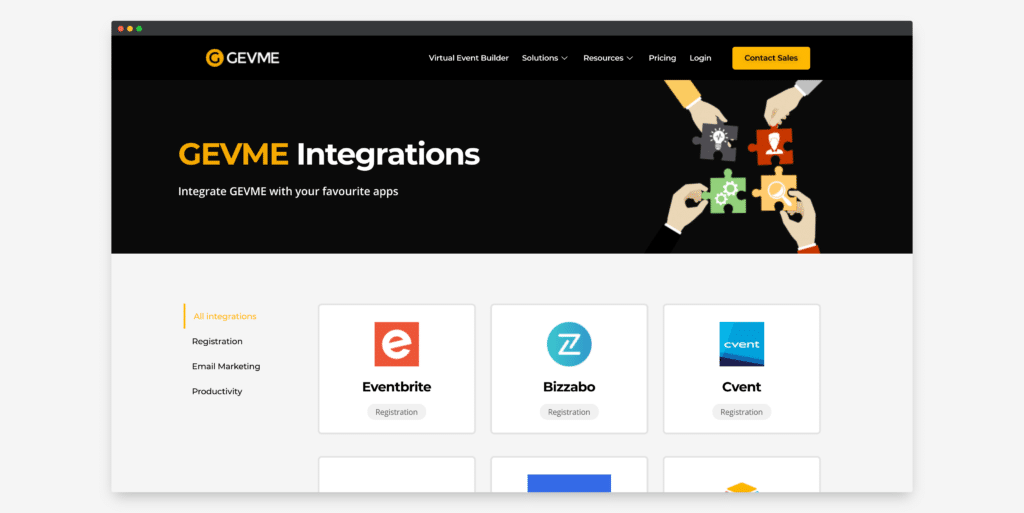 What integrations are coming next
This launch is a first step towards supporting extensive integrations with your favourite tools. While still in beta mode, we are starting out with these 15 integrations. Soon, you will be able to integrate with the 1000+ tools available on the Zapier platform. We will also be announcing native integrations with solutions such as Vimeo, Interprefy, Taggbox and Engamio.
Try out these integrations and let us know what other tools we should integrate with.