The One-Stop Solution for Virtual Events
All the features you need in one place and seamlessly integrated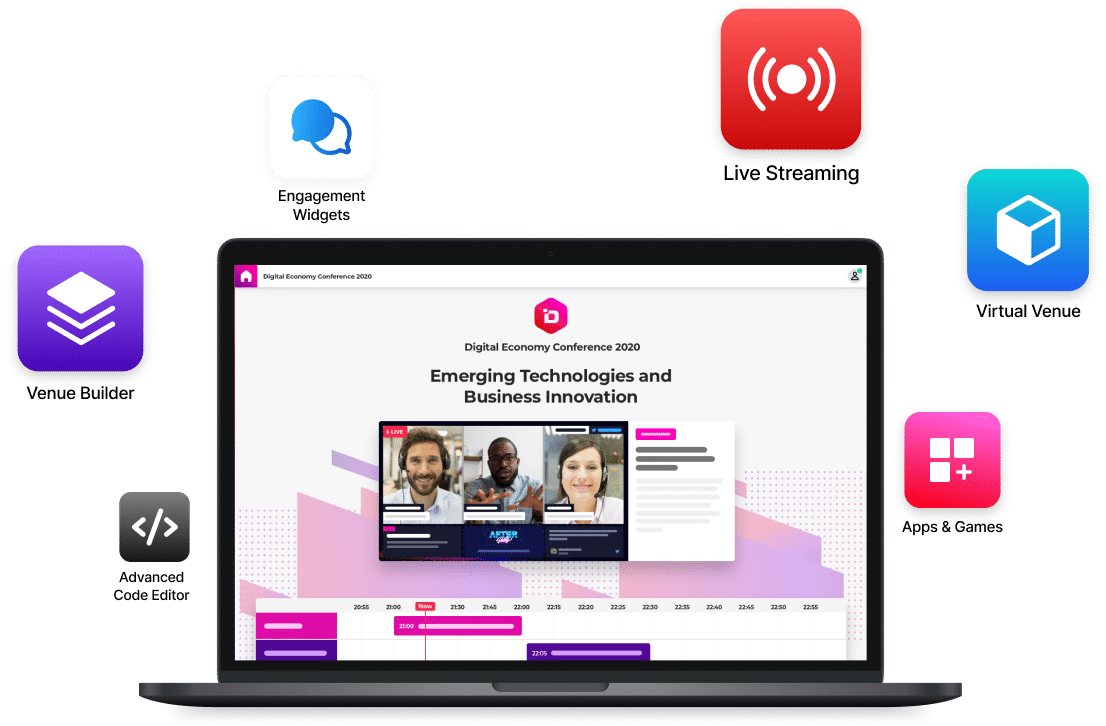 Fully Customisable Virtual Venue

Venues are like templates. They determine the look & feel and functionality of your website

A visual interface to customise your venue. Start with a venue from our store or build it from scratch.

For advanced users. The editor provides full control over your virtual experience and saves you time.  

Add rich content blocks such as text, photos and videos to display information about your sessions.

Extend the capability of your events with our apps. Or integrate your favourite ones from third-parties. 

Take your event engagement to the next level with our fun games. Or embed your favourite third-party games.
End-to-End Event Management Platform

Create a beautiful website for your event without any design or coding skills.

Offer a frictionless registration experience with our flexible registration and ticketing system.

Send smarter emails campaigns and sell more tickets with our integrated email marketing tool.

View live analytics of your virtual event and create detailed reports post-event

Manage data across all stages of your event and create personalised experiences

Manage your revenue and expenses in order to deliver the maximum ROI at your events.

Customise every touch points with fully branded event websites, emails and more

Gather feedback and improve on your event with our tool to create and distribute surveys. 

Empower your exhibitors with an interface to design their booth, generate leads and view analytics.

Allow or restrict access to individual sessions at your event to ensure a great experience for everyone. 
Smart Recommendation Engine
Engineer serendipity at your events
Start Building Unique Virtual Events