A virtual team building event gathers employees from the same company or organisation to promote teamwork and collaboration. These events can take many different forms but often involve activities that require participants to work together to complete a task or goal.
Further, virtual team building events can be a great way to promote communication and cooperation within a team and be a lot of fun.
Need For Virtual Team Building Event
Team building activities motivate your employees to collaborate, enhance their abilities and resolve any shortcomings. As a result, every team building activity should emphasise collaboration over rivalry.
With remote employees, it's vital to keep them involved and engaged. So, one way to do this is to hold regular team building events.
Here are just a few benefits of virtual team building activities.
Virtual team building events foster trust
When team members understand one another and participate in enjoyable activities collectively, they develop trust. Further, this trust is essential for a team that must work together, even if they are not in the exact location.
Improve communication
When team members can have fun and relax together, they are also more likely to communicate openly and honestly. Additionally, this can help to improve communication even if the team members aren't together at a place.
Boost morale
Motivated employees are more likely to succeed once they are part of a team and feel respected. Further, this can improve productivity and a more positive work environment, even for remote workers. Hence consider team building activities through virtual events.
Develop collaboration
When team members can work together on fun virtual team building activities, they can learn to trust and rely on each other. Even if team members are not together in a physical location, this might lead to improved cooperation.
Strengthen problem-solving abilities via team building activities
Working together on fun activities can help team members think creatively and develop new solutions to problems. Even if the team members aren't physically there.
No matter if your team is geographically dispersed, this may help them enhance their problem-solving abilities and will challenge them to get creative.
If you manage a team of remote workers, consider holding a team building meeting and event to help them build trust, improve communication, boost morale, increase collaboration and improve problem-solving skills.
Combat loneliness via virtual team building
With everyone confined up at home, loneliness is an all-too-common problem. But, for some, going to work provides an opportunity to socialise. So, virtual team building can assist bring individuals who may be experiencing isolation into a group and allow them to communicate with other people.
Moreover, people who live alone may go for long periods without speaking to anybody. In that case, virtual team building will keep them connected.
Encourage your team
When working remotely, a virtual team building session may promote good behaviour. In the case of a significant project with a strict deadline, why not plan an entertaining virtual team building online activity as a return for the effort?
Communicate effectively in challenging situations
Isolation during these difficult times might adversely influence a person's ability to communicate effectively. Additionally, communication is more crucial than ever in these challenging circumstances. So, people may catch up with coworkers through remote team building activities and have fun together.
Tips For Hosting Virtual Team Building Activities
If you're looking for ways to build team morale and keep your team connected, even while working remotely, consider hosting a virtual team building activity. Further, you can host several team building events, stream live videos, or conduct video conferencing with a virtual event platform.
A virtual team building event will help boost morale and keep your team connected, but it can also be a great way to build team skills and improve communication. Team members can learn to trust and rely on each other by working together on fun and challenging activities, translating into better communication and collaboration on work-related tasks.
Consider a few things to get started with virtual team building activities.
Use a reliable virtual event platform
You need a highly-reliable virtual event platform to conduct a successful, engaging, and interactive virtual team building event. With GEVME, you can effortlessly host an online event with stunning features where the event attendees can enjoy the event and get a chance to interact with hosts and their fellow attendees in real-time.
For this, Gevme offers an intuitive interface where the host can tailor all the aspects of the event. Further, several such features can make an event highly fun and collaborative.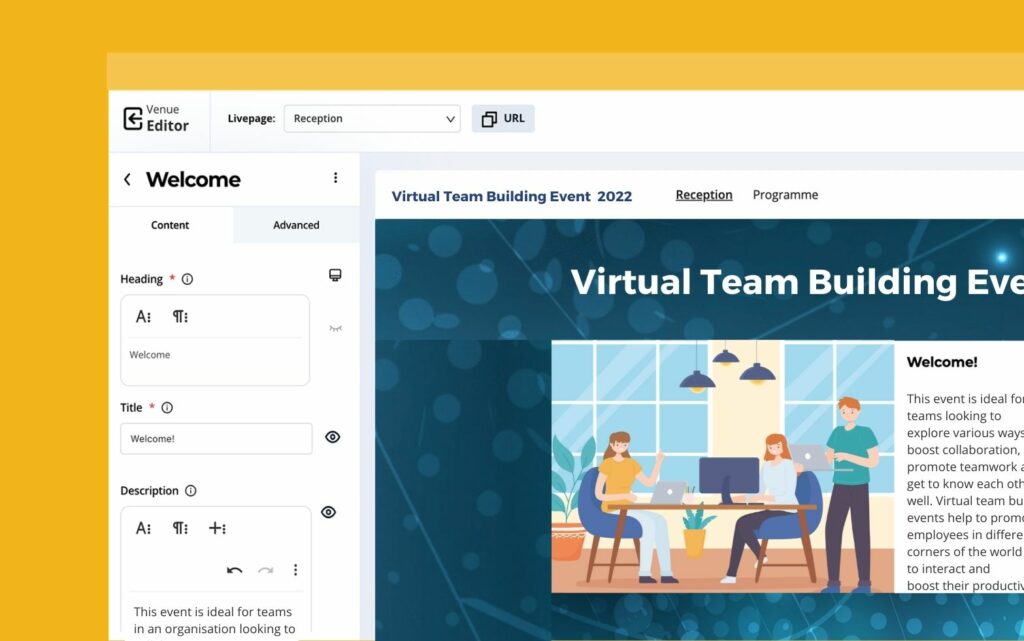 Plan interesting activities
Next, you'll need to choose a possible activity online. Additionally, several excellent options are available, so be sure to research to find a move that will be both fun and challenging for your team.
Ensure everyone has all necessary equipment
You will need to ensure everyone has the necessary equipment to participate. Better participation and maximum attendance may include a webcam, microphone, and a good internet connection. If you're not sure what your team will need, be sure to ask in advance so you can make the necessary arrangements.
Choose a time that suits all
Finally, you'll need to set up a time and date for your event.
However, be sure to choose a time that will work for everyone on your team and give everyone plenty of notice so they can clear their schedules.
By following these tips, you can host a virtual team building event that will be fun and beneficial for your team.
Keep the virtual team building event fun
You don't have to miss out on the excitement because you're not together in the same place. Instead, include some fun activities or games in your virtual team building event.
Make everyone involved
Make sure everyone has a chance to participate in the virtual team building event. You can do this by breaking everyone up into smaller groups or having everyone join in the same activity.
Make it interactive
By making the event collaborative, you can keep your staff engaged and excited. So, you can make it interactive by having every employee share their ideas or having some competition.
Keep it short
Don't make your virtual team building event too long. Please keep it to an hour or two, so everyone can stay focused.
Follow up after the virtual team building.
After the event, follow up with everyone. Sending out a poll or emailing a follow-up email can be helpful for this purpose.
Virtual Team Building Activities To Consider
Team building activities can be organised, from simple ice-breaker games to more complex challenges that require teamwork and problem-solving skills.
There are several options available for team building activities. However, it's tough to decide what will work best for your team, but here are a few ideas to get you started.
Here are a few examples of virtual team building activities to consider.
Time for a cup of coffee
Walking to a neighbouring coffee house or heading out for refreshments with coworkers is among the most fun aspects of office working. Hence, these are probably the things that you're overlooking.
Because of this, why not organise small coffee breaks with your colleagues? The coffee breaks can be an exciting virtual team building activity.
Ideally, this must be a one-on-one opportunity for workers to get to know one other better. Hence, go for this simple team building activity.
Stream videos
Are movie and TV buffs are a big part of your team? Then, as an alternative to going to the movies together, you and your coworkers might all arrange to enjoy the same film or television program simultaneously.
Get everyone together and choose an entertaining film or television program that everyone would like.
Initiate a small friendly discussion over your favourite topics, characters, or thoughts.
With Gevme, you can directly stream your videos and any live events with Gevme Virtual from Vimeo.
An extravagant quiz show for virtual team building
Taking part in an entertaining game show-style contest doesn't have to be off the field since you're apart from your employees.
In groups, take on a picture and quiz challenges on various subjects, such as movies and music, politics, etc. You can conduct the virtual team building event yourself effortlessly through the Gevme platform.
Virtual luncheon meetings
Virtual lunch meetings are an excellent way to allow your employees to socialise more casually when they aren't job-related.
The idea is simple: grant each member of the team a predetermined budget that they may use to reimburse the firm for their expenses. Then, it's OK if everyone brings anything they want to eat for lunch and signs on to the decided virtual platform, talk, catch up, and appreciate one other's presence.
It's possible to implement lunch gatherings to acquire new skills, too.
Have a few questions about hosting a virtual team building event? Then, get the answers from us!
What is a virtual team building event?
Virtual team building activities include games, challenges, and exercises conducted in teams via online platforms. These activities foster communication and trust amongst the remote employees, keep your employees contented, and encourage them to be productive.
What are some ways to kick off a virtual meeting?
One of the most effective methods for making virtual team-building enjoyable is to include interactive elements. They incorporate interactive features, planning games and activities that require employee participation. Participatory virtual meeting components include virtual games for ice-breakers, online team building activities, virtual team challenges, and virtual team-building exercises.
Why host team-building activities?
Some events help build relationships, while others can improve a particular skill fun and enjoyable. A virtual team-building activity leads to better communication, problem-solving, creativity, and employee bonding.
What are some most essential categories of team building activities?
There are four significant categories of team-building activities that include:
Communication activities.
Activities for problem solving and decision-making.
Planning and adaptability.
Trust-building activities.
What are the best ways to organise team building?
Are you planning your next team building event? Take simple steps to ensure your event's success.
Ensure to have a good and reliable platform to conduct your virtual team building activities like Gevme.
Plan your events to ensure everyone's presence.
Further, include exciting activities.
Bottom Line
Now that you understand the importance of virtual team building activities, you can implement certain virtual team building activities while working remotely. If you are looking to implement a virtual team building event, Gevme is your go-to-go partner.
Request a demo today to learn more about how Gevme can drive your virtual team building event.