Drastic changes in the recruitment process have been accelerated due to innovative technology available in recent years. A career fair is no more limited to university halls filled with employers showcasing their companies looking to hire graduate students.
The traditional means of recruiting has been taken over by a highly-effective way of meeting global talents through virtual career fairs.
For a long time, career fairs were all about employers setting up booths to meet potential candidates. On the other hand, candidates would have to navigate through the event on their own to find opportunities that meet their interests.
Employers would also have to spend considerable time and effort into finding the right talent. Screenings of the candidates and going through resumes would have to be done manually by hiring managers.
Overall, hosting a career fair at a physical venue required heavy investment, logistics and administrative planning.
By simplifying this entire process, virtual career fairs are now on top of the list for hiring managers. Apart from being a safer alternative to in-person interviews, it's now much more convenient for both employers and candidates to connect and network with each other. This explains why such events are on the rise in recent times.
But before looking into how to host virtual career fairs, let's take a moment to understand the concept of a virtual career fair.
What is a virtual career fair?
A virtual career fair is an online event for recruiters to meet candidates they think fit the bill for a particular job.
Unlike the traditional in-person career fairs, an online job fair allows hiring managers to connect and network with hundreds of candidates, get matched with candidates that fulfil the job requirements, schedule meetings with them and much more.
Using the right platform to host your virtual career fair will unfold limitless opportunities to get matched with the right candidate, collect resumes, host live sessions, notify attendees, create leaderboards and customise the event as per the requirement.
One such platform that allows you to fully customise is GEVME where you get extensive features to host a results-driven and impactful virtual career fair.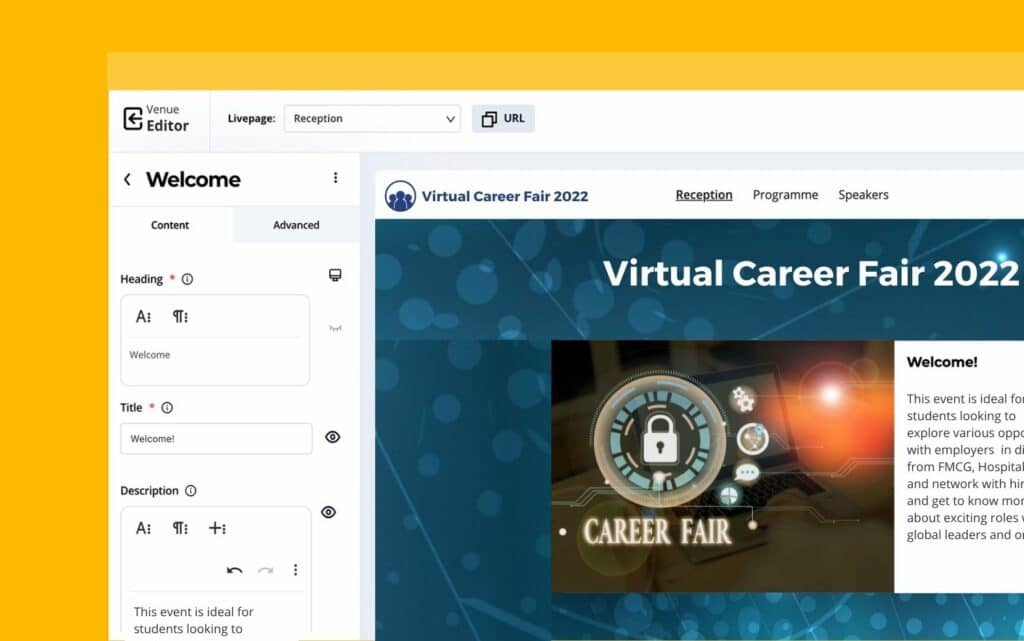 For universities, it's become much easier to match their students with employers from various industries through virtual career fairs.
How to host a virtual career fair?
Hosting a virtual job fair is not the easiest. It requires planning, a strong agenda and above all the right strategy to help you make the most out of all the time and resources put together for the event.
That's why we have enlisted some of the most effective ways to host a virtual career fair.
Plan your strategy beforehand
To host a successful online job fair, you need to ensure that you have planned all about how you wish to conduct the event beforehand. This includes the dates on which you plan to host the event, the various sessions and speakers that you would like to invite, the expected number of attendees and the overall budget.
While each of these requires an in-depth strategy, it's worth creating an initial blueprint to get an idea of what your virtual career fair would look like.
Once you have figured out the timeline of the event, it is important to start brainstorming with your team about the various strategies that will help you spread the word about your event.
Encouraging your attendees and speakers to do this is also a smart way to promote your event. Check out the second episode of Event Exchange to learn more about how to get your speakers and attendees to promote your event.
Choose a virtual event platform
Opting for the right virtual event platform can either make or break your virtual career fair. After all, when you have the right platform, you've got most of the load off your shoulders.
But how do you know which event platform is the right one for you?
Firstly, ensure that the platform that you are choosing offers you features that will enhance the overall experience of your event stakeholders.
At a virtual career fair, employers can benefit from the ability to fully customise their virtual booths with their brands, engage with potential candidates and get access to data on their performance. For students, you want a recommendation engine that matches them with the right employers.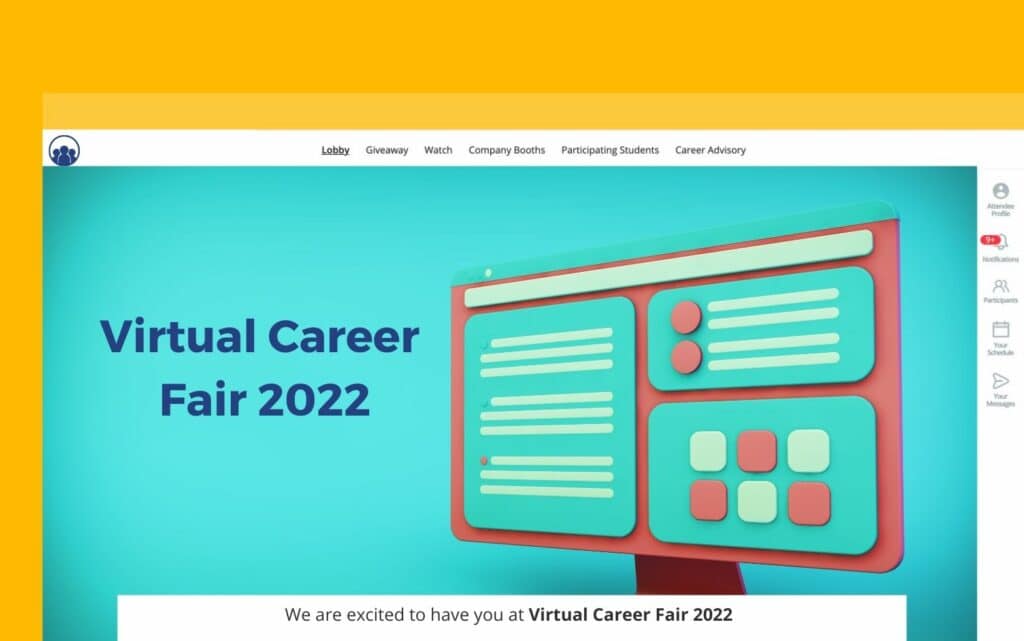 A virtual career fair owes its success to the above-mentioned features and Gevme is one such platform that powers you to do them all and much more.
So now that you have chosen a platform to host your event, it's time to start making some calls.
Contact potential employers
When it comes to hosting an online job fair, you need to ensure that you have enough assets that will help you pitch your event to potential employers.
Two important things that would encourage employers to participate in such an event is value and maximum ROI. So, ensure that your virtual career fair is able to cater to both these components to build a lasting relationship with them.
If it fits your budget, hiring some external staff to help you reach out and create pitch decks can be helpful to draw a considerable number of employers.
Ensure your attendees are prepared
You can expect both freshers and experienced professionals to sign up for your event. This means that recruiters need to be well-informed about the candidates that they can expect to connect with.
So how do you make sure that both recruiters and candidates have a seamless experience at your virtual career fair?
To start with, ensure that the candidates who have signed up for your event are aware of the hiring companies that will be present at your event. Send them notifications, emails and other relevant information that will help them prepare in advance.
Keeping the candidates well-informed and engaged before your event is a great way for them to have an enriching experience.
You can also host a micro-event for the candidates in the form of a workshop or a session on how to appear for job interviews, creating an online resume or other topics relevant to them.
Planning a micro-event before your main event is a great way to engage your event stakeholders and provide maximum value.
On the other end of the spectrum, you also need to ensure that recruiters at your event have a seamless experience. For this, you can provide them with the necessary information regarding the candidates as it will allow them to get an idea of the candidates they can look forward to. This can mostly be in the form of resumes, portfolios or any other data gathered that the candidates have entered while registering for the event. 

Post-event engagement with your event stakeholders
Once your event has successfully come to an end, it's time for some post-event engagement activities. And that is not just 'thank-you' emails.
A great way to ensure that your virtual career fair makes an impact among your event attendees is by sending them relevant content. This could be in the form of event recordings available on-demand, any other content or resources presented during speaker sessions.
How your event stakeholders choose to interact with your post-event engagement activities is a great way to keep the conversation continuing in the community. These data are also an eye-opener to understanding the impact of your virtual career fair.
Need a quick read on virtual career fairs? We are here to help you with that.
What is a virtual career fair?
A virtual career fair is an event held online just like virtual events. These events are primarily focused on helping employers and candidates connect and network with each other.
How does a virtual career fair work?
A virtual career fair takes place on a virtual platform. Recruiters and candidates meet each other through various sessions, breakout rooms, 1:1 meetings or in any other format that is possible through the virtual event platform. These events are just like in-person job fairs, but much more convenient, insightful and result-driven.
What are some virtual job fair examples?
A great example of a virtual job fair is the NUS Internship Day 2021 in which more than 100 companies from multiple sectors were present to offer internship opportunities to graduate students of the university. This virtual event was hosted on the GEVME platform.
How to host a virtual career fair in 2022?
To host a virtual career fair in 2022, you need a solid plan and strategy to attract as many attendees as possible. You can follow the strategies listed above in our piece and then host the event on a reliable event platform such as GEVME.
Conclusion
It's clear that virtual career fairs are an easy alternative to physical job fairs that are tenfold exhausting and need heavy investments. Now that you know all about hosting a virtual career fair, it's time to start thinking about the date on which you plan to host the event.
To get started, request a demo to see how Gevme makes it possible to host phenomenal virtual career fairs.