A couple of years back, when lockdown restrictions were imposed in various corners of the world, many businesses were challenged to quickly adapt to those times.
For companies that were routinely hosting in-person events before the pandemic, it was time to make a switch. And it was no different for one of our clients, Eco-Business.
Eco-Business is an independent media and business intelligence company with sustainability and ESG-focused lens.
Apart from publishing information and news around the world of business and policy development, Eco-Business also releases research papers, press releases, whitepapers, events and high-quality content for its partners and clients centred around the 17 UN Sustainable Development Goals (SDGs) and core sustainability topics.
Before the pandemic hit, most of the events hosted by Eco-Business were held in person.
And then COVID hit, forever changing how Eco-Business ran these events.
But that didn't mean that these events had to stop. Benjamin Wong, Events and Engagement Manager at Eco-Business, knew that with physical venues losing their significance, there had to be another way to carry on with the events.
And the only way was – to pivot.
That's when he realised that to keep events going, he had to go virtual.
So, we sat down with him to know a bit more about adapting to this new normal of hosting events and how our platform is helping him champion his event marketing strategy.
Finding a platform that is reliable, easy to use and gets the work done
Virtual events came to the rescue for Eco-Business.
And all Benjamin wanted was a seamless experience for attendees while registering for these events and for his team to manage it well. That's where he realised that GEVME Registration would solve this problem.
But why did he opt for it?
To start with, Eco-Business leverages its website content to publish and promote its events. So, embedding a registration system within their micro-site was key to providing a seamless experience for their audience; instead of directing them to a separate registration page.

Given that Gevme Registration makes all of these possible by offering a comprehensive online event registration and ticketing system, Benjamin knew that there was finally a solution to what he was looking for.
Then there was no looking back — and Benjamin kicked off his virtual events right from the comfort of his home.
The list of benefits is endless when using Gevme
As an event planner, all Benjamin needs is a platform that makes his work easier. And that's exactly how Gevme has been helping him.
"From the automated messages to simply uploading images, setting the logo and forms – we are then good to go to set up our virtual events. Even the payment gateway is much easier now with Gevme," says Benjamin about his experience of using the platform.
What also makes us Benjamin's favourite is the customisation feature – as it allows him to simply drag and drop the elements to make the registration forms and the events look much nicer that complement the company's branding.

Leading the way from Gevme Registration to Gevme Virtual
Virtual events are everywhere. But to make such an event stand out, an event planner needs to elevate their audience's experience.
We were glad to know that Gevme has been allowing Benjamin and his team to achieve that — and much more.
But it wasn't in a day that Eco-Business chose to opt for GEVME Virtual. The process was rather linked to their experience of using Gevme Registration.
Benjamin and his team were accustomed to using Gevme Registration. And when hosting virtual events, they didn't want to go through the hassle of managing their audience database onto another platform.
And so was the need for a virtual event platform that would reduce their work and help take the leap to incredible virtual event experiences.
GEVME Virtual, thus, was the answer to their problem.
"In a media organisation like us, data is very important. We don't want to go through the hassle of exporting data and importing it into another database. We were using Gevme Registration and then we linked it to Gevme Virtual. It was seamless and it suited our business needs", reflects Benjamin about the ease of doing things with Gevme.
But that's not the only reason why Eco-Business has been using Gevme to host virtual and hybrid events.
Given that the Gevme platform is straightforward and comes with features that are easy to use, this is also one of the main reasons for him to use Gevme to host events.
Too many features in a platform can be perplexing for the event organiser and may consume considerable time into understanding the platform. This can be overwhelming for them when setting up a virtual event.
But Gevme's easy to use interface for the event organiser and the audience helps both remain connected.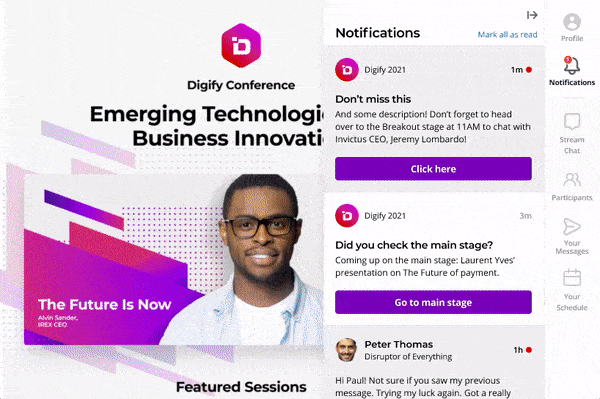 Talking about his experience of managing a virtual event, Benjamin says, "All it takes is to get the vendors in, set up the page before the event and integrate apps like Facebook or Vimeo. And during the event, I don't even need to touch the platform anymore."
The ease of using the Gevme platform also helped Eco-Business host one of their flagship events in the recent past – The Liveability Challenge 2022 in a hybrid format. A final round of this event is scheduled to be held later this June – powered by Gevme.
The future looks Hybrid — and virtual to a great extent
It's still early to predict if the easing of lockdown restrictions and rolling out of booster shots will pave the way for the return of in-person events.
And no one to foresee this better than an event planner.
So we asked Benjamin what type of events he looks forward to organising in the future.
And his answer is hybrid.
According to him, speakers are still apprehensive about attending venues in person. So are other stakeholders involved.
That said, one of the main aims of Eco-Business is to gather people.
Hence, hybrid now emerges as the best event format worth relying on.
However, virtual events are here to stay – as it's safer, convenient and faster.
For now, Benjamin is all busy with his next task – which is to take his virtual events to the next level. Hosting events on Gevme has set all expectations higher than ever – and so he plans to introduce our 360-degree virtual venues next to awe his audience.
Would you like to take your event strategy to the next level like Eco-Business? Then request a demo here.
To know more about how Gevme is helping Eco-Business host successful events, watch the full video below.