How the Singapore FinTech Festival 2021 Provided a Seamless Virtual Experience to 60,000+ Global Attendees With GEVME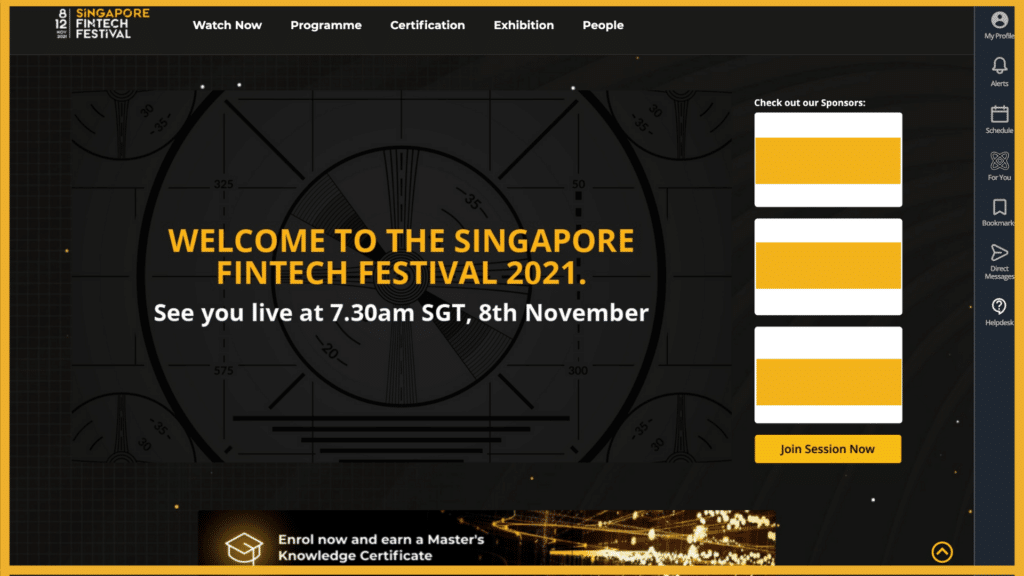 About Singapore FinTech Festival
The Singapore FinTech Festival is one of the largest fintech festivals in the world, organised by the Monetary Authority of Singapore (MAS) and Elevandi.



Key Features Used
GEVME Virtual, GEVME Registration, GEVME Business Matching
About Singapore FinTech Festival
The Singapore FinTech Festival is one of the largest fintech festivals in the world and a knowledge platform for the global fintech community. It is organised by the Monetary Authority of Singapore (MAS) and Elevandi, a non-profit organisation set up by the Monetary Authority of Singapore (MAS).
About Singapore FinTech Festival
The Singapore FinTech Festival 2021 was a week-long festival that took place between the 8th and 12th of November 2021. The main theme of this edition was the impact of Web 3.0 on financial services. It saw the coming together of global leaders and academics who shared their knowledge on the subject.
The event had 45 sessions covering designing, building and ensuring sustainable financial services for Web 3.0. SFF 2021 this year also saw some new features such as online learning, where participants could earn a verified, digital, Web 3.0 Knowledge Certificate in Financial Services issued by The Asian Institute of Digital Finance and the National University of Singapore (NUS).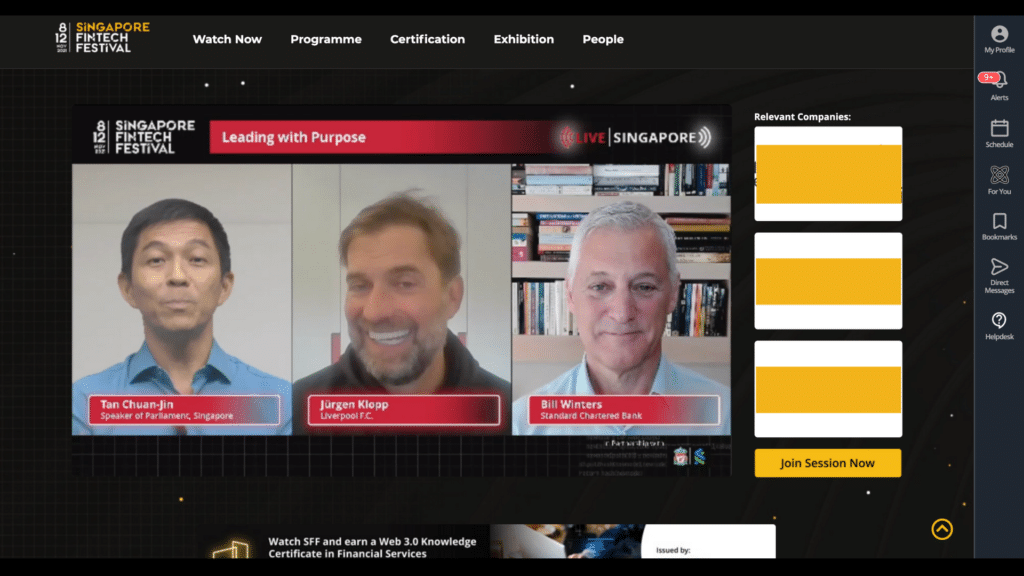 Requirements from Singapore FinTech Festival
SFF 2021 needed a highly customisable platform that could create an engaging experience for its global audience. Last year's event brought together 60,000 participants from over 150 countries in a hybrid format, this year's SFF had to keep up with that experience virtually. SFF 2021 wanted a customisable platform so that the attendees could have a fully immersive digital experience at the virtual event. It needed to have networking and one to one opportunities for discussion among attendees and between attendees and sponsors/exhibitors. Some of the functionalities required were live streaming across multiple stages, directory & 1-1 chats and meeting schedule functionalities.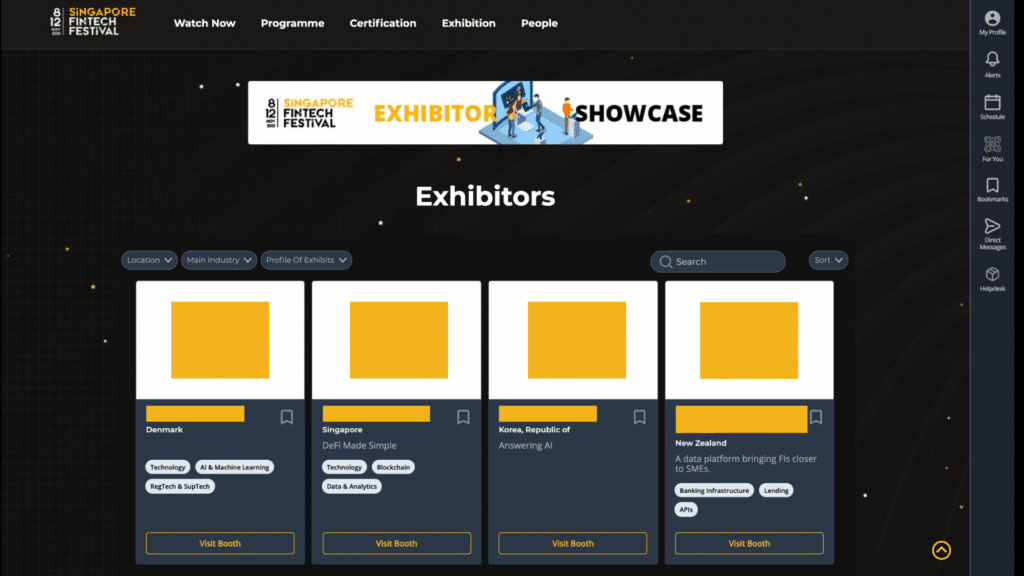 The GEVME team together with SFF 2021 worked on meeting the following goals:
1. Create a seamless virtual experience for attendees from around the world
2. Offer a payment gateway for attendees to purchase at the event
3. Enable companies to showcase and connect with attendees
GEVME Virtual was the virtual venue for SFF 2021. The virtual platform enabled attendees to see the live sessions while seeing who else was online, interact with the other attendees, check speaker bios, watch past sessions on-demand etc. GEVME Virtual provided multiple widgets for push notifications and pop-ups within the event to engage the attendees. Moreover, it let attendees look up sessions and speakers according to interests and preferences.
Over 60,000 attendees joined the GEVME Virtual platform to attend SFF 2021 from around the world and the event got over 2 million views.
GEVME Business Matching let attendees engage with one another and also with sponsors and exhibitors at SFF 2021. Each attendee put in their information at the time of registration. GEVME's recommendation engine uses machine learning and natural language processing to suggest relevant exhibitors to attendees based on their interests they put in at the beginning. This feature helped match businesses and attendees while enabling them to the network using the GEVME Meet feature integrated into the platform. Attendees had the choices of a live chat, live call or scheduling a call with fellow attendees and exhibitors at the event.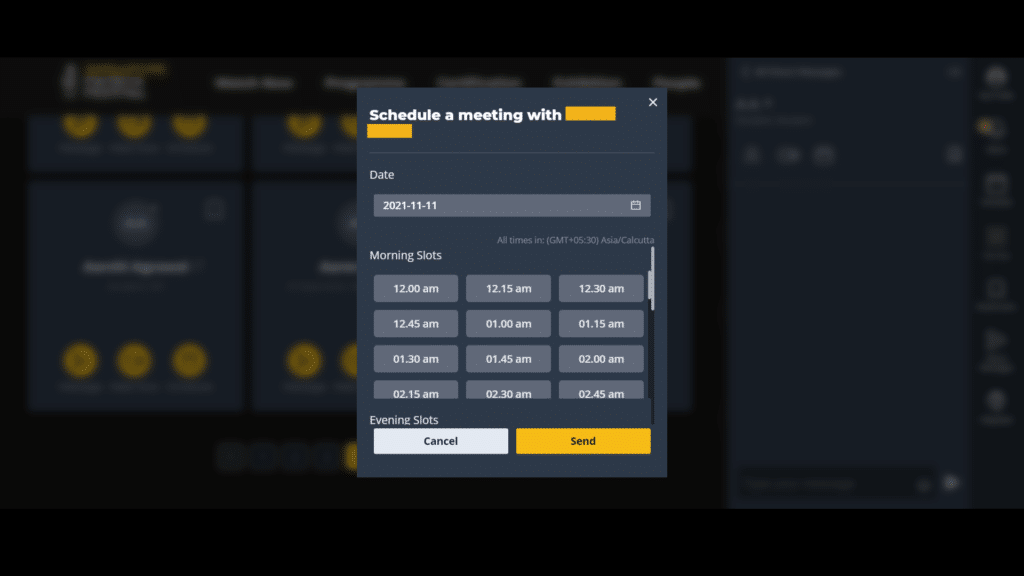 GEVME Registration was the ticketing and registration platform for SFF 2021. Our registration platform enabled attendees to choose from multiple tiers of tickets, let the organisers send timely reminders to registrants and provide a seamless experience from registering to attending the virtual event.
Registrants received the specific tickets they selected with their relevant personal information. The integration with GEVME Virtual also ensured a secure check-in experience, so that only registered attendees could access the event online via a one-time password that went to the email they used while buying the ticket.
A fully virtual attendee experience at  Singapore FinTech Festival 2021 on GEVME's platform.
The event was successful with over 60,000 attendees and over 2 million views from around the world. Over 3,500 companies participated, out of which 260 exhibitors set up virtual booths, including 14 International Pavilions. MAS and its partners also made some major announcements on programs to benefit the finance sector. Over 52% of the registrations that took place on GEVME Registration were from outside of Singapore, thus attracting a very global audience.
Start Building Unique Virtual Events