Once upon a time, I got an animated email from Web Summit with funny gifs. It grabbed my attention at first sight. Last week, my colleague showed me the same gifs on her computer, and I could instantly recollect where they came from. "Wow! That's incredible," I thought. I also remember the order in which the gifs appeared.
Now think about the most recent event invitation that landed in your email box. Can you recollect the content blocks, the design, or the subject line? If the answer is "yes," the event marketer did a great job.
A fundamental, pre-event touchpoint that can impact the number of registrations is an email invitation. A luscious, corporate email invitation design that catches your eye and encourages people to engage is a reliable tool for making a target audience interested. In this blog post, we explore the most critical elements of an email invitation that converts.
Writing a subject for a corporate email invitation
35% email recipients make their decision whether to read an email or not based on the subject line. A successful email subject line should be no longer than 50 characters, meaning you have maximum 4 seconds to grab their attention. Here are 3 killer tips you should follow to maximize the efficiency of a corporate email invitation:
Incorporate a sense of urgency.
Feel free to use numbers, if relevant, to help people see the whole picture.
Double-check grammar and spelling.
How to build a corporate email invitation
To understand the anatomy of success-driven corporate email invitations, let's follow the process of email invitation development step by step.
Prototype design
Start your email construction journey by developing a vision of your invitation. To see the whole picture, you have to understand how an email looks on mobile and desktop, how it complies with iOS and Android, what the major visual highlights are, etc.
To visualize the key elements that have to be present in your corporate email invitation, leverage wireframing. With ready-to-use blocks, you can build any desired layout for your invitation email. GEVME Email Marketing allows the development of a responsive email layout through drag & drop, based on your custom needs.
Here are three major steps you should take to prototype an email invitation:
Build a mobile view wireframe first. To comply with the mobile-first approach, start your draft with the selection of the right wireframe for a mobile view.
Resize wireframes for desktop & tablet. Once you're done with mobile, add the wireframes for standard views like desktop & tablet.
Preview the whole prototype. To see how it works, preview the design layout for each view and address any problematic issues.
Must have visual elements for an invitation design
The next element after the subject line catching a recipient's attention is the visual design. It depends on the style, format, and tone you embrace in your invitation. Here are several great visual element ideas:
Photography. The golden rule: You have to align photo elements with a mission or an event theme. For a grand opening, a bright photo of the new building is the one to convey the message in the right way. Use a snapshot if it's about the introduction of a new product or a logo when a company is the star.
Videos. To add some motion, consider embedding a video to the body of your email. Make it short, but very informative to ensure people will actually want to spend few seconds watching it.
Animated gifs. These are the real stars of email invitation designs today. By showing some simple, catchy animations, you excite a recipient without stealing much of his/her time.
Corporate email invitation content
Grabbing attention is halway to success. However, to convert recipients into event attendees, a stunning design isn't enough. Think about the most optimal way to convey a message and generate maximum registrations. Whether you want to keep it formal or make it a call to get in on the fun, the choice of content should be very strategic. Here are the core points to keep in mind while writing an invitation:
Unify. Choose one, central theme which unifies the message and helps readers understand it effectively.
Greet properly. Ensure you make the salutation personalized and in line with the tone of the message.
Details first. Prioritize important details like date, time, theme, and address to answer the registrant's wheres and whats.
Relevant: How to write a post-event thank you email.
CTA for email invitation to drive leads
To entice email recipients to RSVP, you need a clear and persuasive call-to-action. The parameters of an impactful CTA that  drives leads for your event include an action-oriented text, the sense of urgency, the right position, and great visual effects.
Colors for business email invitation design
As research has found, the perception of color in an email invitation design totally depends on the branding colors of a company or an event. This means, if your conference brand colors are blue and white, a business corporate email invitation in orange and pink will obviously not convert. Here are few coloring facts that can help you make the right choice:
White space never dies. No matter what email format you use, white space never spoils the broth. Also called negative, white space helps the human brain structure and interpret information.
Don't go harsh. Overusing colors that are too bold and loud can make an email invitation look unprofessional.
Make CTA colors stand out. According to the Isolation Effect, separating one block from another through contrastive colors is the great strategy to grab attention.
The top 3 examples of great corporate email invitation designs
#1. Animated event invitation email
What's good?
short message
vivid colors well aligned with the theme
the key details provided

#2. Event invitation with an enticing offer
What's good?
a great value offer in the first line
a relevant photo
an action-oriented CTA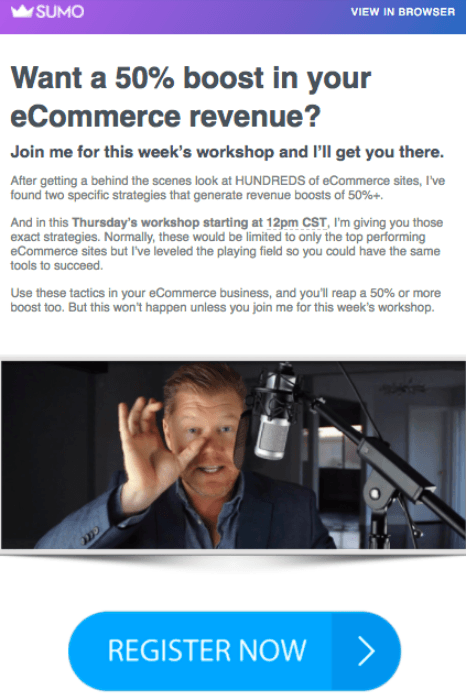 #3. Formal invitation
What's good?
the "white space" rule is maintained
the key details appear first
the CTA is clear and isolated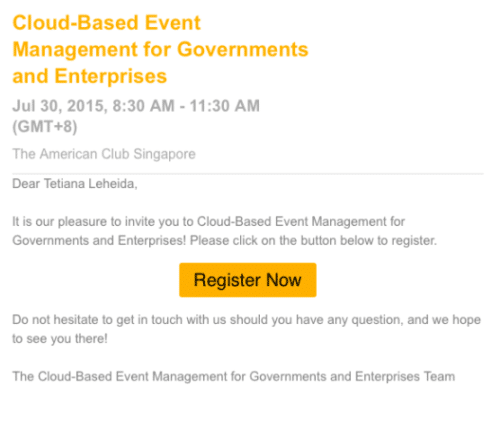 Conclusion
A catchy design of a corporate email invitation can help you maximize registrations and build long-term connections. Collect the most appealing ideas for email invitation design, align them with your branding, and get the best email marketing software to drive leads for you.