Good food makes for a good mood. This rule works not only for your daily routine, when all you need is a warm pizza box on your lap but also at corporate meetings and conferences. If you can impress your guests with an excellent menu, the chances are you can set a positive vibe for the whole event. We've collected some fresh event catering ideas that will help you ensure your attendees leave the venue in a good mood.
Popular food and drink choices
Professional catering services can make any event delicious, but how do you ensure that the dishes they serve will satisfy your guests' tastes? Before sitting down with a chef to build your menu, check out the popular food and drink trends that currently appeal to event-goers:
Regional specialties. Locally sourced food is the only choice you should make if you're planning an incentive trip or an international meeting. Not only is it a great idea for giving your guests a warm welcome to the region, but it's also much easier to find a catering service that can provide excellent local food and drink choices. Here's a great guide developed by EventScotland on how to choose and cook regional specialties for events.
Seasonal dishes. Treat your event guests to the best that the current season has to offer. The reasoning behind this tradition is very simple: what can be more delicious than pumpkin pancakes in October and strawberry tarts in early June? What's more, such food options can be very helpful if you have a very limited catering budget because seasonal products are usually much cheaper than out-of-season foods.
Organic menu. Sustainability is a signature dish of the 21st century. Since so many people are focused on organic food production these days, event organisers often make the choice in favor of an organic menu. If that's something that will appeal to your audience, look for partnership opportunities with local farmers to get the freshest organic food to your event table.
Event catering mistakes you should avoid
You have the power to decide which food and drink choices your corporate event will offer because there's hardly anyone who knows your staff's preferences better. So whether you go for Mexican or organic, ensure that your event catering checklist excludes the following mistakes:
No healthy food available. Junk food is a clear no-no. Chips and doughnuts have nothing to do with a nutritious event lunch. If you want your guests to be properly fueled, focus on some "brain food" instead, or at least ensure there are some healthy food options on the menu.
No vegetarian/vegan food available. Some event organisers run pre-event surveys to find out whether there are any vegetarians or vegans among the registrants. If you can't manage this because your event is too large or you're not asking questions about food preferences before an event, just ensure you have some vegetarian/vegan options on the menu.
No food at all. Corporate events are organised to bring people together, promote networking, and initiate important discussions. This creates immense energy loss. So unless your guests are up for a weight-loss challenge, ensure you have a corporate event catering menu to give them some good fuel. You can check out three main reasons why people need to have food at a social event here.
The best catering ideas for corporate events
To come up with a creative catering concept, you first need some food for thought. Here are three corporate event catering ideas that you can add to your list:
Go creative with food stations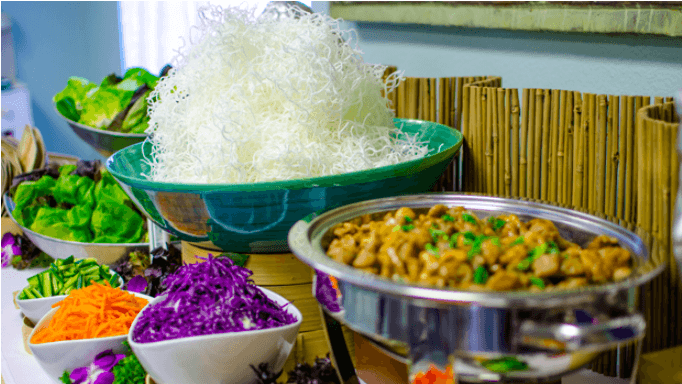 If you want to provide your guests with something more than just a "sit down and eat" experience, set up several thematic food stations throughout the venue. The key benefit of this idea is that you give people the option to pick their dish, determine their portion size, or even cook it themselves. Following the popular DIY trend in catering, you can just assemble some sets of ingredients at separate stations and encourage people to experiment with flavors. To make it even more engaging, ask guests to guess the cuisine or to compete against each other to prepare the best dish with the given ingredients.
Food referrals
This is the perfect idea for internal company events where attendees already know each other. Maximise engagement by asking people to order meals for their colleagues based on what they know about their preferences and food choices. This will build a big pre-event food referrals campaign that can be managed through a survey. Here's what you can gain using this idea:
Attendees will get the food they love.
You can strengthen networking by asking guests to guess who ordered a meal for them.
People will be excited to find out how well their colleagues know them.
Mobile food trucks and drink buses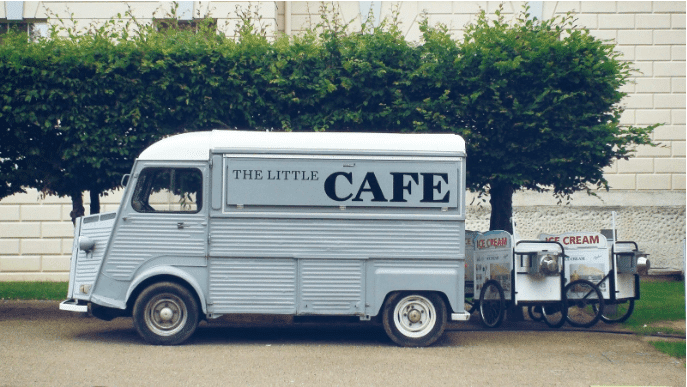 No time to install a bar or prepare a buffet area? Go for mobile catering ideas instead. From vintage food trailers to "travelling bars," you'll find lots of driveable options for spreading food and drinks across the venue. The huge perk of mobile catering vehicles is that you can brand them in a variety of ways, which strengthens your marketing efforts. Just place logos or any signage on a truck, and you don't have to worry about branding anymore. To get inspired, check out these 18 mobile food and drink options for event catering.
Conclusion
Corporate catering menu ideas for events have the power to impact guests' event experiences. Depending on what you put on a menu, people may either enjoy the event or leave the venue with a strong "all I need is some pizza" feeling. With the three ideas presented in this blog post, we've tried to prove that there's a way to match your guests' tastes, no matter what the size of the audience is.