Let's be honest! The successful marriage of an event venue and a limited budget is a rarity. Great parties and fabulous business meetings require luxurious settings, which aren't always affordable. But wait, don't bury your event planning aspiration too early. With a smart plan and few creative ideas, you can make it work. We've collected some tricky suggestions for picking affordable event places in Singapore.
Affordable venues will be the ideal choice for which events?
Yes, there really are some events that can benefit from affordable event venues in Singapore. Check out these superheros below
Art Exhibitions.

Small museums, co-ops and rental galleries are often the cheapest spaces you can book for an art exhibition. To demonstrate your art, you basically only need a hall with no decorations or special designs because your art is the headline event here. If your creativity takes you further, consider running art exhibitions in cafes,

restaurants with meeting rooms

, or concert halls. This way, you have a place to host your audience, without necessarily paying for the whole venue.
Corporate events. Although many event planners freak out when they hear they should accommodate a variety of needs, creating a good atmosphere at a corporate event can be pretty affordable. Low-cost cafes, museums, or open spaces can make a good match for a creative corporate event. Experiment with corporate party ideas that include employee nominations, tests, and favorite team entertainments. Cater to food preferences. And then choose a pleasant, affordable space to take the party to the limit!
Hackathons. Hackathons are events that place effectivity and results first and comfort second. If a coding marathon is organized by a specific tech company which has a spacious office, you can run the event right there. As an alternative, you can partner with abandoned halls, factories, stadiums, or schools. Lastly, you can make use of the hackathon hype and try to negotiate a price with startups and businesses who're ready to host a hackathon to find talented professionals.
Best affordable venues for an event in Singapore
Cheap event venues in Singapore exist! To prove the point, we've collected the top event spaces that cost not more than $2,000 per event:
Miaja Gallery is an airy hall that serves to encourage visual dialogues in Singapore. The place is mostly used as a low-cost venue for exhibitions by emerging artists. In 1300 square feet, you can accommodate up to 150 people for a very attractive price. What's more, Miaja Gallery is also a great site as a venue for private parties, product launches, and photo shoots.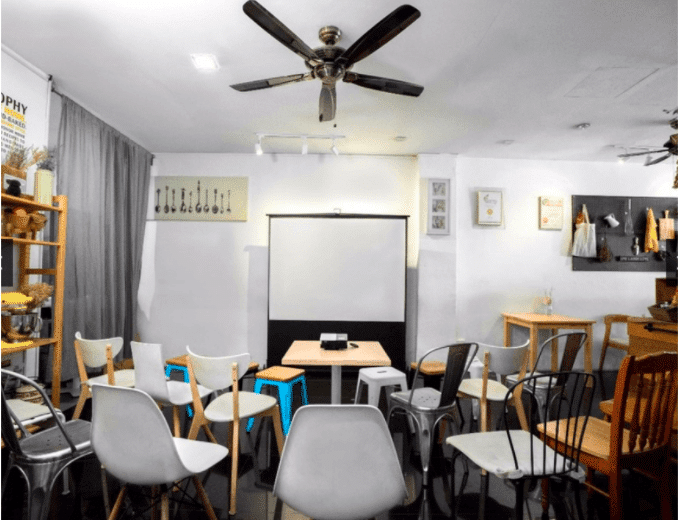 From a small workshop to a private family celebration, Butter Studio can provide an atmosphere for any event when it includes no more than 80 people. With its rustic furnishings and the smell of bakery goodies, the great atmosphere away from the hustle and bustle of the city, s delightful. The price of booking starts at $600.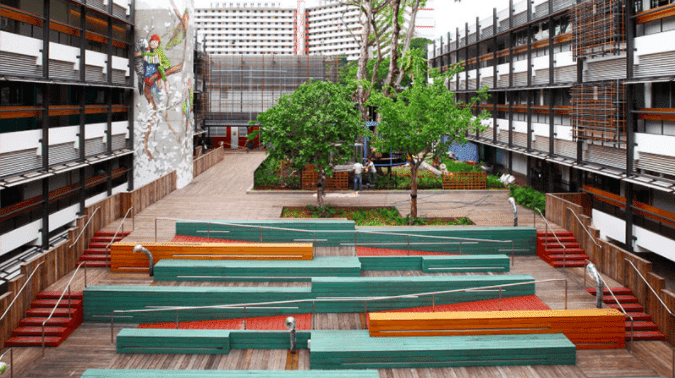 Enabling Village is a huge retreat area located close to the city center. Being one of the cheapest event places in Singapore, Enabling Village offers a great quality and price combination when it comes to organizing business meetings, conferences, and private events. Starting from $180, there's a huge number of facilities that can meet your requirements on a budget.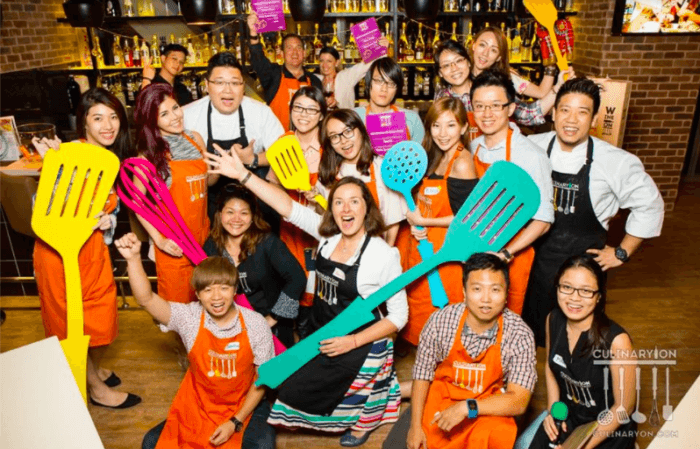 Entertainment is a must at any corporate event. And what if your event venue already has everything to make it charming? CulinaryOn is the largest cooking studio in Asia which can be booked for your superteam at an affordable price. Be it a huge baking competition or a cosy evening cooking with friends, this place can make a corporate meeting unforgettable.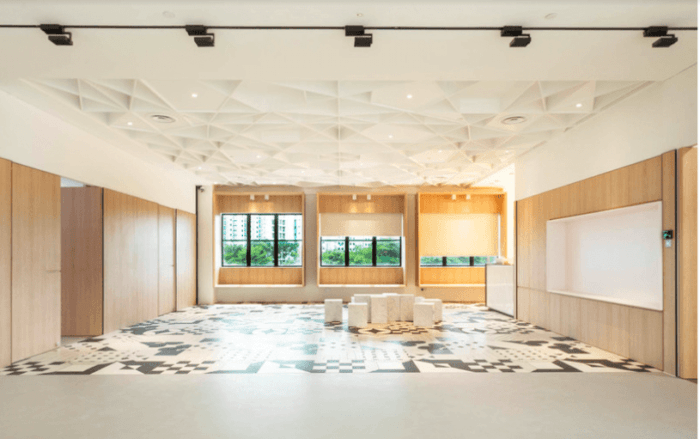 Studio Three Sixteen is a spacious, customizable place that consists of two halls which you can either use separately or combined. In the studio, you can find portable exhibition walls and transformable furniture that you can tweak in a way suitable for your event. The price of Studio Three Sixteen, which accommodates up to 200 people, starts at $600.
How to choose the right affordable venue in Singapore
If you know where to look, discovering cheap venues for an event in Singapore isn't a problem. And guess what, there are some ways to make your search much more effective than you think:
Manipulate daytime. Have you ever heard about night events in malls? If not, you should know that many places can be booked for a small price during the day or nighttime, depending on their "functionality periods." For instance, you can set up a conference in a night-club during the day or a fabulous hackathon in a library at night!
Leverage on digital platforms. Complete your venue search faster with the digital venue finder platform, which has a rich database of different venue types in Southeast Asia.
Borrow experience. Be it l

uxurious conference venues

or cheap resort areas, many event planners have their "perfect spot" for each type of event. Explore what they use and borrow the most optimal practices for your events.

Minimize the effort.

Event planning is a bunch of time-consuming organizational and administrative processes. To reduce the stress and have enough time to weigh all the venue options, leverage automated event management software.
Conclusion
In the end, these are experiences and memories that matter the most. Not the walls. Going with an affordable venue option in Singapore doesn't mean your guests won't have a great time. Get started with Gevme to simplify your event organization processes and enjoy a no-stress venue selection!