GEVME Onsite makes it easy for you to create a self check-in process for attendees and manage your onsite registrations for events of all sizes.
Check attendees in on any device

CROSS-PLATFORM ONSITE SOFTWARE SUPPORT

Scan the eTickets of your attendees on any devices with event on site software support for different hardware. No need to purchase new hardware to accommodate your event check-ins.
Create any setup for any event
FLEXIBLE ONSITE DEPLOYMENT

Prepare the onsite setups you need to cater for any number of attendees you have at your events. Be it kiosks with tablets, laptop counters or tablets on stands, there's a setup for any situation.
Say goodbye to queues

SELF CHECK-IN CAPABILITIES

Set up self check-in points with laptops and tablets to let attendees check themselves in with their mobile phones or printed tickets. Free up your manpower and focus on delivering the best event experience instead.
Go Green, Go Smart
ECO-FRIENDLY KIOSKS
Welcome your attendees with our new range of kiosks made out of eco-friendly materials. They are lightweight, highly portable and are equipped with a unique RFID encoding capability.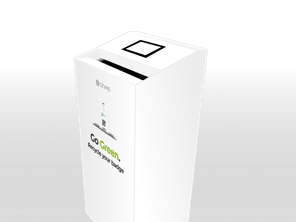 Encourage eco-friendly behaviour
SMART BINS
Recycle name badges at the end of your event with our smart bins. They are made out of eco-friendly materials and can display personalised messages to your attendees as they recycle their badges.
Create networking opportunities for attendees
CUSTOMIZABLE NAME BADGES
Design name badges that work with the branding of your events, providing information for attendees to network and start conversations. Create the platform for exchanging ideas.
Define the logic behind your name badges
SMART NAME BADGES
Select the information to display on an attendee's name badge, and color code them to define the type of registration for segmentation. Create the logic you need behind attendee's name badges to make the most of your event intelligence captured.
Track the engagements of your attendees onsite
ATTENDEE TRACKING SYSTEM
Monitor what breakout sessions or workshops are popular through session check-ins, giving you more actionable insights for the content of your event.
Printing on demand

AUTOMATED NAME BADGE PRINTING

Have attendees collect their badges easily after check-in through our automated name badge printing process. Prevent unnecessary bulk printing before events and reduce costs. Quality over quantity.