WiT Experience Week 2020:
Singapore's first travel pilot hybrid event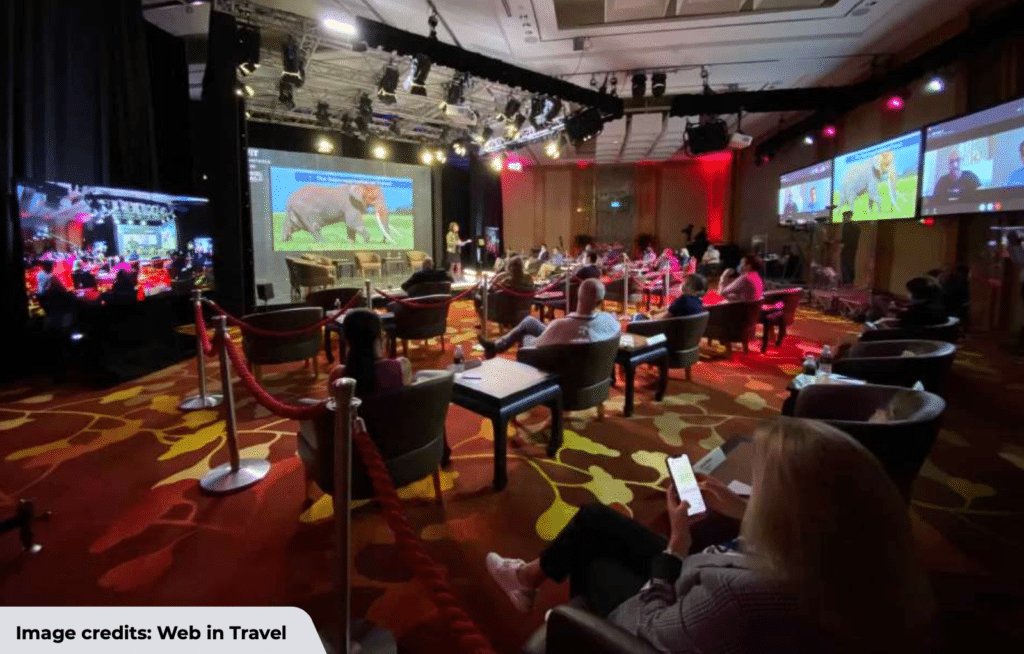 About Web in Travel (WiT)
WiT is Asia's leading digital travel media and events platform with content focused around how technology is changing travel and consumer behavior in the world's fastest growing market.


Industry
Travel, Technology, Media, Publishing

Key Features Used
GEVME safe check-in through touchless kiosks, Gevme Live platform, On-site Support for both virtual and hybrid components
about 48% who logged in to network,
made network requests
Web in Travel (WiT)
WiT is Asia's leading digital travel media and events platform with content focused around how technology is changing travel and consumer behavior in the world's fastest growing market. It is a fully integrated, multi-platform content provider for Asia's travel technology, distribution and marketing sector, which includes the WiT Conferences, WiT News, WiT Weekly, WiT Virtual and WiT Podcasts
About WiT Experience Week 2020
Held from 28 September to 1 October 2020, the 15th edition of Web in Travel (WiT) Experience Week was the first travel hybrid event in Singapore. The first three days were fully virtual, while the last day was held at Marina Bay Sands' new, state-of-the-art Hybrid Broadcast Studio with a live audience of 50 people. Delegates shared their ideas for the future of travel around four key themes: Rewind, Reboot, Rebuild, and Rewrite.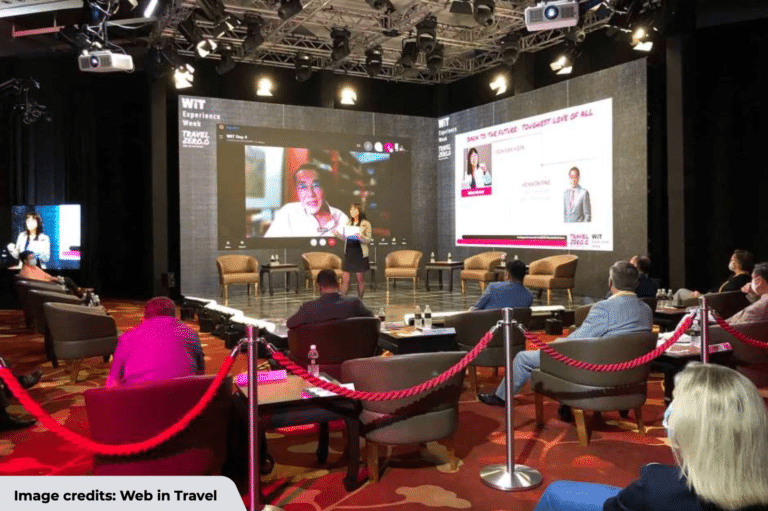 In a crisis, there's an even greater need to connect the WiT community through relevant, timely and thoughtful content. And since March, they have held more than 40 virtual events, from one-hour webinars to six-hour summits and four-day Experiences.
When all physical events were cancelled due to the pandemic, WiT had to move quickly to holding virtual events. They had to look for the right tech platform to meet their needs.
WiT was looking for a robust, easy-to-use platform for both organisers and attendees that would also facilitate engagement and interaction, with good analytics and, of course, good tech support. Since the event format included 3 out of the 4 days to be virtual, they needed a fully-customizable platform with a tech team who she could work with based in Singapore.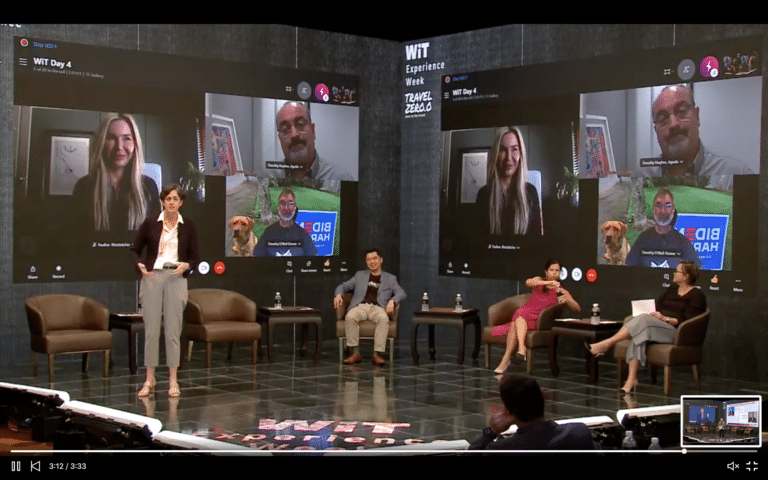 The Gevme team together with our client Web in Travel worked on meeting the following goals:
Provide a seamless registration process with safe physical check-in
Provide a unified online and physical integrated solution for both types of audiences
Integrate four days of physical and virtual events onto a unified platform
GEVME safe check-in through touchless kiosks
GEVME Live platform
On-site Support for both virtual and hybrid components
GEVME Registration with Touchless Check-in Kiosks
Touchless kiosks made of sustainable material were used for the physical attendees to check into the event at The Marina Bays Sands. This provided for a touchless experience for the 50 physical attendees that made their way to Hybrid Broadcast Studio. These attendees also received a link to the Gevme Live platform where they could access on-demand WiT content as well as engage with the online audience.
For the online attendees, a frictionless process was provided through a unique link sent to the attendees email.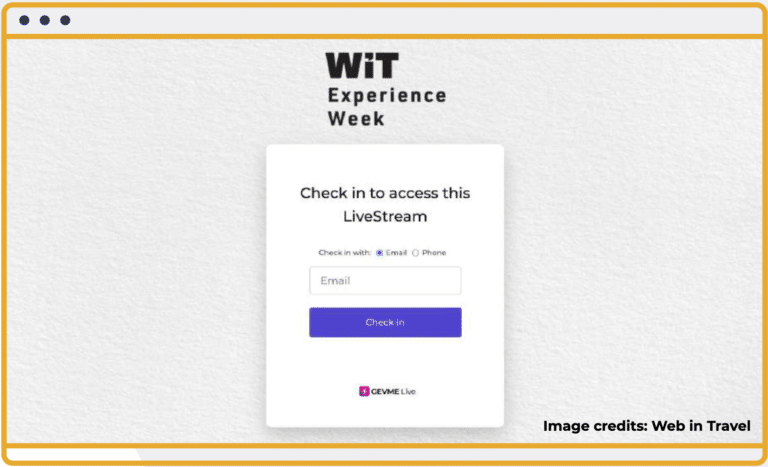 Highly Skilled Personnel
GEVME provided for project managers to manage the event, Digital Event Managers (DEM) to support the digital platform as well as onsite staff for support. This highly skilled team of event managers were able to provide a seamless experience for both, physical and digital attendees. WiT Experience Week not only had main sessions and panel discussions but also breakout sessions like Klook's virtual tours and a Feng Shui tour of Marina Bay Sands. The highly skilled DEM team managed the onsite and online support to create a seamless experience.
GEVME Live Platform
GEVME through its digital platform, Gevme Live, created a live digital venue that only registered members could access. The virtual platform was such that while the live audience watching the event could, at the same time, see who else is online, interact with the other attendees, check the timings of the sessions scheduled for the event, check who the speakers for the day were, etc. Gevme Live took care of all the needs of the online audience, providing them with a seamless digital event experience.
The 50 physical attendees who attended the hybrid event at The Marina Bays Sands also received a unique link to access on-demand content as well as to engage with online attendees.
The Gevme Live platform displayed the live streams as well as the 'Experiences' and 'Lounges' through which online attendees could experience some captivating off-beat sessions and workshops. Even serendipitous networking was engineered through the platform.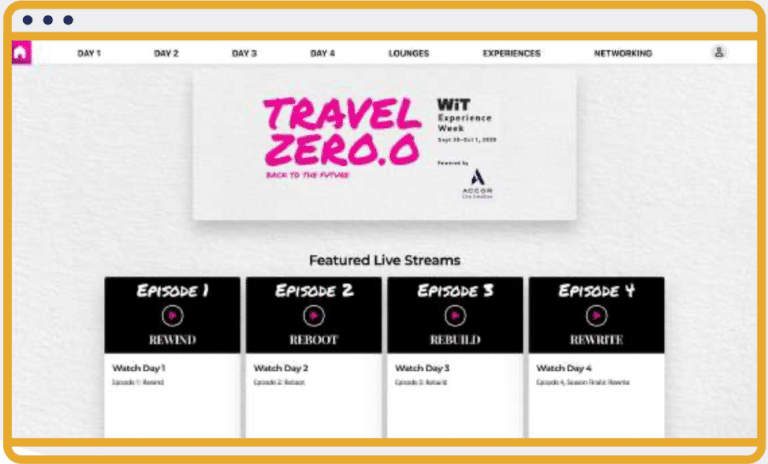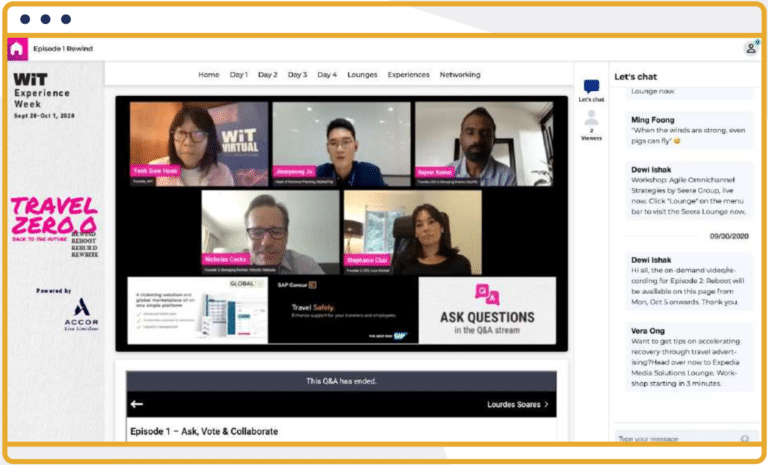 Information having a wider audience reach
The hybrid event at The Marina Bay Sands saw a blend of speakers as well, with some conducting their conversations in-person, and some joining in remotely. This made the event richer and more diverse, as the speaker who may not have had the means to travel long distances due to restrictions.
Also online attendees could join in from any part of the world and have a good online experience through the interactive online platform. WiT Experience Week 2020 saw participation from 28 countries from around the globe.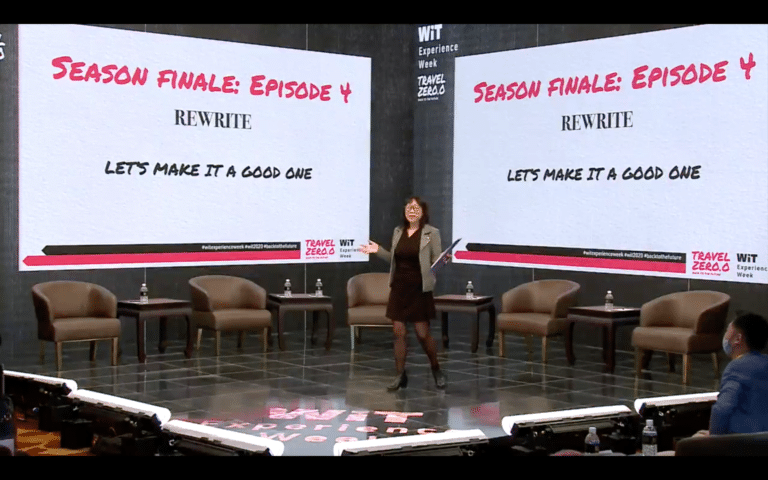 Unifying the Digital and Physical experience
Seamlessly unifying the digital experience with the physical experience was well managed. Sessions like 'Forging a New Future' and 'Reboot: An Investor's Perspective' saw most number of speakers join in virtually, yet delivering a memorable experience.
Online attendees could easily engage with the offline attendees and vice versa through the chat and Q&A functionality on the Gevme Live platforms. They could even join in and network through the 'Lounges' and 'Networking' features of the platform.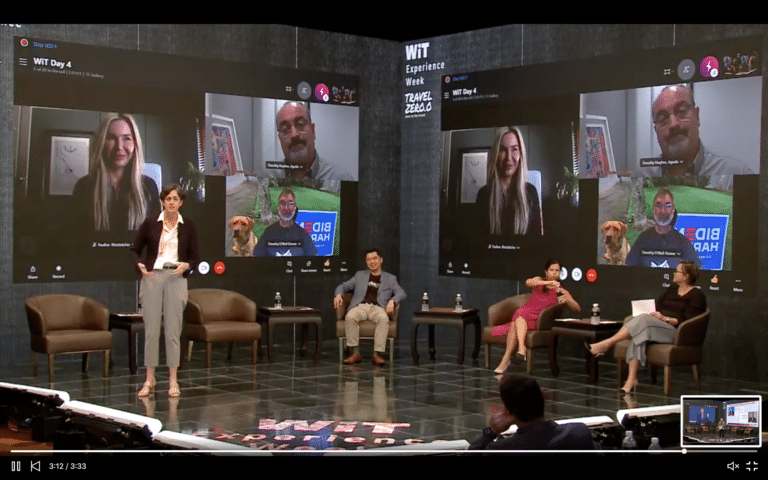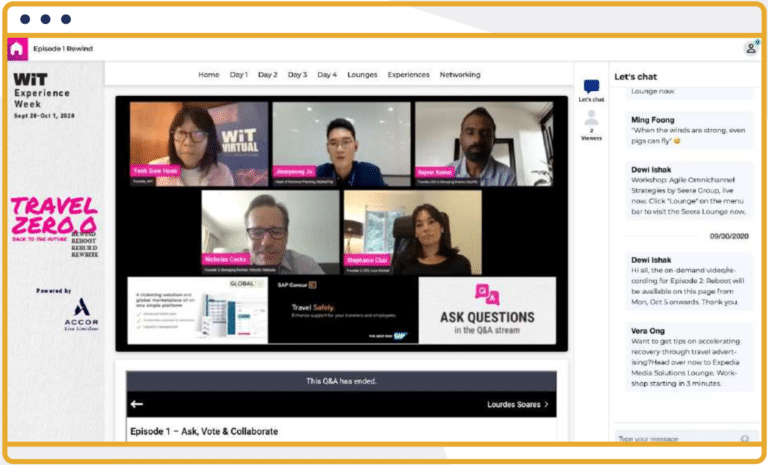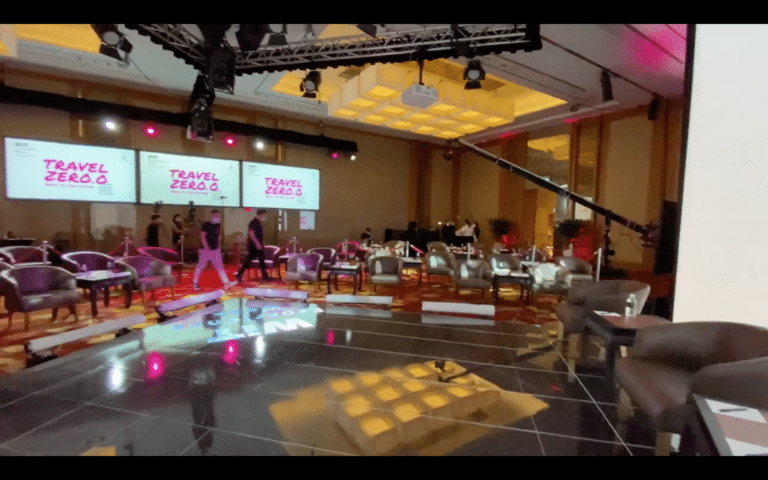 Touchless Resources
The touchless check-in kiosks (powered by face-recognition or QR codes) gave the 50 physical attendees a safe and seamless experience at The Marina Bay Sands. Also sharing presentations and networking with clients though digital lounges made for an engaging touchless experience.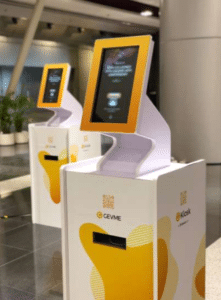 "Working with a tech partner is as much about the people as it is about the tech. Like us, Gevme is willing to push boundaries and try new stuff. It wasn't smooth sailing, of course, when you are doing something new for the first time, it never is. But the point is, we got through it, we had each other's backs and we remain supportive of each other's vision and business."

"Hybrid events have been spoken a lot by many event professionals, but only a few dared to host their own hybrid experience. It's been a wonderful experience working with Siew Hoon and her team who had clarity and courage to transform their otherwise physical event into a wonderful digital and hybrid experience. We're proud to have been a partner of theirs as they went about organising Singapore's first travel hybrid event and help push the boundaries."