Hosting a Seamless Virtual Award Ceremony
Advocacy Awards 2021
Research!America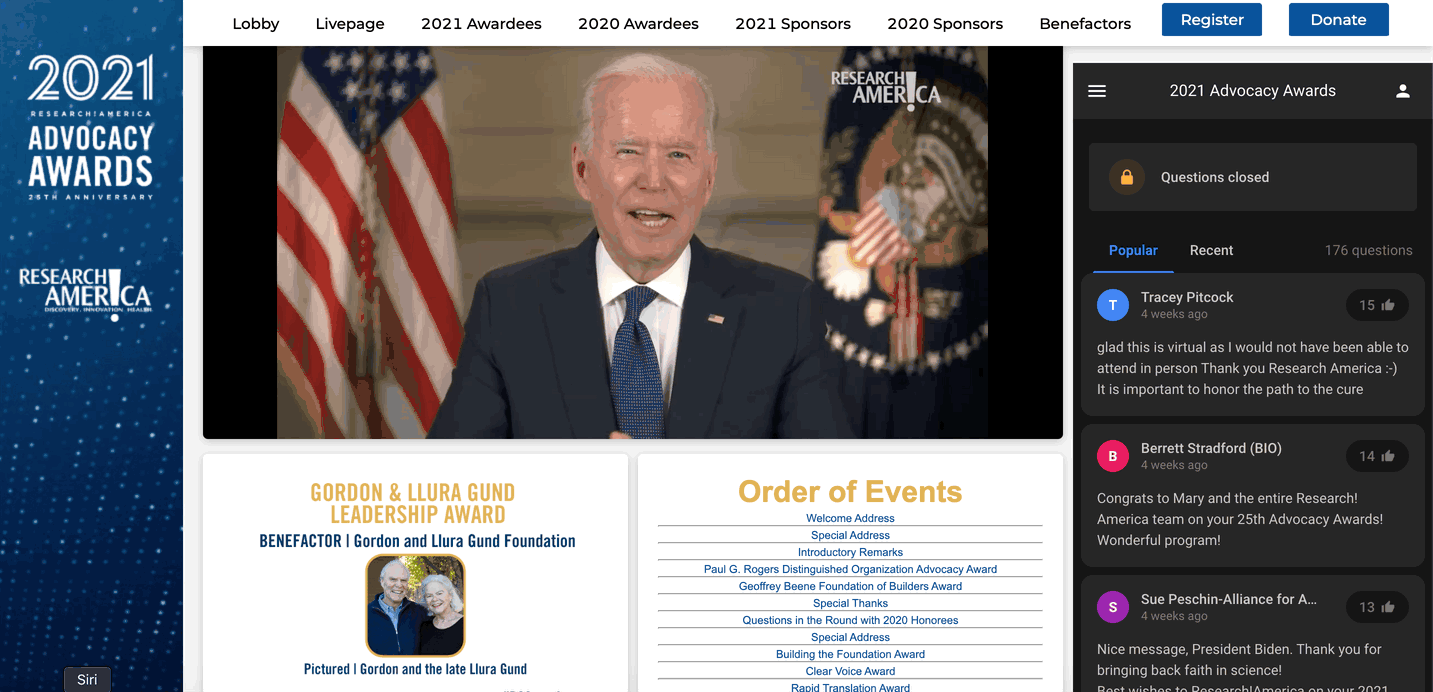 About Research!America
The Research!America alliance advocates for science, discovery, and innovation to achieve better health for all.

Headquarters
United States of America

Industry
Medical Research Advocacy, Health Research, Public Opinion Polls, Increasing Public Awareness, Policy Advocacy, and Supporting Medical Innovation

Key Features Used
GEVME Virtual
About Research!America
The Research!America alliance advocates for science, discovery, and innovation to achieve better health for all. Research!America urges Congress and the administration to increase funding for the National Institutes of Health (NIH), Centers for Disease Control and Prevention (CDC), Agency for Healthcare Research and Quality (AHRQ), Food and Drug Administration (FDA) and National Science Foundation (NSF) at levels that keep pace with scientific opportunity. They also advocate for federal funding for global health research and a legislative and regulatory climate that stimulates growth in private sector research and development.
About Advocacy Awards 2021
The 25th anniversary of the Research!America Advocacy Awards recognized individuals and organizations whose commitment to science, technology, and public health has contributed to societal progress in profoundly important ways.
The 2021 event, presented virtually, featured a mix of interviews, fireside chats, and Q&A sessions to introduce and honor the 2020 and 2021 Awardees.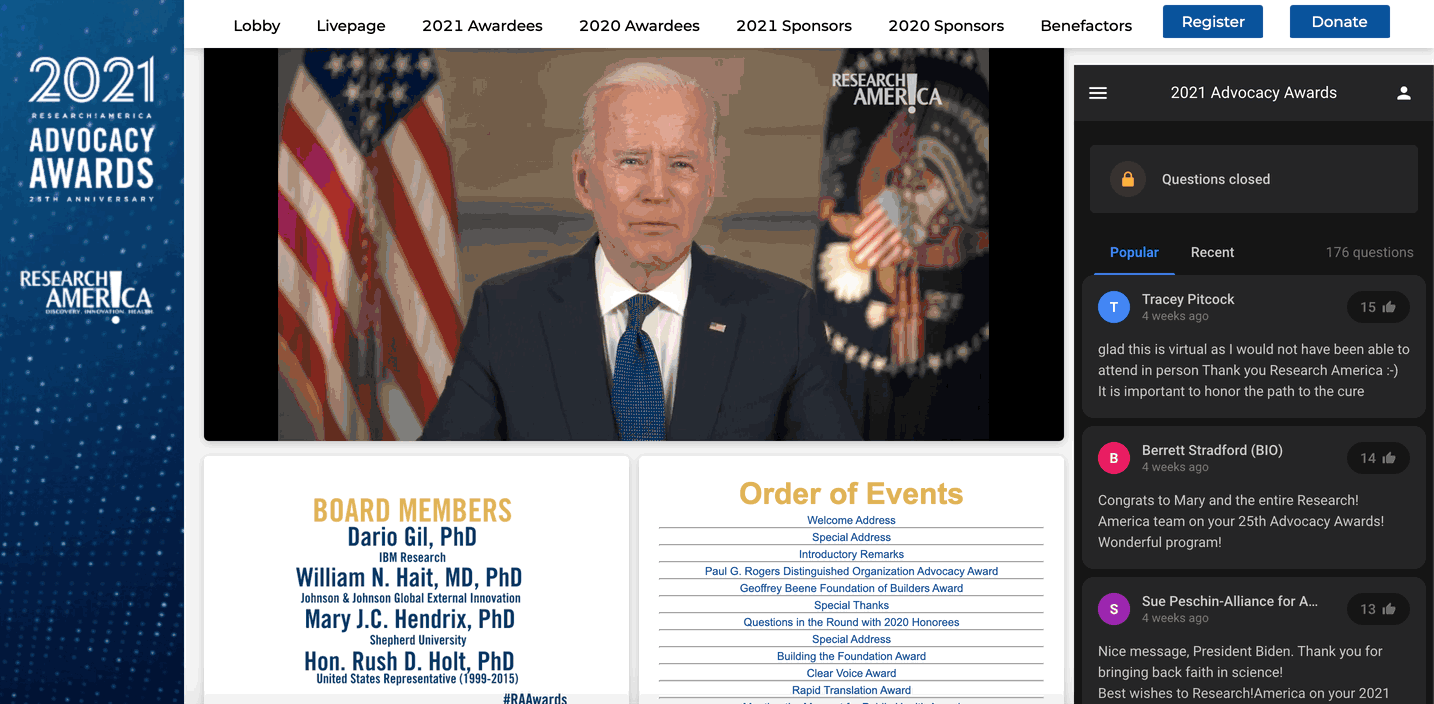 Research!America required a stable and secure virtual event platform to host its high profile virtual advocacy awards 2021. This ceremony has attracted leaders from the government and medical fraternity. A fundamental requirement was the ability to view this event on a mobile device. Customization in terms of look and feel was another necessary requirement.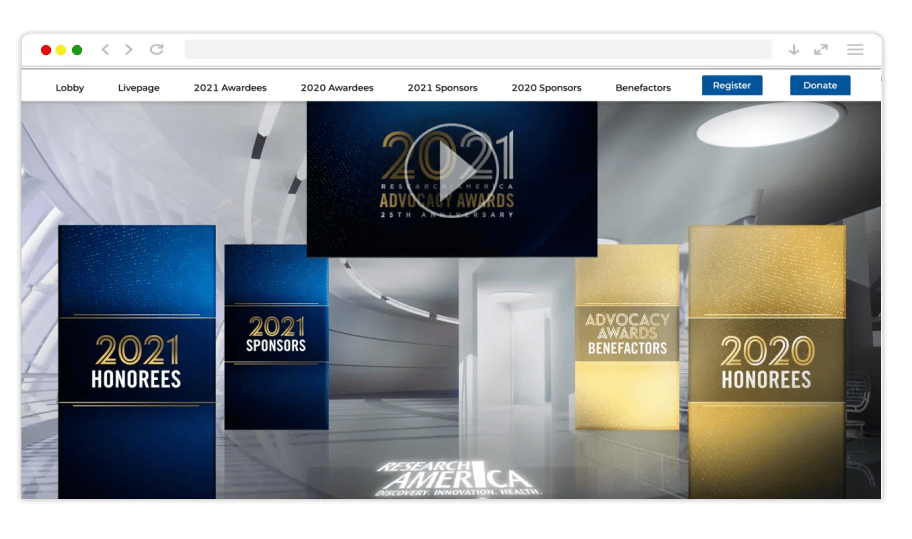 The Goals
The Gevme team together with Research!America worked on meeting the following goals:
A secure and stable virtual advocacy award ceremony
Customization of venue design in terms of look and feel
Event needs to be accessed by their virtual participants through a mobile device
The Solution
GEVME Virtual
Support Services
GEVME Virtual
GEVME Virtual was used as the venue for the Research!America Advocacy Award Ceremony. The main live stage hosted the live stream event for over 49 notable speakers joining in from remote locations. This was viewed by over 1000+ virtual participants sharing their thoughts through the chat. Gevme Virtual was able to handle simultaneously, virtual stages to host the 2020 as well 2021 awardees. There were special Sponsors and Benefactors showcase pages.
Integration and Support
GEVME seamlessly integrated with third-party applications and links to provide a unified experience. Slido was used to moderate the audience sourced questions, Slido was also used as the main chat functionality.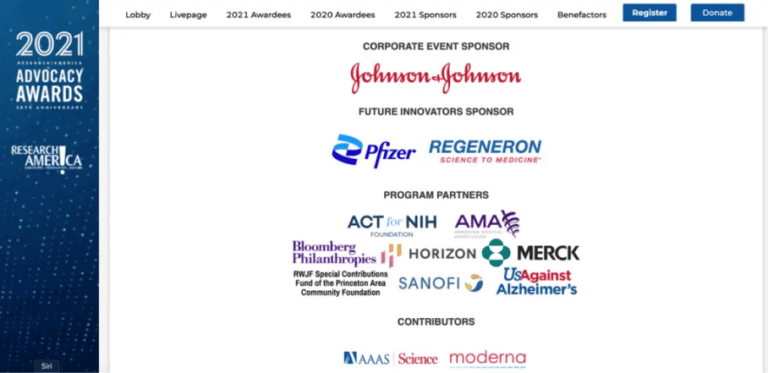 A seamless and secure virtual award ceremony!
The end client, Research!America was happy with the security and stability of the Gevme Virtual platform. They enjoyed the array of customization that was offered to them to create a tailor-made experience. The virtual award ceremony experience created by Gevme for Research!America was a stunning and captivating one.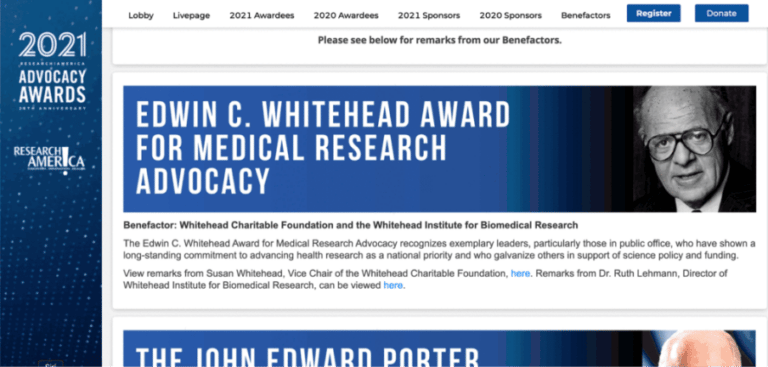 "Glad this is virtual as I would not have been able to attend in person. Thank you Research!America 🙂 It is important to honour the path to the cure"