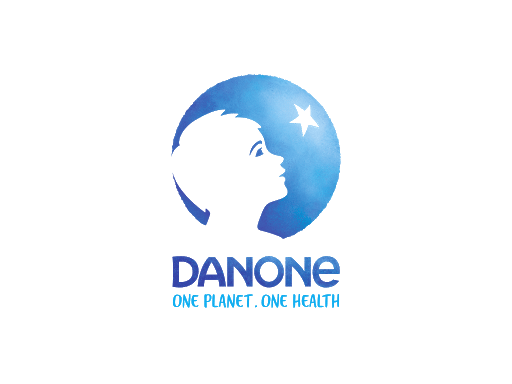 Danone's First Ever
Virtual Danone Day 2020
A Global Virtual Internal Event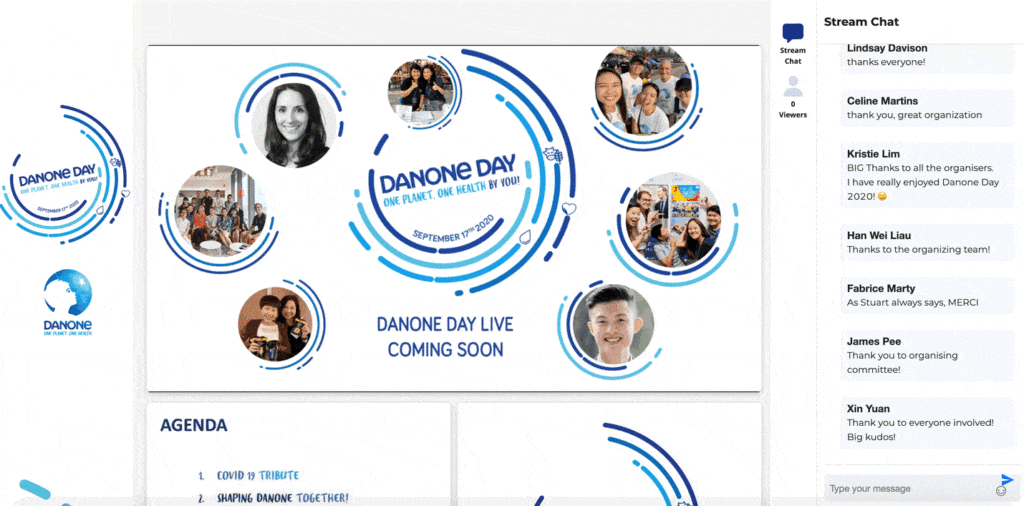 About Danone
Danone, a world leading food company built on four business lines: Essential Dairy and Plant-based Products, Waters, Early Life Nutrition, and Advanced Medical Nutrition

Headquarters
Paris, France

Industry
Food Processing, Nutrition, Food Products

Key Features Used
GEVME Virtual
Danone
Dedicated to bringing health through food to as many people as possible, Danone is a leading global food & beverage company built on four businesses: Essential Dairy and Plant-Based Products, Waters, Early Life Nutrition and Medical Nutrition.
Danone Day 2020
Danone Day is an annual large-scale internal event that Danone uses to discuss critical topics with its core teams. 2020 marked a milestone for Danone Day as it went virtual for the first time.
The previous editions of 'Danone Day' saw thousands of employees come together for a truly unique day full of workshops, debates, photos and celebration through a physical event format.
Danone Day 2020 had to keep up with the ever-increasing expectations but this time, completely virtual. The requirements included the need to have meetings across the globe to share views on the future of the company and celebrate our 'Manifesto in Action' through conversation and sharing. A major requirement was to have breakout sessions hence virtual breakout rooms to cater to specific discussions and debates.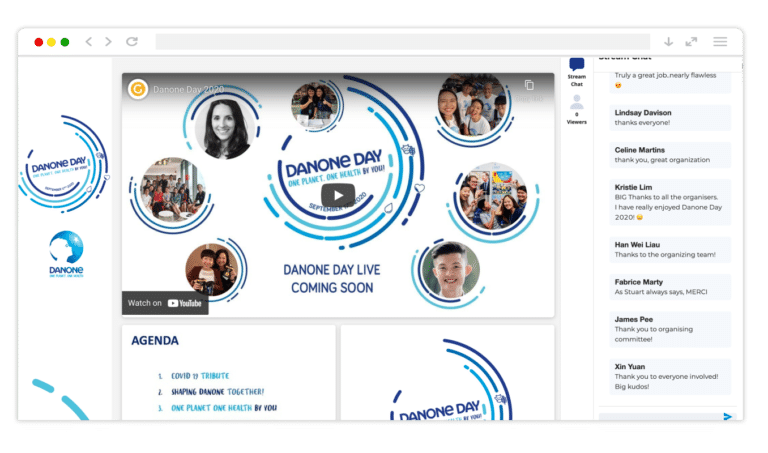 The Gevme team together with our client Danone worked on meeting the following goals
Provide an engaging live virtual internal event
Provide a unified experience between the main live event and subsequent breakout sessions
GEVME Virtual
DEM Services
Support Services
GEVME Virtual
The Gevme Virtual platform was the digital venue for Danone Day 2020 which saw hosted delegates who joined in virtually. The virtual platform was such that while the live audience watching the event could, at the same time, see who else is online, interact with the other attendees, check speakers bios, download marketing collateral, etc.
GEVME Virtual took care of all the online audience's needs, providing them with a seamless digital event experience. It also provided a widget for a live Q&A session to be facilitated.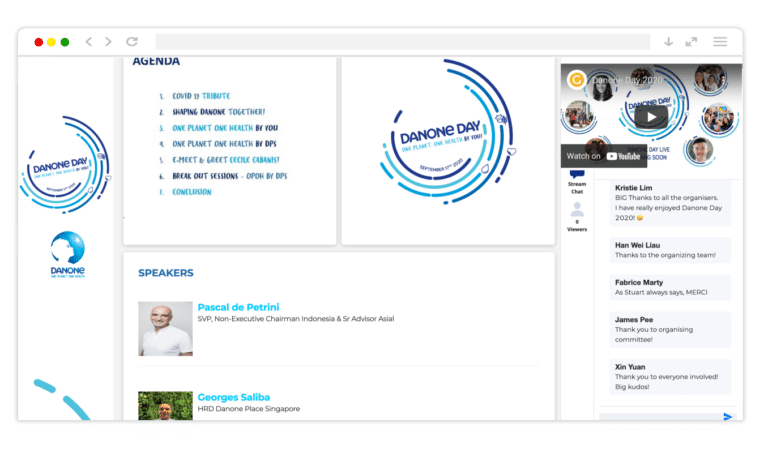 Highly Skilled Personnel
GEVME provided for project managers to manage Danone Day 2020 live tech support. The Digital Event Managers (DEM) were present to support the digital platform as well as staff during the live event for further technical support. This expert team of event managers were able to provide a seamless experience for the digital attendees.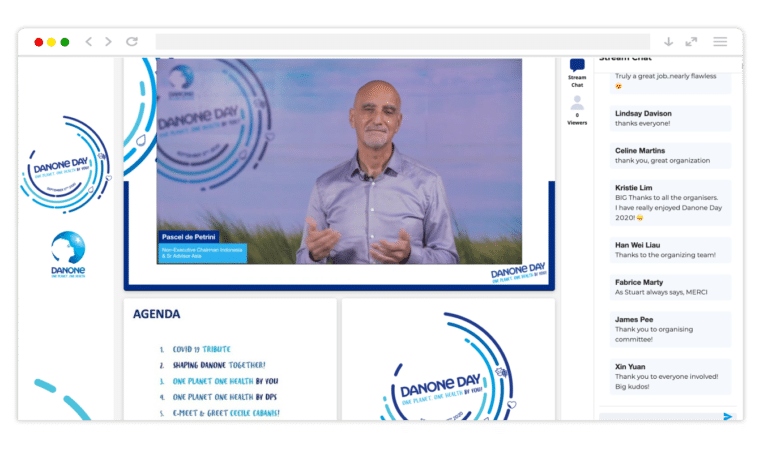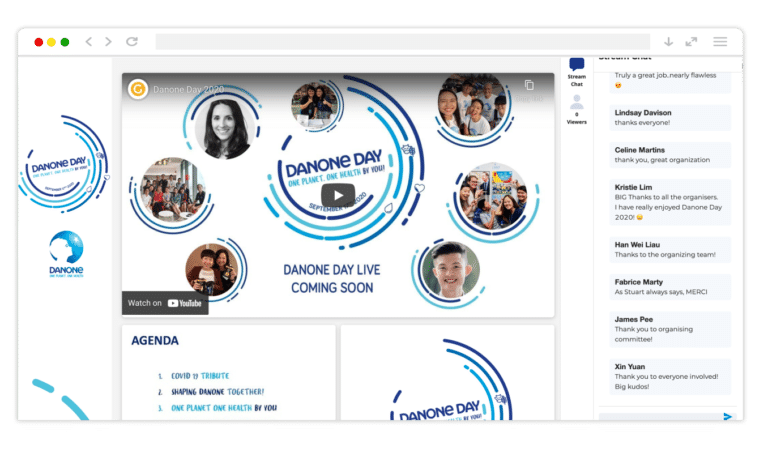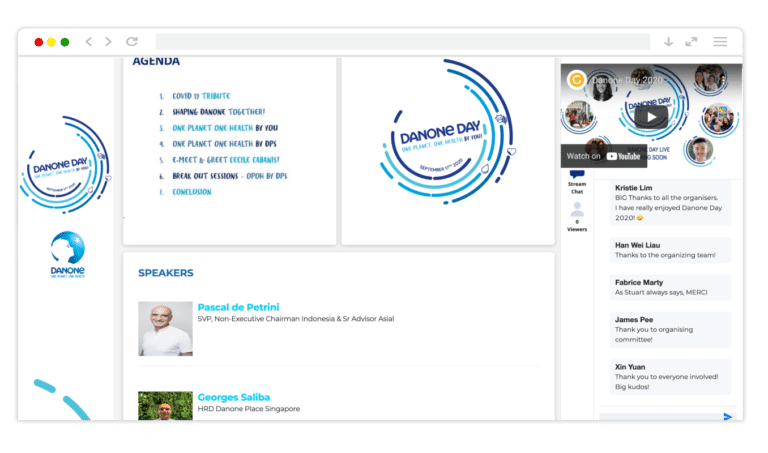 Project Management
GEVME provided project management assistance to overlook the success of the project. Ensured that the right collateral was used to make sure that the graphics and displays were optimized for the virtual event. The project managers liaised with the Danone team to align the event in such a way that it allowed for Danone to uniquely tell its brand story.
The vital feeling of camaraderie was maintained
Danone Day is a large-scale internal event that the employees of Danone enthusiastically look forward to every year. Due to the current circumstances and ban on business travel, Danone Day 2020 made an exciting leap towards digital. They not only managed to engage with their employees but allowed for critical dialogue on different topics. Over 150+ attendees joined in virtually making for an exciting virtual session.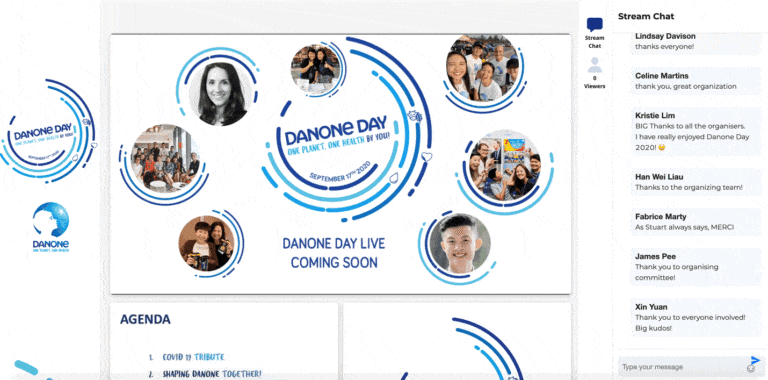 Unifying the Digital and Physical experience
With all attendeess being present virtually, and the speakers joining in from special broadcast studios, Danone along with Gevme managed to host an integrated event bridging both physical and digital barriers through several engaging features. The sessions were streamed live in a broadcast manner to the online audience making content delivery engaging.
The chat bar and Q&A widget allowed for seamless conversations between both physical speakers and digital attendees. 

"BIG Thanks to all the organizers. I have really enjoyed Danone Day 2020"