Sustainability is a key trend at business events these days. We see venues, organisers and suppliers going at length to reduce the carbon footprint of events. 
Venues are implementing adequate waste management policy and recycling different waste streams. Organisers are eliminating the use of PVC banners, using digital signatures and cutting down on printing of documents for administrative purposes. 
F&B suppliers are sourcing environmentally friendly, ethically and locally-produced products and using compostable/biodegradable/recyclable materials for all packaging needs. 
Governments are also stepping in to set standards with regards to sustainability. The Singapore Tourism Board recently launched a Sustainability Guideline for business events. It's a great reference document if you are looking for a list of practical and actionable items you could take on to make your events more sustainable.
But, in this whole spectrum of stakeholders involved in business events, there are two stakeholders that we seem to almost always forget: exhibitors and attendees. 
Exhibitors at trade shows still print brochures to distribute to visitors.
How many of those brochures then go wasted – either unused or discarded by visitors?
Attendees at events still exchange paper business name cards when networking. 
So how much paper are we still wasting at business events in spite of all the current ongoing effort? 
Let's take a look at an event that has 150 exhibitors and expecting 10K visitors. If we assume that each exhibitor prints 1K brochures only and each brochure weighs a conservative average of 20g, that gives us a whopping 3 tonnes of paper used on brochures only: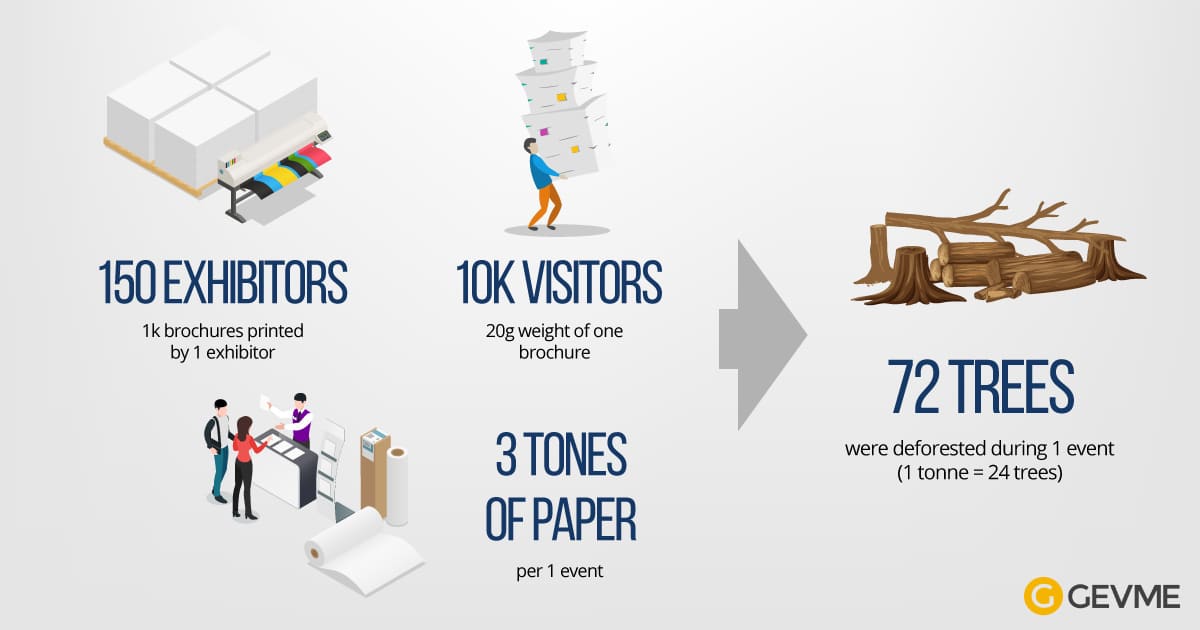 Now, if we look at the fact that it takes on average 24 trees to create 1 tonne of paper, that means an event of 150 exhibitors will typically result in 72 trees dying out of paper brochures only 🙁
Small actions help. So, next time you are looking at making your event more sustainable, look at how you can educate your exhibitors and next your attendees at what they could do on their part to help the planet. 
Why not start by imposing a ban on printed brochures at your next event?
This blog post is part of a series about the opinions that we hold at GEVME. They originate from an article that our CEO Veemal Gungadin posted on LinkedIn. You can find all the blog posts from the series here. 
---
About the author: Veemal Gungadin is the CEO of GEVME and also holds the position of Vice President for Digital & Innovation at SACEOS, Singapore's Business Events Trade Association. He is also an investor in innovative startups and a public speaker on the topic of digital transformation in the business events industry".