There has been a lot of talk about what the future of events holds. And we have been contributing to the conversation with our thoughts too. However, the definition of events in these predictions tends to omit the exhibition format.
We started thinking more deeply about the future of exhibitions after exhibiting at TravelRevive, the first pilot tradeshow to trial the newly developed 'hybrid event' tradeshow prototype for safe business events, safe itineraries, and digital enablers in Singapore. From that experience, we realised our vision for the future of events applies to exhibitions too. The future of exhibitions is hybrid. 
As an exhibitor at TravelRevive, we were allocated our own booth. Despite having been part of numerous exhibitions, the format adopted at this event was a completely new experience to us. Strict measures were put in place to ensure a safe experience for exhibitors and visitors alike.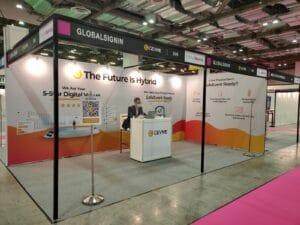 As a result, visitors came to the booths in cohorts to avoid the formation of crowds. We also faced limitations when designing the experience at our booth. Our representative had to stay behind a counter when communicating with visitors. And while we had the ability to add our branding to our booth, we were not allowed to set up interactive touchpoints by bringing our own hardware. Exhibitors also had to do without printed marketing collaterals like brochures. But that was something that we were prepared for as we had already stopped using them due to their negative environmental impact, switching instead to a  digital alternative we developed.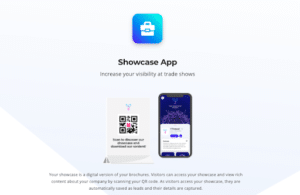 While this ensured a safe experience for everyone, we didn't get the footfall we would usually get from this kind of event. Also, once somebody actually visited our booth, the only interaction they could have with us was talking to our representative who was behind the counter. There was no way for us to showcase our products and get them to experience our offerings except from the use of a tablet. As an exhibitor, that is very limiting and decreases the value of exhibiting.
Then we remembered that we also had the ability to display A3 foamboards at our booth with a QR code for people to scan. The intention behind it was for exhibitors to have the ability to point visitors to any downloadable resources they might want to showcase. 
We took a different approach. A more creative one that enabled us to overcome the limitations of the physical booth. Scanning the QR code would bring people to a 3D digital version of our booth. Here's what it looked like: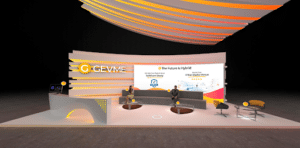 From the digital booth, visitors could do the following things:
– Book a demo
A calendar would appear enabling visitors to book a 30min consultation with one of our representatives
– Connect with our representatives
The profile of our representatives would appear with their photo, a QR code to message on Whatsapp, their LinkedIn profile and their email address.
 – View our resources
Our resources were displayed on the tables in the 3D environment. People could view our latest ebook, our white paper and our brochures.
The possibilities were limitless. Other things we considered were the ability to speak to our representatives via a video call and displaying 3D models of our hardware. 
There were many benefits to adopting this approach of having a digital booth in addition to the physical one that was allocated to us. This digital booth enabled us to overcome the limited interactions that we could have with visitors at our booth. Despite only being able to talk to them from a distance, they could have a more interactive experience digitally by browsing through our 3D digital booth. There was also a certain 'wow factor' to it.
Another interesting aspect is that virtual booths have a wider reach. We were not technically limited to visitors who were present physically at the event.  We had the possibility of sharing it with people who were not at the event physically or not even in Singapore to experience our digital booth.
Digital booths also have a longer life. TravelRevive lasted for two days. We spent quite some time designing our booth and setting it up. But after these two days, we had to pack our bags and our booth was torn down. Our digital booth, however, remained accessible for anyone to view. Anyone interested in our offering could still share the link with their colleagues who would be able to view our booth, check our offerings and book a meeting with a sales representative. Our digital booth can also be quickly repurposed for future events. 
This experience at TravelRevive got us excited about the future of exhibitions. Once the restrictions are relaxed, we'll be able to get back to the physical booths that we are used to with their more interactive elements. At the same time, we will hopefully see more exhibitors getting rid of printed collaterals that generate an incredible amount of waste.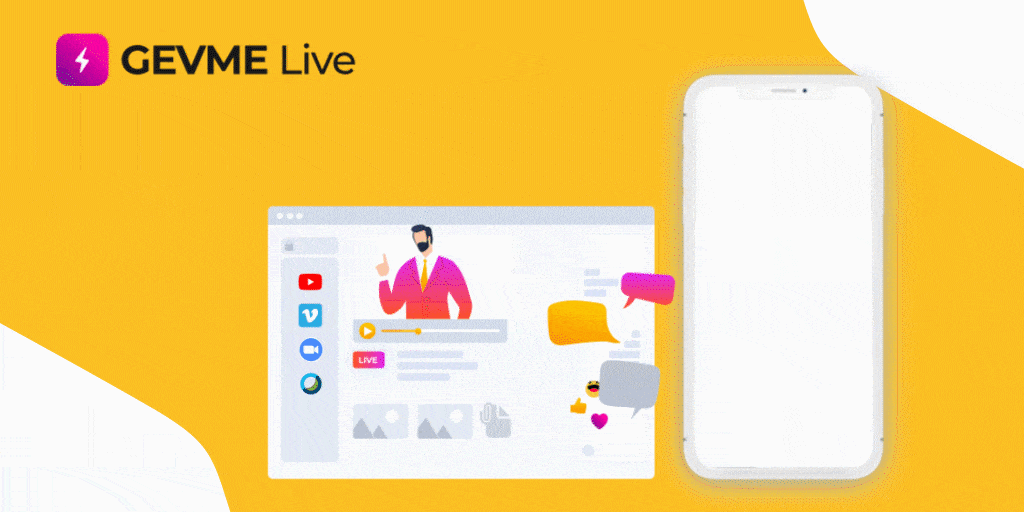 But we'll start seeing event organisers offering a digital booth to exhibitors as a complement to the physical booth or even as a replacement for those who cannot exhibit physically. It will provide a wow factor to physical attendees but more importantly enable those who are not able to attend the event physically to explore the offerings of exhibitors. They will be able book a demo and talk to representatives. All of this regardless of where they are based in and when they are logging in. These digital booths can remain accessible 24/7 to accommodate for all timezones.  Exhibitions will be made more accessible to exhibitors and attendees from around the world.
There will still be value in attending physical exhibitions. Nothing beats face-to-face. And there are experiences in the physical world that cannot be replicated online. But digital booths are able to provide a good portion of that experience to a much wider audience while opening the door to new possibilities. The future of exhibitions is hybrid.