Are you thinking about how to increase audience engagement? You have come to the right place. With the way things are going today, event planners have no choice but to make the best out of their online events and the virtual event engagement tools that come along with them. However, to engage event attendees requires effort and creativity. It's simply not that easy. Despite that, there are always ways to improve engagement on virtual events, and you can learn about it here.     
The Importance of Attendee Engagement
Online event engagement is fundamental to a virtual event's overall success—the main reason being that your event gets its value from it. Without engagement, your audience will leave, and without an audience, there is no event. But you can avoid this awful domino effect by getting to know some useful audience engagement ideas. 
How to Engage Your Audience
So how can you engage your event attendees? On the internet, you can find many virtual event audience engagement ideas. But the main idea is to keep your attendees stimulated and involved. Use the elements of surprise and originality to get the maximum attention of your attendees. If your audience feels like they are a part of your virtual event, they will most likely stick around until the end.
12 Ideas for Virtual Event Engagement
With many virtual event engagement ideas on the internet, how can you know which ideas are useful or not and if they would work for you and your virtual event? Nowadays, people's attention is an expensive thing to attain. So when it comes to your virtual event, you have to use the most creative engagement ideas to get your audience's attention. With that said, here are 19 engagement ideas to help you achieve just that!    
Your Speakers
Your virtual event speakers should be sensational, moving, witty, but most importantly, engaging. Find speakers with charisma that can create excitement and good vibes for the audience. 
Polling, Before and During the Event
In general, polling before the event improves audience engagement because it gives the audience the impression that the virtual event content will be relevant to their needs. The audience loves to put in their two cents on what the virtual event should and should not contain. Knowing this, they will most likely show up because they will feel that the planner considered their thoughts. Live polling is also great to create interaction and engagement with the audience.      
Hire Entertainment
Hire help to entertain your audience at your virtual event. Professional entertainers know how to engage with the audience; they understand what it takes. In these times, you can find a wide assortment of entertainers to help you. From magicians to beatboxers, you can be sure to find something relevant to our event.
Gift Bags for Your Virtual Event
People love gifts. And just because your event is online doesn't mean you can't send your audience a gift bag. Send your attendees a bag filled with goodies before the event. It is not just a fantastic idea, but you will be sure to get their attention. And if anything, they might feel like they owe their attention to you, especially if you include items in the bag that are supposed to be used during the virtual event.  
Gamification
An interesting way to boost audience engagement is to gamify parts or aspects of your virtual event. For example, attendees could win and lose points through their activity during the virtual event. And you could set up a leaderboard with prizes for the top finishers. This method is just one way to gamify your virtual event. Surely you can create even more unique approaches to gamify the experience of your attendees. 
Host a Social Media Contest
One very effective way to get the absolute attention of your audience is through competition. You can take advantage of this by hosting a social media contest. Through a social media contest with a prize included, your attendees will have a stake in the game that will enable them to focus and follow through your virtual event.
Create Captivating Content
Create content to captivate the interests of your audience. Even before the event, create and share content to get your attendees to attend, and want more. Get creative and use media to spark their imagination. 
Quality Matters
Your virtual event's quality can determine whether your virtual event will bust or succeed. Let's be clear. Nobody wants to sit through an online event with technical difficulties, unstable feed, or bad design—every detail matters when it comes to quality. And if you don't notice it, your attendees might, and that could cause problems.    
Include Push Notifications
Push notifications are engaging in virtual events because they keep attendees notified on everything going on. With push notifications, you can share interesting information and useful updates to keep your attendees enthralled. 
Conduct a Live Q&A
Conduct a live Q&A to provoke your attendees to engage. Allow them to speak and be heard, and you will see how quickly they will interact. For a live Q&A, hire an expert to answer the questions of the attendees.  
Give Out Surveys
Giving out surveys during a virtual event can get your attendees to stay focused on the content. A survey could ask comprehension questions or inquire about the opinions and thoughts of your attendees. 
Create Networking Opportunities 
People love mingling at events, and yes, even at virtual events. So it is prudent that you create plenty of opportunities for your attendees to network. You can help your attendees connect better by placing them in groups or chat rooms with others who share the same interests. Networking is crucial to create audience engagement, so don't go easy on this one.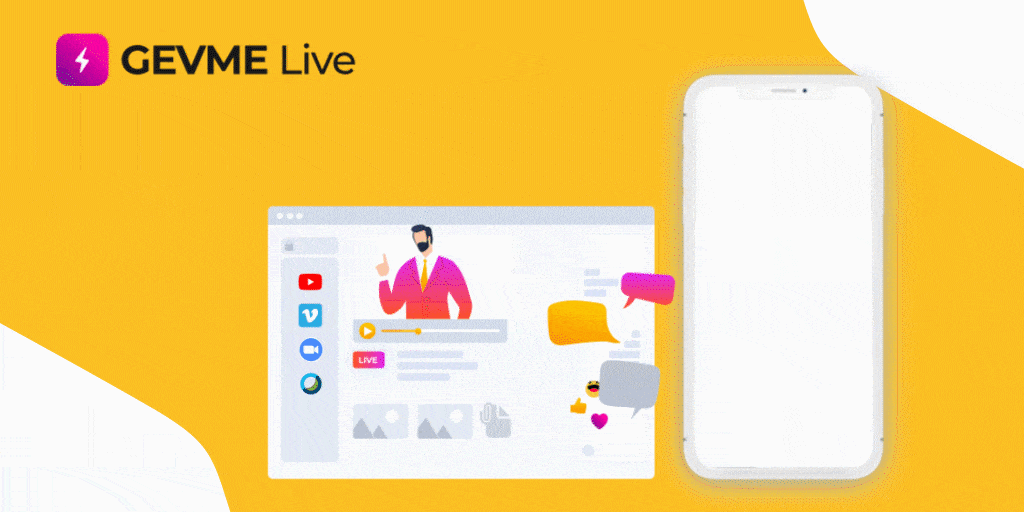 How We Can Help You
With Gevme Live, you can create and raise virtual event engagement like never before. You can invite your audience with fascinating customizable registration pages and send branded event invitations. You can gain your audience's attention through numerous features to increase virtual event engagement during the event.    
Conclusion
In this time and age, getting attention is probably one of the main goals of every business, artist, or entity out there. As a result, competition is high. Almost everyone is fighting for attention. In this sense, it is crucial to be creative and innovative in getting your audience's attention and keeping them engaged. Use the ideas above, but try to build off of them to be more successful.