We are pleased to announce the launch of our partnership with Taggbox, a User-Generated Content (UGC) platform that hosts UGC campaigns across different marketing touchpoints. This partnership will allow event organisers to capture the audience's attention through interactive and customisable social tools that foster participation and provide a more immersive digital experience.

At Gevme, we have been at the forefront of bringing the experience of events to the virtual world. Working with Taggbox, event attendees from anywhere in the world can now interact and engage in real-time through live content updates in social media. This integration not only replicates the "live" event experience, but provides a richer experience, pushing the boundaries of business events.

Veemal Gungadin, Founder and CEO of Gevme

As digital and hybrid events continue to be the norm for most event organisers and businesses, the need for innovation and improvements in the virtual event experience is critical for the entire industry. Gevme, along with Taggbox, are aiming to build a long-term and sustainable virtual and hybrid event industry, where event organisers and brands connect with their audience better and generate more conversation, interaction and engagement in the post-pandemic world.
Integrating social media into your virtual event
Taggbox Display is a product by Taggbox that offers complete solutions to attract, engage and inspire virtual audiences with a social wall. The Taggbox Display has a social media aggregator which collects, curates and displays content from over 15 social media platforms through predetermined event hashtags or selected trending topics.
When embedded into the Gevme platform, the display appears similar to the social wall at physical events, and encourages audience members to engage with one another and network. Event professionals can moderate the content, customise the social wall and position the responsive widget anywhere on the screen. Essentially, this not only amplifies the social element for the virtual event attendees, but also increases brand engagement and the publicity for the event. Furthermore, this also provides an additional avenue for event organisers to offer sponsors when it comes to increasing brand visibility during events.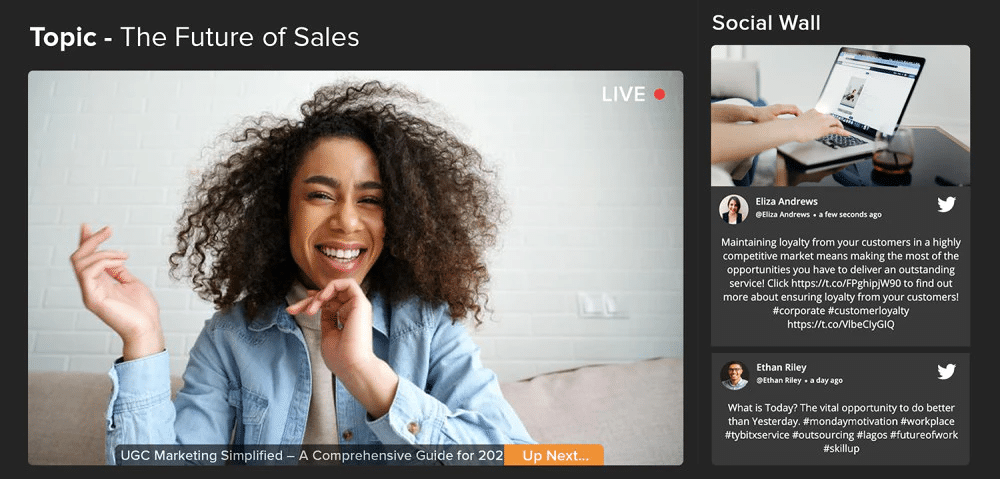 Good fortune is what happens when opportunity meets planning, and we are more than thrilled that Taggbox Display has partnered with Gevme to create the perfect opportunity: a powerful Social Wall for virtual events. This opportunity is for event organisers who are planning to create engaging virtual events for their audience. Taggbox Display is always open for such collaborations. We want this partnership to succeed and continue to serve clients with the best marketing solutions.

Neeraj Singal, CEO of Taggbox

This partnership with Taggbox matches Gevme's vision of providing virtual events that stand out from the crowd which are memorable and unforgettable.

You can find the full list of Gevme integrations here.