Singapore Week of Innovation and TeCHnology (SWITCH) kicked off earlier this month, providing an innovative yet functional space for the global innovation and business communities around the world to connect, collaborate and network. 
SWITCH 2020 featured a unique hybrid format that combined a 24-hours/5-days online platform with satellite events around the world. This new hybrid model provided participants with greater access to the global Deep Tech communities looking to discover partnerships, attract investments, and boost sales.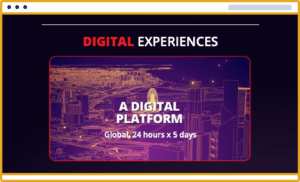 Credits SWITCH 2020
GEVME Live powered the virtual platform for SWITCH pushing all the boundaries for the Gevme team. Gevme Live was transformed into an immersive online city. This digital venue which played host to 200 sessions with over 650 speakers provided not only broadcast-quality live streaming of the events, workshops and panel discussions but also interactive chat sessions and Q&A with the speakers and panellists.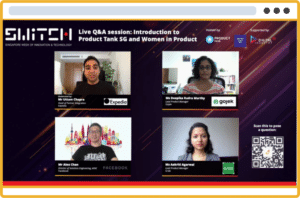 Credits SWITCH 2020 Q&A with speakers from Gojek, Grab, Expedia, Facebook on Product Management
Registration through Gevme
The participants first had to register for the week-long event through the GEVME registration page. Post-registration, the attendees were given a unique link which was sent to their email address. This link provided the attendees access to the digital venue, which was a stunning 3D immersive city experience containing smaller communities as seen in the screen below. 
Credits SWITCH 2020
Explore the venue through microcosms
The online audience could choose the village that they would like to visit which were grouped according to an overarching category. These villages which acted as intriguing microcosms were symbolic of the vibrant business ecosystem that is prevalent in Singapore. Each village contained buildings through which you could access specific events, for example by clicking on the SG Blockchain Village as seen below, you could get access to all the buildings grouped together. Then by selecting, for example, the Dutch Blockchain Coalition, you could get further information about specific organisations and related events or digital booths.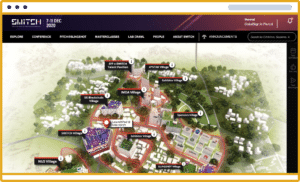 Credits SWITCH 2020
Immersive city experience
The immersive online city experience was available for the online audience was interactive with more than 1,000 exhibitors and sponsors showcasing their innovations mapped out spectacularly and intricately through clickable the city map.
Village communities
There was the Exhibitor Village which contained 3D Digital Booths as seen below where exhibitors displayed their products and had 1:1 meetings too, Sponsor Village containing the event sponsors, SWITCH Village which housed all the workshops and many such villages. The village that piqued the interest of many was the SG Blockchain Village which brought together a community of leading corporates, government agencies, startups driving blockchain initiatives onto a single digital village. 
Branded buildings
Each building was dedicated to a particular company or initiative. For example in the Exhibitor Village we saw brands like Cargill, PwC etc. have their own building through which a 3D setup was created to showcase their respective content. Each building was designed uniquely and according to the brand standards of that particular organisation or initiative. One could simply click on the building of their choice to get more information or access sessions or workshops.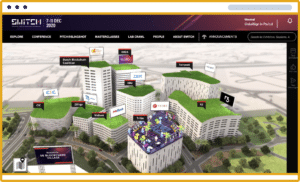 Credits SWITCH 2020
Startup battle goes digital

Organized by Enterprise Singapore, Slingshot is Startup SG's flagship startup competition that is held annually in the city-state. The famous startup battle which happened on a physical was this year transformed online through a functional hybrid setup. We had the emcee along with a judge present in a hybrid studio curating the pitches and Q&A rounds as seen below. The audience saw the Pitches that were showcased through interactive broadcast screens. The presenter, as well as the panellists, were all in view. The programming of the show was done live by Digital Event Managers (DEM)s, managing the event, behind the scenes along with the team that managed the hybrid studio.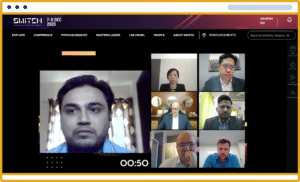 Content On-demand
The best part of the 24hr event was the fact that most of the sessions and pitches were accessible on-demand, which meant that the online audience, irrespective of their geographical location and time zones, could access the sessions and view the content at their own convenience.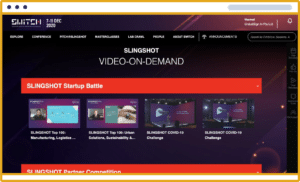 Credits: Switch 2020
As SWITCH 2020 was a global event – the need to balance time zones, work schedules and production values seemed increasingly problematic and making content available on-demand proved to not only overcome this challenge but also prolonged the content's lifespan. The attendees could digest the content on their own terms which was a welcomed benefit.
Transforming the Exhibitor Experience
These 3D venues allowed for exhibitors and attendees across all time zones to be able to participate and network with each other virtually. Delegates also continued to connect with each other at over 900 Digital Booths in the different villages on the SWITCH platform.  The 1:1 meeting rooms also made it possible for exhibitors to meet with prospective clients to discuss their products and services.
Credits SWITCH 2020
Digital booths are usually cumbersome for exhibitors but the 24hr-5 days format made for a welcomed opportunity to go beyond geographical boundaries. This format allowed exhibitors to talk to prospects from different time zones, although this may have involved increasing the manpower to man the digital booths. The 3D booths gave the audience as well as the prospects interactive ways of accessing content either through downloadable collateral or through videos and popups in the exhibitor booth. It also allowed for 1:1 meetings to take place amongst exhibitors and prospects.
Exhibitors were given special access to the digital platform backend, they could customize the 3D booth and add their brand-specific downloadable collateral, brochure, logo etc. They could also schedule 1:1 meeting with prospects who are interested to know more. All exhibitors were given access to view analytics, if someone visited the booths, they could find details like name, email address and number which could then later be exported into an excel sheet
Usually in physical large-scale events, people would walk by an exhibitor booth but the exhibitor would not be able to know much about the person, now we know everyone who has visited along with their data captured at the same time.
AI Recommendation and Matching 
There was also an innovative AI-enabled matching of talent with leading tech employers at the Startup & Innovation segment of the SWITCH Talent Pavilion. The Talent Pavilion was a one-stop shop for professionals, job-seekers, employers and students looking to be part of the Deep Tech ecosystem. With features like AI Matching and 150+ job positions from 50+ companies like Augmentus, SGInnovate, Glints, SPACE (MedTech) Pte. Ltd. and more, the Talent Pavilion saw a diverse group of delegates use this innovative talent matching technology.
Credits SWITCH 2020
The AI technology would quickly match prospective candidates from their details provided using the companies job description. The AI model read the natural language in job descriptions and candidate profiles and calculated a prediction of "fit".
The attendees would also be recommended and matched to exhibitors that matched their domain and expertise. This would lead to the creation of meetings and networks with like-minded individuals. Also, the recommendation engine intuitively suggested sessions and workshops to attendees according to the attendee information. For example, if you were an attendee who listed 'Bitcoin' as an interest, you would automatically be recommended the SG Blockchain Village and subsequent events to attend.
What lies ahead for large-scale events
Running from 7 to 11 December 2020, with 600 sessions over five days, 1,400 speakers, more than 1,000 exhibitors, 27 international pavilions from more than 130 countries meant upgrading the infrastructure of Gevme Live to support such a large-scale event.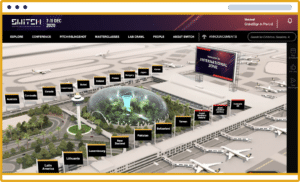 SWITCH 2020 was a transformative large-scale event. They piloted a futuristic experience through a 3D city, with communities, exhibitor booths and conferences through a robust digital platform. For an attendee who attended the event, it was by far the most futuristic display of content while still being functional and practical in every sense. This event was a milestone event for the organisers, who were Enterprise Singapore (ESG) and Intellectual Property Intermediary (IPI), the National Research Foundation (NRF), and SingEx. Gevme Live, the digital platform that powered the event seamlessly catered to the requirements and the needs of the organizers. 
SWITCH 2020 was a transformative experience for the audience, speakers and organizers. Event professionals now have a benchmark event to look at for planning and creating future events. Hybrid events are the new normal, and we have SWITCH 2020 leading the way for large-scale events looking at changing the game.