The starting point in your event planning is the development of a strong guest management system that can help you avoid hustle and bustle on the big day. Automated guest management is crucial not only to ensure a smooth onsite check-in but also to collate all the registration data once the show is over.
Why should you manage guests at events?
Effective guest list management creates capabilities for targeted communication with the prospective clients. By aligning registration processes with onsite check-in, event managers collect contact data which they can afterward use to establish follow-up connections. What's more, by knowing how many registrants are going to come and which check-in methods they prefer beforehand, you can build a smart onsite set-up on the event day.
Collecting information from all event guests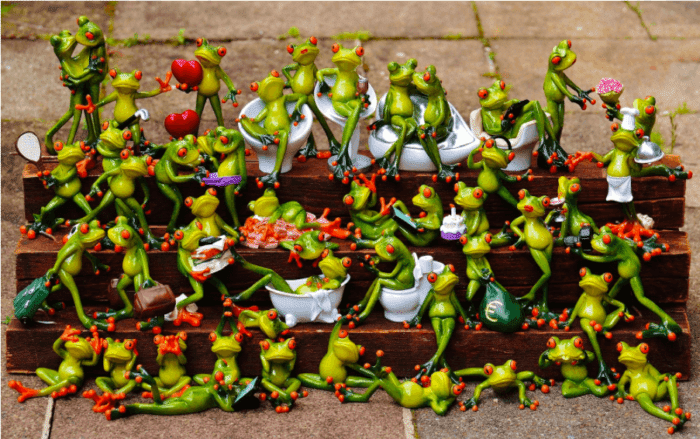 Smart event guest managing is data-driven. To collect all the necessary data from event attendees, you need a robust system that allows the development of custom contact lists, personalized registration forms, and flexible list import/export. Here are some tips on how to choose an event management software that can collect your data efficiently:
Secure access. Ensure that the personal data of your event guests like emails and phone numbers is well-protected. For those event planners who work with European companies or manage the contacts of attendees from European countries, it's critical to get acquainted with the new GDPR regulation focusing on the movement of free data.
Smart list management. Choose platforms that allow duplicate detection and customization of lists based on specific filters. Here's how Gevme allows you to filter out orders with a pending payment status  in one click: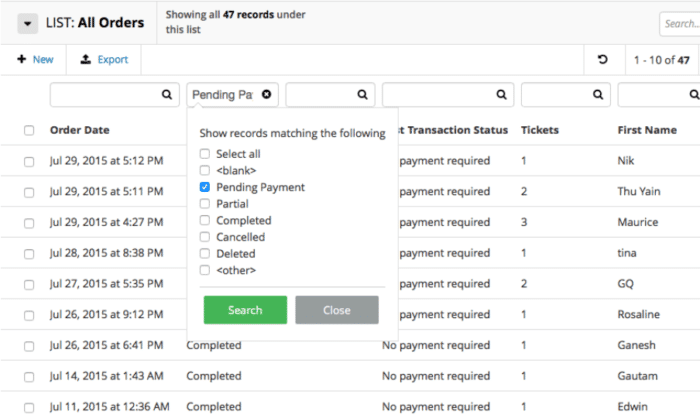 Import/export capabilities. Create custom smart lists that can be exported to excel, import invitees/registrants lists from your previous campaigns, and save an unlimited number of contacts to enable maximum flexibility.
Status update. Be prepared to respond to any change of plan by employing tools for status update tracking. Monitor RSVP responses, email deliveries, and payment status updates in real time.
Event guest management software
The use of endless excel sheets to capture and manage registrants' contacts is long past. Maintaining thousands of contacts and structuring them, based on specific criteria, is possible with fully-automated event guest management services. Check out the top event management software that help you create a guest list in a matter of minutes: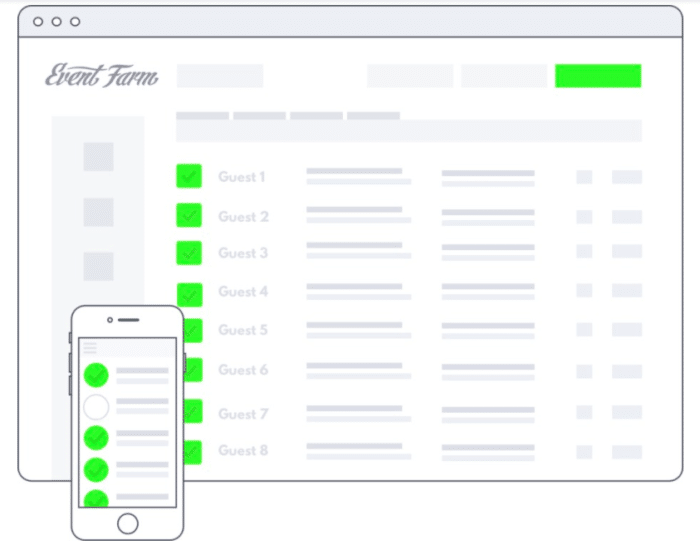 The event management service that connects personalized registration, check-in technology, and post-event reporting, Event Farm, was one of the first companies to develop check-in apps to simplify onsite management. Creating a guest list with Event Farm is easy: you simply download a CSV template and complete it or add the contacts manually.
Benefits:
the use of multiple devices to check-in guests;
the ability to set up automatic email alerts for VIPs;
the check-in system can be integrated with Salesforce;
the guest list reports can be downloaded after an event.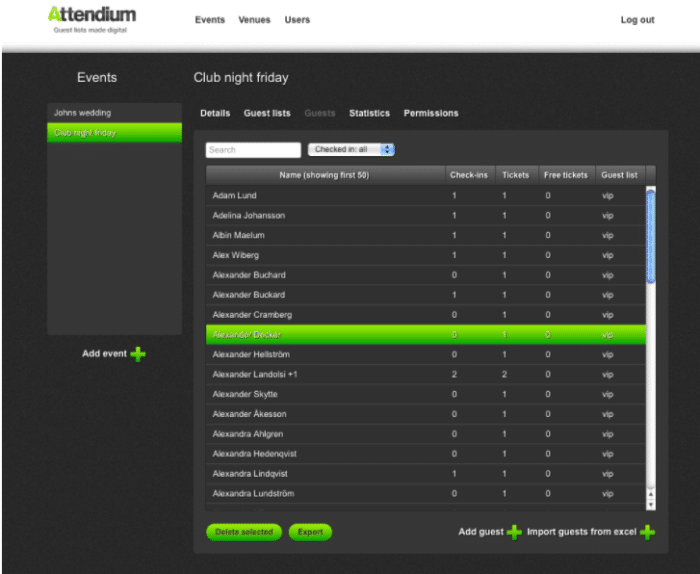 Attendium is the enterprise guest list application which facilitates a full-scale sync between tablets, smartphones, and social media profiles. Although the app doesn't provide templates for guest list development, you can easily build a custom list following the instructions.
Benefits:
check-in can be accomplished while being offline;
multiple channels for collecting event sign-ups (Facebook app, invitation links, website widgets);
real-time statistics on event attendance;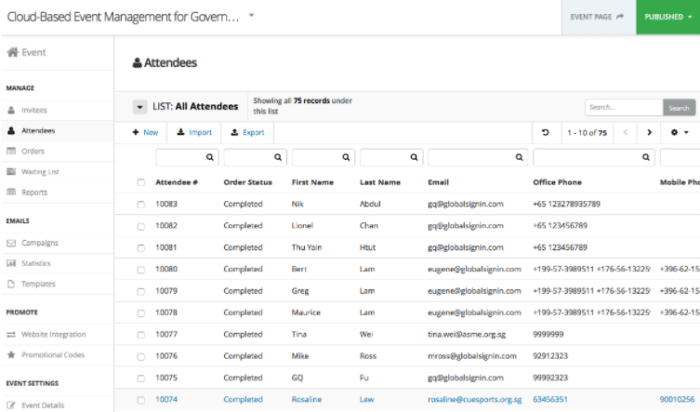 The driving force of success with Gevme is its integrated approach to event management. Connecting major pre-during-post event experiences through well-aligned software applications, the platform enables efficient and actionable guest list management.
Benefits:
flexible onsite deployment;
custom report development;
excellent business matching technology through Leads and Connect applications;
on-demand name badge printing.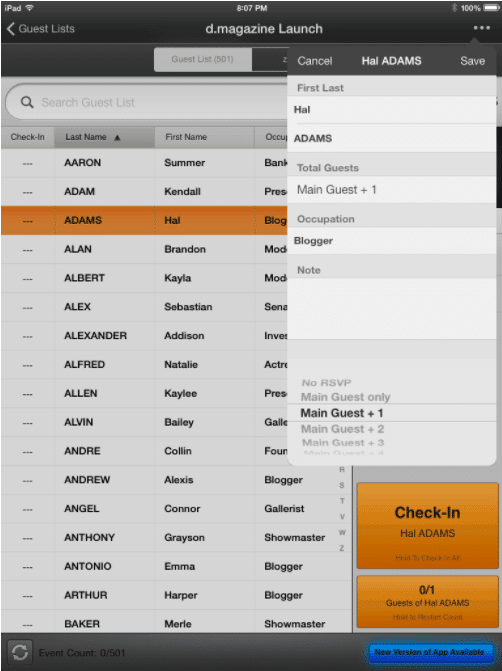 With custom guest list development services, event managers using zkipster can add different headings like table number or company name to every contact on the list. Thanks to the easy CSV template download technology, you don't have to be bothered with manual work.
Benefits:
the application can be used without WiFi;
the pictures of attendees can be integrated into a guest list app;
the flexible development of seating charts;
the social media tracking technology.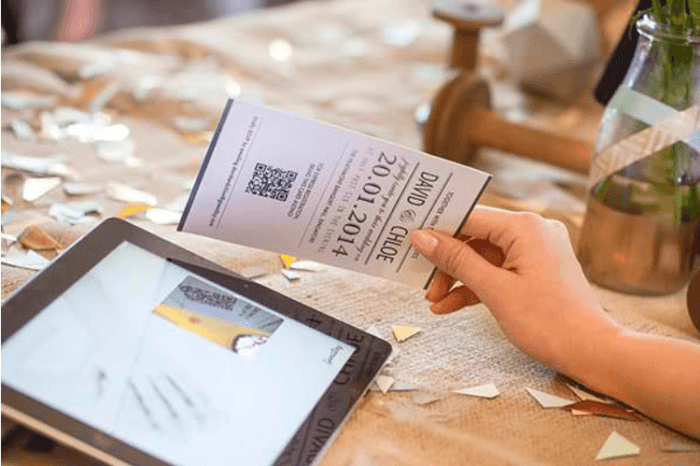 With frictionless onsite guest registration features, GuestDay has been developed as the perfect check-in management platform for conferences, corporate events, and weddings. A completely white-label service, GuestDay is the perfect choice for those who want to showcase clients' branding. Rich admin management features allow making on-the-fly changes of any complexity.
Benefits:
printing name badges for event guests on-the-spot;
customizable seating charts;
the huge range of text search options.
How to use Gevme to manage guests
Why is Gevme worth being selected as your guest management software? We've collected the practical insights into success-driven Gevme  integrations that help elevate both guest management and attendance experiences:
A setup for any event size. GEVME Onsite facilitates custom onsite setup development, which caters to any number of attendees. What's more, self-registration capabilities and cross-platform support ensure queue-free check-in management?
Automated connection building. Event guests get the opportunity to build their digital profiles and connections to people whose interests coincide with their own using GEVME Connect app.
Lead capturing and retrieval. For those who attend an event for the purpose of building a strong business contact list, GEVME Leads application helps identify the target personas at the event, capture the contacts, and retrieve a contact list in a matter of few minutes.
Tips on how to manage guests at events
Targeted guest list management helps event professionals build long-term connections with key audiences. To magnify automated guest list software capabilities, focus on the following features:
Customization. You should be able to change any data in response to real-time check-in issues, personalize event registration forms, and adjust designs with your guest management app.
AI technology. Leverage AI capabilities like chatbots to facilitate real-time messaging and help attendees communicate more effectively.
Efficiency. From site load time to cross-platform support, everything should work perfectly to enable top-notch onsite automation.
Conclusion
Events that can accommodate thousands of attendees always have a strong guest management system behind them. Get started with Gevme to tap into success-oriented integrations which make events of any size magic.