Sending out thank you emails to the attendees of your event is the perfect way to let them know how much you care. It not only shows that you remembered them even after the event, but it also encourages them to come again for the next event you organize.
So, if you are looking for something to boost your popularity, it is time that you write a post-event email. Here you will find some great tips on how to write a great post-event note.
What is A Thank You Email
It is simply an email that shows your appreciation for those who've attended your event. It is a courteous after-event act that makes the attendees feel valued.
Why You Need A Thank You Email
As mentioned earlier, a thank you email bridges the gap between you and your attendees. A thank you email for attending an event is more than just a show of appreciation. It is a technique by which you retain the loyalty of those who have already attended your event.
A thank you email also acts as a medium through which you raise awareness regarding your event. This is because if you make your existing attendees feel valued, they are more than likely to pass on the word to others. Therefore, word-of-mouth spreads fast and gives you much credibility automatically.
Moreover, a thank you email builds trust between you and your target audience. This is extremely useful since the trust that you build between yourself and your attendees ensures that in the future, you can connect with them and gather useful information the same as when you use surveys. This helps you extensively in terms of getting relevant insights into what your target audience wants.
A thank you email also gives you an opportunity to drive more conversions. That is, you may subtly incorporate a call-to-action in your thank you email. This way, you ensure that attendees will keep visiting your website for the latest updates and events.
Host engaging virtual, hybrid or in-person events that your attendees will love coming back to. Try Gevme for free
Types of Thank You Emails
Thank you email for event attendees

Thank you email for Volunteers

Thank you email for Sponsors
Irrespective of who you are sending a thank you email to, there are 2 main components of writing a good thank you email.
How to Create Great Subject Lines for Your Thank You Email
Although a subject line seems like the smallest part of your thank you email, it is the most important aspect of any email. After all, it is the subject line that will determine whether your email gets opened.
So, here are some useful tips that you can follow to create a great subject line.
Making them concise
Subject lines need to be short and to the point. It has been reported that around 40% of emails get opened on mobile devices. This implies that your subject line needs to be skillfully crafted. It should include the most relevant words first.
The sender's name should be familiar to the recipient
Every day, we receive numerous spam emails. This means that if you send an email with an unfamiliar name, it is more than likely that the recipient will mistake the email for spam.
Furthermore, avoid using a sender name that has 'no-reply' in it. This is likely to backfire. Firstly, the recipient may not bother opening the email since there is no point in reading the content if they cannot reply to it.
Secondly, it can be quite demoralizing for the receiver to receive a robotic thank-you message. It will make them feel as if you are simply fulfilling a formality, rather than actually appreciating their attendance.
Use Gevme's powerful email engine to automate emails to all your attendees. Try Gevme for free.
The Best Subject Lines For A Thank You Email
Your subject line may be as simple as "Thank You for attending Event Name", or it could be something more delicate and personalized. A more personalized subject line may also include an attendee's name. This is certainly more impactful as it creates a sense of value and shows the recipient of the email that you are not just sending automated emails.
Nevertheless, the only way to find out which subject line works best is to keep on researching and experimenting. This is where A/B or split testing comes in. For those who may not be familiar with the term, A/B testing involves creating more than one version of a subject line and testing which one works best.
Additionally, subject lines need to be optimized for various devices. This is because not everyone will be opening their emails on a PC. They might be viewing them on smartphones and tablets.
Therefore, a general rule of thumb is to limit your subject line to no more than 50 characters.
What You Need to Write in the Body of A Thank You Email
Email copy is the next most important thing after the subject line. The question of how to write a thank you email for attending an event is discussed here:
Keeping it short
Just like the subject line, the body of the email should be short and sweet. You must be wondering as to why we are stressing so much about keeping the content as little as possible.
The reason is that no one has enough time or patience to read mails with long paragraphs. People need to get the message as quickly as possible. Therefore, keeping everything to the point is highly essential.
Understand what you will look for in a thank you email
Your attendees are not much different from you. As such, it is very helpful to consider what you yourself would want in a thank you email.
This will make sure that you include things that will make you feel valued and honored.
Adding minutes of the event
Another key element that you can look to include in your email body could be minutes or key pointers from the event. Most virtual or hybrid events nowadays have recordings of various sessions and milestones during the event. It is a good idea to send a link to this content as an on-demand link to the attendees in your thank you email. This gives your attendees an opportunity to relive and/or go back to the important sessions from your event.
Gevme enables you to store all your event video content and live streams centrally and access them globally on demand. Try Gevme for free.
Looking for examples
It is always a good idea to look for samples. Samples of post-even thank-you emails can give you great ideas as to what you need to include in your own emails.
You can use the following template of a post-event thank you email as a starting point:
Subject: Thank you for coming, <firstname>.
Dear <firstname>,
We are more than thankful that you attended our event. We hope you enjoyed the experience.
Looking forward to meeting you again next time.
Thank You.
Best Regards,
Your Name
Principles of writing a post-event thank you email
Use a professional email signature

Don't delay sending the follow-up email after the meeting

Be honest and polite

Keep the thank you email short, but not too short

Do not burn bridges—ever.
A thank you email after a conference should be written in line with the same principles.
Examples of emails
Thank you email after a meeting:
Kimberly Perkins
647 Dacur St Eden, NC 27288
Home Phone: (336) 627-3154
Mobile: (336) 552-1788
E-mail: kperkins14@iriad.rr.com
Mir. William Joyner
Cornerstone Complete Care:
116 Ways st.
Martinsville, VA 24112
Dear Mr Joyner:
Thank you for taking the time to discuss the Medical Office Assistant at Cornerstone Complete Care with me. After meeting with you and observing the company's operations, I am further convinced that my background and skills coincide well with your needs.
I really appreciate that you took so much time to acquaint me with your office. It is no wonder that
Cornerstone Complete Care retains its employees for so long, I feel I could learn a great deal from you and would certainly enjoy working with you.
In addition to my qualifications and experience, I will bring excellent work habits and judgment to this position. With the countless demands on your time, I am sure that you require people who can be trusted to carry out their responsibilities with minimal supervision.
Look forward, Mr Joyner, to hearing from you concerning your hiring decision. Again, thank you for
your time and consideration, if you have any further questions, Please feel free to contact me anytime:
at (336):552-1788.
Sincerely,
Thank you email after a conference:
Your Name
Your Address
City, State Zip
Phone Number
Email Address
Date
Name of Interviewer
Firm or company name
Street address
City, State Zip
Dear Mr. Ms.
"Thank you for taking the time to meet with me at Duquesne Lay School. I was primarily interested in your firm because of its diversity of clients, and specialization in the environmental litigation field. I was delighted to learn that you also provide continuing legal education programs for firm lawyers and other area attorneys.
I have enclosed the writing sample, which you requested, and have taken the liberty of enclosing a recommendation from Professor Smarts, my Land Use Planning professor. He knows.
'my work well, and has been kind enough to offer his recommendation.
I am excited about the possibility of spending next summer at your firm. Please let me
Know if I can provide any additional information.
Sincerely,
Your name
Enclosure
Thank you letter to sponsors after an event:
13 June, 20XX
Mr. Tromas Sater
Owner
Freshfield Farms
Address
Dear Thomas Salter,
On behalf of Riverbrook School, I would like to thank you once again for so kindly
Sponsoring our annual summer petting zoo. This year we were able to rake over £10000
for the new roof on the primary school gymnasium and we could not have done it without
featuring all of your sheeps and ducks a the school carnival They were such a hit that many
families are already talking about bringing friends and relatives to see them next year!
Looking forward to speaking with you more about next year's event in the upcoming months.
Sincere,
Ms June Baker
Guidance Counselor, Riverbrock School
Thank you email to volunteers after an event: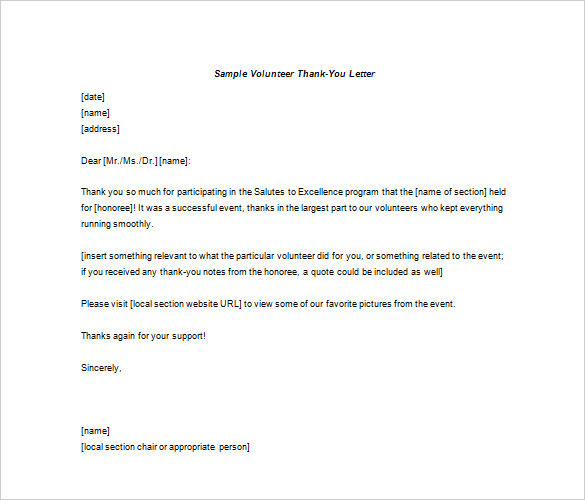 Post-event thank you email templates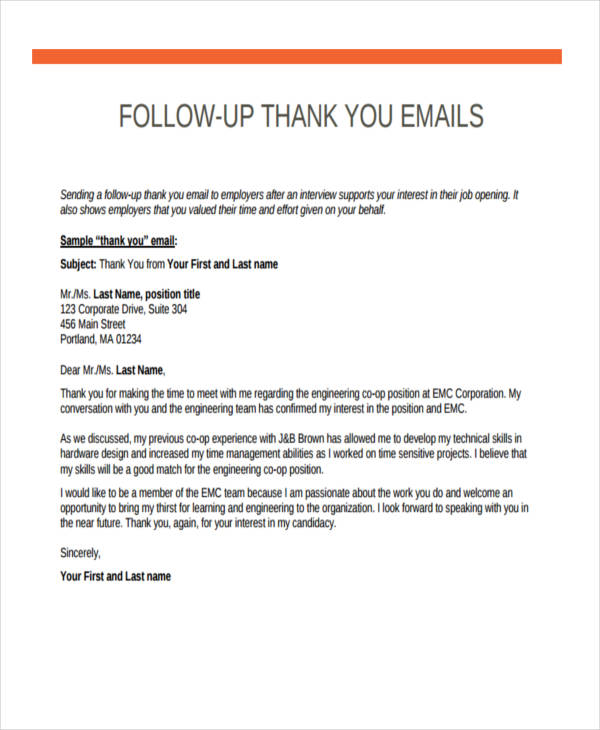 If you found this information useful, you may also like to learn more about creating a business invitation email.
Tips on how to write a post-event thank you email
Here's a summary of what we recommend including in a thank you letter for attending an event:
Subject lines should be short and to the point.

Avoid using a sender name that has 'no-reply' in it.

Like the subject line, the body of the email should be short and sweet.

Include personalized lines, not just a boilerplate message.

Include things that will make your attendees feel valued and honored.