In the wake of the COVID-19 pandemic, life as we once knew has come to a halt. As social distancing and work from home become the norm, private digital events are more important than ever before.
Earlier one opted for a private event meeting only when they were unable to be physically present due to unavoidable circumstances. Things are now different as every form of meeting is taking place online. Be it a get together of close friends or an office department meeting, live-streamed private events are the way to go.
What is a live stream private event?
We are all aware of what a live stream is. The technology has become increasingly popular in recent years with widely used social media apps like Instagram, Twitter, YouTube & Facebook providing the option of 'going live' to your audience whenever you please. A private event meaning is just that; an event streamed online but instead of being open to the public at large, it's accessible only to a pre-selected audience decided by whoever is organizing the online event.
Setting-Up a Digital Private Event
Here, we will understand how to host a private event online.
There are multiple ways to create private events online, but how it should be set-up depends on the scope of the event. Live events can range from a small meeting between a group of four to five people to an event with hundreds of people with access from different locations. Regardless of its size, the event can still be private.
To set up a digital private event, use a video communications service; like GEVME Live, Zoom, Skype, Amazon Chime or Cisco Webex. Whether it's a company account or a personal one, pre-start a live session on the platform of your choice and, before going live, turn setting to 'private'. Each of these platforms have different subscription plans depending on the scope of your need for hosting digital events. Zoom, for instance, hosts up to 100 people under all plans. It can host 500 people in one meeting depending on the subscription purchased. GEVME Live, for example, lets you create an event immediately with an easy option of making the event private.   
The manner in which a private live stream is hosted also depends on the nature of the event. If you want to know how to make a private event for a personal ceremony like a wedding or birthday, you can create a private event on Facebook accessible only by those who follow you. Similarly, a YouTube live private event can also be adjusted for security and made private so that it's accessible only to those with the link.
How to Share A Private Event?
Sharing a private event is as simple as sharing an invitation via email and/or the platform the live event is being hosted on; for example a Google Meet invite or a Facebook Live Event RSVP. 
When an event is private, it is password protected as the live stream creator has the ability to set-up private event security measures. Those attending the event are given the password along with the link. Extra security measures are also available, such as geographical restrictions which disallow people from outside a specified location to enter the event. In case of events which require users to pay a fee–such as tutorial classes, academic lectures, live music & stand-up comedy–a mandatory online payment gateway is set-up which enables only those who pay to view the live stream. For instance, an online payment system can be set-up when creating a Facebook live private event.
GEVME Live, for instance, provides tailor-made email templates which makes it easy to receive responses from the invitees thus saving time.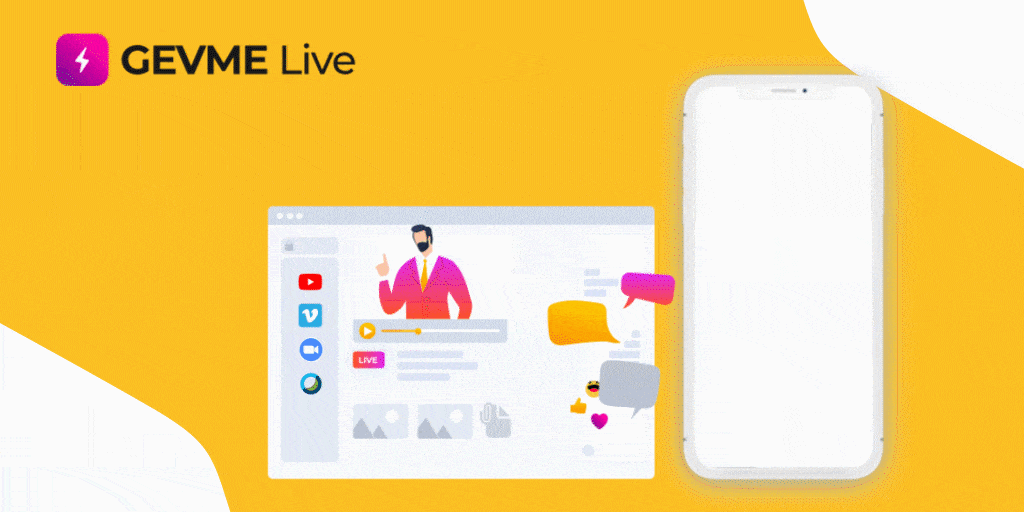 Private Event Planning: The Basics
Have a concrete plan
Firstly, have a concrete plan about what your digital private live event is. Having a definite plan and sticking to it goes a long way when organizing an online digital event. It gives you time to think about what type of experience you're looking to deliver. When the agenda is set, the number of people attending is bound to increase. Know in advance if you want your audience to have continued access to the event once it's over. Also, if required, create a guide for attendees explaining the session and the usage of messaging tools thus making the process simpler.
Choose a proper time
The best time for your event should be determined as per the convenience of those invited. Cross-checking with your contacts about other possible online events around the same time on the same day is a safe option. Taking time-zones into consideration, depending on whether or not your invitees are from different parts of the world, is a smart move.
Get the right tools
Apart from the usual hardware–such as cameras, computers and tripod stands–you need a live streaming platform as the host for your event. The embed code can be placed on any web page to run the live stream.
Apart from the services mentioned earlier, there are numerous other players in the live streaming arena such as Kaltura, IBM Cloud Video and Dacast. Coupled with any of the aforementioned private event software, a digital private event can be executed seamlessly. The online event planning software is fairly easy to use once accustomed to.
Work with your attendees
Depending on the nature of your live event, make sure you engage and interact with those viewing the stream. Encouraging the attendees to provide their inputs and be more actively involved can be a huge positive. Ask viewers to use the comment section and chat tools for questions and feedback. Also, have someone answer viewer questions so as to take full advantage of the platforms' interactive features. Create polls, quizzes, and take requests and suggestions. When you plan your event online, engaging with viewers goes a long way. GEVME Live, for instance, comes with an attendance module that lets you manage the audience effectively using GEVME's Smart and Static Lists.
When is a private live event successful?
The success of a live event depends on many factors like alignment of event & business goals; key performance indicators (should be identified beforehand); and analysis of event data.
If the event is commercial (paid) and not personal, it requires analysis of costs & benefits. Using event data gathered and weighing costs against benefits can prove its success. You must devise your own metrics of measuring the event's success and, once the event is over, come to a conclusion about whether or not it was successful.
As we get digitally closer, virtual live events, both private and public, will play a prominent role in connecting us to the world. The latest technology enables us to capture video from multiple cameras & screens while live stream logistics simplifies continually which, in turn, saves costs and reduces carbon footprint. All of this has made live streaming a major form of communication.