Guest list tracking is an effective way to organise an event for customers and keep a record of its progress. This also allows you to coordinate the work of the team, streamline all related documentation in one place, and more effectively monitor the workflow.
About event guest lists
If you are already on the Gevme portal and have been working with it for some time, you may understand that another important aspect of data management in Gevme is lists. Guest tracking features like lists help in organizing your attendees, contacts,  invitees, etc. effectively. Any data which is displayed in a grid is divided into categories, or segments.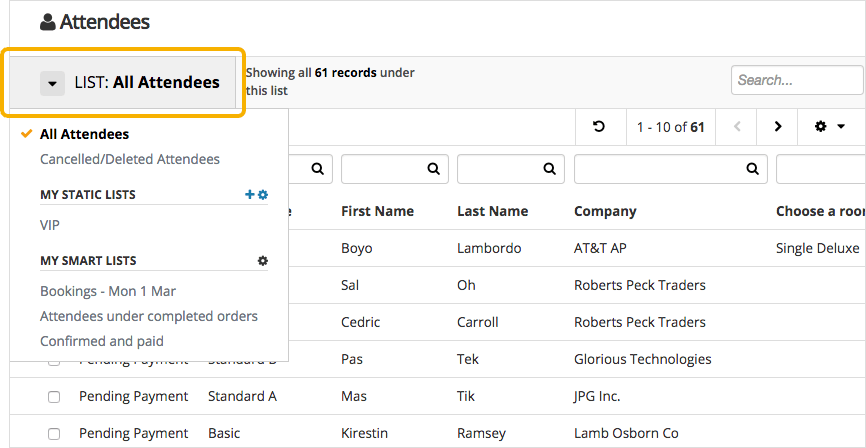 There are two types of lists in Gevme:
Static lists
Smart lists
Then you can access the guest list management and import a guest list from any event page simply by opening a drop-down list and selecting the corresponding option.
The point is that using a professional event management system is an easier and much more effective way to create guest lists, register and track attendees during the event, and follow up and review the event statistics afterwards.
You can also use Smart Lists. Smart Lists are filters, or search markers used to create a list or segment.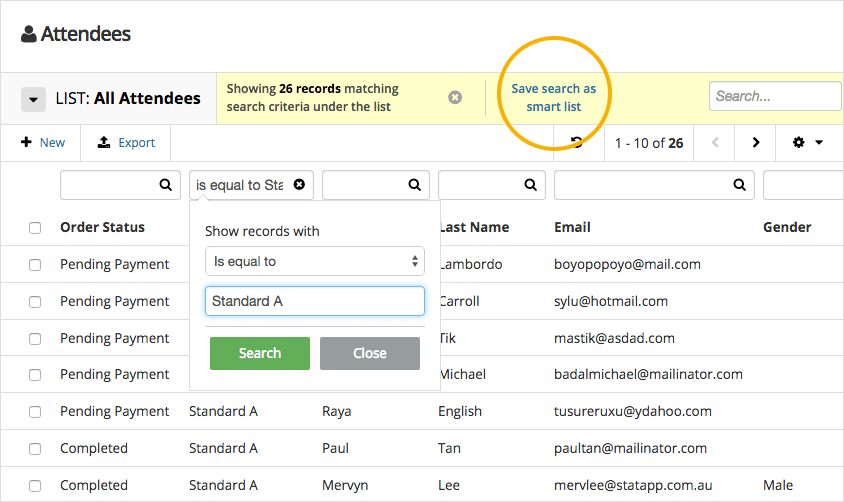 Smart lists are updated real-time upon the contact/attendee/orders fulfilling the search criteria. In this case smart lists can be considered as "saved searches" which consist of the records matching the search criteria.
Thus, guest lists make it easy to create, manage, and sell tickets for your events when you're using a professional tool such as an event management website or an event guest list app. It also makes it easier to start accepting online registrations immediately.
Why do you need to track your event guest list?

Singapore Fintech Festival Attendees
Attendees from many countries may be invited to large-scale events to participate in workshops, network with professionals, listen to speeches, attend high-tech conferences, or meet with industry suppliers at prestigious awards ceremonies. Guest list management with a guest list tracker helps to organise and structure the event flawlessly from start to finish.
Every event organiser should be able to make up a guest list for the event so that each attendee is registered on the event website, informed through various digital channels, and, finally, checked in at the event. An attendee list can become an event must-have for well-structured and faster event management.
Ways to track
You can easily manage your guest lists and track guests as they RSVP by using guest list management and tracking apps or other event guest list software.
All the features you'd expect to find in a free online guest list management app may still not be enough. That is why advanced tools with a set of useful features to help you with your event will be more effective.
Guest list features
Guest list management via a professional event system allows users to save time spent planning and easily tailor the event check-in experience in keeping with the event's theme, format, size, etc. For small events, it automatically allows a problem-free check-in process and lets event planners customise how it will look.
Along with an attendee list, Gevme lets you discover many useful features as you become more comfortable with this check-in manager:
Contact details of all visitors

Direct communication with visitors

24/7 analytics

Creation of badges with QR (pdf)

All event info available on mobile devices (schedule, streams, locations, etc.)

Promotion on social media and other digital channels

Contests and voting

Event summary statistics

Attendee management

Badge management

Conferences/conventions

Exhibit/vendor management

Search for venues

Gamification

Room block management

Sponsorship management

Non-profit event organisation

And so much more
Generally, you can organise events both off and online, create and manage an attendees list, and discover even more useful tips and tools for successful event management.
GEVME guest list features
With the help of Gevme's professional attendee management software, you will be able to apply the following features for tracking your attendance list:
Contact details of all visitors

Direct communication with visitors

24/7 analytics

Creation of badges with QR 

All event info available on mobile devices (

schedule

, streams, locations, etc.)

Promotion on social media and other digital channels

Contests and voting

Event summary statistics
How to track an event guest list with Gevme step by step
When you choose Gevme as your event guest list planner, you will find up-to-date information about how to track attendees and reduce much of your paperwork and headaches, not only with the check-in process but with online payments, statistics, and reports.
GEVME event guest list management is optimised to work on all devices and screen sizes so you can manage your events no matter where you are. In addition, the GoSmart guest list management app, which is designed for small events, allows frictionless registration, tracks attendees, and monitors your events with live access to the dashboard. This means you can make sure your guests are well taken care of.
Guest list tracking benefits:
Invite and collect registrations
Event guest list templates
Import/export guest list and event reports
Here's how it works: You register, request a demo, ask for a template or other guidelines, learn how to use it, fill in the necessary fields on the website, and create a new event and guest list. It's simple, fast, and safe when you work with professional guest list management software.
How to create a guestlist
There are certain tips that are helpful when you want to know how to manage a guest list. Follow these tips while dealing with your attendee data:
Before accepting any financial help or even setting the budget, decide how you'll divvy up the list.
Use a collaborative Gevme system
Design your dream list with an event guest list tracker.

Be realistic about the number of guests to avoid stress later on.

Set your standards for trimming the list and then follow them.

Make an A-list and a B-list.

Include names on the response cards, etc.
The number of guests you have at your event affects everything you do while planning, but creating the event planning guest list can seem like an incredibly difficult task when starting out. However, with Gevme's tools, this won't be so difficult.
Invite and collect registrations
Inviting, managing event registration, selling tickets, and more is easier with the help of an event guest list app. You can create an event registration form to invite guests and manage your list of attendees in no time. A conference or any other event registration form offers the ability to not only collect the data but also establish connections with your event guests and personalise your communication.
Guest list management
You can also run your event on the go with a mobile guest list planner. GEVME has been built to work on all devices and screen sizes, so you can manage your events from wherever you find yourself. It allows fast and seamless check-in, tracking of your guests, and other management features you need to create a successful event. Effective guest list management creates capabilities for targeted communication with prospective clients or attendees. 
Guest list technologies & software
Select the best event management software for your organisation with event guest list management.  Effective guest list management creates capabilities for keeping track of a guest list and targeted communication with prospective clients.
By aligning registration processes with onsite check-in, event managers collect contact data by tracking the event guest list, which they can use afterwards to establish follow-up connections. What's more, by knowing how many registrants are going to come and which check-in methods they prefer beforehand, you can build a smart onsite set-up for the event day.
Tips for readers
Improve your event planning guest list and management skills via the Gevme platform with the help of simple tips. They will come in handy as a simple event guest list and management checklist for the ultimate event planning experience. Here are a few guidelines:
Define event planning objectives clearly.
Your attendee list will depend on the format of your event and the goals you are pursuing. For instance, a guest list for a charity will differ dramatically from that of a commercial event.
1. Choose the appropriate format.
The format of your event dictates who will be invited. For example, a non-profit event for a cancer charity is unlikely to have the same guest list as an awards ceremony.
2. Use online services to create an attendee list.
An online event platform will greatly automate the work and increase your chances for success. Choose the one that best suits you and your event.
3. Learn from every event via platform stats to improve your ROI.
When you're choosing event software, make sure it offers reports, statistical surveys, and other useful tools. Event effectiveness should be measured; after all, it's all about your ROI.
4. Be aware of your responsibilities.
The task of managing events and attendees throughout the process is best left to well-trained planners. Organising and tracking people effectively via guest lists are always challenging. You are also responsible for name tags, invitations, group memberships, vendors, venues, email aliases, endorsements, analytics administration, event catalogues, merchandise, and other marketing or list templates. Event organisers should also publicise events, assign awards judges if needed, and make up a guest list.
Automate event guest list tracking.
Event planners, administrators, managers, and other users who choose GEVME, will benefit from effective event marketing software that simplifies the event planning and organising process. They will also learn how to make a guest list from the top expert event management professionals—and so much more.
Feel free to request an event guest list template or any other information.
Please leave your comments below.