In our first episode of Digital Event Series, we discussed how to start running a virtual event with Ed Nedin, the founder of Geekle.us, where Ed shared his first ever experience of organizing an event. Interestingly, Ed had never organized events before. Since our last meeting, Ed held his second grander event, Node.js Global Summit 2020. It took place on the 30th of May and gathered more than 10,000 registrations. We decided to contact Ed and ask him about the details. 
Think more about who will come to your digital event and understand that the participant in the online event will not be the one who usually comes to the offline conference.

Ed Nedin, Founder of Geekle.us
You recently organized a virtual event "Node.js Global Summit 2020" with 10 238 registrations. Tell us more about this event and your mission.
The mission of the company itself has emerged thanks to the quarantine and lockdown. Our task is to take content from the world's top speakers – creators of programming languages, developers who work in the most advanced companies and use this language, and so on – and bring it to developers in the most remote villages and cities of Ukraine, India, China, Brazil etc. Nowadays we've got an issue with accessibility of useful content among those who cannot afford or geographically are isolated.   
We want every developer to have access to handy content. I myself am from a small town in eastern Ukraine, and I know how difficult it is to break through and reach the life you dreamed about. There is always one thing you lack – practical, explicit knowledge that can really change your life step by step. I'm not talking about 'info-marketing businesses' and 'successful success' nonsense. But about practical knowledge, that step by step opens up new opportunities for you. That is how our company's philosophy was born.
It is assumed that all this content exists on YouTube, but this is not entirely accurate. It's like saying that all kinds of food are sold in grocery stores. It is partly true, but you have to choose some specific place where you can buy this product, make sure that you trust the seller, and that it is high quality. The same story happens with content. Yes, there is some information on the Internet, but everything is fragmented and chaotic. You need to search, dig, and spend a lot of time to find really worthy content. We choose the best speakers and help a person to "choose a favourite store" for the 'tastiest food'. 
This is your second event; before these two, you did not organize events. Could we say that the lockdown has opened up new opportunities for you?
That's right. Before that, we only had offline meetups for programmers consisting of 15-20 people.
Your first DevOps + Js Conference event was organized on the 2nd of April with 1100 registrations. What inspired you to host the "Node.js Global Summit 2020" event?
Gratitude. Gratitude from the participants and the speakers. Although we had some technical difficulties, namely, we had a problem with the stream and other issues, and only 20 percent of the participants stayed until the end of the event, which was not great. But we got a lot of praise and realized that there is a demand. We decided that we should do something large-scale and exciting.
You mentioned that there were technical problems, what lessons were learnt after the first DevOps + JS Online Conference event, what did you change for Node.js Global Summit 2020?
The technical part changed. There are several different SaaS solutions and a set of separate tools that you need to configure, but you should definitely use a specialized platform.
How many people were in the team and what roles were there?
Apart from me, there were two more community managers in the team. Nick has an analytical mindset; he knows how to find people, analyze information, and so on. And Mila – she's more of a communicative person who can deal with people, and everyone likes her. This is our core team. Also, two guys from marketing assisted us. For the remaining roles, we hired contractors.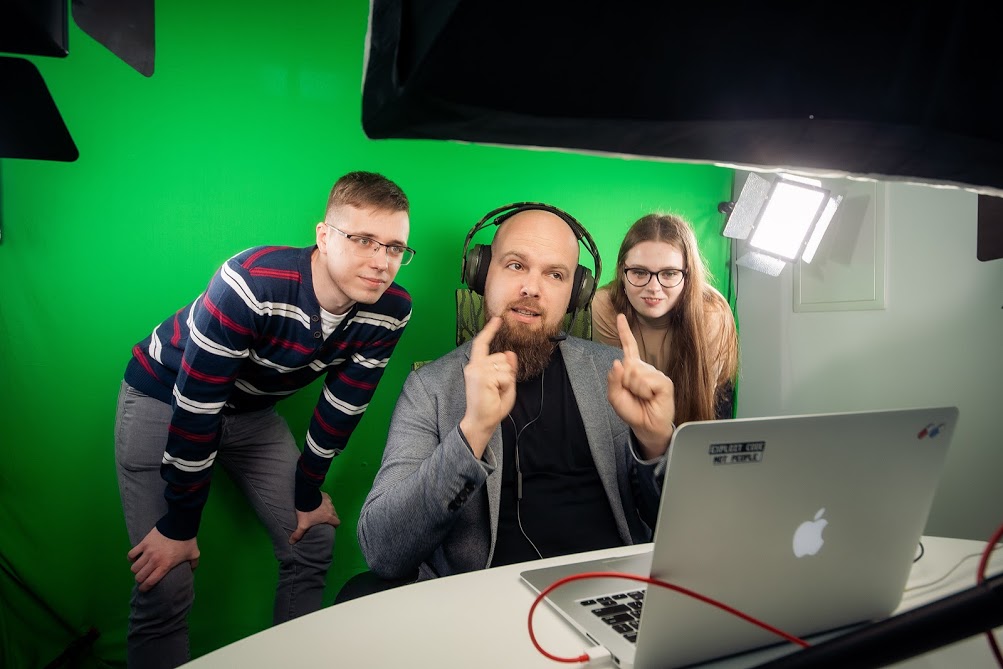 And what were your roles in the team?
I've been working on everything, starting with creating the concept of the event, where to get the content, how we will position ourselves at the event and ending with technical changes on the website, connecting advertising systems, etc. I had to participate a little bit everywhere. It is especially important to take part in solving all issues at the start. 
What kind of contractors did you hire?
I recruited the following:
Technical middleman contractors for the development of the site. They had a whole range of different specialists: designers, UX designers, developers who created the infrastructure itself, specialists who provided us with DevOps;

Marketing contractors who promoted the event on Google, Facebook, and through other channels;

Two video directors to switch feeds during the video stream. For the video stream, we set everything up ourselves with the help of simple online services like StreamYard, Vimeo and Pine tool – a good platform for online conferences. My friend helped set up the cameras, and another friend of mine, a photographer, set a beautiful green background;

Leading professional moderators who have experience in moderating IT events.
What was the biggest challenge in organizing and managing the event?
The technical part is the most difficult. We had to make multiple complex decisions: how the site should work, how participation payment works, etc.
How many speakers did you have? Did you have simultaneous streams?
Yes, it was also a big challenge having a large number of speakers. We set the bar very high, having 45 speakers and two streams lasting 24 hours. As a result, the entire program was worked out clearly according to the regulations. Only one speaker out of the 45 didn't appear at all. And several speakers were just several minutes late. Several moderators and video directors for switching the picture were invited. We worried about how all the elements would work together. Special attention was paid to the preparation: we agreed with the speakers and organized a program committee. Thanks to a detailed minute-by-minute schedule of the program, rechecking of all the connections, we finished the Junior track minute by minute, and we only delayed the Senior track by four minutes out of twenty-four hours. The whole program worked out excellently, nothing was lost, and this is a great achievement.
It lasted 24 hours, that's impressive. Did you have any breaks?
We all gathered in one place and spent the night there. In addition to the three of us, some moderators worked in three shifts: a maximum of eight hours for day shifts and four hours for the night. Someone was in Kyiv; someone was in California, and so on. The video directors who switched the picture were there too. About 15 people were simultaneously in the office all of the time. But it was an extra precaution due to inexperience; in fact, there was no need for such a large number of people. Two hours after the start of the event, it became clear that it was enough for the team to have only three people: a moderator, a program director and one of the organizers.
How many sponsors did you have? Was it difficult to attract sponsors?
It was tough. We talked with dozens of potential sponsors, and only one community-oriented company believed in us. They were delighted and said they wanted to sponsor all our next events.
If you are starting a new project, I would recommend doing the first event without sponsors and then approach them with a ready-made case. Now, I would not even have spent an hour on it; it is difficult to convey a new format, especially since many companies have optimized budgets.
Thanks for your valuable advice. You had a lot of speakers, did you have a pre-recorded video?
We recorded only one video because the speaker was stuck in one of the cities where there was a terrible Internet connection and he sent us a video. But the rest of the speakers were live.
How did you keep your audience engaged?
We have a technically minded audience, so we delivered in-depth technical content. We really did not have time to come up with anything entertaining, although we wanted to. But despite this, people were very involved. 50% of all registrations were online. Twenty-four hours does not mean that participants will be present all the time; people choose the topics that they were interested in and attended them. I highly recommend this format – do not do a QA session after each speaker, but make a block of three speakers and then a panel with a QA session.
These sessions were especially successful; usually, there was a moderator in the frame and three or four more speakers. The moderators must be experienced and have a sense of humour.
We received positive feedback; the participants asked us to include the recording of these sessions in the video materials of the conference because often they are even more valuable than the speeches of the speakers themselves.
How exactly did you choose the questions for the QA?
We have never received 100 questions at once. Usually, ten questions arrived at the same time, and they could be grouped by topics into three or four. Although there were few questions, we rarely fit into the designated time of this QA session. Next time we will pay more attention to the QA session, and they will be not 40-minutes, but an hour long. Because if we talk about keeping the audience and the benefits for the audience, this is truly the best thing to do.
Did you have any breakout sessions between speakers or blocks?
We had eight blocks on each stream with small breaks between them. There were 3-4 speakers in each block, and there were practically no breaks between the speakers or we just had several minutes.
This is a fascinating approach – keeping the participant's attention thanks to the content and the correct grouping of speakers into blocks—no need to spend time on breaks.
It is essential to rehearse the connection with each speaker and synchronize the time to prevent mishaps in the program. A run-through was organized three days before the event: we sent emails to all participants and speakers about the "Pre-Summit" and asked to test all the access.
We asked the speakers:
To test the software through which we connect them and grant screen sharing

Synchronizing time with the moderator, this is very important!

To clearly pronounce their name, surname and company name. This allowed the moderators to prepare well for the broadcast. We recorded all the speakers and transmitted these videos to our moderators so that they could meet each other visually, know what they look like and hear how their names are pronounced correctly.
How did you ensure your speakers would attend? Did you sign agreements with speakers or book their time in calendars? 
There was no such need. Perhaps because we work with a technical audience and it has its specificities. We didn't have the task of "making sure that the person will come". The speaker, confirming his participation, assumes some obligations. He's published on the site and used in advertising, his report's topic is already known, and he shared the news about his performance with his professional community. We had one speaker whose laptop was broken literally the same day he had to perform, and the presentation slides were stored on it. Therefore, the speaker called through the telephone. There wasn't a single case where the speaker didn't show up at all.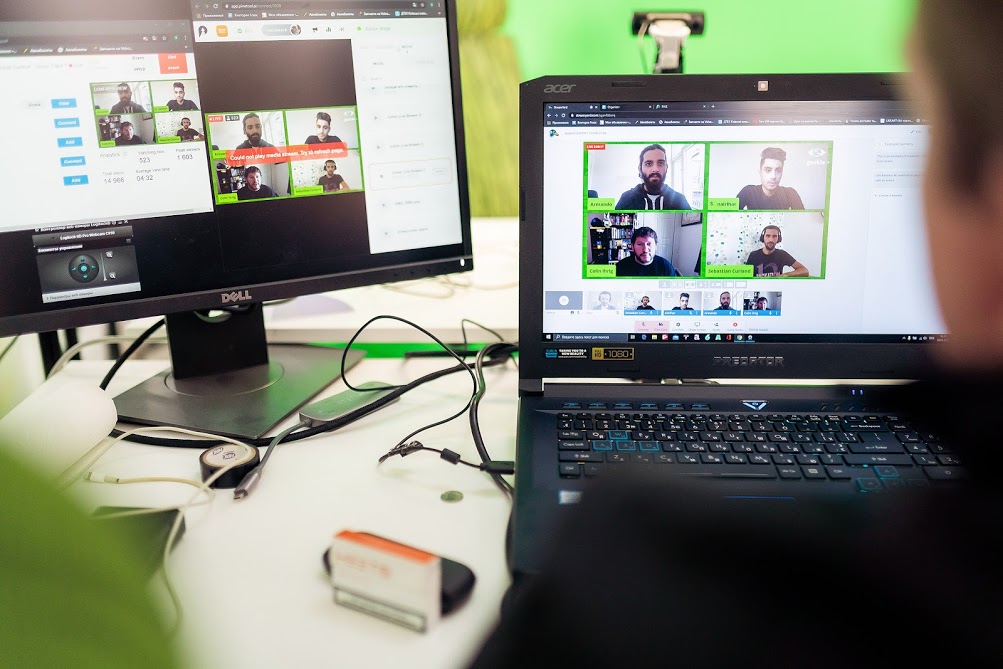 How exactly did you monetize the second event?
We had:
Free participation in one track

Paid participation in the second track (paid package)

Video recordings that were purchasable separately after the event
What were the terms of cooperation with the speakers?
All speakers performed for free.
We had very affordable prices compared to similar offline conferences. The cost of participation started at $50, and most of the tickets were sold for this price. Everyone understands that money is not the primary goal for this kind of event. All the speakers understood the situation and did not charge for their half-hour speeches from home. Billing for going online for 30 minutes is not entirely reasonable. Of course, the speaker makes a significant contribution, prepares for his presentation, and I'm sure they get something in return, which is not measured directly by money.
Were there any technical problems?
In the first hour, there were some technical malfunctions on the platform itself. But the team from the platforms' technical support fixed everything, and the rest of the event went smoothly.
What is the key to being a successful digital event manager? 
Your content is the most crucial part, and you need to focus on it as much you can. 

You need to think a lot about the benefits of content for the end-user. If you transferred your event from offline to online, you need to understand that the audience that you get online will be a completely different audience. While usually all big conferences are held in large cities, but for online meetings, people from small towns with other needs and requirements can attend. This is the main thing – to think more about who will come to your digital event and understand that the participant in the online event will not be the one who usually comes to the offline conference.

You should set one rule for the event team. The event team should have a video call every day at 9 am. It is important to emphasize here that cameras should be turned on. This is the basics of remote teamwork to ensure speed and coordination. Moreover, this psychologically creates a sense of involvement and can give you energy; after you have talked with the team about the tasks, difficulties, urgent issues, etc. you get involved in the work and feel energized.
A handy tip, thanks. Are you planning your next event now? What will you do differently in its organization?
Yes, that's right. On the 1st of August, we will have a Java Global Summit. During the preparation of the Node.js Global Summit 2020, we had one omission, we were so focused on creating content, working with speakers, that we overlooked PR. In some ways, since we are a very young project, a wave of negativity began. It was painful for our morale. While it did not affect the registration or sales, people began to write: "It seems like it's a fake, this company isn't real, and they are just gathering money and scamming people. No one can offer so many famous speakers and there's no reference to this company online".  We began to process the negative feedback, provide evidence and confirmation from the speakers.
You had such a rapid growth of the project that people did not believe that this was possible; that is a sign of success!
Yes, it's true, we came out of nowhere. Well, this is exactly what I will change this time: I will start communicating with the audience now; I will launch a public relations activity.
GEVME: Ed, thank you for sharing your experience. Special thanks to you for your inspiration! It is delightful to see how such projects are born in a crisis and are proliferating. We wish you success! See you soon!
---
Edward Nedin, founder of Geekle.us.
Edward's virtual events: "DevOps + Js Conference" (1 100 registrations),  Node.js Global Summit 2020 (10 238 registrations).
Ed's superpower is to gather and inspire developers from around the world. A passionate community maker, he created the Geekle Community, which is a worldwide network of offline Geek Clubs aimed at fostering global friendship and the professional growth of IT developers. During the lockdown, when most people were at home, Geekle team had become an organiser of the biggest online tech events.