Hybrid Events have slowly begun to gain hype after the event industry faced a huge downfall. The event managers were forced to think out of the box and come up with creative ideas with the resources at hand and make the best use. The technology industry development proved to be so much more beneficial and crucial in today's times. While the industries did come to a standstill, technologies still made it possible for businesses and employees to keep moving forward.
The events industry now as we see is in for a complete change, and this change will be for good and will open up even more opportunities for those who we can make the best use of resources.
What are hybrid events?
An Event at the primary location, from where the event is screened through various platforms, including social media, to be accessible for audiences worldwide is called a hybrid event. 
Depending upon the type of event, the company chooses a platform or a combination of platforms to live stream its event. For example, social media platforms like YouTube Live, Facebook, and Instagram can be used to reach a broad number of people; however, if you want a more confidential meeting, you may as well need a safe platform that can cater to this need.
Hybrid events enable the virtual audience to interact with the speakers for the event and the rest of the audience attending the event through an online platform. It allows the audience to participate in the live Q&As, quizzes, etc. A crew usually monitors how the speakers, the presentations, and conferences came across and viewed on the screen for the virtual audience. Hybrid events are not restricted to only one type of event further we will read about the examples of hybrid events and learn that it is not restricted to any one particular industry.
What are the benefits of hybrid events?
1.Cost-efficient: 
Hybrid events will help you save on the cost of food and beverage, on additional equipment, and keep you off the stress to hire more people to take care of the safety and sanitization. Many times, people don't want to travel long distances to go to conferences, in this way, they do not need to set their foot out of the house to be able to be a part of it, or they can attend it from a coffee shop, a park or even a beach if they wish to.
2.Broader Reach: 
Say you are having a conference where some of the world's best leaders will be speaking and if you will get an opportunity to interact with them, who wouldn't want to attend such a conference. Even if the event is being held at a primary location, hosting the same event online will enable more people to participate.
3.Less Hassle: 
In case of a physical event, there will be a crew member in charge of making sure that the artist is taken care of, another crew member making sure that the artist is informed about when he or she is going in front of the audience, etc. In case of a hybrid event, you are saved of the time and hassle of running about ensuring that everything is taking place orderly. One can handle the entire show by being present at one location itself.
4.More engagement: 
When conducting an event, interaction is essential. The online platform of a hybrid event will have something known as the chat section, where the audience can discuss the topic and ask questions. They can participate in the online poll along with the other attendees at the event.
5.Increased ROI: 
The amount of investment done for a hybrid event is much less than that spent on a physical location. In the case of a hybrid event, you will be able to cut down on the cost of space, additional equipment, travelling, etc. With the platform's help, you can expand your reach.
How do hybrid events work?
Although it seems easy to have a hybrid event, it's a misconception that hybrid events need one person, one laptop and speakers. There is a team involved at every stage of this event, right from the planning to the final execution. This team ensures that the entire event is conducted smoothly with minimal discrepancies. The group plans out the whole framework of the event when each speaker will speak, and for how long, the timings of the QnAs like how it would be done in case of a physical event.
Everything happening at the event is planned to ensure that the audience experiences a good show. While one can stream an event through a social media platform, confidential events will require a secure platform that only the event members can access. The confidentiality of an event can be messed around with if not done through a trusted outlet. Having a crew take care of such an issue can also ensure each session's timely occurrence within the event. The event takes place in a flow, and the virtual audience has an excellent overall experience.
One of the critical things that will attract people to an event is its content. Ensuring that the content is something that people want to learn about and that the speakers are prepared well is important. There are many situations which play a wide part in a company's growth, one of them is interaction. The audience should be able to interact with each other as well as the speaker. Conducting live polls and Q&As is the best way to get the audience to be engaged and know that they are not attending the event alone and that there are others.
How do you plan a hybrid event?
The most significant part of having a party, running a business, a marathon, or an event is planning. Planning about how you will go about with the event is essential, as this will help make a proper framework for the entire event and navigate any possible downfalls that are bound to occur. Following are a few hybrid event planning key essentials.
Rehearse: 
It is always better to be safe than sorry. By meeting and communicating with the other technical crew members, the speakers, sponsors, etc., in advance, will help all to be on the same page. Testing the speakers, the lighting, and having at least one run-through session before the main event is essential.
Choosing a network:
When organizing hybrid events choosing a good and reliable platform for hosting is essential, especially for a confidential conference. Good hybrid event platforms like GEVME enable its client to host individual events where only members can have access and participate in it.
Support via live chat: 
The online audience is a part of the audience, too, and cannot be overlooked. You must ensure that there is live support available 24/7 for the audience attending the conference online right from registration to the event's end.
Virtual Moderator: 
A virtual moderator is needed to bring about the questions asked by the online audience to the speakers or address any common doubts the audience faces regarding the topic.
Last-Minute Changes: 
It is vital to make sure that any last-minute changes are communicated to the audience. Events do not always go as planned. Sometimes there are inevitable adjustments needed to be taken care of at the very last minute, and all that an event manager can do is deal with it and make sure that the show goes on. It is the same in the case of an online event as well. Always be prepared and welcoming of any last-minute adjustments.
Ideas and examples of hybrid events
A hybrid event can be for different types of occasions. The following are ten examples of various kinds of hybrid event ideas and hybrid event examples that you can check out.
Apple Special Events

Webinar World

Public Health Informatics Conference

John Mayer's Dive Bar Tour

Social Media Marketing World

The Self Publishing Show

TwitchCon

WIT

ABM Innovation Summit

Inbound
Greater flexibility
Did you ever agree about going to a party with a friend, and when the time came, you didn't feel like taking a shower and getting dressed up? And you then wish you could wrap your blanket around yourself and enjoy that series on Netflix. We've all been there at some point.
The best part about conducting hybrid events is that you do not have to step a foot out of your house, sign in to the event and watch it on your television or phone screen. And what if you miss the event because your dog got sick and you couldn't make it because hey! People have their personal lives too! A platform like GEVME allows you to view the entire event even after the event is over to not miss out on a thing.
Data collection is made more accessible.
Conducting a hybrid event can enable the organizers to collect valuable data that the physical event may not be able to provide. A lot goes into running a hybrid events management once the speakers are fixed, and the content is ready for marketing, the next thing is tracking how the potential attendees will respond to this content. Data collection will be a part of every stage right from its marketing until the audience engagement on the event's primary day. Gathering this data will help the organizers understand the audience's changing needs and help in planning such an event the next time.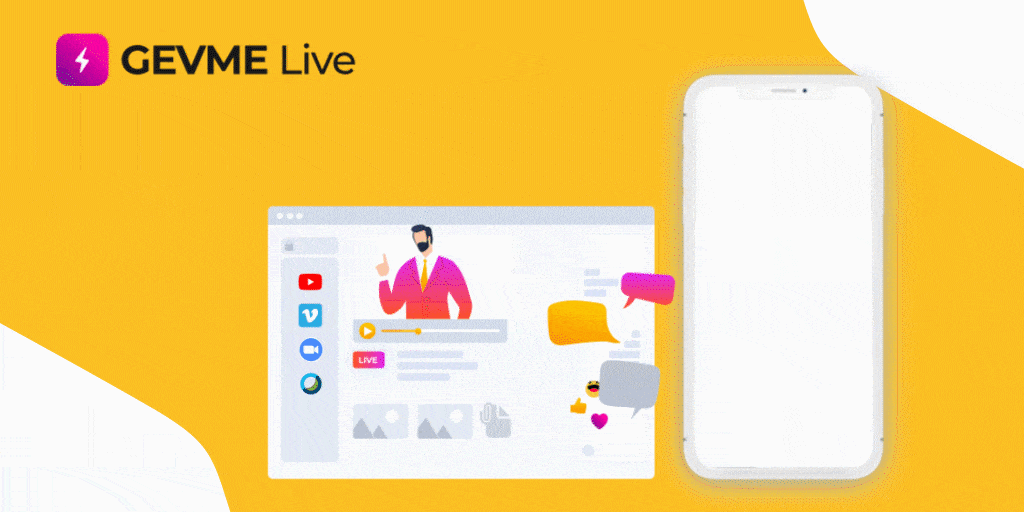 In the case of a hybrid event, all the relevant data can be made available at one place itself, making it even easier for the team to understand the audience's behavior. This data can also help understand through which channels people have reached the final landing page, improving their content and making better marketing decisions.
What does the future of the events industry look like?
The main aim of conducting any event is two things, the purpose of the event and the people. The primary purpose of an event is to bring its people together to network and learn from each other. While COVID-19 wasn't something that any of us had anticipated, we can try and do best with the things that we have at hand. It's time that we wake up, shake it off, and move on. The situation that the industry is currently facing is something new to all and we are all in the beginning stage and are all trying to do our best to figure things out.
Now looking forward, the event industry will take time to pick up, and we are not sure for how long we will have to practice safe distancing; hence one thing for sure, there will be a restriction on the number of people being able to attend a physical event.
Due to physical distancing, booking a larger place will be costlier than streaming the event from a smaller space online, which will be more cost-efficient. Even after the restrictions are lifted, people are still going to be used to an event being conducted online, and hybrid events, even though already existed, will now be trending. Safety and sanitization will still be prioritized with a plethora of safety measures in place.
We all miss going out to events. I know that I do! But this time, we are definitely doing things differently because we have just learned from being in the worst situations our generation has seen.