When organisers look for a solution that allows visitors to help themselves with the purchase of coupons by going online, Gevme comes in handy! Check out how Gevme acts as a cashless token system to create a positive experience for all users on a single event platform.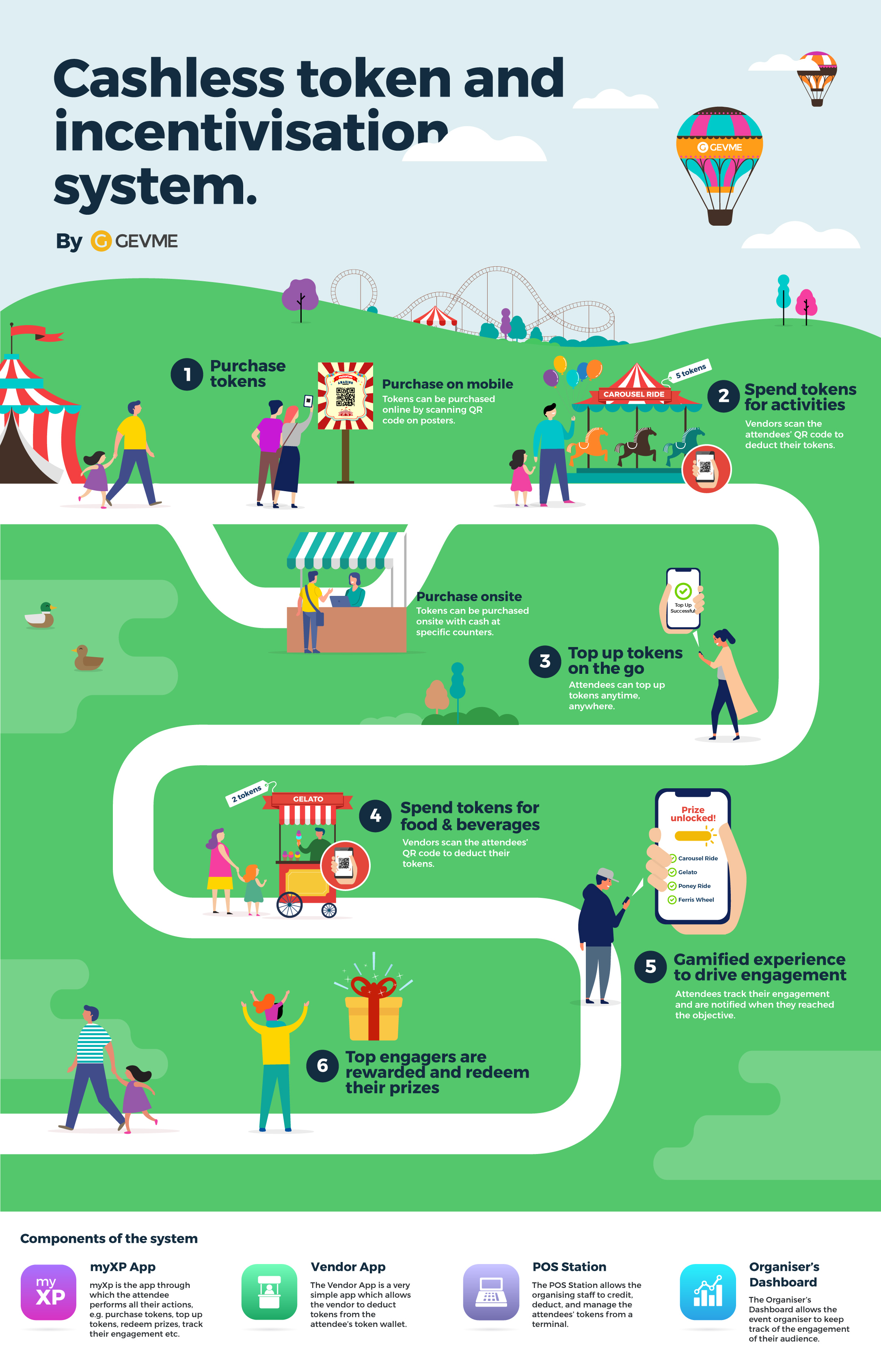 Key benefits of using tokens at the events
When you choose the Gevme cashless token system for your attendee engagement, you get plenty of real benefits that guarantee your event's success at a new level of quality!
Incentives at the events
Incentivisation is the practice of building incentives into an arrangement or system in order to motivate participants. Gevme provides a variety of incentives through tokens for your business, including your employees, customers, vendors, and partners. An event management token system can manage multiple event segments, accommodate inventory and activities, as well as keep participants informed of freebies and other incentives. In creating award winning recognition, incentive, and event programs, we inspire people to do more, which saves you valuable research time and money when using our GEVME cashless token system. 
When attendees want exclusive engagement, event planners will do their best to facilitate it, and such a practice is continuously touted as a major component of successful events. That's why Gevme onsite solutions are integrated with the system and are designed to implement technology that will enhance your top attendees' experience to ensure positive engagement and ultimate satisfaction.
Cashless event solutions
GEVME is the largest integrated event management solutions provider, but that success wouldn't be possible without safe and fast cashless solutions for events. Gevme is a global provider of advanced onsite RFID solutions, cashless payments, and so much more, pioneering a new age of access control and experiential activation at events. It also allows visitors to walk in, queue, and make payments for eCoupons in cash, which is extremely convenient.
Onsite event booths
The Gevme cashless token system may also add extra encouragement to visit all the booths at events, or it can be used to drive more attention to booths that are not very popular in the venue. It allows for expanding the coverage and varying event attractions, enabling people to move around and participate more actively. Additionally, encouraging engagement with educational booths also becomes more effective.
These and many other benefits are available to event planners who organise events using the Gevme cashless token system and other integrated apps. Join us and enjoy!
 Call to action
Also, read more about how the Gevme cashless token system was used for National Day Heartlands Celebration 2019!