We are excited to announce our new partnership with Engamio, an easy-to-use platform to provide gamified activities and sponsorship solutions for virtual, hybrid and in-person events. With the integration, event organisers will be able to include fun and interactive activities to engage audiences, fostering event participation and a more immersive experience for attendees while adding value to sponsors and stakeholders.

At Gevme, we've always aimed to push the boundaries of digital event experiences. Being able to engage audiences has always been a core focus of event organisers. By partnering with Engamio, we hope to provide our users with the tools and ability to enrich their events to provide an interactive experience for attendees and deliver more value to sponsors and partners. 

Veemal Gungadin, CEO of Gevme

With digital events here to stay for the foreseeable future, organisers and businesses must continue to innovate and improve their event experiences in order to ensure the success of their events. 
Audience engagement has always been a key metric of successful events and while it's never been the easiest to do or track, trying to do so in a virtual or hybrid setting seems even harder. Event organisers are often left at a loss on how to engage with attendees beyond existing measures.
Keeping attendees engaged with gamified activities
Even before digital events became the norm, gamification for events has been talked about in the industry. Now, gamification is one of the most powerful tools to increase audience engagement.
Engamio offers users the ability to add fun and interactive content and activities within their events, through a simple and easy-to-use interface. Activities range from having an interactive map check-in, word search and jigsaw puzzles to even having a virtual selfie booth for attendees to take pictures at your event and get a branded picture to share on their social media.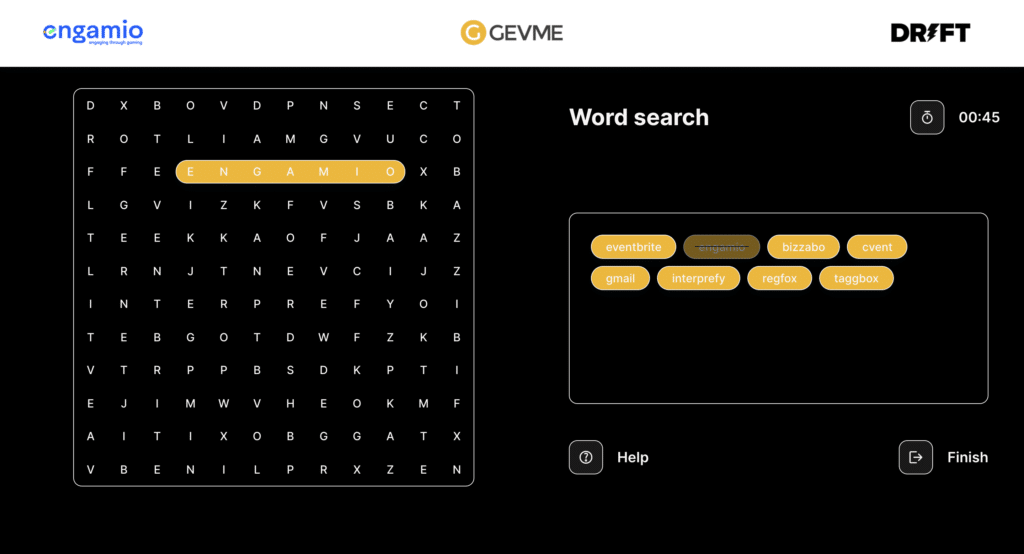 With a robust analytics dashboard, event organisers are able to track and measure audience engagement. 
Providing value to sponsors and partners
Additionally, organisers and businesses can also utilise their gamification activities to add value to existing sponsorship packages or attract new partners. All activities are customisable to include branded content as well as special offers with call-to-action buttons and embedded links.  These would be useful in incorporating sponsors and partners more in the event, beyond the usual measures of logo placements and mentions during the event. 

"We are very excited to partner with Gevme – one of the world's leading event platforms! I am confident that our solutions will drive value and new interactive experiences for Gevme's customers. We are looking forward to building a sustainable and mutually beneficial partnership full of success cases and unforgettable experiences!"

Dimash Kunayev, CEO and Founder at Engamio

With this partnership, Gevme aims to empower event professionals to create unique experiences and provide better ROI to exhibitors and sponsors while increasing attendee engagement. 

You can find the full list of Gevme integrations here.